With interest rates and monetary policy locked in for the near term and fiscal policy uncertainties expected to persist, our top-down 2013 outlook is for a low-growth, low inflation economic environment. We believe this "Goldilocks" environment — which is neither "too hot" nor "too cold" — could be credit supportive. A bottom-up reading of the credit environment also supports this view, but the story becomes more of a cautionary tale in which investors need to be more selective about their investment choices.
Setting the scene: A 'Goldilocks' economic environment
In 2012, the US economy continued to expand at a moderate pace, with gross domestic product (GDP), the broadest measure of economic activity, growing by 2.2%.1 According to market consensus, the US economy is likely to continue growing, albeit at a slower pace of 1.5% to 2.0% in 2013 — a rate that is still too low to meaningfully reduce unemployment from its current level of 7.7%.2 Meanwhile, fiscal policy uncertainties continue to present tail risk, as policymakers struggle to agree on a comprehensive plan to put US public debt on a sustainable path, opting instead for a series of stop-gap measures that have the effect of kicking the fiscal can down the road. Against this backdrop, and with no structural catalyst likely to propel job creation to the levels needed to meet the 6.5% unemployment threshold set by the Federal Reserve (the Fed), monetary policy is likely to continue being accommodative and supportive of credit risk assets.
We believe that this type of moderate–growth, low-inflation economic environment is supportive of credit. It's an environment that is neither "too hot" (reflecting higher growth and higher inflation that could be hostile to credit) nor is it "too cold" (reflecting an economic recession that could result in deteriorating leverage and credit profiles). It's an environment that's "just right" for credit in that it fosters outcomes that are supportive of credit risk assets, albeit less so than in recent years. These credit-supportive outcomes include modest earnings growth, low and stable default rates and corporate management that continues to focus on productivity enhancement and cost cutting
As in most fairy tales, however, the story isn't quite that simple. And unlike most fairy tales, Goldilocks isn't a story about "happily ever after." It's more of a cautionary tale about the risks of wandering off on your own in unfamiliar territory. By following this story, investors can gain a valuable perspective on credit by charting the bottom-up constraints and opportunities corporate management is facing in an effort to grow earnings and business more broadly, in the context of a goldilocks economy.
The cautionary tale: Telling the credit story from the bottom up
The protagonist in this part of the tale is corporate management, which faces the challenge of growing earnings and earnings per share (EPS), protecting margins and maintaining balance sheet strength against the backdrop of moderate economic growth in the range of 1.5% to 2.0% in 2013. The challenge for company managements is that this level of economic activity constrains the prospects for revenue growth, as low GDP growth has generally been consistent with modest revenue and earnings expectations (see Figure 1).

At the same time, in terms of expenditures, we believe that efficiency gains through cost cutting — which buoyed corporate profitability to post-war highs at 11% of GDP in recent years3 — have largely run their course (Figure 2). Any additional cuts could foster cost structures that would impede the ability of companies to quickly ramp up activity when demand increases.

With these factors in mind, there are three directions management can pursue in allocating corporate capital in an effort to promote business and earnings growth: organic growth through capital expenditures (capex), shareholder distributions that increase earnings per share (EPS) through dividends or share buybacks, and inorganic growth through mergers and acquisitions (M&A) and strategic investments.
Organic growth through capex. A recent review of the expenditures of large investment-grade corporations showed that while capex largely snapped back from its trough levels in 2009, it has been focused largely on maintenance and productivity efforts, with demand-driven capacity expansion still lacking. This finding is consistent with the current levels of capacity utilization — a measure of overall slack in the economy — and household spending, which are considered harbingers of capex activity. Capacity utilization rates in the US have bounced back since hitting a low of 66.8% in June 2009, but plateaued in the 77% to 78% range during 2012 (Figure 3).4 Similarly, household spending, which rebounded following 2009 and grew 2.1% during the fourth quarter of 2012, is still below the 3.2% average growth rate (2000 to 2006) before the great financial crisis. The prospect of moderate economic growth in 2013 is unlikely to boost these trends. In addition, economic policy uncertainty is likely to foster conservative balance-sheet decision making, leaving capex focused on maintenance and productivity enhancement rather than growth.

Increased shareholder distributions. Share buybacks and dividends can grow earnings per share during periods of low economic growth, although we believe doing so is damaging to credit quality because they hinder the ability of financial companies to support loan growth and erode the liquidity cushion for nonfinancial companies. While these distributions increased since the great financial crisis, they have dropped off slightly in 2012.5 We believe that while tax and spending decisions are still uncertain, shareholder concerns will remain focused on liquidity and balance-sheet stability. Looking ahead, however, we believe company managements are likely to be more focused on generating growth in earnings and enhancing shareholder value which could be at the expense of credit quality.
Inorganic growth through M&A. We believe inorganic growth through M&A could provide corporate managements with attractive opportunities to promote growth. The drivers are certainly there. US corporate cash balances remain at historically high levels4 that are increasing amid ongoing balance-sheet repair, particularly in the information technology, industrials and health care sectors. The cost of corporate borrowing, as measured by the Barclays US aggregate Credit Index, remains at all-time lows6 (Figure 4), and financial market conditions remain favorable. At the same time, macroeconomic uncertainty has abated (although it's not been eliminated), as has equity volatility, which is a leading indicator of M&A activity. Wide spreads between asset cash flows and cost of debt funding make purchasing assets funded with new debt more attractive now than at almost any point in the past 20 years. Better valuation multiples are also likely to serve as a catalyst for increased activity. It is important to recognize, however, that regulatory headwinds could be meaningful for some of the larger M&A candidates.
The moral of the story: What does this all mean for credit?
Let's look at housing, for example. Inventory and price indicators suggest that the housing market has largely bottomed out (Figure 5). While challenges to a sustainable housing recovery remain — including elevated shadow inventory, tight mortgage lending standards and regulatory uncertainty — we believe that a sharp decline in overall inventory, historically low home prices and mortgage rates, a decline in distressed sales and indications of improving demand are catalysts supportive of a housing recovery. Based on our analysis of fundamentals, we believe US home prices could increase 3.5% to 5.0%7 in 2013, above the consensus average of 3.3%, resulting in an above-average contribution of 0.6% to 0.8% to GDP in 2013. Current fixed income valuations appear to have priced in the consensus view, suggesting there may be selective opportunities at current valuations in corporate credits for certain sectors such as home building and retail home improvement.

Another good example is US financials. Debt-to-GDP in the financial sector has declined significantly since the great financial crisis, from 123% of GDP in the first quarter of 2009 to 87% of GDP by the end of the third quarter of 2012.6 Although net credit formation is likely to improve in 2013, the modest outlook for economic growth, as mentioned above, suggests top-line revenue challenges. In addition, upcoming regulatory requirements suggest a limited outlook for significant releveraging in 2013. US financials have experienced strong growth over the past few years as measured by return on equity, return on assets and the improving quality of the loan portfolio (Figure 6). While this pace might slow in 2013 consistent with the outlook for tepid economic growth, we believe US financials present an attractive opportunity relative to other sectors due to the supportive credit fundamentals, valuations and technicals.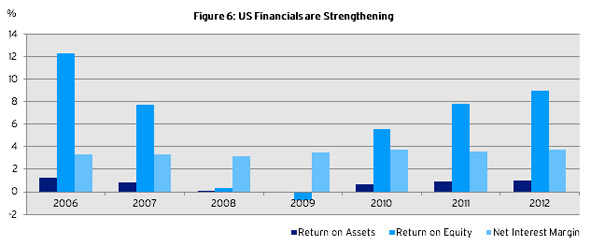 These examples illustrate that the top-down goldilocks economy and the bottom-up capital allocation discussion are both consistent and complementary in that they present a comprehensive view for an environment that is supportive of credit. The bottom-up narrative adds the perspective that while the environment is by-and-large credit supportive, unlike Goldilocks, investors don't have the luxury of trial and error in finding the investment that's "just right." Selective screening of companies needs to take place in order to continue supporting credit investments. We believe Invesco Fixed Income is well positioned to help investors with this analysis by identifying and mitigating underlying M&A and leveraged buyout risk of issuers with the help of our experienced credit research team. Our credit research professionals have worked as a team for more than a decade, so they have weathered many different economic cycles together. In the process, they've created a rigorous and exhaustive proprietary bottom-up fundamental credit analysis framework that seeks to minimize issuer credit risk and find opportunities for clients.