Invesco Equity and Income Fund
| | | | |
| --- | --- | --- | --- |
| Ticker | A: ACEIX | C: ACERX | Y: ACETX |
About the Strategy
Invesco Equity and Income Fund is a well-diversified, moderate allocation – or balanced – fund designed to protect in down markets versus the broad equity market, while offering equity-like performance with less risk over a full market cycle. Portfolio managers seek the highest possible income consistent with safety of principal, along with long-term capital growth.
Balanced Approach
A strategic balance of equity and fixed income asset classes across a variety of sectors offers investors diversification that may help their portfolios perform well in any market climate compared with the broad market.
Today's Investor:
What income need are you trying to meet today?

---

Today's Market:
What is your biggest challenge in today's market?

---

Tomorrow's Outcomes:
What are your top concerns as you look to the future?

---

Balanced funds may be the right income solution for you if you need:

Capital growth and income

Consider balanced funds if you're challenged by:

Low interest rates
Low economic growth
Volatility

Balanced funds may help you prepare for:

Inflation
Rising interest rates
Recession
Invesco Equity and Income Fund has Historically Outperformed in Market Downturns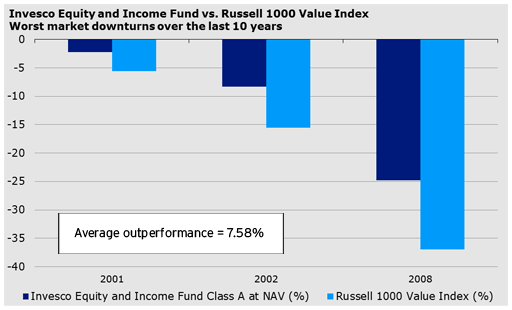 Source: Invesco, as of Sept. 30, 2013. The Russell 1000® Value Index is an unmanaged index considered representative of large-cap value stocks. The Russell 1000 Value Index is a trademark/service mark of the Frank Russell Co. Russell® is a trademark of the Frank Russell Co. An investment cannot be made directly into an index. Past performance is no guarantee of future results.