Richard Golod
Director, Global Investment Strategies
Executive summary
Unprecedented monetary policy in Europe and the US helped extend equity market gains into September. Policy-action euphoria may continue to drive global equity markets, while concerns about a slackening US economy and lack of detail in implementing various European debt-crisis policies remain in the background. However, at some point, fundamentals will matter again, and I believe long-term investors should position accordingly.
US. Technical, quantitative and liquidity measures all suggest further upside in the S&P 500 Index, while fundamentals (economic growth, earnings and jobs) suggest limited upside and possibly even lower prices from current levels, in my opinion. The Federal Reserve Board's (the Fed) highly anticipated third quantitative easing (QE3) program may bolster asset prices — particularly for cyclical sectors, small-cap stocks, commodities and gold — but not the economy. I still believe investors should consider high-quality, dividend-paying stocks.
Europe. The European Central Bank's (ECB) recent announcement of an open-ended bond-buying program could be a turning point in the European debt crisis. Although European equity markets rallied initially, many risks remain, as reflected by recent volatility in the region's equity markets and bond yields. Furthermore, I remain skeptical that the measures announced so far can spur economic growth. As euro-area economies are likely to continue to languish, I believe investors should focus on European multinational, large-cap companies with growing or high dividend yields.
Emerging markets. Slower economic growth out of the developed world is adversely affecting emerging market growth. Fiscal and monetary policies have been slow to respond and modest in nature due to concerns about inflation, politics and financial resources. However, suitable investors should consider overweighting this asset class, in my opinion, given a supportive backdrop of QE in the US and attractive valuations.
The following pages expand on these insights and examine the implications for global equity investors.
---
Liquidity may benefit stocks but not the economy
Monetary policy announcements both here and abroad continued to affect the direction of equity markets in the past month. At the end of August, expectations for QE3 rose following the Fed's annual summit in Jackson Hole, WY. Two weeks later, the Federal Open Market Committee (FOMC) announced the implementation of the QE3 program. These events helped sustain a rally in US equities through mid-September.
In Europe, equity markets also rallied. ECB President Mario Draghi delivered on previous promises to "do whatever is necessary" to preserve the euro by announcing an unlimited bond-buying program for troubled nations that met certain austerity measures.
For now, the investment adage "don't fight the Fed" seems alive and well. Since the June low, global equities (as represented by the MSCI World Index) were up 17% through Sept. 14. The S&P 500 Index and the Euro Stoxx 50 Index were up 15% and 24%, respectively, from their June lows through Sept. 14.1 For the time being, I believe liquidity can continue to drive global equity markets higher in the absence of improving fundamentals. However, at some point, fundamentals (economic growth, earnings, jobs and other factors) will matter again. How long will liquidity trump fundamentals? Until it doesn't. Investors need to be prepared.
---
US
The likelihood of QE3 became more apparent after Federal Reserve Chairman Ben Bernanke's comments at the Jackson Hole conference. On Sept. 13, the FOMC announced it will purchase $40 billion of mortgage debt per month in an effort to boost economic growth and reduce the unemployment rate. The FOMC also said it would probably hold the federal funds rate near zero "at least through mid-2015," according to the Fed's press release on Sept. 13. This purchase program is in addition to "Operation Twist," which will swap $667 billion of short-term debt with longer-term securities in an effort to extend the duration of its portfolio and exert downward pressure on long-term interest rates. The Fed's goal is to instill more confidence so that businesses and consumers will be "more willing to invest, hire and spend," according to Chairman Bernanke in a Sept. 13 press conference. While QE3 was largely expected, what surprised investors, including me, was the language and open-ended nature of the bond-purchasing program. This aggressive approach to monetary stimulus was perhaps in anticipation of the so-called fiscal cliff in 2013 — the choice lawmakers face either to potentially hinder growth by imposing scheduled tax increases and spending cuts or to increase the deficit and potential for economic crisis by canceling them.
Betting against the Fed has been a losing proposition in the past. Although past performance is no guarantee of future results, the US equity market (as represented by the S&P 500 Index) has responded positively to previous quantitative easing, as shown in the chart below. In the past, liquidity has tended to reward the "risk-on" trade — trading that strongly favors higher-risk asset classes — and has taken asset prices beyond fair value. Therefore, the risk is to the upside, not the downside, in my opinion.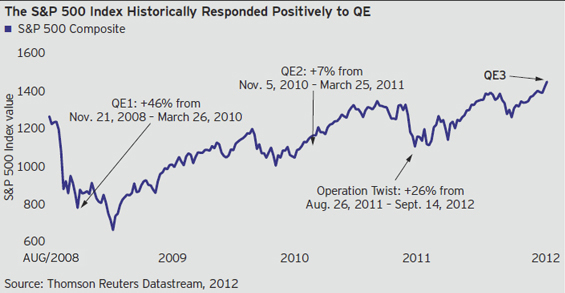 Other factors also appear supportive of equity markets, including:
Dividend yields. Since 2000, when more than 50% of stocks had a dividend yield greater than the yield on 10-year Treasuries, the market tended to rally, not fall!2 Keep in mind past performance is no guarantee of future results.
Technical indicators. In an analysis released on Sept. 14, UBS Chief Technical Strategist Peter Lee highlighted three recent technical developments with the S&P 500 Index that he believes suggest higher prices into year-end:
1. Breaking above a key Fibonacci retracement level
2. Trading above the May 2008 reaction high
3. Reaching both a higher low (in June 2012) and a higher high (in April 2012).3
Investor sentiment. Currently, the price volatility of out-of-the-money (or worthless) options on the S&P 500 Index (a measure of investor sentiment) indicates a higher level of optimism than stocks' implied long-term earnings growth rate, which is signaling low expectations.4 I believe the gap between them suggests another 10% upside from current levels could be possible, potentially taking the S&P 500 Index to 1600.4
However, there are significant risks worth monitoring. Unlike in previous QE environments, corporate earnings are slowing, global economic growth is decelerating and additional fiscal bailouts and stimulus are unlikely. In addition, consumers' real disposable income is declining in the face of higher energy and food costs, real wages are falling and job growth remains elusive. There is a reason the Fed announced an unprecedented stimulus package — one that could ultimately expand the Fed's balance sheet another $2 trillion dollars over the next year, according to a Bank Of America/Merrill Lynch analyst.5 What does that action say about the Fed's outlook for the economy? It's not good!
Past QE announcements suggest adding risk to portfolios — for example, by increasing positions in small caps, cyclical sectors and commodities. However, those sectors and asset classes with higher probabilities of outperforming could end up underperforming if corporate earnings disappoint, the fiscal cliff isn't extended, Europe fails to follow through with its promises and/or the world becomes more politically and economically unstable. QE3 may benefit asset prices but not necessarily the economy. When the smoke clears, I still want fundamentals. As central bank monetary policy across the globe races to zero rates, I believe stocks with dividends will be in demand even though they might look expensive relative to the S&P 500 Index. In today's uncertain world, investors may likely continue to seek companies with predictable earnings and income from dividends.
---
Europe
In the past month, Mr. Draghi has delivered on his promise to do "whatever it takes" by unveiling a bond-buying program called Outright Monetary Transactions (OMTs). The aim is to keep the euro intact by reducing the borrowing costs in crisis-laden countries, such as Spain and Italy.
To qualify for OMTs, countries must first request financing and agree to austerity measures before the ECB purchases their bonds, and there is no size limit on the purchase amounts. In addition, the ECB reserves the right to terminate bond purchases for noncompliance by a participating country. By placing bond holdings on an equal footing with investors and requiring governments to commit to restoring fiscal order, the ECB is hoping investors will view any intervention as credible and join its buying.
The ECB has started a process that could be a turning point in the euro crisis. But, Europe's permanent rescue fund must be activated and shown to work. Initially, the equity and debt markets were willing to give Mr. Draghi the benefit of the doubt by rallying. However, with Spain balking at making an external aid request and an unproductive meeting of European Union ministers in Cyprus on Sept. 14, 10-year Spanish government bond yields moved above 6% and euro-area stocks traded lower.6
Also, recent proposals and actions by the ECB have failed to stimulate economic growth, in my opinion. I would be much more bullish on European stocks if the ECB were aggressively expanding its balance sheet. Currently, the ECB is "sterilizing" its bond purchases by selling other assets in its portfolio, whereas the US central bank has been more aggressive in providing liquidity to the marketplace. As a result, the euro has been strengthening relative to the US dollar. A stronger euro will likely adversely affect German exports and make it more difficult for the Club Med countries — Greece, Spain, Portugal and Italy — to compete.
The strength in the euro comes at a time when the European economy looks likely to slip deeper into recession. The euro area's economy contracted 0.2% quarter-over-quarter in the second quarter, and I believe it may slide further in the coming quarters.7
Against this backdrop, I continue to believe investors should consider European multinational, large-cap companies with high or growing dividend yields.
---
Emerging markets
Equities in emerging markets continue to appear undervalued historically and when compared with equities in developed market equities.8 The 12-month forward price-earnings ratio (P/E) at 9.7 times for the MSCI Emerging Markets Index as of the end of August was 12% below the five-year average of 11.0 times.8 Emerging market equities haven't been this cheap relative to developed market equities since January 2009.8
I believe it will be difficult for many emerging market economies to delink from the slowdown in the developed world without additional stimulus, and policy response could remain limited in the emerging markets, given higher food and energy costs. That said, the equity markets could benefit from the risk-on trade mentality of global investors. Additional monetary stimulus from other parts of the world may likely increase capital flows into this asset class. It's just a matter of time, in my opinion.
---
Final thoughts
Equity investors are currently focused more on the effects of monetary policy than on a slowing economy. Recently announced actions by the central banks of the US and Europe may not stimulate economic growth but may be supportive of upside in the equity markets. In both the US and Europe, I believe investors should continue to focus on high-quality, dividend-paying companies.
In the emerging markets, patience may be the best strategy for the long-term investor who realizes that while valuations in many countries are back to 2008 and 2009 levels, the economic environment has improved since then and may benefit from additional stimulus.
Important information
The opinions referenced above are those of Richard Golod as of September 19, 2012, and are subject to change at any time due to changes in market or economic conditions and may not necessarily come to pass. These comments are not necessarily representative of the opinions and views of other Invesco investment professionals. The comments should not be construed as recommendations, but as an illustration of broader themes. Past performance is no guarantee of future results.
All investing involves risk including the risk of loss. Diversification does not eliminate this risk. Investments in foreign markets entail special risks such as currency, political, economic and market risks. The risks of investing in emerging market countries are greater than the risks generally associated with foreign investments. Small- and mid-cap stocks carry special risks, such as limited product lines, markets and financial resources, and greater market volatility than securities of larger, more established companies. Common stocks do not assure dividend payments. Dividends are paid only when declared by an issuer's board of directors and the amount of any dividend may vary over time based on the business prospects of the company.
This material is for educational purposes only and does not contend to address the financial objectives, situation or specific needs of any individual investor. It is not a solicitation or an offer to buy or sell any security or investment product.
All material presented is compiled from sources believed to be reliable and current, but accuracy cannot be guaranteed. This is not to be construed as an offer to buy or sell any financial instruments and should not be relied upon as the sole factor in an investment making decision. As with all investments there are associated inherent risks. Please obtain and review all financial material carefully before investing.