Despite recent 'tapering' rhetoric, the Fed remains laser-focused on raising nominal GDP. This bodes well for capital expenditures — and for the long-term US economic outlook.
By Ron Sloan
Senior Portfolio Manager and Chief Investment Officer of Invesco's Domestic Core Investment Management Unit.
The US Federal Reserve is laser-focused on raising nominal gross domestic product (GDP), which means that interest rates should stay low versus historical norms, despite recent "tapering" fears. Why is this important for business? Because the Fed's commitment to low rates gives companies the confidence they need to increase capital expenditures (capex), reinvest in themselves and fuel revenue growth. While the equity market may be ahead of itself in the short term, a strong capex cycle is bullish for the economy in the long term.
A closer look at interest rate policy
Real is irrelevant.
The Fed is unconcerned about real GDP — the inflation-adjusted measurement of US economic growth. Rather, without inflation in our economy, the Fed is focused on raising nominal GDP, which is not adjusted for inflation. And that priority means that interest rates should stay low versus historical norms. Recent market reaction to the Fed's comments about tapering the pace of quantitative easing (buying bonds to push down interest rates), misses the fact that the Fed may slow the pace of their stimulative policy because the economy is doing better — that's a positive situation in my opinion. It's like the Fed has threatened to take away the market's blankie because we're growing up; we may protest but the weaning has to start sometime.
While interest rates have increased slightly in recent months, I do not foresee high rates versus historical norms in the intermediate future. To gain a bit of perspective on interest rates, it's helpful to take a look at the Taylor Rule. Named for Stanford economist John Taylor, the Taylor Rule was introduced as a methodology for controlling interest rates in a way that would promote short-term stability and long-term growth. While the Fed has not officially adopted this methodology, its policy decisions have historically kept interest rates in sync with the rule — until the economy plunged in 2009, that is.
At that point, the Taylor Rule suggested that interest rates should fall into negative territory. However, the Fed kept the federal funds rate at zero. Today, the Taylor Rule suggests that due to quantitative easing (QE), the federal funds rate should be well within positive territory, and moving close to the 6% mark by 2016.
That's not the path that the Fed is on, however.
Post-Crisis, the Fed has Moved Beyond the Taylor Rule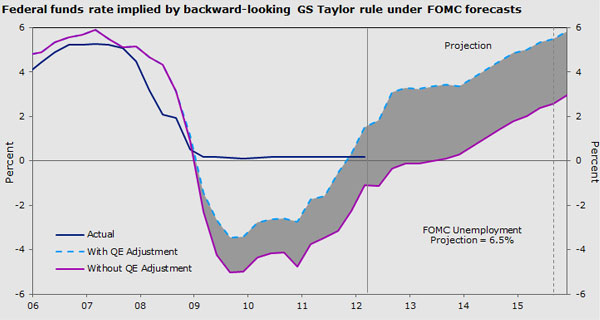 To understand the Fed's priorities, we look to another economist, Janet Yellen. Yellen is the vice chair of the Fed's Board of Governors and the frontrunner to replace current Fed Chairman Ben Bernanke when his term expires on Jan. 31, 2014. Yellen is instrumental in constructing the Fed's econometric models, and her perspective is that the nominal GDP gap — the gap between actual GDP and potential GDP — is the most significant issue facing the Fed today. In Yellen's view, nominal GDP will need to grow close to 6% for several quarters to close that gap and bring unemployment back in line with the Fed target of under 6.5% (versus 7.6% in June).
Today's Fed Policies are Aimed at Closing the Nominal GDP Gap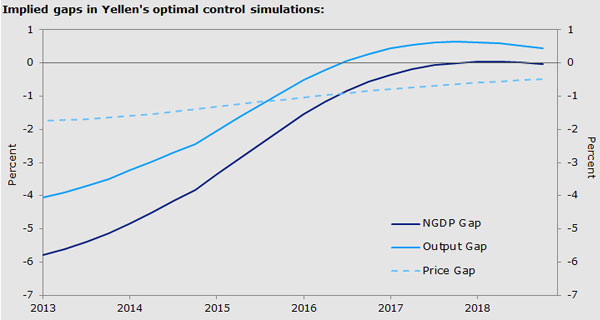 With today's nominal GDP growth at 3.1% , the Fed has a clear path to try to stimulate nominal GDP growth through low interest rates. I do not believe we are in any jeopardy of entering a rising interest rate environment as long as inflation can be kept under control. While the Fed may stop purchasing Treasuries and mortgages, I believe we're in a zero federal funds rate environment for years to come.
If you're running a business, this is critical. With the Fed maintaining a low-rate environment, business owners can turn their concerns away from the macro environment and toward their business — building the products that people will buy and focusing on the factors that they can control.
That is an exciting proposition for US businesses and people who invest in them. If the Fed can achieve 6% nominal GDP growth and higher, that would be very positive for revenue growth — and revenue growth is increasingly important as companies can no longer rely on margins to raise their earnings.
Why capex will be the new driver of business growth
From 2008 to 2012, the S&P 500 Index experienced a dramatic earnings recovery, but it was largely driven by margins — companies doing more with less. After years of rising margins, this trend has now become unsustainable. But that's OK. Stock prices can still go up even when margins come down. As the chart below illustrates, from 1970 to 2012, there were 13 years in which S&P 500 companies experienced declining margins and rising stock prices. The last time that happened was in 2007. And before that, 1995.
Stock Performance: Not Always Tied to Margin Changes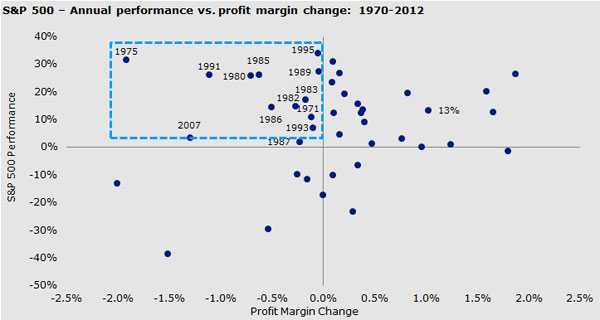 I believe we're in one of those periods today. The key will be to achieve revenue growth through capex. Businesses must reinvest in themselves and build for the future through research and development, and there is evidence that this is starting to happen. While US equipment expenditures dipped from 2010 to 2012 (after coming off recessional lows in 2008 and 2009), it's expected to be up 8.5% year-over-year in the third quarter of 2013.1
Rising reinvestment by businesses is a bullish indicator in the long run. But it won't happen easily or overnight. And it won't happen by taking on loads of new debt. While debt is cheap right now, nonfinancial companies already have a great deal of it on their balance sheets. Rather, companies will have to use their existing debt and their cash reserves strategically and intelligently to grow their business. One place where we're seeing this imperative in action is in middle America.
Reinvestment by US companies drives a bullish long-term view
I often say that middle America is my favorite "emerging market" thanks to the massive expansion of manufacturing facilities in the heart of the country — a trend that's now taking shape after two generations of underinvestment. Citi Research recently compiled a list of US, European and Asian companies that have built or expanded manufacturing facilities — from aviation facilities to cable factories to appliance parks — in middle America. Of the 29 facilities listed, most were completed in 2012 or scheduled to be finished in 2013, and they carried an estimated price tag of more than $3.6 billion combined.2
In my opinion, the result of this is that the US is now the gold standard for manufacturing and building facilities in the world. US manufacturing productivity has grown at a compound annual growth rate of 4.8%, compared with the global rate of 3.5%.2 Increased productivity along with strict cost management has led to record margins; this is true in manufacturing and many other industries. This dynamic has fueled earnings growth in recent years. But today, companies are at a crossroads.
US Manufacturing Productivity is Outpacing Global Output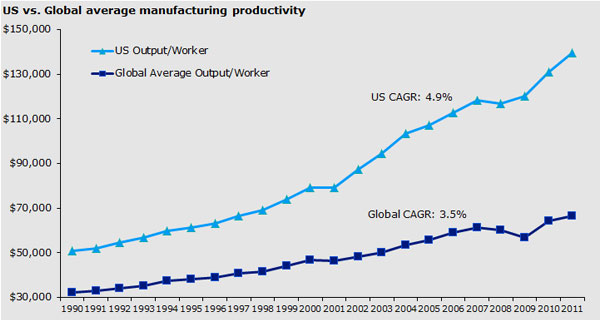 We believe companies are at the point where they must reinvest in their businesses. Increased capital expenditures may compromise margins in the short term, but they bode well for long-term growth. The question is, can the markets can see through this transition and stomach a hit to margins? Much of Wall Street believes falling margins are an ominous sign for future equity returns, but historically, there have been numerous periods when declining margins corresponded with positive equity returns. So for the short term, sometimes the answer to my question is "yes" and other times it's "no." But I believe that over the long term, increased business reinvestment is good for companies and investors. Here, we see which sectors have been the most sensitive to rising and falling capex cycles.
Technology, Industrials and Energy Have Benefited the Most From Past Capex Improvements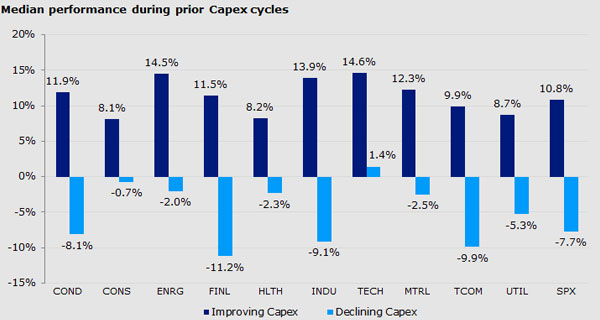 Many investors will wonder about valuations, given the run-up in stock prices over the past few years. As of June, the average forward price-earnings ratio of the S&P 500 Index was 15.6 — lower than the post-1985 average of 20.8 that was historically high due to decades of declining interest rates, leveraged-fueled spending (private and public), and the like. Prior to 1985, the average was 14.1.3 This may be a little low for today's globally oriented economy, but it is probably a more reasonable average to consider.
Valuation is certainly important, and I am not looking for further multiple expansion from here — that was last year's story. But today, quality is what matters, and investors need to focus on companies with a forward-thinking view of reinvestment. This is also going to require that investors have a forward-thinking view about investing.
The market may be ahead of itself in the short term as it's probably too early to start banking the benefits of a big turn in the capex cycle. So, there could be some market risks over the near term, but long term I am bullish on the economy as companies invest for growth, and that's good for investors and our country.
Important information
Interest rate risk refers to fluctuations in the value of a fixed-income security resulting from changes in the general level of interest rates.