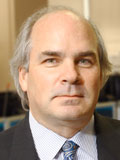 Phil Taylor
Senior Managing Director, Invesco
Investors want to buy stocks whose price is going up. That's a very simple objective, but every investor takes a different path toward that goal. One of the more popular approaches is value investing — the strategy of buying a stock that's temporarily "on sale," and waiting for the market to realize that stock's full potential. The key is to find quality companies that are truly undervalued — versus companies whose fundamentals warrant their lower share price.
I recently spoke with three of Invesco's value managers about their unique take on investing, and what it takes for a stock to make it into their portfolios. We also discussed whether there are any stocks left that are "on sale" after this year's strong stock market performance. Their answers, and the guidance of your financial advisor, can help you determine which type of value strategy might help you meet your financial goals. If you'd like more information on Invesco's distinct value investing strategies after reading our conversation below, visit invesco.com/value.
You have unique takes on value investing. Can you describe your philosophy?
Tom Bastian: My funds focus on "relative value." We seek companies that are undervalued and under-earning compared to the markets and to their own history, and that are unloved by Wall Street analysts. When companies like this experience a positive change, I believe that presents a great opportunity for investors.
Kevin Holt: I take a "deep value" approach to the market, which means I look for companies that are trading at a significant discount to their true value — the value of their underlying assets. We believe that over time, and in the absence of a permanent deterioration in company fundamentals, stock prices will naturally move back toward true value, rewarding patient investors.
Meggan Walsh: We approach "dividend value" investing from two perspectives. For investors biased toward capital growth, we offer a total return strategy that emphasizes appreciation, income and preservation over a full market cycle. The goal is to offer clients a stable foundation for their equity portfolios. For income-biased investors, we provide a dividend income strategy that emphasizes companies with above-market and defensible yields. The goal is to help investors diversify their sources of income with capital appreciation as a secondary objective.
There are many different ways to measure valuation. For example, you can compare a company's stock price to its earnings, its cash flow, its revenue or other measures. How do your teams decide whether a company is a good fit for your particular value strategy?
Walsh: As you mentioned, there are many ways to measure value. For our total return strategy, our process triangulates a company's fair value using multiple techniques, including looking at historical and peer valuation as well as a discounted cash flow and dividend discount modeling. In terms of appreciation, we look for a minimum of 35% upside over a two- to three-year horizon for a name to be considered for inclusion. We then further stress-test our models to determine that the company also offers an attractive risk-reward profile, which speaks to our focus on capital preservation. These steps help us ensure that a company has what we believe to be an attractive total return profile and is a fit for our value strategy.
Holt: In our process, the first thing we do is to filter stocks using whichever valuation measure is most appropriate for the industry. Companies in noncyclical industries, such as health care, tend to have stable earnings patterns, so we find various price-to-earnings metrics to be the most applicable. But companies in cyclical industries, such as energy, tend to have more volatile earnings, so we rely on more stable measures of value to assess those companies — such as price-to-sales or price-to-book ratios. The next thing we do is to break down the fundamentals of the individual companies and learn everything we can about them, so that we can assess which ones have the best potential to move toward the value of their underlying assets.
Bastian: We also look at various metrics to assess valuation. Additionally, it's critical for us to identify a positive change — a catalyst — in a company's business before we buy it. For example, a company may be undergoing a change in management, launching new products or experiencing favorable industry trends — something that can drive growth in the stock price.
The stock market has had a good run this year, with the S&P 500 Index gaining 13.82% during the first six months of 2013.1 Are there still value opportunities in the stock market today?
Bastian: One of the themes that's been out in the media lately is that we're entering a stock-picker's type of market — one that's driven by micro factors, not macro factors. What that means is that we can't rely on broad economic trends to carry the entire market upward. We have to find the individual stocks that are positioned to perform.
There are value opportunities out there, but it takes diligent research to find them. Right now, we're seeing the most opportunity in the financials, health care and technology sectors.
Holt: Our deep value strategy seeks very early-stage value opportunities, and we typically hold them for four or five years while we wait for them to approach fair value. This approach can lead us to companies that have been pretty beaten up by the markets, and may not look like opportunities to others.
For example, we started investing meaningfully in the financials sector back in 2010 and 2011, when most other managers weren't interested in the large diversified banks that were suffering through the after-effects of the great financial crisis. This sector has done well in 2012 and so far in 2013, but they are coming off a very low base, so we believe there is still a lot of room for them to run.
Walsh: I'll put my answer in the context of our total return strategy, which focuses on three key elements over a full market cycle – appreciation, income and preservation. While we're still finding attractive "appreciation" investments, they were more plentiful earlier in the current cycle. At this point, we are paying particular attention to the "preservation" part of our process — we're focused on risk-reward and want to avoid paying for peak earnings or margins. We are more concerned with the normalized earnings power of a company across the full cycle.
Generally, we believe most opportunities today are in companies that generate stable levels of high free cash flow and return capital to shareholders via dividends, such as some of our investments in consumer staples.
Tom, you just mentioned that it takes diligent research to find opportunities. What does this mean?
Bastian: We place heavy emphasis on financial analysis when assessing an investment opportunity. We look for companies with conservative accounting practices, paying close attention to balance sheet, cash flow, and income statements. Several team members have an accounting background, which is beneficial to our research.
Our analysis is often supplemented by meeting a company's senior management, suppliers and competitors. In fact, management interviews are a prerequisite before building a position in a company.
Each portfolio manager is accountable for the specific sectors he or she covers — it is the managers' responsibility to develop an investment thesis and have a complete understanding of the risk-reward profile of the company prior to purchase. We believe that in-depth fundamental analysis is the key to the early identification of a catalyst that may lead to improved business fundamentals or share price appreciation.
Meggan and Kevin, what can you add to this?
Walsh: I believe diligent research starts with diligent analysts. Each member of our team conducts fundamental research and, over the course of one's career, we assign individuals a combination of cyclical and stable growth industries because we believe understanding the intricacies in analyzing these stocks is critical, particularly around inflection points. Specifically, the market forward discounts information in cyclical sectors much differentially than in more stable sectors.
Our research starts by identifying dividend-paying companies with solid balance sheets, strong cash flows and conviction around the return profile. Ultimately, sound fundamental research is about finding attractively valued companies with underappreciated normalized earnings power and an attractive risk-reward profile. We build "bull," "bear" and "base case" scenarios to evaluate the risk-reward profile and better understand the sensitivity of the primary drivers of our models.
Holt: We believe that the individuals who are conducting investment research are best equipped to make the decisions. As such, managers are responsible for idea generation, research and analysis as well as portfolio construction for their respective sectors and industries. As Tom and Meggan already mentioned, interviews with company management are important, as we are trying to understand the company strategy and ability to execute.
Our portfolio managers generate models for normalized earnings projections as well as free cash flows using a variety of software applications. These systems allow the portfolio managers to perform sensitivity analysis based on changes at the margin that could fundamentally affect earnings and growth projections. Importantly, these tools allow the managers to understand a security's upside potential relative to its downside risk. Managers will only initiate a purchase of a security if they believe the potential for stock price appreciation outweighs potential downside risk.
---
Important Information
The opinions expressed are those of the authors, are based on current market conditions as of September 10, 2013, and are subject to change without notice. These opinions may differ from those of other Invesco investment professionals.
Diversification does not guarantee a profit or eliminate the risk of loss.
Past performance cannot guarantee future results. An Investment cannot be made in an index.
Industry classifications used in this report are generally according to the Global Industry Classification Standard, which was developed by and is the exclusive property and a service mark of MSCI Inc. and Standard & Poor's.
Meggan Walsh's dividend income strategy is utilized on Invesco Dividend Income Fund. Walsh's total return strategy is utilized on the Invesco Diversified Dividend Fund.
Tom Bastian's relative value strategy is utilized on Invesco Growth and Income Fund and Invesco Equity and Income Fund.
Kevin Holt's deep value strategy is utilized on Invesco Comstock Fund.
The S&P 500® Index is an unmanaged index considered representative of the US stock market.
The price-to-sales ratio is calculated by dividing a stock's current price by its revenue per share for the trailing 12 months.
The price-to-book ratio is calculated by dividing the current closing price of the stock by the latest quarter's book value per share.
A cyclical growth industry is sensitive to business cycles and its performance is strongly tied to the overall economy.
A stable growth industry (or non-cyclical industry) has earnings that are relatively immune to economic upturns and downturns.
About Risk
Common stocks do not assure dividend payments. Dividends are paid only when declared by an issuer's board of directors and the amount of any dividend may vary over time.
A value style of investing is subject to the risk that the valuations never improve or that the returns will trail other styles of investing or the overall stock markets.
The investment techniques and risk analysis used by the portfolio managers may not produce the desired results.
The products discussed are subject to certain other risks, as outlined in the prospectus, which may include risks associated with investments in foreign securities and emerging markets, derivatives, or debt securities. Please obtain and review all financial material carefully before investing.