By Paul Curbo, Portfolio Manager, Invesco Ltd.
Summary
In general, I would describe the second quarter as another positive quarter driven by the attraction of real estate securities. In a "risk on/risk off" environment — with abrupt trading shifts that strongly favor either higher-risk asset classes (risk on) or lower-risk asset classes (risk off) — I think investors like real estate securities for these reasons:
Cash-flow stability
Attractive yields
Earnings growth in many areas around the world
Global performance diverges significantly
The US real estate investment trust (REIT) market was up around 4%,1 while the global real estate securities market was up a little over 2%2 — results that are attractive for most investors. But in terms of relative performance, we saw significant divergence in performance around the world.
Markets in Australia, the US and Canada performed well in the second quarter.2 In some countries, including the US and Canada, the real estate market experienced what I would call a "risk-off rally," in which sectors that have the greatest cashflow stability — the more defensive real estate market sectors like health care, triple-net retail3 and storage — experienced the best performance during the quarter.4
By contrast, some European markets experienced some pretty significant volatility — the Netherlands was down more than 12%, Italy was down close to 25% and Finland down 13%.2 So there was quite a bit of divergence among countries and regions. And even within countries, there was significant divergence.
Investors seek inflation protection
The search for income continues among investors around the world. Real estate is unique because it provides income and may also offer some level of inflation protection because these are hard assets. In many cases, leases include inflation bumps (or escalators) that potentially provide protection for investors in environments of rising interest rates or rising inflation.
In addition, if inflation were to pick up down the road, construction costs would typically rise, which would place upward pressure on asset values for what the REITs hold.
Many markets accelerating
When we look at fundamentals, I'm struck by how many markets around the world are still in the accelerating- or positive rental-growth point in the cycle, as the charts show. Markets cycle in and out of supply-and-demand fundamentals, and today we're experiencing an improvement in commercial real estate fundamentals in most markets around the world.
Fundamentals Improved in Many Markets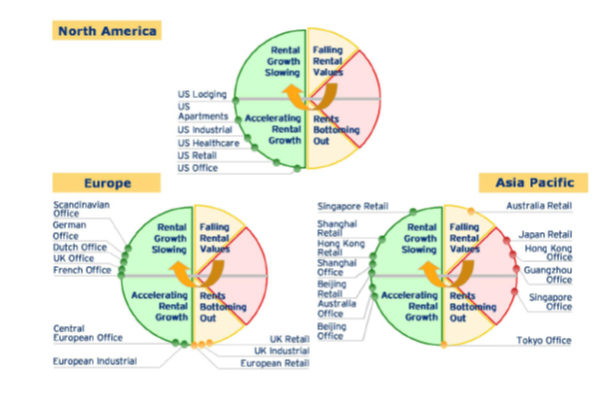 When we look at our outlook for the US economy, it's not necessarily all that bullish — Blue Chip Consensus economists peg US gross domestic project (GDP) growth outlook at a little over 2% for this year and a little over 2% for next year.5 Those projections are probably still coming down, but if levels are consistent with last year's GDP in in the 1% to 2% range,5 it's still sufficient for commercial real estate fundamentals to continue to improve, in our opinion. Given the lack of new construction that we're seeing in most developed markets around the world, we believe that positive demand is still sufficient to result in rising occupancies and rising rents in many markets.
Although we do get concerned about macro events and the economy overall, when we look at commercial real estate fundamentals, we still have confidence in an improvement in commercial real estate fundamentals in most markets going forward.
Important information
The opinions referenced above are those of Paul Curbo as of July 18, 2012, and are subject to change at any time due to changes in market or economic conditions and may not necessarily come to pass. These comments are not necessarily representative of the opinions and views of other Invesco investment professionals. The comments should not be construed as recommendations, but as an illustration of broader themes. Past performance is no guarantee of future results.
All investing involves risk including the risk of loss.
Investments in foreign markets entail special risks such as currency, political, economic and market risks.
Shares or units of a REIT will fluctuate with the portfolio of the underlying real estate properties, redemption of said units/shares may be more or less than the original price paid by the investor, that there can be no assurance of a secondary market for REITs which may cause the investment to be illiquid, and other special risks associated with real estate investing such as the effect of interest rates on income generating securities.
This material is for educational purposes only and does not contend to address the financial objectives, situation or specific needs of any individual investor. It is not a solicitation or an offer to buy or sell any security or investment product.