Richard Golod
Director, Global Investment Strategies
Executive summary
Global equities climbed in June despite clear indications that the global economy is slowing. I can't say this enough: Economic growth does not determine stock market performance. With central banks around the world embarking on what has the look and feel of a coordinated global monetary easing campaign, there will be opportunities and challenges for global equity investors.
US. I believe there are a number of disconnects between investor sentiment and the current pricing of equities that makes the risk to the market to the upside. Investors' concerns about Europe seem exaggerated, and the S&P 500 Index's current dividend yield spread, equity risk premium, implied earnings growth rate (an indicator of the market's pricing for annualized earnings over the next five years) and other sentiment measures suggest a buying opportunity to me.
Europe. The real problem in Europe isn't the level of sovereign debt but the inability of European economies to grow. Although economic data in the region continue to deteriorate, I believe investors may want to consider adding selectively to European equities, which appear attractive on technical, valuation and fundamental merits.
Emerging markets. The largest emerging market economies — known as the BRICs (Brazil, Russia, India and China) — continue to suffer from both country-specific and global factors. But their equity markets remain attractively valued, in my opinion.
The following pages expand on these insights and examine the implications for global investors.
Equities climbed in June
The global economy is weakening: 78% of individual country PMIs (formerly Purchasing Managers Index, the indicator is a measure of the manufacturing sector's health) tracked by the Institute for Supply Management fell in May, the most in nine months.1 Further, 82% of 29 developed and emerging market nations saw decelerating leading economic indicators or declining gross domestic product (GDP) growth forecasts on a year-over-year basis over the past few months.2
Yet, the MSCI World Index — including dividends — was up 5.2% in June, and the S&P 500 Index posted its best June return since 1999.3 I can't say this enough: Economic growth does not determine stock market performance.
In the past, peaks and troughs in PMIs typically have been coincident with market tops and bottoms, unless equity markets have already discounted the slowdown.1 That is not easy to determine. But there are a number of sentiment and valuation metrics that I believe suggest the market's downside could be limited from current levels. For instance, the forward price-earnings (PE) ratio of the MSCI World Index, at 10.5 times, is nearing a record-low level reached in 2008.4 I don't believe equity markets will get cheaper than they were in 2008 and 2009.
Weak economic data have put central banks on the offensive, prompting a wave of interest rate cuts and bond buying that feels like a coordinated global easing campaign, in my view. During June and July, the central banks of Europe, China, Kenya, Denmark, Australia, the Czech Republic, Kazakhstan, Vietnam, Israel and South Korea lowered rates. In addition, the US Federal Reserve extended a program that lengthens the maturity of bonds it holds, and the Bank of England increased the size of its asset purchase program.
The effects of this monetary stimulus are likely to vary across equity and currency markets around the world, providing investors with both investment opportunities and challenges.
US
The S&P 500 Index was up 9.5% — including dividends — in the first half of this year, despite poor investor sentiment, disappointing job growth and concerns over Europe's sovereign debt crisis.5 I believe there are a number of disconnects between investor sentiment and the current pricing of equities that makes the risk to the market to the upside.
The US stock market is reacting to changes in the yields of certain European sovereign bond markets — markets with which we do little business. Consider this: Eurozone imports represent only 4.5% of GDP in the rest of the world, and since 2000, the US has been relatively immune to eurozone economic shocks.6 In the past decade (2000-2012), a 1% decline in eurozone GDP growth has generated a 0.26% change in US GDP over four quarters.6 In other words, the US economy's "beta" (or sensitivity) to that of Europe is 26 basis points (or 0.26%).7
While investor concerns about Europe seem exaggerated, the S&P 500 Index's current sensitivity to changes in Europe's credit markets has created a unique buying opportunity, unless the world falls into recession.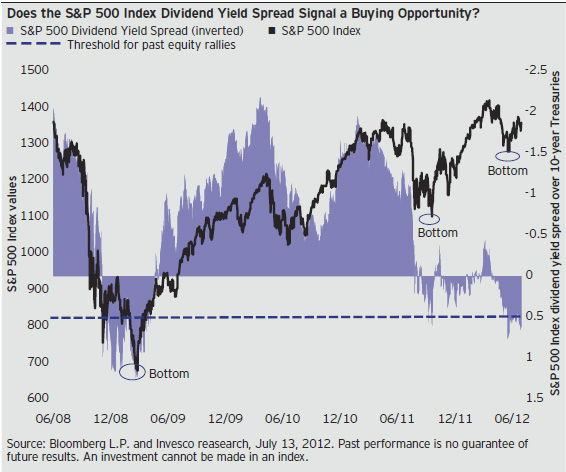 As the chart shows, whenever the spread between the dividend yield on the S&P 500 Index and the yield on 10-year Treasury note was greater than 50 basis points (or 0.50%) over the past four years, equities rallied.8 As of July 13, the spread was 62 basis points (or 0.62%).8 Keep in mind past performance is no guarantee of future results.
Another disconnect is evident in the equity risk premium (ERP). ERP is calculated by subtracting the earnings yield on the S&P 500 Index from the yield on 10-year Treasuries. The difference represents the excess return investors demand for owning equities instead of a risk-free investment.
Although past performance is no guarantee of future results, since 1962, when the S&P 500 Index ERP was greater than 4%, equities have generated positive returns 94% of the time over the following year, with average returns of 23.33%.9 As of July 13, the current spread was 5.81%.9 As a reference point, on Sept. 30, 2011, three days before the market rallied 29% (from Oct. 3, 2012, to April 2, 2012), the equity risk premium was 6.2%.9
US equities' implied earnings growth rate (IEGR) also looks indicative of a buying opportunity, in my opinion. While some strategists focus on what analysts think about estimated earnings, I prefer to focus on what the market thinks, which can be measured by the IEGR. The market's average long-term earnings growth rate since World War II has been 7.1%.10 Since 2008, whenever the IEGR was below -2%, equities rallied more than 25% in less than a year.11 The current IEGR is -2.5%, which is extremely pessimistic and a great buying opportunity, in my opinion.11
Finally, two other sentiment gauges continue to indicate high levels of pessimism. The American Association of Individual Investors (AAII) Investor Sentiment Survey bullish index has declined to 20-month lows, falling below October 2011 levels.12 The put-call ratio — the ratio of investors using options strategies to speculate that the market will decline versus moving higher — has risen to levels not seen since 2008.12
With investor fear at panic levels and earnings expectations extremely pessimistic, I believe the surprise to the market could likely be to the upside. As long as the yearover- year change in the Conference Board's Leading Economic Index is descending, investors should continue to overweight large caps over small caps, high quality over low quality, high yield over low yield and the noncyclical sectors over the cyclical sectors, in my opinion. Strength in the US dollar would tend to adversely affect the multinational companies over domestically oriented companies. Therefore, investors may want to overweight certain stocks in the health care, utilities and telecommunications sectors.
Europe
The announcement out of the European Union (EU) summit on June 28 and 29 to allow the European Financial Stability Facility (EFSF)/European Stability Mechanism (ESM) to recapitalize the banks took the equity markets by surprise. EU leaders agreed in principle to relax the bailout rules, lay the foundation of a banking union with the European Central Bank (ECB) acting as supervisor, and take steps toward breaking the link between sovereign and bank debt through the direct recapitalization of lenders. The agreement reminds me of the Troubled Asset Relief Program (TARP) program in the US. European equity markets (as measured by the MSCI Europe Index) immediately rallied 7% from June 28 to July 3.13
Once again, it looks as if European leaders have bought more time for an eventual solution to the debt crisis, which will likely be a combination of austerity, debt forgiveness and below-rate loans. The real problem in Europe isn't the level of sovereign debt but the inability of European economies to grow. Change takes time and causes pain. I suspect Europeans will feel more pain, which should help to accelerate a solution.
Meanwhile, economic data continue to languish. The region's unemployment rate reached a record 11.1% in May.14 Services and manufacturing contracted for the fifth consecutive month, and confidence dropped to a two-and-a-half-year low in June.14
In addition, Germany's ZEW Indicator of Economic Sentiment fell precipitously in June.15 However, large drops in the ZEW Indicator historically have been followed by above-average stock returns.15 In the past, the average equity returns of the MSCI Europe ex-UK Index three, six and 12 months after major declines have been roughly double the returns of any other time period, although past performance is no guarantee of future results.15
I believe investors should now consider adding selectively to European stocks. According to Citigroup, which looked at 15 different valuation measures, European stocks have been cheaper only 15% of the time over the past 25 to 100 years, depending on the valuation measure.16 Additionally, according to Morgan Stanley, European equities have an 81% probability of trading higher on a technical basis, 84% probability on a valuations basis and an 87% probability on a fundamental basis, although there is no guarantee these outlooks will come to pass.17 In the UK and Germany, equities are historically cheap relative to bonds, with the spreads between dividend yields and their respective 10-year government bond yields the widest in 100 years.18
To gain exposure to Europe — an asset class that I believe is currently underowned and oversold — investors may want to consider a portfolio of high-yielding, multinational companies, given that the average dividend yield in Europe is currently 4.38%.19 One way to do this may be through a global "dogs of the Dow" portfolio, which seeks to invest internationally in companies with the highest yield, although the strategy carries its own risks. A hypothetical global dogs of the Dow strategy, which invested in the 10 highest-yield stocks of the MSCI World Index and was rebalanced every year, generated only four negative years since 1989, only one of which has occurred since 2000.20 Keep in mind past performance is no guarantee of future results.
Emerging markets
The largest emerging markets — known as the BRICs (Brazil, Russia, India and China) — whose economies grew more than four-fold in the past decade, are struggling.21
China's slowdown is a function of two forces. First is the legacy of its own efforts to tighten monetary policy in 2010 and 2011, which restricted credit availability. Second is the impact of declining external demand, which negatively affects exports. In each of the past five quarters, net exports in China were a drag on GDP.22 As a result, the People's Bank of China has lowered rates twice in the past month in an attempt to stimulate growth. That said, on price-to-book value, the MSCI China Index is trading near 2008 and 2009 lows.23
India's economy is "suffering from high inflation, a current account deficit of 5% of GDP, a budget deficit, a depreciating currency and weak government," according to Ned Davis Research.24
Brazil's economy has slowed to a snail's pace as exports to China slow and credit availability has declined from Spanish banks. Also, Brazil's consumer default rate rose to the highest level since 2009.25 On a 12-month forward PE basis, the Bovespa Index trades at 8.7 times, which is the low end of the historic range.26
Russia isn't doing much better, as prices for oil exports fell to 18-month lows.21 However, Russian stocks are trading below book value at 0.75%.23
The BRICs account for 20% of global GDP, but their combined market capitalization rate is currently trading at 16% of global GDP, the lowest level in three years.21 The last time the gap was four percentage points, back in 2005, the BRICs appreciated 53% in the following 12 months, more than doubling the performance of global stocks, although past performance is no guarantee of future results.21
The MSCI Emerging Markets Index is trading 31% below its three-year average PE, which I believe could potentially limit the downside from current levels.21
In my opinion, investors with a long-term time frame may want to consider adding to emerging market positions. Investors may want to wait for strength in the euro/dollar exchange rate, which may signal a resumption of a "risk-on" investment environment (that is, a trading shift that strongly favors higher-risk asset classes), or watch for positive growth in China's broad money supply before adding to positions.
Final thoughts
Global earnings estimates could likely recalibrate to lower levels, given the global economic slowdown. Consumer sentiment and valuation measures are approaching extreme levels, which suggest to me that much of the risk is already priced. What isn't priced is a global recession, in my opinion, but I don't believe that to be a highprobability scenario at this time.
History has shown that some of the market's best days occurred almost immediately following some of its worst days. According to research by BMO Capital Markets, "Since 1970, 45% of the best 40 days came within one week of a worst day, 55% came within two weeks of a worst day and 62% came within one month of a worst day."27
The question becomes whether the next market surprise will be to the downside or the upside of expectations. Perhaps the Citi Economic Surprise Index for G10 countries, which tracks how a variety of macro indicators "surprise" relative to expectations, can provide some insight. Currently, the index is in deeply negative territory and has fallen below its current level only once in the past 10 years.18 This does not suggest negative economic data couldn't continue. Rather, I believe it suggests the equity market's reaction to weakening economic data may not be as negative.
Important information
The opinions referenced above are those of Richard Golod as of July 16, 2012, and are subject to change at any time due to changes in market or economic conditions and may not necessarily come to pass. These comments are not necessarily representative of the opinions and views of other Invesco investment professionals. The comments should not be construed as recommendations, but as an illustration of broader themes. Past performance is no guarantee of future results.
All investing involves risk including the risk of loss. Diversification does not eliminate this risk. Investments in foreign markets entail special risks such as currency, political, economic and market risks. The risks of investing in emerging market countries are greater than the risks generally associated with foreign investments. Small- and mid-cap stocks carry special risks, such as limited product lines, markets and financial resources, and greater market volatility than securities of larger, more established companies. Common stocks do not assure dividend payments. Dividends are paid only when declared by an issuer's board of directors and the amount of any dividend may vary over time based on the business prospects of the company.
This material is for educational purposes only and does not contend to address the financial objectives, situation or specific needs of any individual investor. It is not a solicitation or an offer to buy or sell any security or investment product.