By: Greg McGreevey, Chief Executive Officer, Invesco Fixed Income
While the Great Financial Crisis of 2008 is long behind us, the ensuing consequence of ongoing systemic deleveraging remains a dominant force in global financial markets. Central banks continue to respond with monetary stimulus to support regional economies and counterbalance the impact of deleveraging relative to growth and asset valuations. Such activity was especially evident in the eurozone and the US throughout the entirety of 2012. Specifically, we saw strong measures by the European Central Bank (ECB) to prevent a systemic collapse of the eurozone and accommodative monetary policy from the Federal Reserve (the Fed) to combat unemployment and lackluster growth in the US.
The resulting backdrop of low interest rates and the removal of extreme tail risk attached to Europe drove 2012 returns to 4.32% for the overall fixed income market, as measured by the Barclays Global Aggregate Bond Index. Performance was even more pronounced in credit, where a search for yield and a wash of liquidity prompted strong price rallies, driving 2012 returns to 18.1% for the Barclays Global Emerging Market Bond Index and 15.8% for the Barclays U.S. Corporate High Yield Index — two top-performing sectors. These themes of low rates, global liquidity and a search for yield are carrying over into 2013 and are very likely to remain the dominant factors behind returns for the year.
To share Invesco's thoughts on the fixed income market and the outlook for returns in 2013, we conducted a question-and-answer session with Greg McGreevey, chief executive officer of Invesco Fixed Income. Here are the highlights.
How far along are we in the deleveraging cycle that has been under way since 2008?
Deleveraging cycles are rare and not well understood. Common characteristics are a buildup of private-sector debt, a shock-induced unwind and a falloff in economic formation — in a nutshell, 2008. The fix takes many years, and it generally starts with central bank liquidity injections aimed at providing economic stimulus. Fiscal spending often increases to make up for the drop-off in private-sector spending. However, this government spending simply results in a swap of public-sector debt for private-sector debt. We've seen this scenario unfolding since 2008 and believe we're only in the early part of this deleveraging process in the developed markets of the US, Europe and Japan.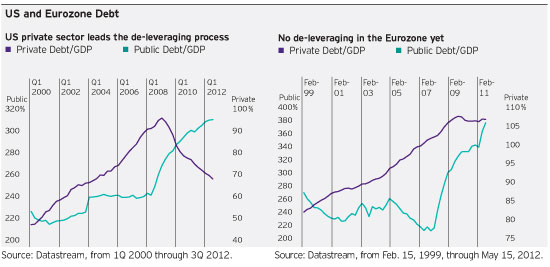 How does where we are in this cycle influence your expectations for central bank activity?
The US has made the most progress toward deleveraging, especially in terms of private-sector debt reduction, but the Fed has clearly signaled it will remain supportive through both low rates and asset purchases until employment levels begin to improve substantially. Europe needs to make much more progress in its debt-reduction efforts, and we believe the ECB will need to remain accommodative to preserve the euro and stimulate economic activity from very weak levels. Japan has also reiterated its commitment to monetary easing in support of greater economic activity. So, overall, we continue to expect developed market central banks to remain very accommodative for some time.
Based on this outlook for central banks, what does this imply for the outlook on interest rates as we move in and through 2013?
Until we see an increase in key economic factors — growth, velocity of money, private credit creation, higher employment, higher spending — we believe inflation will be contained, and the Fed and the ECB will continue to attempt to keep rates low across the yield curve.
Longer term, however, it is very difficult for central banks to get the timing of monetary policy right, so we are concerned about the higher inflation that could result from too much stimulus. That said, for 2013, we expect rates to remain low, but given the already historically low level of rates, we are inclined toward a strategy of neutral-to-short duration.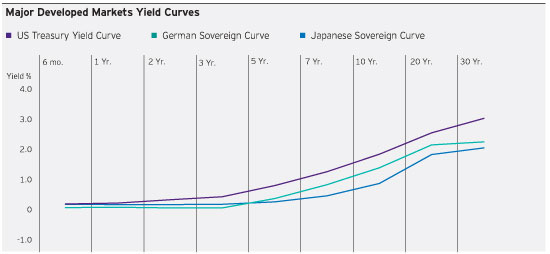 Source: Bloomberg L.P., as of Dec. 31, 2012.
Will central banks be effective in supporting economic formation in 2013 and what are your specific views on growth in key regions such as the US, Europe, and China?
There are two primary tools central banks have used to stimulate growth. The first is lowering interest rates to stimulate borrowing. The second is quantitative easing, or the outright purchase of assets, to increase consumption and investment stimulated by the confidence that arises out of higher asset prices. History shows neither approach is very effective toward sustained economic formation — individuals and businesses with high debt levels simply don't want more debt.
So, our view is that despite all this central-bank intervention, developed market growth will slow somewhat in 2013 from 2012 levels. Specifically, we expect 1.5% to 1.8% year-over-year gross domestic product (GDP) growth in the US and zero to negative GDP growth in Europe. China is a very different story. While we expect China to move from an investment-led to a consumption-led economy, we still expect public-sector fixed investment to support GDP growth in the 7.5% to 7.8% range.


Source: Bloomberg L.P., Invesco Fixed Income; as of Dec. 31, 2012. There is no guarantee these outlooks will come to pass.
What are the risks to your growth expectations and how would you position for upside/downside surprises vis-à-vis asset prices?
A US fiscal plan that balances the need for short-term economic support with long-term deficit and debt reduction could lead to stronger housing and energy sectors, as well as increased capital spending out of the $1.7 trillion in cash sitting on US corporate balance sheets. Also, a solution to the European debt crisis would increase the confidence of business leaders and investors, leading to improvement not only in Europe, but also in the US and emerging markets.
On the negative side, fiscal austerity measures implemented to address government deficits and debt could result in a significant hit to growth in both the US and Europe. Additional risks exist should investors demand much higher yields to fund peripheral European countries' debt.
Central banks have already used up many of the tools at their disposal to deal with these situations. As a result, we think the downside for asset prices could be more meaningful than if central banks were in a better position to support the economy. Given the run-up in valuations in many parts of the fixed income markets and the risks we've discussed, our expectations for 2013 favor an asymmetric outlook with greater downside risks than upside potential. As such, we are inclined to overweight US and emerging market positions.
Against your outlook for rates and the economy, do investors continue to look for yield in credit, and if so, is there still value to be had there?
Given our expectations for a continued low-growth, low-inflation environment, we believe high yield, bank loans, and emerging market sectors that provide greater income and greater total-return potential should see higher investor flows driving favorable returns over 2013. That said, given the significant asset flows that have already driven up the prices in these sectors, returns will likely be less than those we've seen in recent years and dominated by income rather than price returns.
We do believe the market will begin to favor companies with strong fundamentals within each of these sectors, and we will see divergence of performance within particular sectors as a result. In our view, Invesco's strong bottom-up capabilities help position us to take advantage of alpha opportunities created by that differentiation. In addition, given the upside/downside risks that we discussed before, investors should complement this alpha generation with an ability to modulate beta in response to changing market conditions.

Source: Invesco, Barclays, Standard & Poor's LCD and Bloomberg, all data as of Dec. 31, 2012. Yield to worst (YTW) is the lowest potential yield that can be received on a bond without the issuer actually defaulting. Spreads are option adjusted spreads (OAS) as calculated by Barclays, except S&P/LSTA Index which is the simple spread to 3.5 year maturity Treasuries (overall yield minus the Treasury yield).
Where else do you see value in the fixed income space and what is your strategy heading into 2013?
As I mentioned before, we would have exposure to developing markets as they are in stronger shape than their developed market counterparts. The US is more strongly positioned than Europe, so we would maintain greater exposure to the higher-risk areas of the US. However, many European companies who do much of their business outside Europe have seen their asset prices brought down by events in Europe — we would selectively invest in these opportunities.
In the US market, we have seen significant flows into municipal securities in the past year. We think those flows will continue because munis meet the needs of investors — income potential and a deferred tax burden in what will likely be a rising-tax environment. They also potentially offer very low defaults and lower risk overall.
So what is your overall expectation for fixed income returns in 2013?
Just looking at global fixed income securities overall, we think the opportunities in 2013 will be lower than what was available in 2012. Based on our research, if you look at specific sectors of the fixed income market, we believe investment grade credit is poised to outperform government securities, but other fixed income asset classes such as high yield bonds, bank loans, and emerging market debt may provide even better opportunities.
With investors searching for improved sources of yield, what are your views on intelligent beta and absolute return oriented multi-sector strategies?
We think these are going to have high demand from the marketplace. The ability to offer intelligent beta — beta that can be separately modulated in response to the marketplace risks that we've discussed today— coupled with alpha generation through bottom-up security selection should be viewed increasingly as a way to meet investor needs. As we talk to consultants and current and potential clients, we note that investors are looking for strategies that provide a strong level of income, coupled with the ability to generate good returns over a cycle. We believe these intelligent beta and absolute-return-oriented multisector strategies may offer such solutions.