Like a great novel, the equity market is filled with its share of heroines and challengers. Many heroines emerged following the financial crisis, such as extremely accommodative Federal Reserve policy and strong corporate balance sheets. The most memorable were corporate margins, which drove an impressive earnings recovery and led to attractive returns for equity investors.
Margins, however, are complex and change over time. We currently see attractive investment opportunities in more stable growth businesses but are skeptical of the durability of margins in more cyclical parts of the economy. The world still faces the challenge of global deleveraging and a scarcity of yield at the same time that baby boomers are demanding retirement income. But instead of waiting for another heroine to emerge, investors must find their own way toward retirement — through a sound, long-term investment strategy that recognizes and accounts for the risks of deleveraging.
Overview
At this point in the business cycle, more cyclical businesses are facing margin headwinds following years of significant margin expansion. We are confident in the durability of margins in stable growth sectors such as consumer staples.
Beyond the dynamics of the current business cycle, long-term fiscal deleveraging creates an economic headwind and incentivizes governments to keep real interest rates low.
As we enter the Age of Income with an increasing number of retirees, investors may face a period of "financial repression," where artificially low rates and inflation devalue the government's debt obligations.
Margins — a changing landscape
One of the great developments we've witnessed in recent years is an impressive earnings recovery, from a trough of $50 in earnings per share (EPS) for the S&P 500 Index in 2008 to approximately $100 in 2012. A subtlety of the earnings recovery is how little of it was driven by a rebound in economic growth or corporate revenues. As shown in Exhibit 1, the average quarterly earnings growth rate was 21% from early 2010 through 2012, whereas revenue growth and global gross domestic product (GDP) averaged 7.84% and 7.60%, respectively.
A key tailwind in this business cycle was margins, and we can point to numerous factors that created an environment of impressive margin expansion — prudent cost management, restrained capital expenditures, low wage growth, low interest costs and high productivity. These dynamics led to an environment where companies could do more with less and investors benefited.
Given this backdrop, our views are summarized below:

However, the margin landscape is changing. Margin expansion is generally high early in a cycle due to the cost reductions that are typically made in a downturn. This expansion wanes as the cycle unfolds and costs increase. The decline is most acute in cyclical businesses, as shown in Exhibit 2. In the current cycle, incremental margins were above base margins for 10 quarters, but they have steadily declined and turned negative in the third quarter of 2012.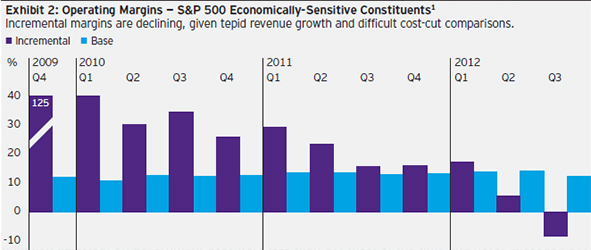 Today, our fundamental research indicates that many cyclical businesses are overearning versus our estimate of their full-cycle earnings power. Levers that previously drove attractive margins — such as offshoring, cost reductions and restrained capital expenditures — are fading.
In contrast, we see attractive total return opportunities in stable growth industries, such as consumer staples, that are returning cash to shareholders via dividends and buybacks. Management teams spent recent years implementing productivity measures that have eased the negative impacts of cost inflation, and product innovations have helped retain consumers who might otherwise trade down for savings. In contrast to cresting margins at cyclical companies, operating margins in consumer staples are 9.4% versus a prior peak of 13%. Overall, we are more confident in the durability of margins in the sector and believe managements' actions can support attractive profitability going forward.
The cost of deleveraging in the Age of Income
Consumer, corporate and government deleveraging have been important factors in this economic cycle. Progress has occurred with consumer and corporate balance sheets, but governments have yet to make meaningful headway. We believe long-term government deleveraging and the prospects for low real interest rates for an extended period of time are pressing considerations, particularly as we enter the Age of Income.
The demand for income is as great, if not greater, than at any point in our nation's history. Invesco calls this the Age of Income. Approximately 10,000 baby boomers will retire each day for the next 17 years. The percentage of the population over age 65 is at a historical high, while the 10-year Treasury is yielding 1.76%, near its lowest levels in 50 years and well below its average of 6.67% over the same period (Exhibit 3). In response, investors are rethinking their traditional income portfolio to diversify their sources of income and the risks they face. This leads to greater exposures to asset classes such as high-yield bonds, bank loans, real estate investment trusts (REITs) and dividend-paying stocks.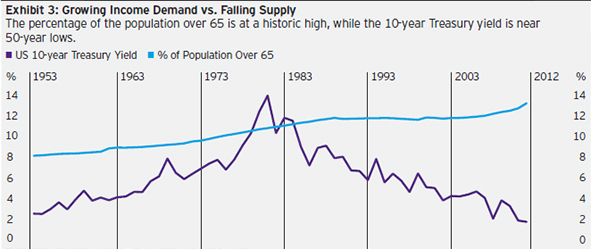 Given the US is the administrator of the world's reserve currency, default and restructuring are unlikely options for dealing with the high US debt levels. Instead, the US devalues its debt obligations over a long period of time by keeping rates artificially low and allowing higher levels of inflation to creep into the system. This is known as financial repression.
The stealth tax during periods of financial repression is simply an amplified version of the classic wealth redistribution that occurs between creditors and debtors during periods of inflation. The debtor (US government) benefits because the real value of its financial obligation declines over time, while the creditors (income investors) receive payments that carry a lower real value.
In "This Time is Different: Eight Centuries of Financial Folly," economists Carmen M. Reinhart and Kenneth S. Rogoff analyze historical periods of government deleveraging. One key finding is that periods of deleveraging coincide with periods of above-average inflation as countries seek to inflate their way out of debt slowly and over a long period of time. The US government inflated away 3.2% of its debt obligations annually by keeping real (inflation-adjusted) rates low, taking debt from a peak of 121% of GDP in 1946 to a trough of 32% in 1979. During this period, real interest rates (inflation adjusted) on government debt were less than 1% most of the time and never exceeded 3% (See exhibit 4.).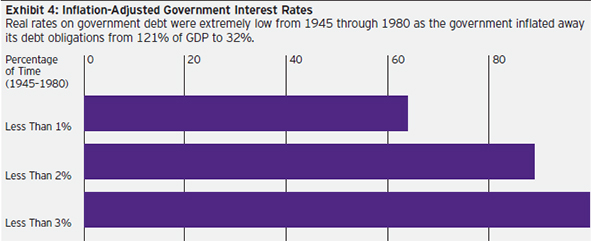 This is a very negative prospect for income investors and bondholders, and they need to think hard about their efforts to diversify their sources of income and inflation risk. For example, the yields on equities are historically attractive versus traditional income sources. (See exhibit 5.)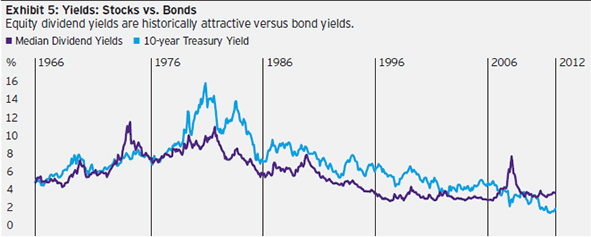 Over the long term, equities may be a decent inflation hedge as business efficiency improves and cost inflation is passed along in the form of higher prices. Government deleveraging is quite common in the context of history, and while it is an unnerving prospect, our best course of action is to devise a strategy and face it head on.
Below are three key items investors should consider:
Equities can potentially deliver attractive returns in low-GDP-growth environments due to the natural operating leverage of corporations.
Investors can guard against the impact of artificially low interest rates and potential inflation by diversifying their sources of income.
Dividend-paying stocks can help potentially deliver attractive returns and modest income while protecting against inflation risk.
GDP growth versus equity returns
One of the most common assumptions we see investors make about deleveraging is that low GDP growth means low equity returns. This is not necessarily the case. We readily concede that government spending is a large part of GDP, and its declining contribution will act as a headwind to economic growth. However, US GDP growth does not equal S&P 500 Index earnings growth. Equity returns are a function of the earnings that companies generate globally, which can be higher than US GDP growth.
The fairly weak economic environment in recent years was also a strong earnings environment due to expanding margins. Government debt/GDP reached similar levels as those of today (102%) in the late 1940s and subsequently declined for 35 years, from 126% to 33% (Exhibit 6). However, equity returns in the 1940s, '50s and '60s were 8.9%, 18.9% and 7.7%, respectively.
To be clear, we are not calling for a decade of equity returns commensurate with these time periods, but this illustrates that equities can deliver attractive returns in a deleveraging world.
Conclusion
Several heroines emerged in the equity market following the financial crisis, but the most memorable were corporate margins. While we are concerned about the durability of margins in some cyclical parts of the economy, we are more confident in the durability of margins in stable growth areas, such as consumer staples. Long-term government deleveraging and financial repression remain the market's greatest challenges. A generation of baby boomers in search of yield will need to diversify their sources of income to meet their needs.
In the medium term, fundamental economic reform in the labor market and the agricultural sector, in particular, are important to the prospects for the Japanese economy. For the upcoming year, however, monetary and fiscal policies are likely to be the main driving forces. We expect improved growth and higher inflation over the balance of the year.