Executive Summary
Global equity market performance in 2012 was driven by accommodative monetary policy around the world, as well as a decline in investor fear after policymakers in Europe reduced the risk of a financial crisis. Global equity markets are likely to respond to the same stimulus this year but maybe not to the same degree. I believe the dominant factor that will drive equity prices in 2013 will likely surprise investors: inflation.
US. US stocks will remain attractive in 2013, in my opinion. Although corporate earnings will be difficult to predict this year, earnings multiples are likely to rise. The equity market has become increasingly sensitive to changes in inflation, but the inflation rate looks to stay low for a prolonged period. This suggests the Federal Open Market Committee (FOMC) will continue to support higher stock prices. I believe dividend-growing stocks continue to merit attention, even in a "risk-on" world — an investment environment that strongly favors higher-risk asset classes.
Europe. European leaders have made great strides in reducing the risk of a financial crisis and constructing a framework for banks and sovereigns to access capital. Unfortunately, the agreed-upon austerity measures will likely keep the region in recession for most, if not all, of 2013, and the slow pace of deleveraging among corporations and consumers could stifle growth in the future. Given the region's declining earnings revisions and unattractive valuations, I believe investors should consider taking advantage of the eurozone's attractive dividend-yielding companies.
Japan. A new government with new promises for additional fiscal and monetary policies has reignited investor confidence. The declining yen/dollar exchange rate could continue to benefit Japanese stocks.
Emerging markets. The recent decline in the yen/dollar exchange rate could benefit Asian currencies and drive stock prices higher as capital moves out of Japan into the emerging markets to preserve purchasing power. Seasonal effects, accommodative global monetary policy and reallocation of assets from global investors are some of the reasons I believe this asset class is attractive.
The following pages expand on these insights and examine the implications for global
equity investors.
2012 delivered unexpected gains
In 2012, many equity strategists were surprised and confounded by the better-than-expected US equity returns, given the lack of earnings and economic growth. Risk assets, such as stocks, benefited from the decline in investor fear and a backdrop of quantitative easing.
This translated to double-digit gains across most regions. Europe, the region most feared by investors, posted the best performance, up 17.8% in US dollar terms (USD) in 2012.1 The S&P 500 Index appreciated 13.4%.1 The MSCI Emerging Markets Index came on strong late in the year, posting an annual return of 15.2%.1 Japan, as measured by the Nikkei 225 Index, was another late starter, rallying 20% (in local currency terms) in November and December to finish the year up 10% USD.2
With lackluster earnings and economic growth expected to continue in the new year, how can investors prepare? This month's commentary focuses on what I believe lies ahead for global equity investors in 2013.
The US economy in 2013
Consensus gross domestic product (GDP) growth for 2013 is 2.0%, a slightly lower consensus growth outlook than for 2012.3 This forecast is realistic, in my opinion, for a country that has a debt-to-GDP ratio of more than 90% and is recovering from a credit crisis while likely facing a fiscal drag that will offset some or all of the momentum seen in the housing and manufacturing sectors.4
The recent improvement in housing — which I believe is likely to continue, at least in the first half of the year — would suggest improving consumer sentiment and potentially increased consumer spending. The National Association of Home Builders (NAHB)/Wells Fargo Housing Market Index, at 47, is at a six-year high.5 This level has historically corresponded to 1.34 million new building permits, representing a 50% increase in new construction from current levels.5 Housing and consumer sentiment have been tightly linked over the past 10 years, with an 82% correlation between the NAHB index and the Thomson Reuters/University of Michigan Consumer Sentiment Index.6
Consumer balance sheets have improved as well. The household debt-to-disposable income ratio is at the best level in 28 years, at 10.61%, suggesting consumers are in a financial position to spend more by borrowing more.7
However, it will be difficult for consumers to drive the economy without wage or job growth. Wages have grown less than the rate of inflation for the past 22 months.8 In addition, the November savings rate of 3.6% has been this low only three times since the credit crisis, and the unemployment rate would be 9.8%, not 7.7%, if the same number of people were still looking for work (participation rate).9
Furthermore, the lack of confidence in the government's ability to make tough decisions in the best interest of its citizenry raises the risk of a potential recession. Although the coincident-to-lagging indicator is currently at levels usually seen in recessions, recessions rarely happen without a tightening in monetary policy.10 I believe it does suggest an economy that continues with below-trend growth and remains vulnerable to shocks.
The FOMC will do whatever is necessary to keep the economy afloat while the government and consumers repair their balance sheets. The FOMC has stated it will link its interest rate outlook to certain economic conditions, saying rates will stay low at least as long as unemployment remains above 6.5% and inflation is no more than 2.5%. It seems unlikely that either target could be reached before 2015. At the current employment growth rate and assuming the same participation rate (which is at a 30-year low), it would take until 2018 for the unemployment rate to reach 6.5%.11 Core personal consumption expenditures (PCE), the Federal Reserve's (the Fed) preferred measure of inflation, has risen above 2.5% only once in the past 15 years.12 One year ago, the core inflation rate was 1.9%; six months ago it was 1.8%, and today it is running at 1.5%.13
David Rosenberg, chief economist and strategist at wealth management firm Gluskin Sheff, estimates that given the current level of slack in the labor and manufacturing sectors (known as the output gap) and the Fed's current asset purchase rate, it would take 19 months to reach a neutral (neither inflationary nor deflationary) Fed funds rate, the rate banks charge each other to lend funds overnight.14 Reflating the economy could take even longer and/or would require a more aggressive monetary policy.
US: overweight
The direction of inflation has important ramifications for the fixed income and equity markets. Inflation has had a high historical correlation with the direction of bond yields, and the 10-year Treasury rate has been highly correlated to the Fed funds rate.15 Inflation and interest rates — and therefore bond yields — are likely to remain low for an extended period, in my opinion.
Looking at the US equity market, I believe Japan provides a useful comparison. Both countries experienced economic booms followed by credit crises, and then entered a "new normal" phase of low economic growth. In Japan, inflation has become a more important economic driver, and I believe it's likely to happen in the US as well.
During Japan's new normal over the past 20 years, the Nikkei 225 Index has had four rallies of more than 50%. A drop in the country's inflation rate preceded each equity rally with a six-month lag.16 Likewise, an increase in its inflation rate preceded four major corrections of 28% or more, with a lag of six months.16
In the US, correlations between the S&P 500 Index and inflation, as measured by the Consumer Price Index (CPI), have already increased from -28% in the 1980s and 1990s to -77% since 2008, as shown in the chart.17
Inflation matters more now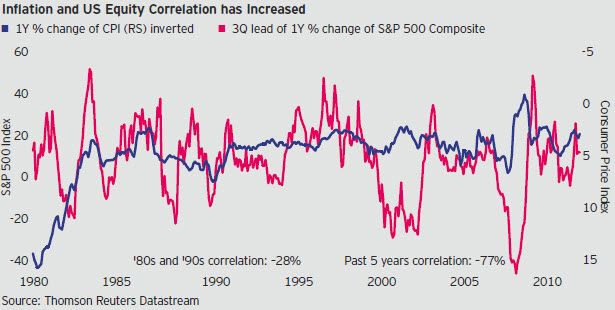 Investors should also monitor the direction of the dollar as a potential signal to invest more defensively. With most central banks around the world — including in the US — racing to or maintaining a zero interest rate policy, the dollar is likely to move in a fairly narrow band against major currencies.
The likely low(er) inflation and interest rate environment aren't the only drivers that will influence stocks in 2013 and beyond, in my opinion. At some point, earnings will matter.
The S&P 500 Index consensus earnings estimate for 2013 is $110.99, up more than 12% from $98.71 in 2012, which seems too optimistic considering the lack of expected GDP growth, the difficulty in expanding corporate profit margins and the potential lack of revenue growth, with 70% of the world posting a contraction in industrial activity at the moment.18 Corporate earnings were negative in the third quarter on a sequential and a year-over-year basis.19 Unless revenue growth improves, the lack of earnings growth could limit the upside in the equity market. That said, I still expect positive earnings growth in 2013, driven by lower but still positive revenue growth and share buybacks, in which a corporation repurchases shares of its own stock in the marketplace, thereby reducing the number of shares outstanding and increasing the company's earnings per share.
Stock prices reflect earnings multiplied by the price-earnings ratio (PE), the multiple investors are willing to pay for those earnings.20 Although past performance is no guarantee of future results, this relationship has resulted in four outcomes since 1985:4
When both earnings and PEs were higher, the market traded higher 100% of the time in the following six months.
When PEs expanded but earnings-per-share (EPS) estimates were down, the market was positive 80% of the time, averaging a six-month return of 7.6%.
When PEs contracted and eps estimates were up, the market was positive 60% of the time, averaging a six-month return of -0.5%. (The negative average six-month return despite the market's positive results 60% of the time reflected the magnitude of market declines during 40% of the time.)
When PEs contracted and eps estimates were down, the market declined 100% of the time, averaging a six-month return of -12.7%.
I believe 2013 equity returns are more likely to be driven by the earnings multiple than the earnings side of the equation.
Currently, the trailing PE ratio for the S&P 500 index is 14.85, about 11% below its 10-year average, which I believe is supportive of higher prices.21
The current level of investor fear/pessimism also suggests the market could have further upside. Since 2010, the S&P 500 Index traded higher 80% of the time when the implied earnings growth rate (a measure of pessimism) was below -1%, its current reading.22 At its current level, the equity risk premium moved stock prices higher 94% of the time over the following year, based on the trend of the past 50 years.23 Of course, past performance is no guarantee of future results.
Continued gains in the real estate market should improve consumer confidence, which has historically tended to positively influence PE multiples. Since 2003, PEs have been 67.5% positively correlated to consumer confidence.24
Obviously, not all stocks can participate equally in the market's upside. Over the past 10 years, growth stocks have outperformed value stocks 90% of the time when interest rates are low or declining.25 Again, keep in mind past performance doesn't guarantee future results. Political uncertainty and low growth may continue to benefit high-quality, dividend-paying stocks. A more nimble investor may seek to periodically invest in small caps and the cyclical sectors. But such an approach is a trade, not a long-term strategy, in my opinion.
I believe investors should continue to focus on dividend-growth stocks, which are trading at the biggest discount to high-dividend-yielding stocks in 20 years.26 I know this recommendation seems old and tired. However, the dividend payout ratio is still about half the long-term average.27 Corporations have plenty of cash to continue to increase dividends. The 2.2% dividend yield on the S&P 500 Index is trading 150 basis points above five-year Treasury notes — a gap not seen since 1958.28
A Morgan Stanley analysis found that since 1979, high-yield stocks provided excess return (a measure of risk-adjusted performance called alpha) of 6% a year, independent of beta (a risk measure gauging an investment's sensitivity to market movements), size, style and quality.29
Europe: underweight
A little more than a year after the European Central Bank's long-term refinancing operations (LTROs) provided nearly €1 trillion of cheap, three-year loans to the region's banks, some banks are expected to repay the loan in the first quarter of this year. This says a lot about what has transpired over the past year, as many banks now have good access to public funding markets at reasonable rates.
Reducing the risk of a financial crisis was instrumental in lowering the equity risk premium, which was the primary driver of European equity and fixed income returns in 2012, in my opinion.
But now comes the hard part: growth. The numbers out of Europe confirm contractionary activity with the combined services and manufacturing purchasing managers index (PMI) coming in at 47.2 in December — a reading above 50 suggests expansion and below 50 suggests contraction.30
Furthermore, the original problem — too much debt — still exists. There has been little progress in deleveraging by eurozone consumers or corporations. European private debt-to-GDP ratio peaked at 168% in the second quarter of 2009.31 By the end of the second quarter of 2012, private debt-to-GDP stood at 165%.31 By comparison, since the recovery, the US private debt-to-GDP ratio declined 21 points from the peak to 159% as of the second quarter 2012.31
Continued deleveraging by the banking sector and the need for the private sector to do the same are likely to rob the region of much-needed stimulus to grow out of its recession. It will likely take longer for the eurozone to recover without a more aggressive monetary policy that would result in a weaker currency. A much weaker euro is needed to mask the inefficiencies that still exist in the region. Many European companies are just not competitive with their US counterparts, in my opinion.
Weak economic growth is taking a toll on corporate earnings. Earnings revisions continue to decline, making it difficult to identify value. Because of the uncertain growth and earnings path, I believe investors should focus on the "best of breed" companies in the region — the biggest companies with strong balance sheets paying dividends. Central bank policy is likely to result in lower interest rates, which should benefit the dividend-yielding and dividend-growing companies. I would maintain an underweight in European equities until earnings revisions bottom.
Japan: neutral weight
Japanese stocks, as represented by the Nikkei 225 Index, were up 20% in local currency terms in the final two months of 2012 after a landslide victory by the Liberal Democratic Party, under the leadership of Shinzo Abe.2 The prospect of more aggressive quantitative easing by the Bank of Japan (BOJ) has weakened the yen, which trades at a 20-month low versus the dollar.32 The yen's decline below important technical levels suggests the trend could likely continue. This could present a potential trading opportunity.
The Nikkei Index has been 80% negatively correlated to the yen/dollar exchange rate over the past two years.32 Currency weakness has tended to move Japanese stocks higher.32 However, investors have heard the promise of aggressive quantitative easing before, only to see the BOJ back away from previous commitments. This makes me suspect of Japanese equities continuing to outperform. But, the additional liquidity could continue to benefit emerging market equity performance.
Emerging markets: overweight
I see four reasons to overweight:
Since 1987, emerging markets have tended to perform well relative to developed markets in the first quarter as global allocation funds, pensions, sovereign wealth funds and insurance companies invest fresh money into the asset class in the new year.33 Capital flows into emerging markets have historically tended to benefit both equity and currency prices.33
I believe continued yen weakness is likely to move capital out of Japan into emerging markets in an effort to protect purchasing power.
The US avoiding the fiscal cliff should boost investor confidence and benefit risk assets.
Valuations are compelling, especially in non-Japan Asia. The MSCI All Country Asia ex Japan Index is trading 28% below 2013 estimated indexed earnings, with China and India trading at the deepest discounts of -47% and -45%, respectively, according to Credit Suisse.33 This is one of the deepest discounts the MSCI China Index and MSCI India Index stocks have traded relative to earnings since 2000.33 Part of this discount is due to corporations' low return on equity. But if earnings and return on equity have bottomed, non-Japan Asia may offer a compelling opportunity for investors with the appropriate risk tolerance.
Final thoughts
Global equity markets responded positively to central bank quantitative easing in 2012, and they will likely continue to do so in 2013, in my opinion, especially with the BOJ contributing to global liquidity. Further policy initiatives in Europe and the US should reduce investors' anxiety and ultimately boost global equity prices. In the first half of the year, I believe risk assets are likely to outperform.
In my opinion, investors should overweight emerging market equities (especially non-Japan Asia); US large-cap growth stocks; and the technology, industrials, health care and utility sectors. In fixed income allocations, investors may want to consider overweighting high yield municipal bonds, senior loans and selective emerging market debt.
Important information
The opinions referenced above are those of Richard Golod as of Jan. 7, 2013, and are subject to change at any time due to changes in market or economic conditions and may not necessarily come to pass. These comments are not necessarily representative of the opinions and views of other Invesco investment professionals. The comments should not be construed as recommendations, but as an illustration of broader themes. Past performance is no guarantee of future results.
All investing involves risk including the risk of loss. Diversification does not eliminate this risk. Investments in foreign markets entail special risks such as currency, political, economic and market risks. The risks of investing in emerging market countries are greater than the risks generally associated with foreign investments. Small- and midcap stocks carry special risks, such as limited product lines, markets and financial resources, and greater market volatility than securities of larger, more established companies. Common stocks do not assure dividend payments. Dividends are paid only when declared by an issuer's board of directors and the amount of any dividend may vary over time based on the business prospects of the company. Most senior loans are made to corporations with below investment-grade credit ratings and are subject to significant credit, valuation and liquidity risk.
This material is for educational purposes only and does not contend to address the financial objectives, situation or specific needs of any individual investor. It is not a solicitation or an offer to buy or sell any security or investment product.