Highlights
The fourth quarter of 2012 marked the municipal market's eighth consecutive quarter of positive performance.
State and local governments continue to increase tax revenue, albeit modestly given several economic challenges.
Strong inflows into municipal bond mutual funds in 2012 was in stark contrast to the outflows the category experienced in 2011.
Municipals conclude year with modest quarterly gains, solid yearly performance
The municipal market experienced another quarter and another year of relatively strong performance. In the fourth quarter of 2012, the Barclays Municipal Bond Index posted a total return of 0.67%, bringing the year's total performance to 6.78% — the index's third-best performance over the past 10 years. The Barclays High Yield Municipal Bond Index produced a positive return of 3.73%, bringing its 2012 return to 18.14%. The fourth quarter of 2012 marked the eighth consecutive quarter of positive performance for the municipal market as measured by the Barclays indexes. According to Barclays, high-yield municipals generated the highest one-year return among all broad capital market asset classes.1
During the fourth quarter of 2012, revenue bonds outperformed general obligation bonds by 0.30%. Within the investment-grade municipal space, industrial development revenue/pollution control revenue (IDR/PCR) bonds were the top-performers for both the fourth quarter and for the year. Hospital bonds were the second best performers for the year and tobacco's performance ranked it second for the fourth quarter. Housing and electric bonds were again the largest underperformers over both periods.
In the high-yield municipal space, IDR/PCR, education and housing bonds delivered the best performance in 2012, while resource recovery and leasing bonds were the biggest underperformers. The performance numbers were almost inverse to the high-yield municipal returns in 2011, when resource recovery was the top-performing sector, producing returns of 15%.
New issuance slowed by state, local economic issues
Municipal bond issuance ended 2012 with $379 billion in gross new issues; while the gross figure reflects a 33% increase from the 2011 level, it also marks the second consecutive year of net negative supply. Industry reports have predicted that long-term municipal issuance will be about $390 billion in 2013, and that net supply will be slightly positive at $3 billion (Figure 1).2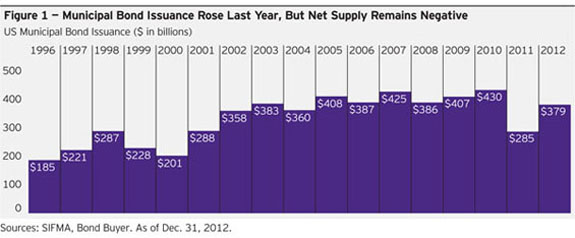 Impacted by the reluctance of state and local governments to initiate new projects, new money issuance fell to 37% of the overall issuance total, the lowest percentage since 1993. We concur with street estimates that suggest the percentage of new money issuance will be about 40% of all issuance brought in by the industry.
With the Fed stating their intent on keeping rates low until 2015, industry reports have suggested that refunding levels will remain near current levels through 2013.3 In 2012, refundings increased by 62% to $231 billion from $144 billion in 2011, after posting $154 billion in 2010.4
State, local governments continue to increase tax revenues, but not to optimal levels
The financial situation continues to improve for many state governments as evidenced by the growth in tax revenues, which have now increased for 11 consecutive quarters, according to data collected by the Rockefeller Institute. Overall, year-over-year state tax revenues increased by 2.7% in the third quarter of 2012, the most recent data available. The 11-quarter growth in state tax collections came after five straight quarters of a decline in collections were posted immediately following the recession. Despite the 11-quarter increase, overall tax collections are still weak compared to recent history. Nevertheless, state tax revenues were 1.4% higher in the third quarter than they were in the same quarter of 2008.
In the third quarter of 2012, 37 states reported higher tax revenue collections than in the same quarter of 2008, according to the Rockefeller Institute. While the data provides further evidence that state tax revenues are recovering, the report noted that when adjusted for inflation state tax collections actually show a 4.4% decline in the third quarter of 2012 compared to the same quarter in 2008. The report also notes that average inflation-adjusted year-over-year change in state tax collections averaged 1.5% for the last four quarters through the third quarter of 2012. This figure represents a softening from the 6.6% four-quarter average observed during third quarter of 2011, but a considerable improvement in the 2010 average of 0.7%, The sluggish growth in 2012 was partly the result of a slow recovery of employment, retail sales and housing prices.
Local governments have also had their challenges in increasing tax revenue. Local tax collections have been relatively weak as falling housing prices have severely reduced property tax collections, which over the last two decades have accounted for over 65% of local total tax collections. During the third quarter of 2012 local property tax revenues made up over 75% of local tax collections, growing by 8.7% compared to the same period in 2011. This resulted in the four-quarter average local tax collections increasing by 2.6% year-over-year. This represents the first positive growth figure for local tax collections since the third quarter of 2010.
The US unemployment rate continued to trend downward. In December, unemployment stood at 7.8%, down from 8.5% a year ago. When the unemployment rate dipped below 8% in September, it marked the first time the rate had been at that level since January 2009.
The housing market also displayed some encouraging signs last year. According to the S&P/Case-Shiller Home Price Indices, home prices rose by nearly 7% for the year ending in December 2012. The findings indicate that the housing market recovery is continuing, with prices rising on both new and existing home sales. In 2012 nearly 5 million existing homes were sold, the most since 2007 and a 9.2% increase from 2011. New home sales totaled 367,000 in 2012, a 20% increase from 2011 when 306,000 new homes were sold. This marks the first annual increase in new home sales since 2005.5 These figures confirm that housing is indeed contributing to economic growth.
Overall, we expect state and local governments to be resilient. We agree with industry analysts who anticipate a similar level of defaults to what was seen in 2012.
Strong inflows seen in 2012
Strong inflows into municipal mutual funds was a central theme of 2012. In the fourth quarter, municipal funds experienced a net inflow of $6.9 billion, according to Morningstar, despite a slightly negative December (Figure 2). During the year, the municipal bond funds had net inflows of $50 billion, a stark contrast from the $12 billion in net outflows the category experienced in 2011. During 2012 investors moved from pricey actively managed stock funds and into bond funds.
Intermediate term municipal funds posted some of the largest inflows in the fourth quarter, taking in $3.3 billion, and $14.7 billion for the year. Long municipal funds also had a strong quarter, taking in $1 billion ($5.9 billion — 2012), and short term municipal funds brought in $976 million ($9.6 billion — 2012). High-yield funds cooled a bit in the fourth quarter, taking in $865 million, down from $3.3 billion in the third quarter ($10.9 billion—2012).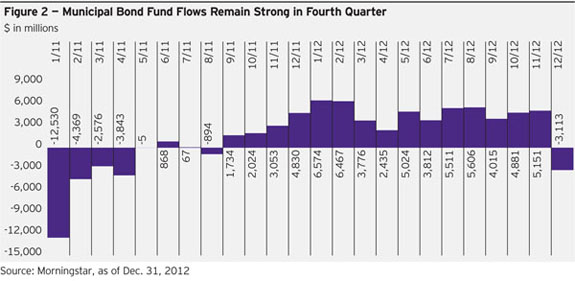 Where are the opportunities?
Intermediate term municipal bond funds
Intermediate term municipal bond funds are well positioned on the historically steep municipal yield curve. This may provide an attractive risk/reward trade off as well as price appreciation through the effects of roll down. Bonds with 15 years to maturity picked up 75% of the long bond yield with 50% of the maturity. (Figure 3)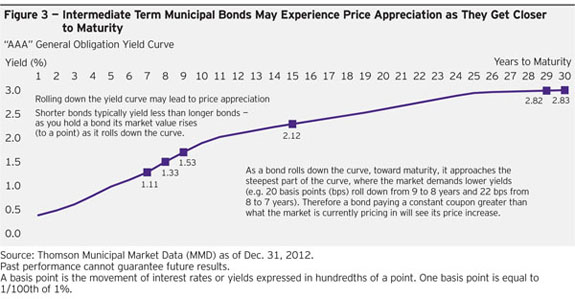 Risk/reward trade off
The municipal yield curve is at historically steep levels. Historically, intermediate municipal bond funds focusing on the middle part of the curve tend to offer competitive yields with considerably less volatility than long municipal funds.
Intermediate municipal bond funds have been less volatile than long municipal bond funds due to yield curve positioning — the further you move down the curve, the lower the duration. Therefore, intermediate municipal bond funds have typically outperformed long municipal bond funds in inflationary periods due to their reduced sensitivity to interest rate movements. Deflationary periods, however, have tended to favor longer term municipals.
Roll down
Intermediate municipal bond funds have been typically more sensitive to the effects of roll down.
Shorter bonds have typically yielded less than longer bonds, but when held, the bond's market price tends to rise (to a point) as it rolls down the steepest portion of the curve.
We believe that municipal bonds with maturities inside of 15 years are the most sensitive to the attractive price appreciation from rolling down the curve. With the Fed stating their intent on keeping rates low until 2015, the roll-down effect may likely be a benefit to the performance of municipal bonds in the intermediate part of the curve over this period.
High yield municipal bond funds
High yield municipal bonds are trading at historically wide spreads versus investment grade municipal bonds, and absolute yields on these bonds are relatively high.
As of December 31, 2012 high yield municipal credit spreads were at 349 basis points versus their historical average of 277 basis points, signaling that opportunities continue to exist in the high yield municipal market as shown in Figure 4. Absolute yields for high yield municipals are over 300 basis points higher than that of their investment grade counterparts. It's important to note that high yield bonds are subject to greater risk than investment grade securities.
Credit fundamentals continue to remain strong and default rates have continued their downward trend.
The protracted low rate market environment coupled with existing wide spreads in the A and BBB credits may be advantageous for those seeking yield.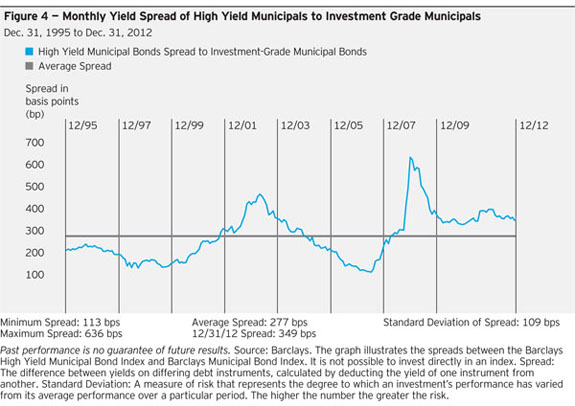 Single state municipal bond funds
Single state municipal bond funds invest in bonds issued by a specific state and its local governments.
The income from these funds is generally exempt from federal and state taxes in the issuing state.
Investors in single state municipal bond funds in the state of their residence may benefit from double tax exemption on their income.
Single state funds have been especially attractive in states such as California and New York, where capital gains taxes are some of the highest in the nation (Figure 5).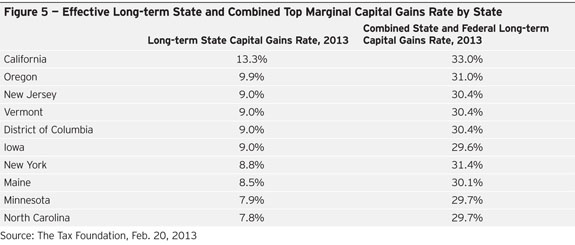 Municipal outlook
We believe municipal funds will continue to offer attractive opportunities for the following reasons:
Headline risk continues to impact the municipal market. The macroeconomic forces at work in the global economy that continue to spread volatility and general uncertainty can potentially create opportunities in the municipal market.
We expect political, headline and event risk to remain elevated in 2013 as lawmakers consider various options to close the federal spending gap. We recognize that difficult budget and policy decisions are needed and as a result we are avoiding investments that are highly dependent on federal aid.
Credit concerns, which dominated the municipal market last year, have diminished as state and local governments have taken the necessary steps to get their finances in order. Municipalities continue to work to improve their tax revenues and pension funding status, the two biggest factors impacting general obligation debt. We believe that going forward municipalities will be selective in the types of new project they enter. We expect to see the low default rate exhibited in 2012 to continue this year.
We believe that municipalities will avoid raising taxes to pay for bond sales and will be selective on the types of new bonds issued. We expect that the focus going forward will be on projects offering debt refinancing, infrastructure repairing and energy cost savings.
Tax advantages of municipal bonds6
Municipals bonds offer investors tax exempt income, meaning the interest income payments from municipal funds is exempt from federal income taxes and may also be exempt from state income taxes.
In some circumstances, investors may also be exempt from local taxes.
With expectations of continued low rates, municipal funds may offer investors the opportunity to benefit from monthly tax exempt income at attractive yields.
Invesco's municipal capabilities
In this environment, we continue to emphasize the importance of bottom-up fundamental credit analysis. At Invesco, we have a staff of 30 municipal investment professionals with an average of over 20 years of experience continuously monitoring our portfolios. Our staff includes 9 portfolio managers and 16 municipal credit analysts dedicated to reviewing and rating each and every credit we hold. Team members are located in 5 locations around the US, allowing flexibility for due diligence and site visits.
About risk