Executive Summary
Uncertainty creates opportunity. The looming "fiscal cliff" and likelihood of continued political gridlock in the US are just the ingredients to create tradable swings in equity markets as investors fluctuate between fear and relief. Can politicians restore this nation's fiscal health by balancing tax increases and spending reductions without pushing the economy into recession? European leaders' handling of their debt crises suggests our elected officials will not make the difficult decisions to address our fiscal deficits unless forced to. If they can delay the decision, they will.
US. In the short run, US equity markets are likely to rally if the automatic tax hikes and spending cuts embedded in the expiring budget are delayed and/or modified, which I see as the likely case. A reduction in political risk usually leads to risk assets outperforming, so any relief on the political front could benefit small caps, cyclical sectors and emerging markets. Over the longer term, any move toward tighter fiscal policy will likely keep monetary policy accommodative. As long as the Federal Open Market Committee (FOMC) is engineering low interest rates, high-yielding investments will remain in demand, in my opinion. Equities are likely to benefit from the need for yield because dividend yields exceed bond yields for many companies, while selected senior loans offer yield with limited interest-rate exposure.
Europe. Europe has slipped into recession for the second time in three years, but the eurozone remains intact, and their equity markets have outperformed US and emerging markets year-to-date.1 Current valuations suggest limited upside from current levels unless the earnings outlook improves.
Emerging markets. Emerging equity markets — which have recently been outperforming developed markets — are entering a seasonal period of historical outperformance.2 Foreign capital flows into China funds have been positive the past seven weeks after negative outflows for most of the year.2 I believe the asset class should be accumulated by investors with the appropriate risk profile.
The following pages expand on these insights and examine the implications for global equity investors.
Question mark over equity markets
In the minds of many investors, the US election results have raised fears of another four years of political gridlock with a Republican-controlled House of Representatives and Democratic-controlled Senate. Uncertainty about the resolution of the fiscal cliff — a $500 billion combination of automatic tax hikes and spending cuts that goes into effect Jan. 1 — has sent investors to the sidelines as the S&P 500 Index has declined 5.3% over seven consecutive days.3 If the tax hikes and spending cuts take effect, they're expected to create a drag of up to 5% on gross domestic product (GDP) and threaten to sidetrack the US economy into recession in 2013.4
I'm somewhat surprised by how quickly investors have reacted to this potential event. To be sure, the risk of recession is not to be taken lightly, especially when the equity markets aren't priced for one. But investors have faced down fears of two US recessions, five different episodes of a potential eurozone breakup and two expected Chinese "hard landings" into slower growth over the past three years — none of which happened. One would think investors would be more immune to doomsday predictions after so many false alarms, especially when the current outcome is avoidable.
The recent selling raises the question of whether the current market weakness is a buying opportunity or a precursor of things to come. More broadly, the ability and willingness of the US government to navigate through these rocky waters remain the biggest near-term question mark hanging over equity markets.
US
I believe the answer to how Congress will proceed can be found overseas. Over the past three years, European leaders have tried to reach agreement on the appropriate mix of monetary and fiscal policies to reduce debt and promote growth, a set of challenges not unlike those the US faces.
The key players in the European saga have been Germany's Chancellor Angela Merkel along with adversaries from Greece, Spain and occasionally Italy. Each side has strongly stated its position and agenda. Yet despite repeated predictions of a eurozone breakup, European leaders did what few thought possible — they compromised ― because the cost of not doing so was greater than any gains from standing on political doctrine and self-interest.
I believe resolution of the fiscal cliff in the US will involve the same result of a compromise between the two political parties. The question then is what the compromise will look like and when it will happen. The answer is obvious, even if politicians hold out until the 11th hour (and 59 minutes).
The fiscal cliff has two likely outcomes over two different time horizons, in my view. If Washington does nothing in the near term, then they will knowingly drive the economy into a recession. If they delay implementation, or otherwise modify the terms of the fiscal-cliff tax hikes and spending cuts, then the economy will likely continue to plod along, slowly recovering. The decision will be made either before year end or delayed, perhaps multiple times.
Forget the noise and the scare tactics on the airwaves and in the press. Most of what we'll see and hear in the coming weeks is politicians negotiating the finer points. President Obama has run his last campaign and will likely spend the next four years building his legacy. I doubt he wants to be remembered as a president who couldn't get things done. The political pressures in this case apply to both sides of the aisle, given that both parties spoke passionately about creating jobs in the recent presidential election campaign. There won't be many new jobs if the economy slows, taxes are raised or spending is cut.
Indeed, the economy is too fragile right now to do much of anything except let the healing continue. Real GDP growth is 77% correlated to the Expectations of Business Conditions component of the Conference Board Consumer Confidence Index, with a nine-month lag. The index is currently foreshadowing 2% GDP growth in 2013, which is better than we have been seeing but not strong enough to generate many new jobs.5
In my opinion, there is little question that Washington will avoid the fiscal cliff in the short run, likely with some modifications to existing policy, such as eliminating the temporary 2% payroll tax reduction coupled with increases in dividend and capital gains tax rates. In the long run, taxes for the middle- and upper-income earners are likely to rise.
Someone blinks! Who will it be? I think it will be the Republicans. According to the Pew Research Center, if no deal is reached, more Americans (53% versus 29%) are inclined to blame the Republicans rather than President Obama.6
Nothing in the current economic data supports the recent equity market weakness except fear, which tends to be fleeting. The Institute for Supply Management (ISM) Manufacturing Index came in better than expected at 51.7 in October (a reading above 50 indicates expansion).7 The ISM also reported that new orders in October improved to the highest level since May, while inventories declined, suggesting stronger production going forward.8
Consumer data have been equally positive. Consumer confidence is at its highest level since early 2008.9 Consumer sentiment is at a cyclical high as well.10 Improved consumer sentiment is clear across a number of measures, including employment expectations, current financial position and big-ticket purchase outlook, all of which are at cyclical highs.11
What should investors do?
Stay invested
Currently, 73% of global equity markets are trading above their 200-day moving averages. Moreover, 86% have had rising 200-day moving averages.12 This pattern suggests to me that the current market weakness in the US is a correction within a global uptrend that remains intact.
Buy on dips
In terms of risk management, investors should watch for a break below 1370 for the S&P 500 Index, which opens the door for further downside to 1315 and perhaps 1220.13
The S&P 500 Index has historically been 89% correlated to changes in the US dollar/ Canadian dollar exchange rate, as the chart below illustrates.14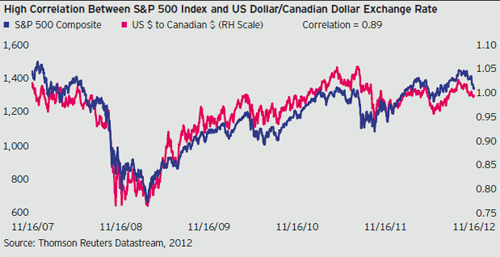 The S&P 500 Index has historically tended to move higher when the US dollar has weakened relative to the currencies of its major trading partners.15 Investors should watch the value of the US dollar against these currencies (typically measured in terms of the "trade-weighted" value) for signs of whether it is safe to go back into the water.
The Economic Policy Uncertainty Index is currently at a 14-month high.16 In this environment, any sign of a resolution to the fiscal cliff is likely to lead to a drop in that index, which could feed through into a reduction in the equity risk premium. Small caps, cyclical sectors and emerging markets have historically tended to outperform when the equity risk premium declines.
As long as the FOMC is engineering low interest rates, I believe demand for dividend-paying stocks should remain strong.
Don't fight the Fed
Monetary policy is likely to remain very accommodative to offset the potential effects of tighter fiscal policy, in my view.
The correlation between the S&P 500 Index and changes in the Federal Reserve Board's (the Fed) balance sheet has been 86% since 2007.17 Fed Chairman Ben Bernanke has clearly communicated his intent to do "whatever is necessary" to promote economic growth.
Mr. Bernanke's attempts to reflate the economy may put upward pressure on inflation and could ultimately lead to higher interest rates and lower bond prices. Investors using traditional fixed income assets as a safe-haven investment may want to rethink that strategy.
Instead of sacrificing yield by owning short-dated fixed income securities, investors should consider senior loans that offer yield (typically in the range of 4.5% to 5%) without significant interest-rate exposure.
The asset class with the most attractive risk/reward balance is equities, in my opinion. For the first time since 1995, US equities have beaten all other assets (fixed income, commodities, real estate) on a year-to-date basis as of Oct. 25, 2012, according to Bloomberg L.P.
Europe
Europe's economic weakness is deepening. The region's economy fell into recession for the second time in four years as governments imposed tougher budget cuts. GDP growth for the region shrank by 0.1% in the third quarter after declining 0.2% in the previous quarter, though growth surprised to the upside in both Germany and France at 0.2% for the third quarter.18 The region's inflation rate declined to 2.5% in October from 2.6% the month before, which should allow the European Central Bank head Mario Draghi to maintain an accommodative monetary policy.18 Industrial production declined 2.5% in September, the most in more than three years.18 This weakness is in stark contrast to the situation in the US, where housing demand is strengthening, and in China, where factory output and retail sales are accelerating.
Last month, Greece narrowly passed more than $23 billion of additional government spending cuts as a condition of receiving $40 billion in external rescue funds.19 In the latest compromise, eurozone creditors led by Germany opted to continue to provide liquidity instead of risking a default that could lead to the nation's exit from the common currency.
My position on Europe has not changed: I believe that equity valuations remain appropriately priced. The 12-month forward earnings multiple is approaching 11x — meaning that investors are willing to pay 11 times the 12-month forward earning for the stock — its highest level since 2010.20 This implies that further multiple expansion will be limited without an improving earnings outlook. In my opinion, investors should continue to be selective, focusing on largecap, dividend-paying stocks.
Emerging markets
China's economy grew by 7.4% year-over-year in the third quarter, its slowest pace in three years.21 This could prove to be the low-water mark for economic growth there, in my view. After an economic slowdown that lasted for seven quarters, China's manufacturing activity increased for the first time in three months.22 The China Purchasing Managers Index (PMI) climbed into expansionary territory at 50.2 in October from 49.8 in September, and surveys of manufacturing PMIs provided further evidence that economic growth appears to be improving.22 Retail sales grew at the fastest pace since March.23 After eight months of net redemptions, inflows into China funds have been positive the past seven weeks, which suggests a positive change in investor sentiment.24 It's an auspicious time to usher in Xi Jinping, the new leader of the Communist Party and the country's expected president for the next 10 years.
The same can't be said for Latin America's largest economy, Brazil, which continues to struggle, despite cuts in electricity rates and lower borrowing and fuel costs. Corporate profits in the past year have dropped at the fastest pace since 2002.25 The Brazilian Bolsa has experienced its biggest capital outflows from foreign money managers since the Lehman Brothers collapse in 2008.25 Even with these headwinds, Brazilian stocks are trading at 19x earnings, or a 36% premium to the MSCI All-Country World Index ― their most expensive relative valuation in nine years.25
That said, emerging equity markets are entering a very positive seasonal period of historical outperformance. Since 1987, emerging markets have outperformed developed markets in December and January 79% and 76% of the time, respectively.26 Emerging equity markets have also historically outperformed by a median of eight percentage points over the three months following US elections.26
Investors should consider adding to emerging market equities on a selective basis, in my view.
Final thoughts
With Europe mired in recession, Japan dealing with deflation, China growing at the slowest rate in 10 years and fourth-quarter US GDP growth tracking a disappointing 1.5%, politicians have few options but to delay any decision until the US economy is on firmer footing, in my opinion.
Once Congress addresses the fiscal cliff, the US equity market is likely to recover, with risk assets (small caps and cyclicals) likely outperforming in the short term, in my view. Longer term, with the FOMC engineering low interest rates, I believe high-dividend-paying stocks are likely to remain in demand.
European equity markets are likely range bound with a slightly upward bias as long as further progress is made on the sovereign debt crisis. I believe current valuations are likely to limit the extent of any upside until the earnings outlook improves.
From my perspective, emerging markets, especially those in Asia, look attractive on both a seasonal and a momentum basis. Valuations remain supportive of higher prices, and economic data appear to be bottoming. The recent foreign capital inflows suggest that investors are beginning to realize that this asset class is in a catch-up mode after underperforming developed markets for the past 12 months.
At the macro level, the global economy is improving. On balance, the countries in which the Organisation for Economic Co-operation and Development leading indicator (a measure designed to anticipate turning points in the economic cycle) is improving outnumber those in which it is declining.
Investors would be well-advised to ignore the political noise — stay invested, buy the dips and don't fight the Fed.
Important information
The opinions referenced above are those of Richard Golod as of Nov. 19, 2012, and are subject to change at any time due to changes in market or economic conditions and may not necessarily come to pass. These comments are not necessarily representative of the opinions and views of other Invesco investment professionals. The comments should not be construed as recommendations, but as an illustration of broader themes. Past performance is no guarantee of future results.
All investing involves risk including the risk of loss. Diversification does not eliminate this risk. Investments in foreign markets entail special risks such as currency, political, economic and market risks. The risks of investing in emerging market countries are greater than the risks generally associated with foreign investments. Small- and midcap stocks carry special risks, such as limited product lines, markets and financial resources, and greater market volatility than securities of larger, more established companies. Common stocks do not assure dividend payments. Dividends are paid only when declared by an issuer's board of directors and the amount of any dividend may vary over time based on the business prospects of the company. Most senior loans are made to corporations with below investment-grade credit ratings and are subject to significant credit, valuation and liquidity risk.
This material is for educational purposes only and does not contend to address the financial objectives, situation or specific needs of any individual investor. It is not a solicitation or an offer to buy or sell any security or investment product.