Highlights
Municipal market posts slight positive return in the first quarter.
Led by personal income, state tax collections increase for 12th consecutive quarter.
Credit fundamentals improve: Defaults remain low, bankruptcy filings are idiosyncratic, not systematic.
Seasonal trends impact muni demand, performance.
Municipal market stays positive, albeit modestly
The municipal market continued to trend upward as the Barclays Municipal Bond Index posted a slight positive return of 0.29% in the first quarter of 2013, marking the index's ninth consecutive quarter of positive performance.1
The Barclays High Yield Municipal Bond Index returned 1.97% during the quarter. According to Barclays, on a tax-adjusted basis2, high-yield municipals generated an 18.26% return, the largest one-year return among all broad capital market asset classes, outperforming both the Dow Jones Industrial Average and the U.S. High Yield indices. These indices returned 13.37% and 13.13%, respectively.1
During the first quarter of 2013, revenue bonds generally outperformed general obligation bonds, 0.36% versus 0.12%. Within the investment-grade municipal space, the quarter's top-performing sectors were industrial development revenue/pollution control revenue (IDR/PCR), resource recovery and housing bonds. Water and sewage bonds and education bonds were the largest underperformers in the quarter.
In the high-yield municipal space, tobacco, IDR/PCR and transportation bonds were the top performers for the first quarter, while leasing bonds were the biggest underperformers. After contributing over 30% to 2012's returns, tobacco remained a top-performing sector for the high-yield municipal market as the decline of US cigarette consumption slowed.
Municipal begins quarter strong, finishes roughly flat
Total municipal issuance showed a modest uptick during the first quarter to $82.6 billion, an increase of 4.4% from the first quarter in 2012 when industry supply levels were at $79 billion. (Figure 1)
Within the total issuance amount, new money issuance grew by 16.5% relative to the same period in 2012 ($30.9 billion versus $26.5 billion). While refunding-related supply continued to exceed new money issuance during the quarter, we did however observe a modest decrease relative to the same period in 2012. Refundings were down to $51.7 billion in the first quarter of 2013 from $52.6 billion during the first quarter of 20123.
With interest rates expected to remain low through the first three quarters of 2013, industry reports have predicted that refunding levels will remain high at over $100 billion4.
Economic activity spurs state tax collections
States continued their short-run revenue surge in the fourth quarter of 2012, posting a 5.2% year-over-year increase in tax collections as domestic economic activity strengthened, according to the Rockefeller Institute. The fourth quarter results were the most recent statistics available on state tax collections.
The first quarter performance marked the 12th consecutive quarter that state tax revenues have increased and the third consecutive calendar year for increased tax collections5. Before the current streak, states saw five straight quarters of a decline in collections immediately following the recession.
The fourth-quarter growth in tax collections was driven primarily by a 10.8% growth in personal income taxes, which was attributed to taxpayers' efforts to shift income from 2013 to 2012 in order to avoid paying higher income rates this year as a result of the American Taxpayer Relief Act. The move could lead to softer personal income tax revenues in 2013 for states.
Among the 48 states reporting their tax revenue early, 45 experienced gains while three states reported declines in total tax revenues. Delaware and Hawaii reported the largest increases in overall tax collections at 14.6% and 13.4%, respectively. Iowa, Louisiana, Mississippi, Colorado and Utah also reported double‐digit growth in overall tax collections5.
While the increases in state tax collections for the last three years indicate that a portion of the recovery is progressing, other parts of the recovery have been slower and prolonged compared to historical averages. For example, during the quarter, year-over-year sales tax collections, while showing a positive growth of 2.7%, were weak as compared to the 20-year average of 4.5%.5
US unemployment figures continued to trend downward in the first quarter, with the unemployment rate decreasing to 7.6% by the end of March6. The decline in the unemployment rate was partly attributed to a decrease in labor force participation, which was back to levels last seen in 1979.
The housing market continued to show improvement as well. Recent data released by S&P/Case-Shiller showed that average home prices increased 7.3% on its 10-city composite and 8.1% for the 20-city composite in the fiscal year ending in January 2013. The data continues to support the ongoing belief that the housing market is recovering, with single-family home building permits and housing starts posting double-digit year-over-year increases in February 2013.
Municipal defaults have been sparse and are on pace to be similar to 2012. Municipal bonds in monetary default represented 0.45% of the total year-to-date municipal bond issuance as of March 20, 20137.
The number of Chapter 9 bankruptcy protection filings is on pace to be less than 2012. So far, there have been two Chapter 9 filings this year — Pauls Valley Hospital Authority, which declared on March 1, and Stockton, Calif., which was declared eligible to file by a US bankruptcy judge on April 1 (Stockton's original Chapter 9 filing was made on June 28, 2012). In 2012, there were 11 Chapter 9 bankruptcy protection filings (Figure 2).
More About Stockton
The Stockton case made headlines in early April when a US bankruptcy judge affirmed that Stockton is insolvent and qualifies for Chapter 9 protection. A critical unanswered question is whether the final bankruptcy plan will allow Stockton to maintain scheduled payments to California Public Employees' Retirement System (CalPERS), while haircutting8 municipal bondholders. Resolving this issue may be a drawn-out process — one that will involve constitutional concepts of state sovereignty provided by the 10th Amendment, versus the US Bankruptcy Code's ability to impair contracts. Overall, while the Stockton case could influence recovery rates on municipal debt in future Chapter 9 cases, we believe the filing is not a result of systematic credit deterioration and should not have any material impact on the number of Chapter 9 filings going forward. Bankruptcy proceedings are expensive and often disruptive to the essential services provided by municipalities. Therefore, we believe municipal bankruptcies will likely remain isolated events.
Municipal demand cools
Despite having a slightly negative March, which was brought on by seasonal factors related to tax-selling, municipal bonds experienced a net inflow of $9.09 billion in the first quarter of 2013. Intermediate-term municipal bonds posted some of the largest inflows in the first quarter, taking in $3.4 billion. Short-term municipal bonds also had a strong quarter, attracting inflows of $2.5 billion. Joining them in the one billion-plus category for the quarter were high-yield municipal bonds, which received $1.5 billion in inflows for the quarter. (Figure 3)
Where are the opportunities?
Concerned that interest rates will rise soon?
What you should know:
When rates rise lower-quality bonds have tended to fare better than their high-quality counterparts.
Unlike higher-quality bonds, lower-quality bonds tend to be more sensitive to credit risk and less sensitive to interest rate risk.
Since credit risk is the primary driver of returns in lower-quality bonds, they have tended to benefit from an improving economy.
As a result, an environment of growth and rising interest rates may lead to outperformance of noninvestment-grade credits relative to Treasuries and other investment-grade sectors of the market.
For investors who prefer high-quality investments, they can seek to reduce their exposure to interest rate risk and price volatility by concentrating on short-and-intermediate term municipal bonds. Bonds in these parts of the municipal yield curve have lower average maturities and durations and have tended to have lower price volatility than long-term bonds.
Positioning your municipal portfolio for future rising rates
Why intermediate term municipal bonds?
Shorter maturities may make them less sensitive to movements in interest rates than long-term bonds.
Well positioned for price appreciation on the steepest portion of the municipal yield curve.
Intermediate municipal bonds tend to offer competitive yields with considerably less volatility than long municipal bonds. For example, as of March 31, 2013 AAA-rated general obligation bonds with 15 years to maturity pick up over 80% of the yield of 30-year bonds with 50% of the maturity. (Figure 4)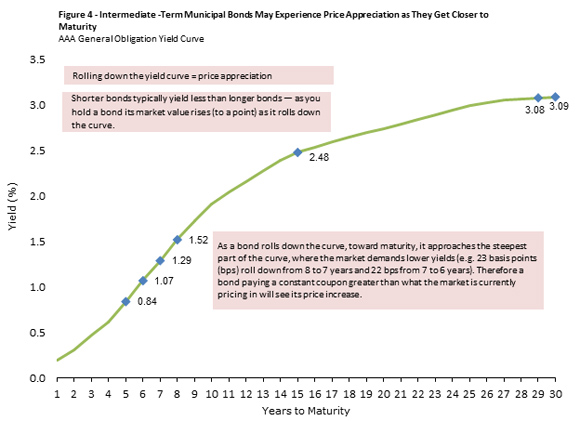 Roll down explained
Intermediate term municipal bonds are typically well positioned on the historically steep municipal yield curve. Their positioning may provide attractive risk/reward trade off as well as price appreciation potential through the effects of roll down9.
With the Fed stating their intent on keeping rates low until 2014, the roll-down effect tends to be a benefit to the performance of municipal bonds in the intermediate part of the curve over this period.
Intermediate bonds have typically yielded less than longer bonds, but when held, the bond's market price tends to rise (to a point) as it rolls down the steepest portion of the curve.
Why high yield municipal bonds
High-yield municipal bonds are trading at historically wide spreads versus investment-grade municipal bonds, and absolute yields on these bonds are relatively high.
As of March 31, 2013 high-yield municipal credit spreads were at 327 basis points versus their historical average of 282 basis points, signaling that opportunities continue to exist in the high-yield municipal market as shown in Figure 5. Absolute yields for high-yield municipals are over 300 basis points higher than that of their investment-grade counterparts. It's important to note that high-yield bonds are subject to greater risk than investment-grade securities.
Credit fundamentals continue to remain strong and default rates have continued their downward trend.
The protracted low rate market environment coupled with existing wide spreads in the A and BBB credits may be advantageous for those seeking yield.
Double tax-exemption via single state municipal bonds
Single-state municipal bonds are issued by a specific state and/or its local governments.
The income from these bonds is generally exempt from federal and state taxes in the issuing state.
Those that invest in single-state municipal bonds in the state of their residence may benefit from double tax exemption on their income.
Single-state bonds are especially attractive in states such as California and New York, where statutory marginal income tax rates are some of the highest in the nation (Figure 6).
Figure 6 - Highest Statutory Marginal Income Tax Rate By State Tax Year 2013
California
Oregon
9.90%
Iowa
8.98%
New Jersey
8.97%
District of Columbia
8.95%
Vermont
8.95%
New York
8.82%
Maine
7.95%
Minnesota
7.85%
North Carolina
7.75%
Municipal market outlook and positioning
We continue to monitor the macro economy for headline risk and external shocks that may impact the broad fixed income market and the municipal market in particular. General uncertainty and market volatility can potentially create buying opportunities and opportunities to sell declining credits with lower coupons.
While we believe that there is a low probability of any change being made to the tax treatment of municipal income, we do continue to monitor FY2014 Federal budget proposals. As lawmakers consider various options to close the federal spending gap, debate continues regarding the tax treatment of municipal income. Strong opposition and lobbying from municipal issuers as well as cities and local governments make the exemption cap unlikely to happen in the near future.
Given our belief that GDP growth will remain sluggish (around 2%) and that inflation will remain contained (less than 2%), at least until the fourth quarter of 2013, we have maintained a credit overweight in A-rated and BBB-rated bonds.
Overall credit concerns in the municipal market have continued to diminish as the fiscal picture at the state and local government levels has improved. We continue to actively monitor the market for deteriorating credits. We believe that municipal bankruptcies are not a systematic phenomenon, but rather, that they are idiosyncratic occurrences that will likely remain isolated in the foreseeable future.
Tax advantages of municipal bonds10
Municipals bonds offer investors tax exempt income, meaning the interest income payments from municipal bonds is exempt from federal income taxes and may also be exempt from state income taxes.
In some circumstances, investors may also be exempt from local taxes.
With expectations of continued low rates, municipal bonds may offer investors the opportunity to benefit from monthly tax exempt income at attractive yields.
Invesco's municipal capabilities
About risk