July 16, 2013
Executive summary
Financial markets were taken by surprise when the Federal Open Market Committee (FOMC) recently announced its intention to begin tapering its quantitative easing (QE) program later this year. Whether tapering begins in September (as the consensus expects) or later doesn't matter. What investors need to know is that we are entering a phase where fundamentals, rather than liquidity, will become the key driver of equity performance. It's time to begin repositioning portfolios to take advantage of shifts in asset class and sector outperformance.
Overweight US. In signaling a policy shift, the FOMC successfully reduced the carry trade – borrowing at low interest rates to invest in assets with potentially higher yields and higher returns. Interest rates are likely to retrace part of the run-up they experienced after the FOMC's announcement, but the damage to bonds' long-term bull market has been done. I maintain higher interest rates are likely to strengthen the dollar and benefit large-cap value stocks and cyclical sectors. Income-oriented investors should consider dividend growth over the highest-yielding stocks.
Underweight Europe. Higher US rates are likely to increase borrowing costs in the peripheral countries and increase the risk of another European Central Bank (ECB) bailout. Investors should overweight large-cap multinationals in the region, taking advantage of a generous dividend yield and the prospects of a future earnings surprise if/when the US dollar appreciates.
Overweight Japan. An experiment in progress, Japan offers an exciting risk/reward trading opportunity, in my opinion. Ongoing QE will likely continue to put downward pressure on the yen/dollar exchange rate. If the high correlation continues between the Nikkei 225 Index and the exchange rate, I believe stocks are likely to trade higher. However, if the yen doesn't weaken, stocks could violently correct to lower levels.
Underweight emerging markets. Massive capital outflows and poor sentiment have led to underperformance in emerging market equities. Continued negative economic data are an ongoing downside risk, but current valuations and poor sentiment suggest most of the selling could be behind these markets. Investors with a three- to five-year time horizon should consider dollar cost averaging into this asset class, using actively managed mutual funds because stock picking will be key to generating above-average returns.
A changing investment landscape
Over the past three years, I have been bullish on equity markets in countries (such as the US) that had the most accommodative monetary policy. I based my optimism on the belief that liquidity trumps fundamentals until it doesn't, but it's possible for equity prices to go higher and last longer than expected. Liquidity tends to reward risk taking and momentum investing. Liquidity also tends to take asset prices beyond fair value, and if left unchecked, creates bubbles.
Federal Reserve Chairman Ben Bernanke's comment about shifting policy this year and its impact on the fixed income markets represent a change to the investing landscape going forward, in my opinion. Now, fundamentals matter. It's about micro, not macro. Stock picking will differentiate mutual fund performance. Good news will be market positive, and bad news will punish markets, sectors and stocks. Investors need to contemplate adjusting allocations to take advantage of future opportunities.
US: Overweight
The recent comments by the FOMC were deliberate and intentional — and caught investors off guard. The Fed simply got spooked. Unwinding the risk trade, which threatened to tighten financial conditions as interest rates increased, became more important than trying to stimulate economic growth.
The risk trade encompasses myriad strategies designed to take advantage of low borrowing rates in low interest rate countries and use the proceeds to invest in higher- yielding/returning investments. Some call it the "carry trade" or the "Bernake put". As evidenced by the spike in volatility after the FOMC's taper talk, there had been considerable speculation in the market that low interest rates would continue. In the weeks after Chairman Bernanke's comments, equity volatility spiked 65%, Treasury volatility spiked 141% and foreign-exchange (currency trading) volatility rose 38%, as speculators unwound their trades.1 For the Fed, this was mission accomplished. Now the FOMC can return its focus to promoting economic growth.
It's important to point out that tapering means the Fed is still easing, just by a lesser amount. If the FOMC decides to scale back its bond purchases in September from $85 billion per month to $60 billion, interest rates would be effectively cut to 100 basis points instead of 125 basis points for 2013 as a whole.2 That's it. As for timing, consensus expects QE tapering to begin in September, although recent FOMC statements say otherwise. Regardless of when it happens, a case can be made to begin tapering sooner rather than later. Looking back, QE3 — the third round of QE — was not needed to offset any potentially dampening effects on the economy from the fiscal cliff (which was ultimately averted). There is no evidence that QE3 positively affected any economic or financial variable. The economy is on more solid footing, and QE this year has been the most aggressive monetary easing since the summer of 2009.3 If the program isn't working, it's only appropriate to scale it back.
Furthermore, QE3 is no longer having the desired effect on financial markets. The previously high correlation between the S&P 500 Index and the Fed's balance sheet has broken down.4 Even the US dollar hasn't weakened during this round of QE as it did during the Fed's earlier bond purchase programs.5
As long as the FOMC continues to purchase bonds, the effective fed funds rate continues to decline, and if the long-term correlation holds (90% over the past 10 years), the direction of interest rates will be downward.6 Yes, interest rates are likely to trend lower, considering inflation remains contained and economic growth is tracking below 2% with potential headwinds from slowing housing and auto sales and rising energy prices.
It's not unusual to see a 50% Fibonacci retracement after a market move — up or down. This technical move suggests a return to a 2.18% yield on the 10-year Treasury.7 Looking at the historic spread between the 10-year Treasury and 10-year German bond, we could see the 10-year Treasury trade back to the 1.80% to 1.90% range.8 Interest rates could even stay lower for longer, considering the current weakness in the economy.
For fixed income investors, it's no longer business as usual. The damage has been done: The 10-year Treasury move above 2.5% broke the 31-year bull market in fixed income.9 Although I believe interest rates will pull back somewhat in the short term, the market is likely to see higher lows and higher highs over time. The added term premium in bonds is likely to prevent a return to previous lows.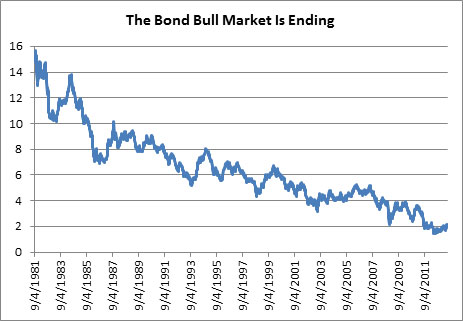 Now that the bull market in fixed income is likely over, investors should think about selling the rallies, instead of buying the dips. They should use the expected decline in interest rates to reposition fixed income portfolios, focusing on duration and credit risk.
I think three fixed income asset classes merit attention: senior loans, convertible bonds and high-yield municipal bonds.
Compared with high-yield corporate bonds, senior loans are higher in the credit structure, trade at or below par value, and offer yields that adjust to changes in interest rates.
I like convertible bonds for their coupon rate — which tends to provide a buffer when bond prices fall and upside potential — because of the equity price participation, when interest rates rise.
High-yield municipal bonds are offering 6.23% tax-free yield with prices below par, as of July 16, 2013.10 That's an 11.12% pretax yield equivalent for investors in the highest tax bracket. Supply is declining, and the bonds continue to look mispriced compared with where spreads usually trade.
A steeper yield curve and a potential rising interest rate environment are likely to have far-reaching implications for all asset classes, not just the fixed income markets. Previously, in a low interest rate world where risk-on trade (buying riskier asset classes) was the investment strategy du jour, many asset classes — whether commodities, small caps, real estate or international equities — were highly correlated. Since the Fed's comments, these correlations have broken down and I believe are likely to return to their long-run averages.11 This suggests that alpha — the portion of a portfolio's return attributable to manager skill — will become more important than beta — the portion of return attributable to market movements. Additionally, fundamentals will once again drive price performance. Since the advent of QE, good news was considered good news, and bad news was rewarded as well because bad news meant more monetary stimulus. Going forward, however, bad news will likely punish certain asset classes, sectors and stocks.
One asset I think is likely to benefit from the Fed's tapering of bond purchases is the US dollar. A stronger dollar would tend to benefit small-cap companies over large-cap stocks because the bulk of small caps' sales is domestic. That said, a strong dollar tends to move foreign capital into our market. It's been my experience that foreign companies tend to buy companies with known brands that are liquid — essentially, large caps — which could lead to large-cap outperformance over small caps.
Within the large-cap space, I prefer value over growth. Large-cap value stocks have a smaller percentage of multinational companies, whose earnings will be hurt by dollar strength. Large-cap value also tends to outperform large-cap growth when interest rates rise. The correlation is 90%.12 Finally, the largest sector in large-cap value is financials, and I believe small, regional banks and insurance companies should perform well in a steepening yield curve environment.
Looking at sectors, if interest rates continue to trend lower for now, I expect the defensive sectors to recover some of the losses seen in the recent market correction. Income-oriented investors should consider moving out of the highest-yielding stocks into companies with growing dividends and high free cash flow. Investors with the objective of maximizing returns should consider adding to cyclical positions on market pullbacks. I favor the technology, financial and consumer discretionary sectors.
Europe: Underweight
The current downturn has been Europe's longest recession since the euro was introduced in 1999.13 Improvement since May in the German Ifo Business Climate Survey and Zew Indicator of Economic Sentiment, the Markit eurozone Manufacturing purchasing managers index (PMI) and the Citi Economic Surprise Index for eurozone countries have provided encouraging signs the euro economy may be on the mend. However, I expect recent positive economic data to be short-lived, considering higher US interest rates and higher energy prices.
ECB President Mario Draghi is doing his part by pledging low, or even lower, interest rates for an extended period. This brought about the lowest money market rates since 2007 relative to the US, and a 4.5% decline in the euro/US dollar exchange rate in the past month.14
Although President Draghi can anchor the short end of the curve, the ECB has few tools to affect the long end. The Fed's June taper comment has increased borrowing costs in longer-dated maturities and created additional pain in the peripheral countries. Higher rates in the peripheral countries increase the risk of another ECB bailout. Portugal's 10-year sovereign bond yield spiked above 7% the first week of July, a level in the past that forced countries to get a bailout. The current bailout is expected to end in June 2014, and the country's unemployment rate hovers at 17.7%, lower only than Spain and Greece. In addition, its debt-to-gross domestic product (GDP) ratio — at more than 100% and rising — is second only to that of Greece.15 More recent comments by Mr. Bernanke to maintain QE will likely moderate interest rates over the coming months, but the offset is likely a strong euro. The euro/US dollar exchange rate moved from 1.278 to 1.305 in the four trading days after Mr. Bernanke's comments.16
I remain concerned about:
The opacity in the euro banking system — consider the recent revelation that Deutsche Bank, one of the top three banks in the global credit markets, hid loans to Brazil and Italy from its balance sheet.
The lack of a credible plan to promote growth in the peripheral countries without depreciating the currency.
The potential conflict between France and Germany over implementing austerity measures to reduce debt-to-GDP levels.17
Standard & Poor's bond rating service just lowered the rating on Italian bonds to BBB, two levels above junk status. 18
Investors should continue to market weight or underweight this region, in my opinion. I would continue to focus on multinational companies, taking advantage of their global footprint and high dividend yield when compared with their US counterparts.
Japan: Overweight
Japanese equities remain attractive considering the likely continuation of QE, which should continue to weaken the yen/dollar exchange rate — especially now that the US is likely to diminish its level of QE — to which the Nikkei Index has been highly correlated for the past two years.19 Yen weakness has meant higher stock prices since Japan embarked on QE. Because I expect the yen/dollar exchange rate to trade in the 110 to 120 range within the year, the potential upside in the equity market makes it one of the better risk/reward trades. I call it a trade because if the currency doesn't weaken, I expect a major correction in the equity market.
Emerging markets: Underweight
As Ruchir Sharma, head of emerging markets at Morgan Stanley Investment Management, recently noted, every decade investors become enamored with a particular investment theme: gold in the '70s, Japan in the '80s, dot-coms in the '90s and the BRIC (Brazil, Russia, India and China) countries in the 2000s. However, the $13.9 billion exit from BRIC equity mutual funds this year suggests the bloom is off the rose for this asset class. The capital outflows represent 27% of the inflows since 2005, according to fund flow tracker EPFR Global. 20
The MSCI BRIC Index is lagging the S&P 500 Index this year by the largest gap since 1998.20 Investor sentiment has diminished because of Brazil's violent populist protests, quickening inflation and weak economic growth. Russia has experienced five consecutive quarters of declining GDP growth. India's currency, the rupee, has declined to an all-time low and threatens higher inflation for this country. China is on path to the slowest growth since 1990 and the recent money market cash squeeze — which sent interbank borrowing costs soaring to records levels last month — has increased the downside risks to the economy.
Poor investor sentiment, major capital outflows and compelling valuations relative to the S&P 500 Index suggest this asset class is near a bottom, in my opinion. Investors with a 90-day time horizon may want to wait to add to this asset class. Investors with a three- to five-year time horizon should think seriously about dollar cost averaging into this asset class, using an active manager focusing on companies poised to benefit from the increase in domestic demand.
Final thoughts
Mr. Bernanke's comments set in motion a series of events that created the worst (annualized) performance in Treasury bonds since 1977, municipal bonds since 1999 and emerging market debt since 1998.21 The desire to reduce speculation in the fixed income markets was accomplished. Now the FOMC can get back to the business of stimulating economic growth. Fiscal and monetary policy is likely to strengthen the dollar and shift asset class and sector outperformance. On a technical basis, the lows in interest rates are probably behind us, and the new interest rate cycle will see higher lows and higher highs over time. Investors should think in terms of selling rallies instead of buying the dips.
Europe's peripheral countries could suffer if US interest rates rise, and the probability of another flare up cannot be ruled out. Japan is still an experiment in progress but an interesting risk/reward trading opportunity nonetheless. Emerging markets look down, but I wouldn't count them out. Stock picking will be key to investing in this asset class.
---
Important information
The opinions referenced above are those of Richard Golod as of July 16, 2013, and are subject to change at any time due to changes in market or economic conditions and may not necessarily come to pass. These comments are not necessarily representative of the opinions and views of other Invesco investment professionals. The comments should not be construed as recommendations, but as an illustration of broader themes. Past performance is no guarantee of future results.
All investing involves risk including the risk of loss. Diversification does not eliminate this risk.
Common stocks do not assure dividend payments. Dividends are paid only when declared by an issuer's board of directors and the amount of any dividend may vary over time based on the business prospects of the company. Securities that pay high dividends as a group can fall out of favor with the market, causing such companies to underperform companies that do not pay high dividends. Also changes in the dividend policies of the companies and the capital resources available for such companies' dividend payments may affect the securities.
Commodities may subject an investor to greater volatility than traditional securities such as stocks and bonds and can fluctuate significantly based on weather, political, tax, and other regulatory and market developments.
In general, stock and other equity securities values fluctuate in response to activities specific to the company as well as general market, economic and political conditions.
To the extent the fund invests a greater amount in any one sector or industry, there is increased risk to the fund if conditions adversely affect that sector or industry.
The dollar value of foreign investments will be affected by changes in the exchange rates between the dollar and the currencies in which those investments are traded.
Fixed-income investments are subject to credit risk of the issuer and the effects of changing interest rates.
Interest rate risk refers to the risk that bond prices generally fall as interest rates rise and vice versa.
An issuer may be unable to meet interest and/or principal payments, thereby causing its instruments to decrease in value and lowering the issuer's credit rating.
The risks of investing in securities of foreign issuers, including emerging market issuers, can include fluctuations in foreign currencies, political and economic instability, and foreign taxation issues.
The performance of an investment concentrated in issuers of a certain region or country is expected to be closely tied to conditions within that region and to be more volatile than more geographically diversified funds.
Many countries in the European Union are susceptible to high economic risks associated with high levels of debt, notably due to investments in sovereign debts of European countries such as Greece, Italy and Spain.
Municipal securities are subject to the risk that legislative or economic conditions could affect an issuer's ability to make payments of principal and/ or interest.
Treasury securities are backed by the full faith and credit of the US government as to the timely payment of principal and interest.
U.S. dollar-denominated securities carrying foreign credit exposure may be affected by unfavorable political, economic or governmental developments that could affect payments of principal and interest.
Growth stocks tend to be more sensitive to changes in their earnings and can be more volatile.
Junk bonds involve a greater risk of default or price changes due to changes in the issuer's credit quality. The values of junk bonds fluctuate more than those of high quality bonds and can decline significantly over short time periods.
Most senior loans are made to corporations with below investment-grade credit ratings and are subject to significant credit, valuation and liquidity risk. The value of the collateral securing a loan may not be sufficient to cover the amount owed, may be found invalid or may be used to pay other outstanding obligations of the borrower under applicable law. There is also the risk that the collateral may be difficult to liquidate, or that a majority of the collateral may be illiquid.
Stocks of small and mid-sized companies tend to be more vulnerable to adverse developments, may be more volatile, and may be illiquid or restricted as to resale.
Issuers of sovereign debt or the governmental authorities that control repayment may be unable or unwilling to repay principal or interest when due, and the Fund may have limited recourse in the event of default. Without debt holder approval, some governmental debtors may be able to reschedule or restructure their debt payments or declare moratoria on payments.
Investments in real estate related instruments may be affected by economic, legal, or environmental factors that affect property values, rents or occupancies of real estate. Real estate companies, including REITs or similar structures, tend to be small and mid-cap companies and their shares may be more volatile and less liquid.
Investments in convertible securities are subject to the risks associated with both fixed-income securities, including credit risk and interest rate risk, and common stocks. Convertible securities may have lower yields because they offer the opportunity to be converted into stock and if the stock is underperforming and the bond does not convert then the bond may have a lower return than a non-convertible bond.
NOT FDIC INSURED / MAY LOSE VALUE / NO BANK GUARANTEE