Invesco Fixed Income's (IFI) senior leaders and sector team representatives gathered for our semi-annual Investors Summit in late January. During our two-day summit, we conducted a thorough examination of major markets across the globe. Here we provide an updated version of our conclusions, we substantiate our views and outline key catalysts to watch as economic events and market activity unfold over the coming months.
Global Overview
We expect the central banks of the US, Europe and Japan (the G3) to keep global financial markets flush with liquidity in 2013. Policy makers have put in place facilities to help manage the major tail risks that have been fundamental to market disruptions in recent years.
Expressed in the current vernacular, we would be inclined toward a moderate "risk on" positioning, that is, positioning toward assets that have historically benefitted from low to moderate growth and inflation environments, generally credit assets. In our view, credit assets remain supported by positive sentiment, strong inbound capital flows, and stable fundamentals. Nevertheless, given the performance achieved in many such assets in recent years, valuations of these assets are currently at expensive levels.
In the fixed income markets, including credit markets, coupon income is likely to be the primary source of return in 2013 with less opportunity for returns from price appreciation. As such, prudent security selection will be necessary to avoid individual investments that suffer price deterioration because of individual issuer fundamentals. Rigorous fundamental analysis will be important in this environment.
Given this backdrop, our views are summarized below:
| | | | | |
| --- | --- | --- | --- | --- |
| | US | Eurozone | Japan | China |
| GDP Growth | Moderate to improving | Weak, peripheral countries in depression | Improving | Moderate |
| Monetary Policy | Fed likely to remain accommodative, QE to continue through 2013 | European monetary policy is fragmented by region. ECB likely to ease again in 2013. | Cautiously optimistic that new BOJ leadership will sustain aggressive easing | Little change in policy expected as credit and money supply growth are under control |
| Fiscal Policy | Efforts to address deficits and debt are restrictive, risk is efforts become overly restrictive near term | Pressure remains for austerity, but austerity is depressing growth. | PM Abe's aggressive fiscal stimulus plan has potential to stimulate growth | Little change in fiscal policy expected. Increase in government-directed lending also unlikely. |
| Government Yields | US Treasuries likely to remain in trading range. Fed purchases are a positive for Treasuries, improving growth is a negative. | Favor German bunds as the "safe-haven" asset in eurozone, avoid peripherals | Japanese government bonds (JGB) likely to remain in trading range. Real yields should decline as inflation rises. | Expect relative stability |
| Currency | US dollar strong relative to developed market currencies; weaker versus select EM | Euro weakness over medium to long term | Yen likely to be weak given efforts to reflate | Renminbi is no longer undervalued. Balanced risk between the upside and the downside |
| Credit Markets | Favor High Yield, Bank Loans, CMBS, RMBS, Municipals | Favor European multinationals, avoid peripheral credit | Japanese credit valuations are tight, but fundamentals are improving. | Favor government related Chinese credits |
Risks to our views and key catalysts for change include the following:
Upside growth in the US and the globe from a potential pick-up in "animal spirits," the phrase John Maynard Keynes used to describe the unnamed factors that increase market participants' confidence, and credit growth in the US could lead to an increase in the velocity of money and credit flows. Should this happen, we could see an upward re-pricing of rates and select credit markets.
A renewed crisis in Europe would have a substantial impact on European currencies, rates and credits, and would likely bleed into global markets. Insolvency in the peripheral European countries will have to be dealt with, although the prospective catalyst for a crisis cannot be known with any certainty. Any risk-heightening event likely will lead to wider credit spreads across the developed and emerging world.
US policy makers have yet to put in place a convincing plan to deal with the US budget deficit and debt build-up. Partisan politics could generate negative shocks to the markets and so should be monitored closely.
China and developing markets of the world continue to be key drivers of global economic growth. Any underperformance in the markets could impact global growth negatively.
United States
| | |
| --- | --- |
| US GDP Growth | We expect growth to improve over the year, particularly if the housing recovery continues and measures to address fiscal issues are achieved. Nevertheless, significant fiscal tightening could pressure growth materially. |
| US Government Yields | US Treasuries are likely to trade in a trading range capped by Federal Reserve purchases on the high end and supported by stronger growth on the low end. |
| US Dollar | Stronger growth in the US relative to other developed markets favors the US dollar over the euro and Japanese yen. |
| US Credit Markets | In credit, we favor high yield, bank loans, RMBS, CMBS and municipal bonds. |
In our opinion, the US should see steady if unremarkable growth over the coming year. Sequestration is in place and US policy makers have bought some time in addressing the debt ceiling. Meaningful measures to address long term debt and deficit issues could alleviate uncertainty and prove positive for growth despite fiscal restraint. Continued easy monetary policy, as manifested in negative real yields across the yield curve, is supportive for the economy. Offsetting the monetary impetus is the trend of continued deleveraging. US households have made progress deleveraging over recent years, but have some way to go in our judgment.
We believe the US housing market has bottomed and we expect housing prices to climb in 2013. The improvement in the US housing market should make a direct contribution to GDP, and we expect it to improve the overall outlook and sentiment of US households. We will watch developments in the housing markets and their influence on GDP growth and consumer sentiment carefully.
Our views for the US markets:
US rates — Despite the fact that real yields are negative, we expect US Treasury bond yields to remain range-bound in this environment. Treasury purchases by the Federal Reserve will contain the top-side of the yield range, and steady economic growth mitigates the risk of a sharp drop in yields over the coming year. We expect the 10-year US Treasury to remain in a 1.65% to 2.25% range in 2013.
US Dollar — US deleveraging is further along than for other developed market economies, and the outlook for growth is stronger on a relative basis. As a result the US dollar should be well supported particularly against the Japanese yen and the euro, although some select EM and peripheral currencies may outperform the dollar. The level of appreciation should be impacted negatively by the Fed's continued desire to provide liquidity into the markets. Taken together, and given current valuations, we believe that favorable relative growth should more than offset the impact of Fed policy actions previously announced.
Credit Products — In our analysis, credit spread products may perform well due to liquidity in the financial markets, but valuations are tight. We still favor US investment grade and high yield corporate bonds, although returns are likely to be tempered compared with recent years. In addition, improvement in the fundamentals of residential and commercial real estate markets may provide attractive opportunities in the CMBS and RMBS markets despite tightening valuations. Finally, we believe many US states and other municipalities offer attractive opportunities given recent fiscal improvements.
What we're watching:
The decreasing inventory of existing homes for sale and a likely increase in housing starts should continue to support the recovery in housing and contribution to growth in US GDP from the housing and related sectors.
The existing supply of homes for sale has fallen to levels that historically drive increases in home prices. Continued increases in home prices are likely to support upward movements in consumer confidence, again supporting growth.
Action to resolve the stalemate surrounding fiscal policy has the potential to alleviate uncertainty for business decision makers and consumers driving confidence higher, although any resulting tightening through spending cuts or tax increases could soften our outlook for growth.
Increased economic activity may lead to increases in the velocity of money and private credit creation creating potential upward pressure on inflation and lending rates and bonds yields.
We will watch for indications that the Federal Reserve will change its posture toward monetary policy.
As Inventories of Existing Homes Decline, New Homes Are Built
As Housing Prices Continue to Climb, We Expect Consumer Confidence to Increase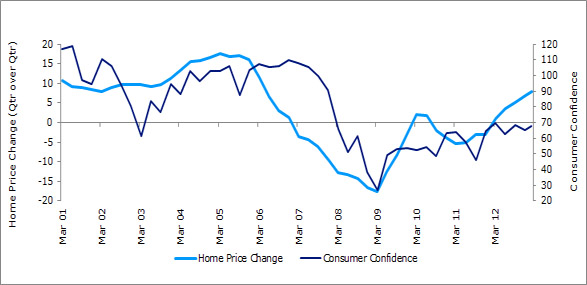 Risks to our views:
If policy makers commit a "fiscal accident," where fiscal policy is tightened excessively or US credit quality is called into question, a sharp rise in risk aversion and a drop in economic growth are the likely outcomes.
Conversely, if the economy picks up, credit creation accelerates, and the velocity of money increases, we could see an upward repricing in rates.
Eurozone
| | |
| --- | --- |
| Eurozone GDP Growth | Eurozone GDP growth is likely to be close to recession through 2013. |
| Eurozone Interest Rates | Lower growth in Europe should favor German bunds over US Treasuries, and bunds also are likely to benefit from any flight to quality resulting from renewed peripheral sovereign difficulties. |
| Euro | The euro is likely to be supported in the short run until the ECB eases. Longer term, we expect euro weakness. |
| Eurozone Credit Markets | Because of weaker growth in Europe relative to other parts of the world, we would favor US and EM credit over Europe. Select European multinational companies may offer opportunities. |
The outlook for the eurozone remains troubled. Aggressive policy statements by the ECB have supported asset prices in peripheral eurozone countries, but in the longer term a number of peripheral sovereigns will prove insolvent and fiscal transfer or debt restructuring of some form will be necessary. The market is not priced for this outcome. Identifying the catalyst for a repricing wider in peripheral debt is of primary importance to the 2013 investment outlook for the eurozone.
Based on this analysis, we believe European growth will underperform US growth, and will likely be close to recession through 2013. Continued aggressive fiscal tightening across all countries and relatively high real yields in the periphery will be a drag on European growth.
Given this backdrop, here are our views for the eurozone markets:
Rates — Market participants are likely to view German bunds as a "safe-haven" asset in the eurozone, particularly if peripheral sovereign concerns increase. We believe there is risk of a sharp move wider in peripheral sovereign rates at some point in the year. We believe bunds are likely to outperform US Treasuries given the stronger growth we expect to experience in the US.
Euro — In late 2012 and into January 2013, the euro strengthened on improved sentiment in Europe and the lack of follow-through monetary stimulus from the ECB. We believe that lower growth, and the fact that the ECB will likely be forced into renewed easing when peripheral sovereign risk returns to the fore, will drive the Euro lower over the balance of this year.
Credit — Corporate credits in core eurozone countries are at very tight valuations, and peripheral corporate credits are likely to track performance of the sovereign bond markets. We prefer US credit over European credit for this reason.
What we are watching:
We will watch ECB monetary policy for signs of easing, or lack thereof, which could be supportive or detrimental to growth.
German growth may experience a modest rebound, but we will watch the periphery and even core countries like France for further deterioration which could lead to a renewed crisis and pressure on growth broadly across Europe. While fiscal austerity is a political requirement for Germany, it greatly pressures peripheral countries. Some balance between austerity and stimulus will need to be struck to prevent a renewed crisis.
Signs that private credit creation is picking up could prove to be supportive of growth.
Eurozone Monetary Policy Not Supportive Enough to Increase Economic Activity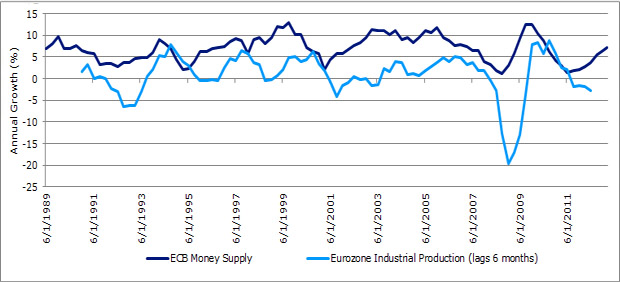 Consumer Confidence Remains Poor in Core Europe and Periphery; Of Note is Deterioration of France Relative to Germany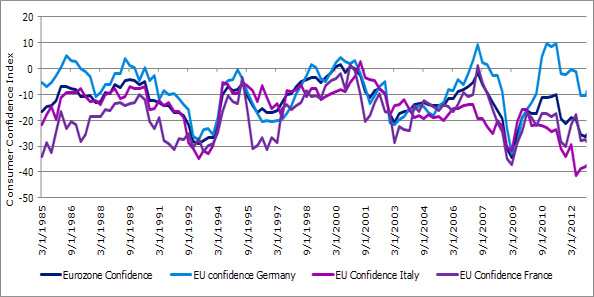 Risks include a renewed sovereign crisis in the eurozone that not only would have a significant impact on European rates, currencies and credit, but also would impact global markets. Key catalysts to a new sovereign risk event include:
Politics: Italian political gridlock and efforts to form a government; upcoming German elections. Social unrest or political scandal in peripheral countries also represent a risk.
A collapse in peripheral country growth or significant negative fiscal surprise.
Systemic implications of the crisis in Cyprus.
Progress, or lack thereof, toward banking and fiscal union in the Eurozone.
Activation of the ECB's Outright Monetary Transactions (OMT) supporting debt markets of individual countries.
European Union assistance for banking recapitalization.
Peripheral sovereigns' bond auctions.
Japan
| | |
| --- | --- |
| Japanese GDP Growth | We are cautiously optimistic that monetary and fiscal policy proposals will be supportive to growth. Ongoing deleveraging requirements will keep growth limited however. |
| Japanese Government Yields | We expect JGB's to trade in a range with upward pressure on yields provided by aggressive monetary policy but limited by largely domestic ownership of the asset class. |
| Japanese Yen | We expect yen weakness given measures to reflate. |
Japan has embarked on a dramatic program of fiscal and monetary stimulus in an attempt to break the cycle of deflation in which the country has been trapped for nearly two decades. A number of key pieces of this program are still to be implemented, but full implementation appears to be of increased likelihood in our view. Given the change in leadership within the country, and the failed attempts of the past, we remain cautiously optimistic. Markets are understandably skeptical and will want to see decisive action.
The market has not fully priced in Prime Minister Abe's plan. The new BOJ governor, Kuroda, has been appointed by the prime minister, likely ensuring BOJ support for the government's aggressive plans.
In the medium term, fundamental economic reform in the labor market and the agricultural sector, in particular, are important to the prospects for the Japanese economy. For the upcoming year, however, monetary and fiscal policies are likely to be the main driving forces. We expect improved growth and higher inflation over the balance of the year.
As such, here are our views for the Japanese markets:
Rates — Japanese government bonds remain largely a domestic asset class. As such, we believe they will remain range-bound in response to the aggressive BOJ support.
Yen — Short term, we believe this stimulus program will lead to further yen weakness. We anticipate a range of 95 to 105 for the yen versus the US dollar which should also benefit equity returns of Japanese exporters.
What we are watching:
We will monitor support and implementation of Prime Minister Abe's aggressive fiscal stimulus plan, BOJ Governor Kuroda's leadership and steps to implement more aggressive monetary policy. In addition, successful fiscal stimulus should begin to lead to enhanced business and consumer sentiment.
We will monitor inflation for signs that monetary stimulus is beginning to counteract the cycle of deflation that has persisted for so long.
A weaker yen should be supportive for economic growth as well as for the equity market.
Will Monetary Policy Turn the Tide of Japanese Deflation?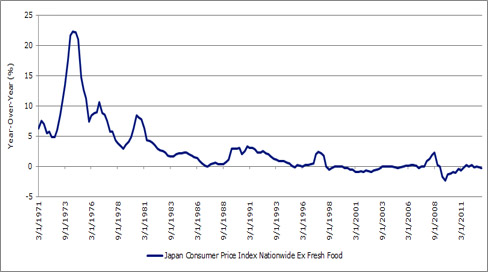 Weaker Yen Supportive For Japanese Growth and Equities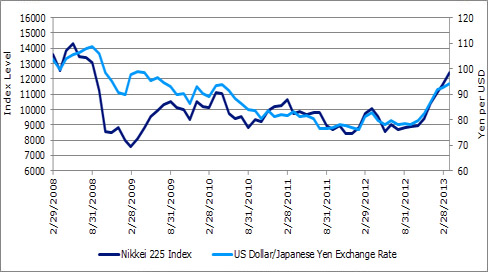 However, should a renewed crisis in the eurozone materialize, the yen would likely experience renewed strength, dampening growth, and negating efforts to end the pervasive deflationary environment.
China
| | |
| --- | --- |
| China GDP Growth | Chinese GDP growth is in recovery following weakness in 2012. |
| Chinese Government Yields | Chinese rates should remain stable given controlled credit and money supply growth. |
| Chinese Renminbi | We expect appreciation in the renminbi, although limited given rising wages and stagnant exports. |
| Chinese Credit Markets | Sovereign credit quality remains strong and supportive for Chinese credits. |
A recovery in Chinese economic growth is in process after the slowing in the second half of last year. Inflation is not a threat as credit and money supply growth, the best predictors of inflation, are under control. The housing market on a national basis remains affordable relative to income and other measures, and does not threaten instability in the near future.
The political transition, which brought uncertainty, is now largely complete, and we expect no major changes in policy. A pickup in growth and stable inflation will take the pressure off the central bank and monetary policy is likely to remain mostly unchanged this year.
The major impetus to Chinese growth will be domestic consumption and investment as trade has not had a major impact on GDP growth in recent years, and, in a world of sub-par growth, will not have an impact this year.
Rates — With credit and money supply growth under control, we expect no change in monetary policy.
Currency — We expect a stable Chinese renminbi given the strengthening in the real effective exchange rate in recent years. Rising wages and stagnant net exports argue that the currency is no longer undervalued and further appreciation will be limited.
Credit markets — Sovereign credit quality remains strong and supportive for Chinese credits.
What we are watching:
We will continue to watch to see that money supply and lending remain controlled.
We will watch for sustainable investment and consumption as key drivers of growth.
Longer term, we will watch for a transition toward an increase in consumption as a share of GDP growth away from investment, but this will take some time to achieve.
Money Supply and Bank Lending Supportive but Controlled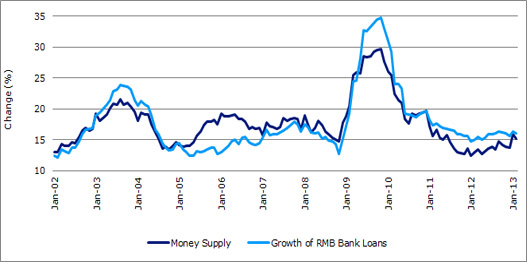 Chinese Real & Estimated GDP (Qtr on Qtr % Change)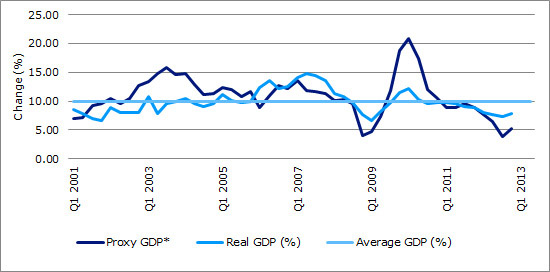 Investors Summit 2013 Outlook
In summary, the view coming out of the IFI semi-annual Investors Summit is for the G3 central banks to continue to provide liquidity to counterbalance the ongoing systemic deleveraging that we believe will dampen global GDP growth for some time to come. This liquidity should continue to support asset prices generally and provide a buffer for major tail risks. However, given the performance of many fixed income asset classes since the 2008 crisis, much of the opportunity for price appreciation across the fixed income universe has been realized, and valuations are fairly tight.
The view from the Summit is that global growth will remain positive in most developed and developing markets with the possible exception of Europe. This backdrop supports a favorable view toward credit markets generally, and should allow investors opportunities to generate solid returns from income, although reduced relative to recent years. Nevertheless, risks do exist, and yields do not provide much excess to cushion negative price surprises from the deterioration in individual bond fundamentals. Robust fundamental analysis at the security level is critical in this environment to prevent against erosion of principal.
Negative risks to the Summit macro view include a renewed European crisis or a "fiscal accident" in the US brought about by partisan politics. Both could bring about increased risk aversion and spread widening in credit markets. Positive risks include stronger US GDP growth and sentiment brought about by continued improvement in the US housing market or the achievement of long term measures to tackle US fiscal deficits and debt. Headway on Eurozone fiscal and banking union or measures to adequately deal with peripheral government insolvency would also prove constructive for markets globally.
Below we summarize our views on many of the major credit markets detailing current spreads and yields, historic spreads and returns, and where we see opportunities. We believe investment grade credit should outperform government securities, but US structured securities, US high yield corporates, US bank loans, and emerging markets debt and currencies may provide even better opportunities. We would approach the European credit markets selectively given the potential for weaker overall economic growth.
Views from the Invesco Summit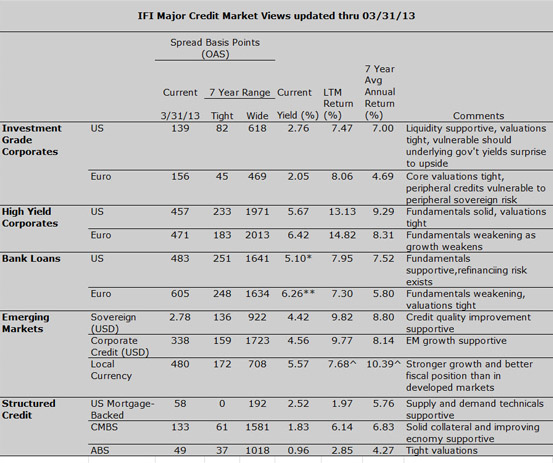 About risk