As we approach the midway point of 2013, the capital markets have many concerns: the potential end of quantitative easing (QE3), the slow rate of economic growth, the stubbornly high unemployment rate and the sorry state of affairs in both federal and state government finances. I won't speculate on the eventual outcome of these issues, especially where politics are concerned. But I do think it's valuable to look past the market's fear and search for areas where smart investors can take clear-eyed action and potentially benefit in uncertain conditions.
Based on what we're seeing in the closed-end fund market, municipal bonds may be an area to consider. Steep discounts could present buying opportunities for investors whose risk tolerance and time horizon can withstand the present market volatility and economic questions.
Interest rates: What goes down, must come up … but when?
One of the top areas of uncertainty is the future of interest rates and the potential for them to rise once QE3 eventually ends. The United States has seen, on balance, a downward trend in rates and a very positive environment for fixed income investors since the second half of 1981 (Bloomberg 06/12/13). However, even if rates go no lower beyond 2013, it does not necessarily follow that they will rise substantially higher anytime soon. When interest rates rise, if interest rates rise, how fast they rise, and how high they go — none of this is predictable with certainty.
Depending on a number of factors, a good case can be made that if rates do track higher, it may happen in a slow, methodical fashion, giving investors multiple entry points along the way. If short-term rates remain near zero, as they have for several years, there may be a substantial opportunity cost for investors who wait on the sidelines versus investing today. Investors who make prudent choices with today's rates may get a head start on their income accumulation.
A closer look at municipal market volatility
Looking at the municipal bond market as a whole, new municipal bond issuance was negative for the first two months of 2013, while flows into municipal bond mutual funds were positive for eight straight weeks. Those negative supply/positive demand factors produced a strong start to the year. However, those supply/demand factors turned against muni bond market prices in March as new bond issuance was around $6.6 billion for the month, while municipal funds experienced outflows; the results were depressed prices. But prices recovered in later March and held firm throughout April and into early May, only to begin another selloff that has lasted into mid-June (Bond Buyer 06/12/13).
What we can learn from municipal closed-end funds
The unique nature of closed-end funds makes them a reflection of investor sentiment. The net asset value (NAV) performance on a closed-end fund reflects the price movement of the fund's underlying investments. But the market-price performance of closed-end funds reflects supply/demand factors for the individual shares traded on the exchanges, which is evidenced by whether the shares trade at premiums or discounts to NAV.
Recently, closed-end funds that invest in municipal bonds have experienced notable volatility as their market price performance has fallen significantly below their NAV performance. The chart below illustrates that market prices have experienced steeper losses than NAV performance for both municipal closed-end funds and taxable fixed income closed-end funds.
Fixed Income Closed-End Fund Market Prices Have Plunged Below NAV
Jan. 1, 2013 – June 12, 2013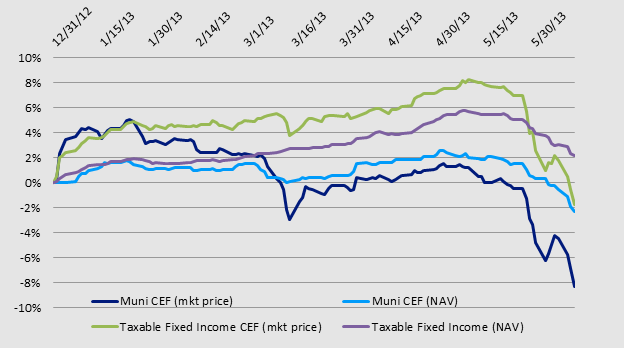 The chart below illustrates the premium/discount levels on closed-end muni funds versus closed-end taxable funds. The muni funds began 2013 at roughly a 2% premium to their NAVs, while the taxable funds were around par value. Munis had a very sharp selloff in March, creating discounts around 3%, while the taxable funds held near par. Munis recovered nicely to par in early April into May, but have had a sharp selloff from mid-May through mid-June, creating discounts to NAV of approximately 6%. The taxable funds have sold off sharply during the last several weeks, creating their largest discounts of the year.
Fixed Income Closed-End Fund Discounts Reach a Low for 2013
Jan. 1, 2013 – June 12, 2013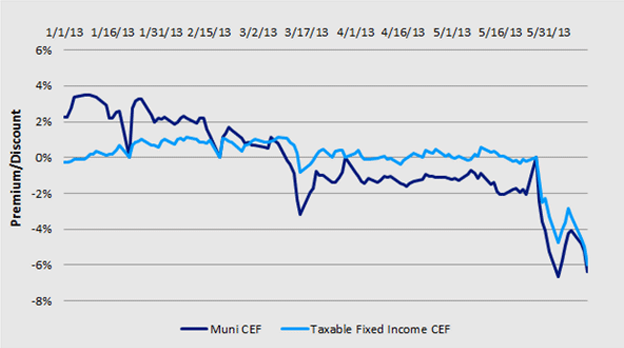 What's behind the strong volatility in closed-end muni funds?
This volatility may be an overreaction to the overall bond market correction, which was fueled by macro concerns and exacerbated by selling pressure — in the week ended June 5, fixed income investors liquidated over $9 billion in assets from bond mutual funds and exchange-traded funds, which marks the second-biggest redemption week since 1992, according to Lipper.
In some cases, muni closed-end funds are trading at prices and discounts not seen since mid-2011, whereas just a few months ago, they were trading at premiums to their NAVs. This may present a more attractive entry point to consider; bigger discounts and higher current interest rates are a byproduct of lower market prices. Of course, investors should consider their own risk tolerance levels and investment time horizon, as bond market prices may continue to trade lower than current levels.
Conclusion
There is much speculation in the marketplace regarding the economy, interest rates, and the Federal Reserve's next move, among other factors. This speculation has manifested itself in weaker bond prices overall, and much weaker prices among closed-end funds as their market prices have fallen below their NAVs. Investors and their financial advisors may wish to weigh these factors and decide if this an attractive entry point, or is there further weakness to be expected. Fixed income instruments will continue to play an important part of well-diversified portfolios, and many times the decision to take advantage of market opportunities created by above-average selling pressure look good down the road as the markets recover.
Important Information
All fixed-income securities are subject to two types of risk: credit risk and interest rate risk. Credit risk refers to the possibility that the issuer of a security will be unable to make interest payments and/or repay the principal on its debt. Interest rate risk refers to fluctuations in the value of a fixed-income security resulting from changes in the general level of interest rates.
Economic and regulatory factors may affect a municipal security's value, interest payments, repayment of principal. An issuer's failure to comply with tax requirements may make income paid thereon taxable, thus reducing the security's value. In addition, there could be changes in applicable tax laws or tax treatments that reduce or eliminate the current federal income tax exemption on municipal securities or otherwise adversely affect the current federal or state tax status of municipal securities.
Market risk is the possibility that the market values of securities will decline and that their values may therefore be less than what you paid for them.
There is no assurance that any investment or strategy will achieve its investment objective.
There is no assurance that any of the above mentioned ideas can protect against loss or guarantee interest or dividend income. Certain investments entail special risks and may lose value. Investors should evaluate and understand these risks prior to making a decision to invest.
Invesco and its representatives do not provide tax advice. Individuals should consult their personal tax advisors before making any tax-related investment decisions.
Municipal Bonds
Municipal bonds are debt instruments issued by state or local government entities to fund a number of needs; broad categories include general obligation bonds and revenue bonds. Interest from most municipal bonds is tax-exempt at the federal level; resident investors who buy in-state bonds from some states such as New York and California may receive interest that is also exempt from state taxes. Yield levels on many higher quality (investment-grade or better) municipal bonds may in certain cases be attractive when compared to taxable bonds when one considers the after-tax returns or taxable equivalent levels. In the current interest rate environment, municipal bonds with intermediate-term maturities (10-15 year range) are particularly interesting vs. corporate bonds, and also when compared to longer-term municipal bonds. Municipal bonds may pay steady streams of interest for many years, and can be a potentially dependable source of tax-exempt income for suitable investors. Risk considerations include issuer risk and interest rate risk, and investors should keep in mind the underlying finances of state and local governments in today's economic environment.
Closed-End Funds
Closed-end funds are a type of investment company that have similar characteristics to open-end mutual funds, but several important differences. Open-end funds typically offer to buy and sell their shares on a continuous basis, whereas closed-end funds typically sell a fixed number of shares at one time in an initial public offering, after which the shares are listed and trade on a secondary market such as the NYSE or the Nasdaq. Daily share prices of closed-end fund shares trading on a secondary market are determined by the market and may be greater or less than the shares' net asset values. Some closed-end funds use a form of leverage in their capital structures, which typically provides a boost to interest or dividend yields, but also increases volatility. There are many varieties of closed-end funds, such as senior loans, convertibles, high yield bonds, world income, covered call strategies, and master limited partnerships (MLPs). Due to the capital structure, closed-end funds often pay a higher level of income than would be available in open-end funds or individual securities. Many investors use diversified portfolios of closed-end funds as another income-producing component of their portfolios. Risks vary depending on the underlying asset classes of each fund (issuer/default risk on high yield bonds, for example), but there are also general risks inherent to closed-end funds, such as leverage and income levels that are not guaranteed.
| | | |
| --- | --- | --- |
| NOT FDIC INSURED | MAY LOSE VALUE | NO BANK GUARANTEE |
Before investing, investors should carefully read the prospectus and consider the investment objectives, risks, charges and expenses. For this and more complete information about the trust, investors should ask their advisor(s) for a prospectus or download one at invesco.com/unittrust.
Invesco's history of offering unit investment trusts began with the acquisition of the sponsor by Invesco Ltd. in June 2010. Invesco unit investment trusts are distributed by the sponsor, Invesco Capital Markets, Inc. and broker dealers including Invesco Distributors, Inc. Both firms are wholly owned, indirect subsidiaries of Invesco Ltd.
The opinions expressed are those of the author as of June 25, 2013, and are subject to change without notice. These opinions may differ from those of other Invesco investment professionals.
| | | | |
| --- | --- | --- | --- |
| invesco.com/us | 06/13 | Invesco Distributors, Inc. | 8903 |