Have you given your retirement savings as much attention as it needs lately? Retirement planning, like family, takes a regular commitment of quality time to ensure it's thriving. But for many investors, it's far down the priority list. In fact, almost half of Americans surveyed in a national study said they devoted fewer than 10 hours of the last six months to retirement planning. (See chart.) That's not much time to spend on what is likely the biggest investment of your lifetime. Fortunately, an IRA remains an excellent option for building retirement assets, and, like your relatives, just requires a little TLC.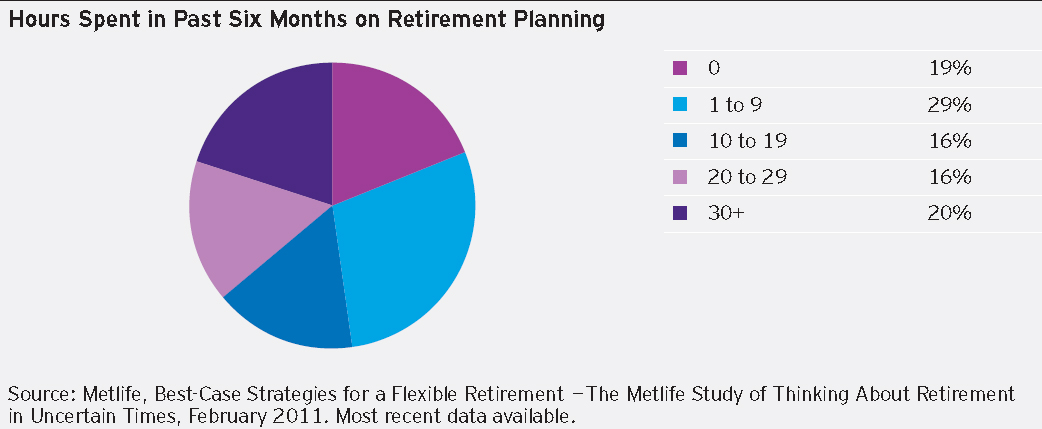 Set a reasonable allowance
Saving for retirement doesn't have to drain your finances. One of the most powerful concepts in financial planning is to set a reasonable allowance to make goals more manageable. Pre-authorized checking (PAC) can help you build assets over time almost effortlessly. PAC allows you to make small, systematic investments that are deducted automatically from your checking account. A fixed periodic investment is more likely to fit into your budget and enables you to invest more when prices are low and less when prices are high (known as dollar cost averaging).
Play catch-up
If you're like most investors, the majority of your retirement assets will consist of your contributions. That's why it's important to take the time to understand your options. You probably know there are two kinds of IRAs:
Traditional IRAs offer eligible investors an upfront tax deduction on contributions, and earnings grow tax deferred. There are no income limitations for contributing to a traditional IRA; however, income is one factor in determining whether your contribution is fully, partially or not deductible.
Roth IRA contributions are not deductible, and earnings are tax-free if you're age 59½ or older and have held the account for at least five years. Roth IRAs do impose income limits on contributions, but these ranges have increased since last year.
2013 Roth Contribution Eligibility Based on MAGI
Income limits on contributions for single filers vs. married joint filers

In 2013, eligible workers under age 50 can contribute up to $5,500 annually to a traditional or Roth IRA, and those age 50 and over may be eligible to contribute an extra $1,000. You have until April 15, 2014 (the extended tax filing deadline), to make your 2013 contribution.
Plan a reunion
If you changed jobs or started your own business after accumulating savings in your former employer's retirement plan, consider rolling that sum into an IRA. Known as a rollover IRA, this type of consolidation can help preserve the tax advantages of your savings, and it may allow you access to a wider range of investment choices than your previous account. At the same time, you may be able to consolidate multiple accounts into one IRA, potentially saving account fees as well as simplifying recordkeeping.
Consider a staycation
Like many investors, you may have put off opening an IRA or contributing to an existing account due to economic uncertainties and volatile markets. Tax season is actually a great time to renew your commitment to retirement planning. You're already scrutinizing income and expenses for tax filing, and retirement allocation is a logical part of the process. Income deductions, if you qualify, and tax-deferral benefits offered by IRAs provide incentive to reconnect with your investments. Additionally, disciplined savers view a tax refund as an opportunity to beef up retirement funds. Instead of spending your refund on a big vacation, consider putting half of it into your IRA. And the sooner you start saving, the longer your retirement savings can benefit from tax-advantaged compounding.
Work with your advisors
Deciding the right course for your retirement investments requires careful planning and execution. That's why it's critical to meet with your tax and financial professionals to discuss your individual circumstances. To learn more about strategies for retirement, contact your financial advisor and visit us at invesco.com/RetirementReady.