In July, more than 60 of Invesco Fixed Income's (IFI) senior leaders and sector team representatives gathered for our semi-annual Investors Summit. We revisited the key themes from our January Summit and determined how these should be changed to reflect our major market views for the remainder of 2013 and into next year. Here we provide this review of key developments in the first half of 2013 and our outlook ahead.
Global Overview
Since our January Summit, we have increased our outlook for US gross domestic product (GDP) growth as a result of steady job growth and strength in the housing market which, in conjunction with better equity prices, have been supportive for household wealth, confidence, and consumption. This improvement has allowed the Fed to contemplate tapering of their unconventional policy (quantitative easing, or QE) while other central banks maintain, or in the case of Japan materially increase, the scale of monetary accommodation they are providing. European growth has contracted in line with our prior Summit expectations, and we expect growth and inflation to remain sluggish, somewhat underperforming the European Central Bank's (ECB) projections. Japan's economy has continued to show signs of recovery under Prime Minister Abe's stimulus plan with a rebound in confidence and sentiment, while China has slowed given policies that favor stability over growth.
US monetary policy took center stage in May and June as market participants assessed likely changes in both unconventional (QE) and conventional policy (changes to short term interest rates). The market's view of the Fed's likely tapering led to significant increases in both real and nominal yields. As investors assessed the potential impact of rising yields on asset prices, significant outflows from risk asset classes occurred, particularly in those sectors supported by carry trades – i.e., investments in higher yielding assets funded by borrowings in the lower yielding markets of the US dollar, Japanese yen and Euro. Outflows and volatility subsided in July as the Fed clarified their position and Treasury yields stabilized, albeit in what we believe will be a higher range. Our view is that tapering of QE will occur prior to year end 2013 assuming GDP growth, inflation, and employment trends develop in line with Fed goals, but increases in the targeted Federal Funds rate will not occur prior to 2015.
This volatility and back-up in yields and credit spreads left valuations more attractive at the end of the second quarter relative to earlier in the year. In the aftermath of this episode, we argue that liquidity conditions are still supportive for risk assets given the current backdrop, despite what we believe will be a more elevated level of interest rate volatility.
We summarize our specific views across key markets below: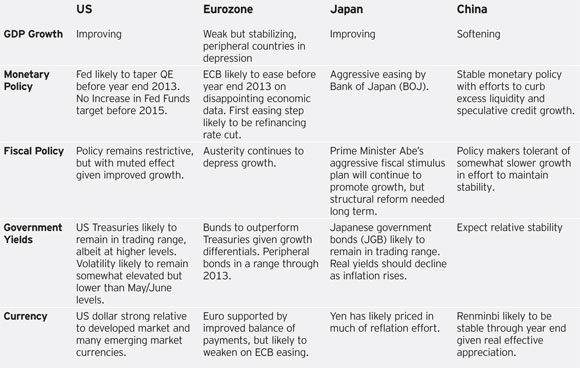 Key risks to our views and catalysts for change include the following:
Surprisingly strong growth in the US that would lead the Fed to taper faster and increase short term rates sooner than currently expected. Such an outcome likely would lead to heightened volatility and an upward re-pricing of rates.
In January, we noted that China and the developing markets of the world have been key drivers of global growth and a continued slowdown could impact overall global economic growth negatively. We will watch developments in China and other emerging markets to see how the current softness unfolds.
A renewed crisis in peripheral Europe could have a substantial impact on markets, although the ECB efforts seem likely to limit systemic risks.
United States
Our GDP forecast for 2013 is 2.25%, above consensus of 1.8% (Bloomberg L.P.). This improved growth outlook is driven by a stronger housing market, a less damaging than expected impact from tighter federal fiscal policy, and greater consumption.
In January, based on work done by our bottom up corporate credit and residential mortgage-backed (RMBS) teams, we said the existing supply of homes for sale had fallen to levels that historically drive increases in home prices leading to better consumer confidence. In fact, we have seen both home prices and consumer confidence rise (see graph 1). Job growth and increased household wealth, driven by both higher equity and housing prices, have also been supportive for confidence and consumption, and lower household debt and debt service levels, as well as better credit availability, have removed headwinds to spending. Housing starts have increased, directly impacting the residential investment component of GDP.
Our municipal bond team believes that while state and local government spending has been a drag on GDP growth, looking out a year we anticipate increases in tax revenues will lead to increased hiring and capital expenditures at the state and local level. In particular, assessed valuations for tax purposes typically lag the market by 18-24 months. Our view is that recent increases in home prices will lead to greater tax receipts, adding 0.25% to US GDP growth over the next year. Recent defaults have been idiosyncratic in nature, and do not represent a material deterioration in credit quality across the sector.
Employment gains have been steady, although the improvement in the unemployment rate overstates the recovery, as much of the decline in this metric has been driven by a decline in the labor participation rate. Looking ahead, with continuing trends in job growth and the labor participation rate, we believe the unemployment rate could reach 6.5% by mid-2014.
Inflation should remain subdued given ongoing deleveraging and the output gap that remains in the US. We see no evidence of inflationary pressures in the economy in any channel. Consumer prices continue to trend lower, velocity remains subdued, as do inflation expectations from Wall Street (nominal Treasury yields less Treasury Inflation Protected Securities (TIPS) yields as a measure of breakeven inflation) to Main Street (Michigan Survey of inflation expectations) as depicted in graph 2. Until money velocity and credit creation increase, we don't expect marked increases in inflation to develop. We believe the Fed will watch to ensure the preferred measure of inflation, the Personal Consumption Expenditure (PCE) price index, begins to move up closer to their desired 2% level, rather than continuing to decline.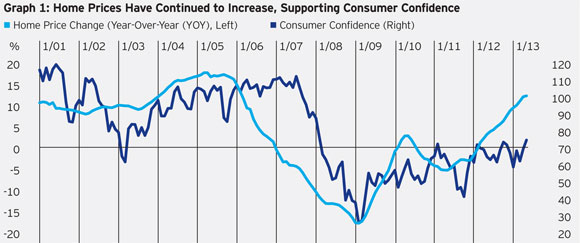 Our views for the US markets:
US rates – In January, we projected a range for 10 Year Treasuries of 1.65% to 2.25%. This range held until discussions of Fed tapering surfaced in May. Treasury volatility increased as market participants assessed implications for tapering and potential increases in short term interest rates, while unwinding carry trades. Nominal Treasury yields moved up and inflation levels declined, leaving Treasuries much less overvalued than they were earlier in the year. Although in a world without QE, we expect US Treasury yields to be more data dependent and volatility to be somewhat elevated, we believe 10 year Treasury yields will settle into a higher range of 2.25% to 3.00% over the balance of the year. It is difficult for us to see a sustained rise in Treasury yields, given the already steep yield curve and our view that the Fed will not raise short rates before 2015.
US Dollar – Our view that US growth will outperform most other markets should be supportive for real yields in the US. Higher real yields relative to those available elsewhere should be supportive for the US dollar.
What we are watching:
We are continuing to watch the market's reaction to the Fed's plans and discussion around tapering.
We will watch growth, inflation, and employment, the three pillars on which the Fed has said they will base their policy decisions. The Fed would likely postpone tapering if any of these pillars demonstrates weakness.
We will watch the US housing market to gauge the impact of higher US mortgage rates.
Although economic growth and lower spending have improved the fiscal deficit in the near term, we will watch for action in Washington that could benefit the US fiscal position over the long run, alleviating uncertainty for business decision makers and providing support for confidence overall.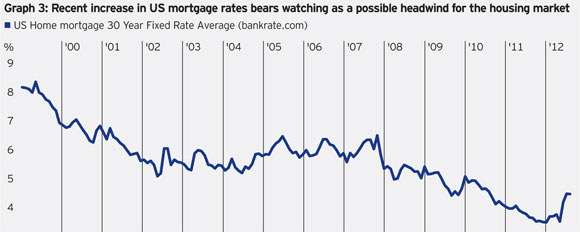 Risks to our views:
A policy error that would lead to significantly higher Treasury yields and higher mortgage rates, undermining confidence and the growth outlook.
A systemic shock from a policy error that bursts China's credit bubble.
Stronger economic activity that leads to increased velocity of money and private credit creation. Such an outcome could create upward pressure on inflation beyond the Fed's preferred 2% level, forcing the Fed to tighten sooner than expected.
Eurozone

Our forecast for 2013 Eurozone GDP growth remains unchanged from our January assessment of a weak core with peripheral markets in depression, a view to which market consensus, now at -0.6% GDP growth for 2013, has moved since the first part of the year. Europe's private sector has yet to begin deleveraging, while the public sector continues to see debt balances rise relative to GDP. This debt overhang, in conjunction with fiscal policies focused on austerity with no mechanism for fiscal stimulus or transfer from stronger to weaker countries, will leave growth weak in our view. However, the negative rate of change does appear to be abating. Our expectation is that growth will begin to stabilize in 2014. This view and market consensus are consistent with the European Central Bank's (ECB) forecast for 2013 GDP growth, although we agree with the consensus that growth will undershoot the ECB's 2014 forecast of 1.1%.
Enhancements to the ECB's Long Term Refinancing Operation (LTRO) program announced in December 2011 introduced LTRO bank financing with a maturity period of up to three years. This liquidity has allowed the banks to support sovereign debt markets, but little in the way of increased credit has made its way to private sector loans. Importantly, the LTRO and the mere existence of Outright Monetary Transactions (OMT), announced in the spring of 2012, have lessened negative tail risk, although the conditional OMT has yet to be utilized. As LTRO liquidity comes due, it will be important to markets that the ECB replaces it and even increases it, and we would view as positive any additional measures that would encourage or facilitate private sector credit creation.
We believe economic data will disappoint the ECB and that growth and inflation will be lower than their respective 2014 forecasts of 1.1% and 1.3%. Given this view, we believe the ECB will ease sooner than the market expects. Initially, this easing is likely to take the form of a cut in the refinancing rate. Nevertheless, the ECB has been more reluctant to ease than other global central banks, so any easing activity is likely to be measured. Specific catalysts that could lead the ECB to ease include:
Disappointing economic data
External tightening of financial conditions either through Fed tapering or a Chinese credit crisis
Aggressive easing elsewhere – Japan or the United Kingdom – that drives the euro higher making it less competitive on a trade-weighted basis
Renewed stress in peripheral European markets
Our view is that the ECB will not want to take any action prior to the September 22 German elections, but beyond that date, any of these catalysts could influence ECB easing. Initially we believe easing will take the form of a refinancing rate cut. Further deterioration in economic data or development of any of these catalysts could precipitate further easing steps going into 2014, including expansion of the LTRO, a deposit rate cut, or measures targeted at private sector credit growth.
Given this backdrop, here are our views for Eurozone markets:
Rates – Given expected growth differentials, we anticipate German Bunds will outperform US Treasuries, with peripheral debt remaining sanguine through year-end.
Euro – Weakness in Eurozone growth argues for a weaker euro, but capital flows have proven to be supportive as retrenchment in the periphery, and increasingly the core, has allowed their balance of payments to shift from deficit to surplus (graph 5). New catalysts are required to spark a decline beyond the recent lows if no change in the balance of payments occurs.
What we are watching:
Economic data for continued signs that growth no longer is worsening, but stabilizing.
Signs that the ECB will follow through on easing and the forms that those easing measures will take, in particular, enactment of measures to promote credit creation in private sector.
Developments that advance fiscal union and banking union across the Euro area.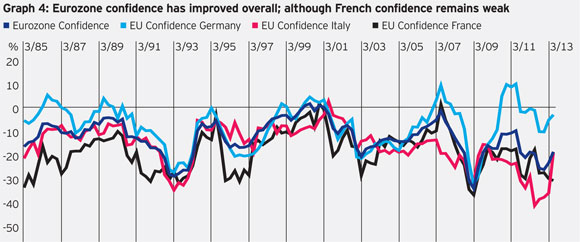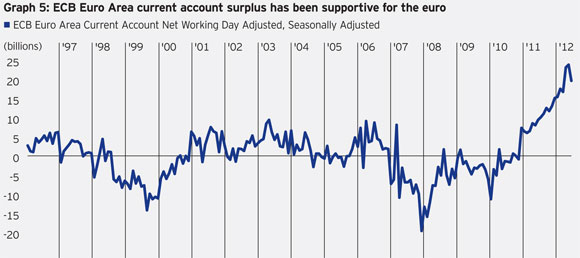 Risks to our views:
Election outcomes that result in anti-European power gaining strength or policy rejection that creates instability.
Insolvency in one or more peripheral banks precipitating capital flight and renewed crisis in peripheral markets.
Considerable upward movement in US Treasury yields pressuring long end European yields upward.
Japan

In January, we expressed cautious optimism for Prime Minister Abe's fiscal stimulus plan and the belief that his appointee to governor of the Bank of Japan would provide monetary policy in support of his plan. In fact, in early April the newly appointed Governor Kuroda announced an aggressive program of QE, with plans to double the BOJ balance sheet as a percent of GDP to 60% from 30%. In response to this monetary and fiscal stimulus, the first two arrows of Prime Minister Abe's three arrow strategy, consensus 2013 real GDP growth estimates (Bloomberg) have increased from 0.7% early in the year to 1.8% at the end of June. In addition, the Nikkei has rallied, the yen has declined significantly, and confidence and sentiment have improved.
Structural reforms remain the last piece of Abe's three arrows strategy to be implemented, and in many ways these reforms are likely to prove to be the most difficult given aging demographics, high debt levels, cultural dynamics, and the lack of growth in the population. While the longer-term outlook is dependent upon these reforms, we do expect continued improvement in growth and inflation for 2013.
Our views for the Japanese markets are:
Rates – Japanese government bonds remain largely a domestic asset class. JGB yields have adjusted upward and are likely to remain range-bound.
Yen - At current levels, the Japanese currency and equity markets have largely priced in the success of "Abenomics" (graph 6) and gains are likely to be limited through the rest of 2013. As such, the yen is likely to remain in a range as well.
What we are watching:
We will watch business sentiment and surveys to monitor continued improvement in the growth outlook (graph 7).
Over the medium term, fundamental economic reform in the labor, tax, regulatory and energy fronts is key for the prospects of the Japanese economy. While monetary and fiscal policies are likely to be the main driving forces for the upcoming year and will lead to improved growth and increases in inflation, continued success in subsequent years hinges on structural reform.
Political success by Abe's coalition in recent election is a key milestone in achieving further progress. The most recent election outcome is positive for reform in our opinion, but we will continue to monitor political developments for additional signs of success.
We will watch the levels of public and private debt and potential deleveraging.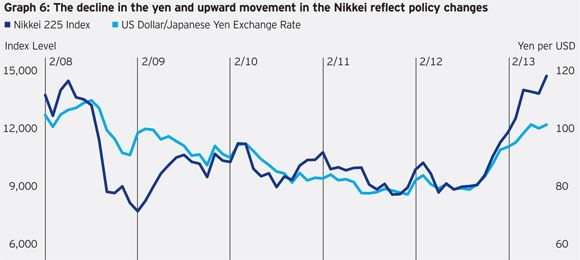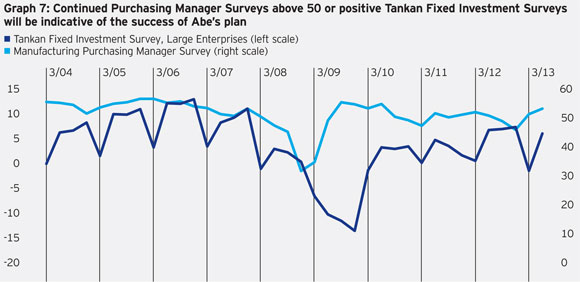 Risks to our views:
Inability to effect structural changes in labor markets, agricultural, trade and energy policy.
A credit crisis in China or other exogenous factor that reinvigorates deflationary forces, pushing the yen higher.
Tensions in the Middle East or other events that put upward pressure on energy prices and limit growth.
Repatriation of capital due to any number of factors, including, but not limited to, a global slowdown.
A risk of higher deleveraging than anticipated.
China

Chinese economic activity has moderated as the new leadership seeks to transform the economic model from one that is export led to one that is more balanced, with a larger component from consumption. In a change from the recent past, the current focus for policy makers appears to be the quality of growth, not the quantity. As Chinese officials focus on structural reform, we believe they are willing to tolerate slower growth.
We expect broadly stable monetary policy, although policy makers are sensitive to liquidity dynamics and will actively use open market operations to curb excess liquidity and speculative credit growth. Inflation remains subdued as money supply remains under control despite rapid growth in the unregulated "shadow banking system." While China's public sector and household debt as a percent of GDP remain modest relative to other developed and developing markets, deleveraging will need to occur in the corporate sector. The degree to which growth slows may make these efforts challenging with the potential to breed a crisis should debt levels prove unsustainable.
The fate of the Chinese economy over coming quarters could have a meaningful impact on the trajectory of the global economy. The fact that policy makers are emphasizing stability over growth will reduce demand in certain sectors such as commodities that have benefitted from China's aggressive infrastructure growth. Chinese growth has been a considerable contributor to global growth, particularly Asian growth, and we believe any slowdown in China will prove to be challenging for many countries in the region.
Our outlook for markets in China:
Rates – Consistent with our view in January, we expect relatively stable monetary policy, although we do expect measures to curb speculative credit growth. These efforts will need to be managed carefully to avoid creating a downward spiral where lower credit leads to lower growth and the inability to support existing debt.
Renminbi– We expect a relatively stable currency.
What we are watching:
We will watch for sustainable investment and increased consumption as drivers of growth.
We will watch for any policy reform announcements in the fourth quarter of 2013.
We will watch credit growth for signs of instability, particularly in the shadow banking sector.
Global Credit Markets
We continue to believe credit markets offer attractive opportunities for investors and favor moderately overweight positions in overall credit beta. Although the Fed may begin tapering before year end, we believe this tapering will take the form of fewer purchases of securities as opposed to outright sales of existing holdings. As such, the Fed will maintain its $3 trillion balance sheet in addition to zero interest rates, which along with the actions of other central banks will keep monetary conditions easy. This backdrop, coupled with moderate growth, means fundamentals for credit assets remain positive. Nevertheless, credit spreads have tightened considerably in the last few years, so we would maintain a nimble approach to credit beta with considerable importance placed on generating bottom up alpha through fundamentally driven security selection.
Corporate credit fundamentals lead us to favor positions in bank loans and high yield corporate bonds. Investment grade credit fundamentals are supportive, but these securities are vulnerable to spikes in Treasury volatility given leaner spreads and lower yields. US commercial mortgage-backed securities (CMBS) and residential mortgage-backed securities (RMBS) benefit from positive developments in housing and commercial real estate, and selective opportunities exist to provide diversification and yield.
Opportunities exist in US municipal bonds given the improved position of state and local governments and a recent back up in yields. Recent defaults have been idiosyncratic in nature and are not indicative of broad deterioration in municipal credit quality across the sector. The emergence of an unexpected municipal default or a historically low recovery value on an existing default runs the risk of inciting outflows by this retail oriented investor base. Thorough credit research, however, can uncover attractive opportunities as they arise.
The average quality of emerging market (EM) credit has improved markedly over recent years, and spreads for the asset class as a whole have tightened as a result. Fundamentals in many emerging countries have been more positive than those in developed markets. However, recently the trends in these emerging market fundamentals have become more mixed, and, as a result, we have become more cautious on emerging market beta. The headwinds of Chinese uncertainty, a rising US dollar cycle, and downside risks to commodity prices imply caution is warranted for emerging market debt overall. Nevertheless, we do see opportunities to add alpha through investments in select markets in both hard currency and local currency debt, particularly given the recent indiscriminate sell-off, but certainly thorough analysis and thoughtful security selection will be critical in this environment.
Invesco Summit Summary Credit Views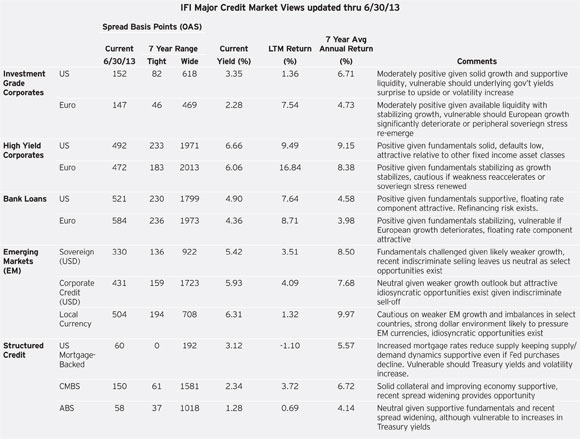 Summary
In summary, as we revisited key themes from the January Summit, we raised our expectations for US and Japanese growth. We expect European growth to remain weak but stop deteriorating. China, which has been a key driver of global growth, particularly in the emerging world, will soften. We expect central banks globally to remain accommodative, although we expect the Fed to begin tapering QE this fall. Increases in short term US rates will not occur before 2015. We are optimistic on Japanese monetary and fiscal stimulus, but absent further structural reform, markets largely reflect Prime Minister Abe's plan.
The upward increase in 10 year US Treasury yields in conjunction with a decline in inflation has removed the overvaluation that existed prior to the Fed's tapering discussions. As such, we expect Treasuries to remain in a range with some potential for data driven volatility. We believe Bunds will outperform Treasuries and peripheral European sovereign debt should remain in a range unless renewed debt and insolvency concerns resurface. Given growth differentials and higher real rates, the US dollar should remain well supported. The slowdown in China likely will weigh on the emerging market world. As such, we would be selective in exposure to both EM debt and currency. We believe our views are supportive for credit generally, and favor a modestly overweight position in overall credit beta.
About risk
FOR US USE ONLY