Jon Vogler
Senior Analyst for Retirement Research
Posted on Mar. 28, 2013
Capping 401(k) Deductions: A Path to Deficit Reduction or a Danger to Small Business Plans?
As I've cautioned in previous blog entries, retirement savings incentives may be a prime target for policymakers searching for ways to ferret out government revenue in the name of deficit reduction.
A Brookings Institution proposal that came out in late February would cap retirement savings-related deductions at 28%. In other words, this change would reduce the benefit associated with contributions to 401(k)s, IRAs and other qualified retirement accounts for the higher-income taxpayers whose tax rate exceeds 28%.
According to Brookings fellow Karen Dynan, who wrote the proposal ("Better Ways to Promote Saving through the Tax System"), wealthy investors would save for retirement anyway, even without taxpayer incentives.
A 28% limit on the tax benefit for high earners would reduce the budget deficit by about $7.5 billion in the first year, the proposal states. Combined with other recommended changes in Dynan's plan, there would be a net reduction of about $4 billion a year, according to the proposal.
The American Society of Pension Professionals & Actuaries (ASPPA) promptly issued a statement blistering the proposed cap. The group noted that because the tax incentive for retirement savings is a deferral, not a permanent exclusion, the proposal would amount to "double taxation" of contributions to retirement savings plans for anyone with a marginal tax rate over 28%. "If the proposal went through, a small business owner in the 39.6% bracket would pay an 11.6% tax on contributions made to the 401(k) plan today, and pay tax again at the full rate when they retire," explained Brian Graff, executive director and chief executive officer of ASPPA.
While the Brookings proposal acknowledges that individuals subject to this double taxation may decide to put their savings somewhere other than a 401(k) plan, it doesn't investigate the potential ripple effects on small businesses, ASPPA noted. "What it fails to acknowledge is when that double-taxed person is a small business owner and it no longer makes sense for the owner to have a 401(k) plan, that owner probably won't offer a 401(k) plan to the employees, either," said Graff. "You won't expand coverage by penalizing small business owners for offering a 401(k) plan."
My view
ASPPA's point is well-taken. When you make it less desirable for small business owners to sponsor a plan, they will be more likely to discontinue it, thus cutting off the opportunity for their employees to save via a workplace plan. Retirement savings incentives are an important reason why 401(k) and other plans work for the benefit of both the employer and employees at all compensation levels. Encouraging retirement savings is a major public policy goal that should not be sacrificed in the name of short-term deficit reduction.
---
Posted on Mar. 15, 2013
In-Plan Roth 401(k) Conversions — Part 2
This entry is the second of a two-part series covering in-plan conversions to the increasingly popular Roth option.
In Part 1, I cited a recent Aon Hewitt survey indicating many employers are considering adding a Roth option to their retirement plans. In this second part, I'll explore who might want to consider taking advantage of this conversion opportunity.
Conversion basics
Roth 401(k)s are relatively new, with only about half of employers currently offering them, although the number is rising. Less than 20% of employees who have been offered Roth 401(k) accounts have one.
The strategy is much like converting a traditional pretax IRA to a Roth IRA, a move some taxpayers make if they think it's worth paying taxes at today's historically low rates rather than later.
You pay income tax on the amount you convert — the 10% early withdrawal penalty doesn't apply to the conversion amount.
The Roth grows tax free, and qualified distributions are tax free.
The new rules became effective Jan. 1, 2013, but you can transfer amounts contributed to pretax accounts in 2012 and earlier.
A Roth conversion may make sense if you expect your tax rate to be the same or higher in retirement, and you won't need the funds for a decade or more.
In general, the ability to convert is more beneficial to younger savers years from retirement because they have a longer time to recoup the amount paid in current taxes.
Conversion considerations
Evaluate the costs versus the anticipated benefits. For example, balance lost future earnings from the cash you'd use to pay the current income taxes against the present value of the amount of future taxes you anticipate saving.
Ask yourself whether you have money outside the plan to pay income taxes associated with the conversion. It's generally considered much less desirable to pay the taxes from the conversion amount.
If you're worried about the size of the tax bill involved, or about potentially bumping yourself into a higher bracket, consider a partial conversion — a smaller amount or a series of smaller amounts for a number of years.
Some financial professionals recommend having your savings split up among tax-free, tax-deferred and taxable vehicles for added flexibility in tax and distribution planning. But conversions and rollovers can be complex, so consult your financial advisor for guidance about whether an in-plan Roth 401(k) conversion may be a good choice for you.
---
Posted on Mar. 8, 2013
In-Plan Roth 401(k) Conversions — Part 1
This entry is the first of a two-part series covering in-plan conversions to the increasingly popular Roth option.
A January 2013 survey by Aon Hewitt found that an increasing number of US employers plan to add a Roth option to their retirement plans over the next 12 months. The survey results come shortly after a provision in the American Taxpayer Relief Act (the "fiscal cliff" tax act adopted in January) gave workers a chance to stockpile more tax-free earnings — as long as their employers' 401(k) plans include a Roth option, along with the ability to move assets accumulated in tax-deferred 401(k) accounts.
Under traditional 401(k) plans, employees make pretax contributions and pay income taxes on all distributions after retirement. Roth 401(k) contributions, by contrast, are made with after-tax dollars, and funds in the plan grow tax free. Upon retirement, no taxes are owed on any distributions. The Roth conversion option also applies to other retirement savings plans, such as 403(b), 457(b) and thrift savings plans.
Previously, converting funds from a pretax to a Roth 401(k) account was limited to money already "distributable" without penalty from the pretax plan — typically, the vested balance when an employee reached age 59½ or terminated employment, unless the plan otherwise allowed in-service distributions. Under the new rules, an employee of any age or employment status can convert everything in a traditional 401(k), including pretax salary deferrals, into a Roth 401(k).
The intent of these rules is that savers will flock to this new opportunity, resulting in a lot of new near-term tax revenue for the government because taxes are payable on conversion.
The Aon Hewitt survey also found that:
49% of the respondents don't currently offer a Roth option.
29% of those are very or somewhat likely to add this feature in the next year.
76% of those new adopters will add both the Roth contribution and in-plan conversion features.
52% of the employers who already have a Roth contribution option but don't offer in-plan conversions are very or somewhat likely to do so in the next 12 months.
Industry groups representing recordkeepers and other service providers are pressing the Treasury Department for additional guidance about the new rules.
In the second part of this blog, we'll consider who might want to take advantage of the in-plan Roth 401(k) conversion opportunity.
---


Posted on Feb. 19, 2013
State of the Union — and Retirement
Retirement programs drew a few mentions in President Barack Obama's State of the Union address on Feb. 12, including these two about Medicare reform:
"Those of us who care deeply about programs like Medicare must embrace the need for modest reforms; otherwise, our retirement programs will crowd out the investments we need for our children and jeopardize the promise of a secure retirement for future generations."
"I am open to additional reforms from both parties, so long as they don't violate the guarantee of a secure retirement."
While the president didn't specifically mention Social Security reform, a change that might prove palatable to both him and Congress calls for using a new measure of inflation — dubbed the "chained" Consumer Price Index (CPI) — to calculate the cost-of-living adjustment (COLA) for Social Security benefits. In fact, President Obama included this Republican-backed idea in his offer late in the fiscal-cliff negotiations last year, but it wasn't adopted in the final deal.
A chained CPI assumes that consumers react to rising prices by buying similar goods that are cheaper. As a result, inflation would grow about 0.3 percentage points less per year than under the current inflation measure. Adopting a chained CPI would therefore cut Social Security benefits by providing a lower COLA adjustment.
While a move to chained CPI would represent only a small hit to benefits in the short term, the effect of the benefit cut would grow as COLAs add up over time. To cushion this reduction, some middle-ground proposals have suggested a benefit increase for people who have received benefits for 15 or 20 years.
Other possible Social Security reforms include increasing the retirement age or hiking the amount of wage income subject to Social Security taxes. While the political debate may grow heated, the program needs some type of adjustment to improve its finances over time, as noted by the Social Security trustees in their recent annual reports.
---

Posted on Jan. 30, 2013
The 'Regulatory Cliff' … and Other Considerations for Plan Sponsors in 2013
Now that we've reached the other side of the "fiscal cliff" (at least for now), it may be time to consider the "regulatory cliff" — commentator shorthand for the projected deluge of government regulations in the wake of fiscal-cliff legislation and the start of President Obama's second term. Conventional wisdom holds that regulations tend to flow more freely in any administration's second term because no election fight looms for the incumbent.
Read more
On the retirement side, we'll certainly see more regulations, most notably:
The controversial Department of Labor (DOL) reproposed regulation defining the circumstances under which a person who provides investment advice is a fiduciary under ERISA.
A DOL rule outlining, and perhaps making mandatory, disclosure of the annuity value of defined contribution account balances on participant statements.
It's probably an overstatement, though, to characterize it as a sudden regulatory torrent.
While a few regulations — such as the long-awaited DOL fiduciary definition — were undoubtedly held until after the election, some have been on hold for a considerable time before that for one reason or another. On a side note, I once heard a conference speaker contend that when the DOL says a rule will be forthcoming "soon," it's in the geological sense of the word.
Speaking of plan sponsor considerations, the investment consulting firm Callan Associates Inc. recently published a helpful list of items defined contribution plan sponsors should consider for 2013, including:1
Benchmarking plan fees and services.
Reviewing the investment policy statement.
Assessing the investment menu.
Examining the plan's target date funds.
Revisiting automatic features.
Checking the plan's policy on terminated participants.
Evaluating participant communications.
All items are worthy of investigation, and all processes should be documented.
Close
---

Posted on Jan. 8, 2013
Roth and Rollovers: Fiscal Cliff Deal Legislation
While the fiscal cliff deal didn't change the current tax treatment of retirement savings, it does include two retirement savings provisions:
Expansion of in-plan Roth conversions. Prior to passage of the American Taxpayer Relief Act, 401(k) plan participants could roll their money into a Roth 401(k) plan only when they terminated employment, retired or reached age 59½. Under the act, workers with 401(k), 403(b) and similar defined contribution plans would be able to convert to a Roth 401(k) designated in their plan at any time. The change would raise revenue (an estimated $12.2 billion in 10 years) because people who do such conversions must pay income tax up front. This was included as a way to help pay for a two-month delay in about $110 billion of domestic spending cuts otherwise slated to go into effect on Jan.1.
Extension of IRA charitable rollovers. The $100,000 IRA charitable rollover provision is being extended through 2013. A special rule will permit a rollover during January 2013 to be treated as a 2012 rollover.
Round two from Capitol Hill
Because the new law just provides ways (including the Roth conversion provision) to delay the automatic spending cuts under sequestration for two months, look for the new Congress to try and hammer out additional legislation in the coming months to avoid across-the-board cuts.
There's a chance that tax deductions for retirement savings— as well as plan contribution levels — might be targeted for reduction as a way to raise revenue in future deals. Such measures would likely have a damaging effect on overall retirement savings levels. I'll keep you posted.
---

Posted on Nov. 26, 2012
Behavioral Finance: Motivating Employees to Participate
During the SPARK Forum in early November, Bob Kaplan of ING discussed factors that motivate employees to take action — or not. When surveyed about not participating in their employers' retirement plans, employees gave a variety of answers, including:
I'll do it later (procrastination).
It's not that important (lack of understanding).
It's too complicated (information overload).
I don't have the money right now (affordability).
Fear of loss trumps potential gain
Fear of loss appears to be stronger than the prospect of potential gain when it comes to investing in a retirement plan. For example, what many employees consider comparatively "safer" investments in company stock and stable value funds topped surveys about preferred investments. Other survey questions about potential loss of assets indicate that generally risk-averse participants would accept lower payoffs in exchange for predictable results. Basic education about regular contributions, investment categories, diversification and risk tolerance is key to help participants see the value of increasing contribution rates and become more comfortable with investment selection.
Read more
Anti-inertia plan features are effective
Inertia is another powerful obstacle to participation. Automatic enrollment — enrolling employees in a plan automatically, with an affirmative action required to opt out — effectively combats inertia. Plans with this feature show very high enrollment percentages. Similarly, plans with automatic escalation — regular increases of the deferral percentage, with an opt-out provision — show very high rates of acceptance among employees.
In addition to plan features, making enrollment easier can help counter inertia. One company's pilot program enabling eligible employees to sign up via iPad at the enrollment meeting resulted in a 95% participation rate.
Frequent contact is key
Multiple "touch points" with participants are key to the success of a retirement plan. Mr. Kaplan noted that 85% of successful programs — defined as those with high participation rates and deferral percentages — communicate with employees at least once every two weeks. These contacts might include periodic enrollment meetings, as well as educational seminars in a variety of media formats to appeal to different learning styles. Frequent communication and education tend to lead to higher participation rates and higher employee satisfaction with the plan, in addition to offering greater operational efficiencies for the plan sponsor.
The Lifetime Income Disclosure Act, introduced in February 2011, would create an annual motivational touch point for participants. The bill — getting a renewed push by certain members of the retirement industry in recent months — is based in part on principles of behavioral finance. It would require plan sponsors to include annually on participant statements a projection of participants' monthly benefit at retirement based on their current account balance. The intent is to help participants make saving a higher priority when they realize how small their monthly retirement benefit would be.
Close
---

Posted on Nov. 20, 2012
Lame Duck and Pot Luck in D.C.
At the recent annual SPARK Forum, attorney Steve Saxon of the Groom Law Group gave an overview of major developments in Washington, D.C.
He noted that many vitally important issues — affecting spending, taxes and retirement — have been pushed back into the "lame duck" session of Congress, including:
The budget.
Sequestration (the automatic spending cuts provided for by prior congressional resolution).
The Bush tax cuts.
The handling of capital gains and estate taxes.
The alternative minimum tax (AMT).
Extenders of other bills set to expire at the end of this year.
The debt ceiling battle also looms. Capitol Hill staffers have been told not to buy travel tickets over the holidays in anticipation of a very busy schedule.
Read more
Tax deductions
Mr. Saxon suggested that the Internal Revenue Code reflects an expression of "social justice" in terms of areas supported by tax deductions — for example, current deductions allowed for union dues, church and charitable donations, educational expenses, mortgages and pensions. A key question about pensions is whether individuals would continue to save if employer and employee deductions for plan contributions are modified or eliminated in the tax reform process.
While Mr. Saxon believes the issue of deductions will be addressed by Congress, he doesn't think a simple income tax structure will result. He also doesn't believe there will be major pension legislation this year or next.
USA Retirement Funds proposal
Mr. Saxon described Sen. Tom Harkin's USA Retirement Funds proposal as a combination defined contribution, defined benefit (DB) and Social Security approach all wrapped into one. The proposal — intended for employees whose employers don't offer a retirement plan — provides that:
The employer make only modest contributions and have no fiduciary responsibilities, other than automatically enrolling employees and ensuring that employee contributions are processed.
The privately run funds be managed by a board that includes employer and employee representatives.
Employees get a monthly DB and survivor benefit feature at retirement.
This proposal is intended to complement the automatic IRA proposal previously introduced. Mr. Saxon noted that the USA Retirement Funds concept is being pushed hard on Capitol Hill, leading him to believe that the next session of Congress won't focus on suggested improvements to the 401(k) plan.
Fiduciary definition
The revised fiduciary definition proposed by the Department of Labor (DOL) and rescinded late last year will probably not be rereleased by the end of this year. A key question is when someone becomes a fiduciary in the process of selling a product and plan.
According to Mr. Saxon, the DOL maintains that if a conversation can be deemed a recommendation, then fiduciary status attaches. But Mr. Saxon asserts that a service provider building a platform doesn't constitute a recommendation that makes him a fiduciary. If everyone in the selling process is considered a fiduciary, Mr. Saxon noted, then there should be a class exemption for those who sell.
Fee disclosure
DOL guidance to supplement fee disclosure regulations in the form of a Field Assistance Bulletin (FAB 2012-02) was issued for participant-level disclosures but not for plan sponsor disclosures, as promised. Mr. Saxon observed that the plan sponsor has an ongoing fiduciary duty with respect to participant-level fee disclosures. It's important to be as compliant as possible with the fee disclosure details; if the information provided is deficient, a breach of fiduciary responsibility could be alleged.
Designated investment alternative
In FAB Question 30, the DOL stated that where there is a brokerage window and a significant amount of money is directed to an investment within that window, then the investment is a designated investment alternative (DIA), and the plan sponsor must disclose information about it. The DOL later reversed itself in response to protests that this constituted new rulemaking instead of interpretation by saying that investment alternatives within a brokerage window are not DIAs.
Lifetime income options
Three years ago, the DOL issued a Request for Information about lifetime income options in retirement plans. The DOL has agreed to promote education on types of lifetime income options over the next few years as part of its effort to address how a plan participant's account balance should be applied to help ensure that it lasts through retirement.
Investment advice
The final regulation regarding providing investment advice to plan participants and beneficiaries allows advice to be given on a fee-level basis or based on recommendations generated via computer model. The independent audit and computer model certification requirements have added extra costs.
Close
---
Posted on Oct. 15, 2012
How Will the Election Affect Social Security?
The November election results may have a striking effect on the outlook for the Social Security system. While the presidential candidates have offered scant specifics about how their administrations might improve Social Security, Democrats and Republicans are championing congressional bills that reflect their respective viewpoints.
Let's look briefly at how the election outcome could potentially affect four Social Security bills introduced during 2011 and 2012.
Read more
Bill: Defend and Save Social Security Act of 2012 (S 3533)
Bill: Save Social Security Act (HR 2889)
Bill: Keeping Social Security Solvent Act of 2011 (HR 2708)
Bill: Savings Account for Every American (SAFE) Act of 2011 (HR 2109)
---
Bill: Defend and Save Social Security Act of 2012 (S 3533)
Sponsored by Sen. Kay Bailey Hutchison (R-TX); introduced on Sept. 12, 2012
Highlights:
Increase normal and early retirement ages (over a period of time)
Reduce cost-of-living adjustments (COLAs) in benefits
If Democrats win:
Democrats are generally reluctant to delay the receipt of benefits (by increasing retirement ages) and to reduce the amount of benefits (by modifying COLAs) because they believe that doing so would break a promise to recipients.
If Democrats retain control of the Senate, it's unlikely this bill -- or a similar one -- would advance. It's possible that Democrats would agree to a compromise measure phasing in these types of changes more gradually as part of a larger budget deal.
If Republicans win:
The Republicans frame deferring benefits and reducing COLAs as necessary measures to cut costs and thereby extend the solvency of the program for future generations.
This bill might advance through Congress quickly with Republican control of the House and Senate.
---
Bill: Save Social Security Act (HR 2889)
Sponsored by Rep. Thaddeus McCotter (R-MI); introduced on Sept. 12, 2011
Highlight:
Provide for the establishment of personal Social Security savings accounts
If Democrats win:
Democrats don't favor personal savings accounts (which they term "privatization") for Social Security.
According to the 2012 Democratic Party platform, they will "block Republican efforts to subject Americans' guaranteed retirement income to the whims of the stock market through privatization." 1
If Republicans win:
Republicans generally believe that individuals should have control over their retirement investments.
According to the 2012 Republican Party platform, "… younger workers [should be allowed] the option of creating their own personal investment accounts as supplements to the system." 2
---
Bill: Keeping Social Security Solvent Act of 2011 (HR 2708)
Sponsored by Rep. Paul Tonko (D-NY); introduced on July 29, 2011
Highlight:
Repeal limits on applying employment taxes on wages in excess of the Social Security taxable wage base
If Democrats win:
Democrats historically believe that Social Security taxes should be progressive and applied to a higher amount of compensation to improve the solvency of the system.
This bill would generally garner Democratic support, especially if it were to specify that the tax be applied to earnings up to the current taxable wage base ($110,100 in 2012) and then to earnings beyond a higher level (e.g., $250,000). This is an approach taken by a similar bill, Keeping Our Social Security Promises Act (S 1558), introduced by Sen. Bernie Sanders (I-VT) on Sept. 14, 2011.
If Republicans win:
The Republicans view this as an unacceptable and burdensome increase in taxes.
This bill would probably not see the light of day if Republicans gain control of the Senate, in addition to the House.
---
Bill: Savings Account for Every American (SAFE) Act of 2011 (HR 2109)
Sponsored by Rep. Pete Sessions (R-TX); introduced on June 3, 2011
Highlight:
Allow workers to partially opt out of Social Security immediately and fully opt out after 15 years
If Democrats win:
As noted above, Democrats oppose privatization. Beyond the risk of investment losses in the stock market, they historically contend that permitting the establishment of private accounts via an opt-out provision would undermine the current Social Security system.
The bill would likely not become law if the Democrats retain control of the Senate.
If Republicans win:
Republicans, in general, favor private accounts.
A minority of Republicans are wary of fighting the battle over private accounts again. If Republicans gain control of the Senate, in addition to the House, though, they would probably work to get this or a similar bill signed into law.
Jon's Legislative Insights updates you on the status of pending retirement-related legislation.
Close
---
Posted on Oct. 1, 2012
401(k) Loan Default Insurance — An Automatic Feature?
The Retirement Savings Security Act of 2011 — introduced in the US House of Representatives in December 2011 and referred to the House Subcommittee on Health, Employment, Labor and Pensions in March 2012— would allow participants to purchase 401(k) loan default insurance. While this seems a relatively innocuous idea at first, the thought of participants paying hundreds of dollars to insure money they owe themselves quickly drew industry opposition.
The controversy intensified this summer when a Reuters article:
1
Stressed that the bill actually requires automatic enrollment into the loan protection (with an opt-out to decline coverage).
Revealed that auto enrollment into default insurance is backed by Custodia Financial, a company founded in 2010 to promote the bill. Custodia Financial stands to make a profit not only from collecting premiums, but also from acquiring patents for the technology and implementation behind the type of 401(k) loan insurance it plans to offer.
Read more
Sizing up the 401(k) loan default problem
Department of Labor data show $670 million of the $51.73 billion in 401(k) loans was in default in 2009. But last summer, newspaper reports pegged defaults on 401(k) loans at a much higher $37 billion a year.2 Where did the latter figure come from? It appeared in a study that prominently cited a Custodia Financial executive, raising concerns in some quarters about the veracity of the numbers.3
According to Aon Hewitt, 26.6% of employees had borrowed against their 401(k) accounts, with an average loan balance of $7,923, as of the end of 2011. Fewer than 3% of employees defaulted on a 401(k) loan in 2011, compared with a 63% default rate among borrowers who had lost their jobs.1
Helping borrowers avoid default
Current repayment requirements likely contribute to 401(k) loan defaults. While employees generally have five years to repay a loan, those who leave their companies usually must pay the balance of the loan within 60 days. In addition to repayment, borrowers must also pay income tax on the outstanding balance, plus an early withdrawal penalty if they are under age 59½.
Help may be on the way. Some employers are allowing former employees to set up payment programs beyond the 60-day time frame, which may help borrowers avoid default. In addition, the Savings Enhancement by Alleviating Leakage in 401(k) Savings Act of 2011 (SEAL Act) would extend the repayment period for plan loans to the time employees file their tax returns for that year. This bill has recently gained more traction, in part due to industry opposition to the 401(k) loan insurance concept.
My view
Insurance to cover 401(k) loan default in the event of death, disability or unemployment could be a voluntary option for those employees who take out a loan and wish to purchase the coverage — maybe out of concern about potential job loss. But loan default insurance should emphatically not be done via auto enrollment. The default for buying the insurance should be "no insurance," not automatic enrollment in such a program.
Consider these observations about loan default insurance:
Some employees might not realize they are being automatically enrolled in — and paying for — default insurance.
It's expensive — Custodia estimated that their insurance on a $10,000 loan paid off over five years would cost about $1,048 — more than 10% of the loan proceeds.1
Employees who buy this insurance and don't default on their loans would have less money returned to their retirement savings account than they originally borrowed.
Paying for insurance to borrow money from oneself is a controversial idea to begin with. This feature should be reserved for those employees who affirmatively decide at the time of the loan to purchase this insurance — it should not be automatically applied to all employees who borrow from the plan.
Close
---
Posted on August 9, 2012
Required Minimum Distribution Exemption
A little-noticed provision in President Obama's 2012 budget proposal would allow individuals who have less than $75,000 in their retirement accounts to avoid required minimum distributions (RMDs) from their IRAs. A similar proposal by Rep. Richard Neal (D-MA) would apply the exemption to those who have less than $100,000 in their retirement accounts.
RMD rules are the government's way of recouping revenue from tax-advantaged savings to ensure that people don't just accumulate retirement accounts, defer taxation and pass the wealth on as an inheritance. Instead, RMDs force individuals to withdraw at least some of the funds as taxable distributions during their lifetime. They work like this:
Read more
Individuals must begin taking RMDs from their IRAs no later than April 1 of the year after they reach age 70½.
Participants in an employer-sponsored plan, such as a 401(k) plan, can usually wait until April 1 of the year after their retirement (if later than age 70½) to begin taking distributions, unless they own 5% or more of the employer who sponsors the plan.
IRA owners and retirement plan participants are responsible for taking the correct amount of RMDs on time every year or face a stiff penalty for failure to take them— 50% of the amount not withdrawn.
Speaking at a recent conference, Treasury official J. Mark Iwry noted that elderly investors with the smallest accounts aren't using their tax-advantaged IRAs as a way to pass wealth on to others. Rather, they genuinely need the money to live on during retirement.
He noted that the cost to the government of putting through this provision would be about $35 million per year. "That's a reasonable cost to exempt half of these seniors from a 50% excise tax for noncompliance with the RMD rules," Mr. Iwry said.
My view
I think the proposed exemption is a very good idea—here's why:
People with lower savings amounts aren't trying to avoid paying the government its share so they can funnel cash to their kids; they're trying to live on the relatively little savings they've been able to accumulate.
Investment Company Institute data show that more than 60% of households in 2010 made IRA withdrawals for the express purpose of meeting the RMD requirement.1 Individuals with lower retirement account balances shouldn't have to draw down their accounts for this purpose.
Finally, current RMD rules subject people with the least means to a steep penalty for failure to comply.
Yes, it will cost the government some money at a time when it's seeking all the revenue it can find to plug the deficits. But potentially imposing a 50% penalty on people with lower savings is not the way to go about it and will not produce the volume of revenue the government is looking for anyway.
Close
---
Posted on July 13, 2012
Participant Fee Disclosure:
At the ASPPA Northeast Area Benefits Conference in New York City on July 10, 2012, Robert Kaplan of ING and Kristen Zarenko of the Department of Labor (DOL) discussed participant fee disclosure (the presentation was subtitled "what have we learned and how is it going").
Q&A 37 of Field Assistance Bulletin (FAB) 2012-02 (released in May of this year which contains "frequently asked questions" about fee disclosure) provides that a "good faith" effort to comply with the fee disclosure regulations will be satisfactory, given the late release of guidance, as long as service providers and plan sponsors have formulated a plan to incorporate all of the DOL's guidance in next year's disclosures. Kaplan noted that the "good faith" standard inherently distinguishes between firms, which made every effort to comply and those who made little or no effort to comply.
Read more
As I observed in a recent blog entry, it remains to be seen what kind of reaction participants will have to the flood of information they receive in the form of required annual disclosures (due for calendar-year plans by Aug. 30, 2012) and quarterly disclosures (due by Nov. 14 of this year). Kaplan mentioned that Fidelity already sent out 9 million annual participant disclosures and has only received back 600 questions to date; he anticipates that the first set of quarterly disclosures, which detail actual charges made to participant accounts during the third quarter of 2012, will generally stir a greater response.
Q&A 30 of FAB 2012-02 indicates that individual investments within a brokerage window may be considered designated investment alternatives (DIAs) and thus subject to specific plan administrator monitoring, as well as disclosure within the required comparative chart of investments, if a certain number of participants select that investment alternative. Some industry groups have asked that Q&A 30 be withdrawn, since they contend that it imposes new responsibilities that should have been included within regulations. Zarenko hinted that further guidance from the DOL on this issue may be forthcoming.
Zarenko noted that descriptions of the charges listed on the quarterly disclosures can be general; they don't want to "clutter up" the statements with a "treatise" on each expense.
With respect to "frozen" or closed investments, disclosures must be given to participants who are invested in these funds. It is up to the plan administrator to decide whether these disclosures are also given to participants who do not have access to these funds.
The comparative chart of plan investments only needs to be created once per year; it does not have to be updated when new participants enter the plan (although more recent fund performance information should be available via the plan sponsor's website). General plan information as described in the regulations must be updated within 30 to 90 days of a change.
Kaplan contended that the required disclosures give service providers an opportunity to talk to plan sponsors about their value proposition. The firm that charges the lowest fees may not always be the best option; a vendor's value depends on the scope and quality of services provided.
Unless service providers and plan sponsors have valid e-mail addresses for participants and the participants have consented to electronic disclosure, the default delivery method for required fee disclosures is paper. The DOL is looking more closely at the feasibility of electronic disclosure as a default in certain circumstances and has issued a Request for Information (RFI) on this subject.
Both Kaplan and Zarenko emphasized that required fee disclosures must be given to those employees who are eligible to participate in the plan, even if they currently don't have an account balance.
Close
---
Posted on June 21, 2012

Participant Disclosures: A Look Ahead
The panel began the session with a look at how other industries have fared in the wake of major disclosures. For example, disclosures of health issues related to tobacco resulted in a protracted battle between the industry and regulators, litigation and increased public messaging.
Will anyone notice or care about the participant fee disclosures? How will people react? Will they jump up and down when they see the word "fees" on their statements? There are several possible short-term reactions, including a flight to the lowest-cost funds and pressure on plan sponsors to search out funds with more equitable fees. These types of reactions may not happen right away.
Read more
In the mid- and long-term, there are a number of questions to consider:
Will plan sponsors and/or service providers be faced with a wave of litigation?
Will service providers face new competitive threats?
How will the industry prepare for, leverage and respond to public and social media on this issue?
How will the industry's approach to marketing and distribution be altered?
How will pricing and fee practices change?
What new business opportunities will emerge?
Will a lot of requests for proposals be issued?
What will be the long-term effect on 401(k) plans?
Domino Effect in Washington?
Attorney Steve Saxon of the Groom Law Group cited the inability of Democrats and Republicans to work together cooperatively on issues as a major concern of the business community.
The Supreme Court is expected to rule within the next 10 days on whether the individual mandate to buy health insurance as part of the health care reform law is constitutional. A finding that it's unconstitutional would wreak havoc on the congressional calendar, as there would likely be a fight to salvage portions of the law. If it's found to be constitutional, it would have implications for the mandatory provisions of the automatic IRA bill, which would require implementation of a mandatory payroll deduction IRA for those who currently don't have access to a retirement plan in the workplace. As with most other legislation, this will probably not be considered until after the presidential election, as both parties have an informal agreement not to pass anything controversial that might directly affect the outcome of the election.
Since both parties agree that tax reform needs to be tackled, this issue will probably be taken up next year.
On the regulatory side, Saxon doesn't think the reproposed fiduciary definition will be released until after the election. He contends that the industry needs to know in detail where Employee Retirement Income Security Act fiduciary responsibilities extend.
He predicts that 408(b)(2) plan sponsor fee disclosure issues won't end on July 1. Trade groups such as SPARK believe there are still too many outstanding issues.
In a recent advisory opinion, the Department of Labor ruled that there must be some commonality (or nexus) in order to allow unrelated employers to participate in the same plan. This doesn't affect multiple-employer plans (MEPs) where there is a connection ("closed" or "association" MEPs).
Close
---
Posted on June 20, 2012

Department of Labor Update
2012 SPARK National Convention
Phyllis Borzi, who heads up the Employee Benefits Security Administration at the Department of Labor (DOL), touched on several key issues in her address on June 18, 2012, at the SPARK National Convention in Washington, D.C.
With respect to fee disclosure, she cited two recent reports that found that more than 50% of plan sponsors — and a higher percentage of plan participants — didn't know that they pay fees for their 401(k) plan.
Read more
She predicted there would be some confusion, shock or anger among plan sponsors and participants about the costs they actually pay and asked audience members to help them understand. She also expressed frustration about the gap between when regulations such as fee disclosure are completed by her agency and when they are finally cleared for release.
Another set of frequently asked questions (FAQs) will be issued in about a month to supplement the first set of FAQs released in May.
In response to protests that the FAQs covered new ground that should have been issued as part of a regulation, the DOL will revisit how they approach them.
Controversial Q&A #30 in the May FAQs appeared to some to break precedent by providing that certain investments within a brokerage window could be regarded as designated investment alternatives (DIAs) — which need to be monitored by the plan sponsor and become subject to fee disclosure. Borzi contended that the answer simply reiterated the DOL stance that a brokerage window itself is not a DIA and that the plan fiduciary needs to prudently select and monitor service providers.
She contended that Q&A 37 is reasonable because it allows service providers to go forward with a "good faith" implementation of the fee disclosure rules while giving them a year to comply with the guidance as expressed in the FAQs.
With respect to lifetime income, Borzi observed that the challenge is how to make savings last through retirement. After issuing a joint Request for Information (RFI) with Treasury a few years ago, the DOL and Treasury conducted public hearings and heard three themes:
Previous DOL guidance on fiduciary responsibilities was ambiguous with respect to the distribution phase of retirement.
The fiduciary safe harbor from the Pension Protection Act of 2006 wasn't useful and didn't go far enough.
Participants didn't understand or appreciate the importance of lifetime income.
The DOL will repropose the fiduciary regulation to address the first theme, then focus on education, followed by a safe harbor rule.
Borzi said she is guardedly optimistic that the lifetime income illustration for participant statements will be issued soon. She thinks this will help participants because people tend to prefer to get cash in hand versus the promise of money over time. She lauded the Treasury guidance permitting participants to get some of their account in cash and some in installment payments, as well as the guidance about longevity insurance.
One challenge in releasing a sample lifetime income illustration in a 401(k) statement is the uncertainty about what kind of behavior it will prompt. If an individual who has accumulated $20,000, for example, discovers that, as a hypothetical example, it will yield $35 a month beginning at retirement and for the rest of his life, what will be his response? Will he crank more money into savings or just decide it's a hopeless cause and stop contributing?
To get an idea of what they can project, the DOL reviewed the experience of the federal thrift savings plan, which recently began issuing lifetime income illustrations. They discovered that the contribution rate increased dramatically afterwards. As a result, the DOL has concluded that doing the same for the 401(k) plan would be a step in the right direction, although it isn't a silver bullet. The DOL will take this approach to benefit statement illustrations, then solicit public feedback.
The DOL has been working with their colleagues at the SEC on a simple guide to explaining target date funds (TDFs). As a former English teacher, Borzi is aware that the writing must be easy enough to understand for the average investor.
She discussed the recent DOL advisory opinion that "open" multiple- employer plans, which consist of unrelated employers participating in the same plan, must be treated as separate single-employer plans. Some promoters of these plans had begun to market them by stating erroneously that employers who sign up for this type of plan will have no fiduciary liability. The Government Accountability Office will issue a report about these plans in the next few weeks.
With respect to the fiduciary definition, Borzi explained that they had issued a revised proposed definition in October 2010 because the previous five-part test and related regulations were outdated at 35 years old and no longer reflected market conditions (e.g., that most individuals now have their money in 401(k) plans and IRAs). There is also a problem with conflicts of interest, as someone offering advice may use third-party payments to steer the investor to products they offer. When people receive one-on-one advice, according to Borzi, they generally believe that the person offering the advice has their best interests at heart and may not understand that may not always be the case.
Borzi noted that when the DOL came out with the revised fiduciary definition, they were criticized on three fronts:
They allegedly had an insufficient economic analysis.
The distinction between investment advice and education wasn't clear enough.
The DOL was viewed as a "renegade" agency because it was assumed that Dodd-Frank dictated that no other standard besides the SEC upcoming ruling could apply. While she said that the DOL has been working closely with the SEC and other agencies, there won't be a single regulatory standard because the DOL and SEC have different mandates — the SEC for disclosure and the DOL against conflicts of interest and in favor of carefully crafted prohibited transaction exemptions. She did say that compliance with one standard wouldn't put an advisor or broker out of compliance with the other agency's standard. The standards may not be identical, but they will be compatible and not conflict.
Borzi reiterated that the fiduciary standard applies to brokerage windows and that the employer has a responsibility to determine if the investments offered are prudent considering the sophistication level of the participants.
Close
---
Posted on June 12, 2012

DOL Fiduciary Definition: ETA After Election?
In my May 24 entry, I discussed how the Department of Labor (DOL) — bowing to considerable pressure from industry groups and bipartisan members of Congress — decided last September to withdraw and repropose the definition of fiduciary with respect to investment advice in retirement plans.
A particularly "hot" issue is whether extending the definition to broker-dealer IRA advisors would cause them to flee the market, ultimately denying small investors adequate access to IRA advice. Dueling studies have yielded different opinions about whether this unintended consequence would occur. The DOL was expected to come out with the revised proposal this summer, after conducting a cost-benefit analysis.
Read more
Now word is out that the reproposal may be pushed back until after the November presidential elections. A recent "Investment News" article1 chronicles the ongoing saga of this controversial regulation.
"My understanding is that most administrations direct their agencies not to come out with significant regulatory proposals that might be deemed controversial before an election," says Dale Brown, chief executive of the Financial Services Institute Inc., which represents independent broker-dealers and opposes the DOL rule. "Nothing sinister about that; that's the way the process works."
The revised definition's potential expansion of fiduciary-duty protections could support President Obama's campaign emphasis on his fiscal and economic policies benefiting the middle class. But there is apparently some behind-the-scenes intrigue about fighting this battle before the election.
The DOL won't commit to a date for releasing the revised rule. According to a DOL spokesman, "While it is important to provide these protections as quickly as possible, we recognize the importance of this rule making, and we are going to take the time needed to get it right."
Proponents of the fiduciary definition hope that the DOL proceeds with the revision sooner rather than later. "We don't know if they're going to sit [on the rule] until the election," observes Karen Friedman, executive vice president and policy director at the Pension Rights Center. "We would be happy to see a reproposal now. This is something that shouldn't be left out there to hang."
Definition opponents meanwhile are ready to react whenever the DOL issues the revised rule. "We operate as if they're going to release it tomorrow," Brown says. "We're going to try to influence the outcome and educate members of Congress."
So amid speculation that the revised rule may be on hold until after the election, both pro and con forces appear ready to tangle over the rule should it come out this summer after all.
I'll keep you posted.
Close
---
Posted on May 24, 2012

DOL Fiduciary Definition Revisited
The Department of Labor (DOL) decided last September to withdraw and repropose the definition of fiduciary with respect to investment advice in retirement plans.
This announcement came in the face of mounting opposition from a wide variety of industry groups and bipartisan members of Congress due to concerns about the scope and anticipated expense of the rule. Critics had specifically asserted that the rule was too far-reaching and would subject broker-dealer IRA advisors to fiduciary duty for the first time; they said this in turn would curtail commissions, raise compliance and liability costs, and drive broker-dealers out of the IRA market, thus limiting small investors' access to IRA advice.
Congress asked the DOL to conduct a thorough analysis as to the business impact of the new definition in its reproposal process.
Read more
With the release of two reports that came to opposite conclusions about the effect of extending the fiduciary definition to cover the IRA market, the controversy has flared up again.
The first report, a study commissioned by law firm Davis & Harman and conducted by consulting firm Oliver Wyman Group, looked at 25.3 million IRA accounts and $1.79 trillion in assets (accounting for 40% of the U.S. IRA market) and found that not only would account costs rise, the level of service would decrease and access would be limited.
According to Kent Mason, a partner at Davis & Harman, "The elimination of the brokerage model with respect to IRAs would have significant adverse effects on retirement security. [This would result in] millions of IRAs losing access to the services of an investment professional and hundreds of thousands of fewer IRAs being opened each year."
The Oliver Wyman report pointed out that small IRAs -- those with balances of $10,000 or less -- are almost all brokerage accounts. Small investors without a relationship with a broker would miss out on support, including access to investment information and research.
The second report, a working paper titled, "The Impact of the Broker-Dealer Fiduciary Standard on Financial Advice," by professors Michael Finke at Texas Tech University and Thomas Langdon of Roger Williams University, reached a different conclusion. This report stated that IRA investors and the brokerage industry are both statistically unlikely to suffer -- and some may actually benefit -- should the DOL adopt its new fiduciary rule as originally proposed.
According to Blaine Aikin, chief executive of fi360 Inc. and a member of the steering committee for the Committee for the Fiduciary Standard (the Texas Tech study was funded in part by both groups), the study "casts significant doubt on brokerage industry claims that the fiduciary standard leads to higher costs and fewer product choices for investors."
The study concludes that it finds no statistical differences between the two groups (broker-dealers and advisors) in "... the ability to provide a broad range of products, including those that provide commission compensation; the ability to provide tailored advice; and the cost of compliance."
The study argues that the fiduciary standard is more efficient for investors and they should be able to acquire advice that is subject to higher accountability without higher costs or reduced choices.
The DOL has previously signaled that it intends to keep the extension of the fiduciary definition to the IRA market in its reproposed rule anticipated this summer. I'll keep you posted on the ongoing intrigue.
Close
---
Posted on May 14, 2012

Target on Retirement Savings Incentives
As Congress takes the first small steps toward tax reform, many popular tax deductions, credits and exemptions, along with the special tax breaks for retirement programs such as 401(k) and IRAs, are on the chopping block. These so-called tax expenditures effectively lower tax revenue.
Retirement savings incentives (primarily the tax deduction and tax deferral that plan sponsors and participants, respectively, get for plan contributions, but also including contribution rates) are being targeted because they are among the biggest in the tax code. Defined contribution (DC) plans are expected to cost the government $375.9 billion and IRAs $86 billion in lost revenue over the next five years, according to the congressional Joint Committee on Taxation (JCT).1
Read more
Proposals to raise revenue in this area have already surfaced. These include:
Capping retirement plan contributions at $20,000 a year or 20% of compensation, whichever is less — including employer contributions.
(Currently, the limits are 100% of compensation or $50,000 a year.)
Replacing exclusions and deductions for retirement savings with an 18% tax credit, deposited directly into an individual's retirement savings account.
Placing a cap on the value of the current year's exclusion for households making over a certain dollar amount.
There are a number of arguments, however, in favor of retaining the current tax treatment for retirement savings. Among them:
Unlike other individual tax incentives, retirement savings incentives are deferrals, not permanent exclusions. As individuals retire in future years, distributions from retirement savings are taxed and revenue will flow to the U.S. Treasury. Since most of those future years are outside the five-year budget window used by the government, the official estimates of lost revenue for this purpose are greatly exaggerated. According to experts, the present value estimates of the five-year cost of retirement savings tax expenditure are actually 54% lower than the above JCT figures.2
Taken together with Social Security and individual savings, employer-sponsored plans are a key component of America's retirement system. There are approximately 660,000 private-sector DC plans covering 72 million participants and over 47,000 private-sector defined benefit (DB) plans covering about 18 million participants.3 Further, Americans have accumulated more than $3 trillion just in 401(k) plans alone.4 Eliminating or cutting tax incentives will sharply reduce the number of plans offered by employers and thus the level of retirement savings accumulated by workers.
According to a study by the Employee Benefit Research Institute (EBRI), limiting contributions to DC retirement plans would reduce retirement security for workers at all income levels.5
Employer-provided plans offer key advantages to workers. These plans must be operated for the exclusive benefit of participants. They must meet coverage and nondiscrimination tests that ensure that the operation of the plan is fair. Low- and moderate-income workers are much more likely to have retirement savings if they are offered a retirement plan at work. Another EBRI study finds that over 70% of workers earning from $30,000 to $50,000 will participate in a plan at work, but less than 5% will save through an IRA on their own.6
There is overwhelming support for preserving the tax incentives for retirement savings: A survey conducted for the Investment Company Institute showed that 85% of all U.S. households disagreed, when asked whether the tax advantages of DC accounts should be eliminated.7 And 83% opposed any reduction in employee contribution limits.8
Director of Retirement Policy for the American Society of Pension Professionals & Actuaries (ASPPA) Judy A. Miller testified at an April 17 House Ways and Means Committee hearing on tax reform and tax-favored plans that tax incentives are what keep retirement plans successful. She said, "Americans depend on their employer-sponsored plans to save for retirement. Simply put, tax incentives for retirement savings play an important role in encouraging employers to sponsor and maintain retirement plans and encouraging participants to contribute to such plans."
Some members of Congress apparently take the same stance. Ranking Committee Member Rep. Sander Levin (D—Mich.) said at the same hearing that he agrees the system should not change, and that "tax reform should approach retirement savings incentives with an eye toward strengthening our current system and expanding participation, not as an opportunity to find revenue."
My view
I agree with Rep. Levin on this one. Encouraging Americans to save so they can have a better standard of living and be less dependent on the government in retirement on the one hand while dismantling the tax incentives that support those savings on the other would make little sense.
While efforts must be made to enhance the current retirement system (e.g., by expanding participation, boosting deferral rates and promoting lifetime income options in DC plans), the favorable tax treatment that forms the foundation for a secure retirement for American workers must be maintained, not jettisoned in the name of short-term deficit reduction.
Retirees Receive More Income from Private-Sector Pensions (DB and DC)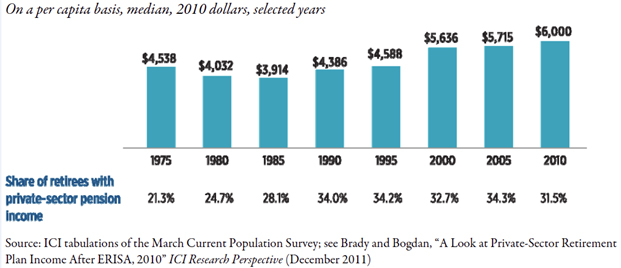 Close
---
Posted on May 2, 2012
2012 Social Security Trustees Report
The Social Security board of trustees issued their 2012 annual report last week. The news isn't good.
Social Security trust funds will be exhausted in 2033, three years earlier than projected in last year's report.
The problem is more acute for the disability fund — as opposed to the retirement and survivor benefits fund — which is projected to run dry in 2016, two years sooner than last year's projection.
Read more
The Social Security trust funds have been paying out more in benefits than they've collected in payroll taxes since 2010. If the trust funds are drained, they would collect only enough money in payroll taxes to pay about 75% of scheduled benefits through 2086. The trustees determined that the combined trust funds would need another $8.6 trillion in today's dollars over the 75-year period of the long-range outlook to pay all scheduled benefits.
Current and Projected Social Security Cash-Flow Deficits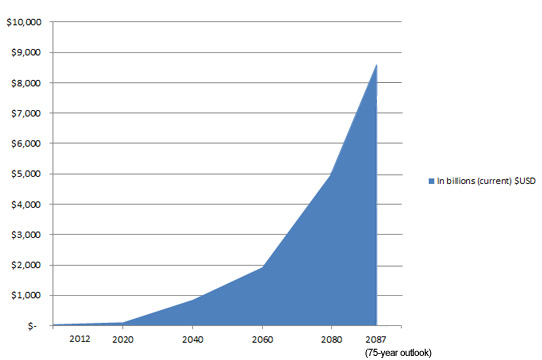 Financial pressures on Social Security continue apace:
The large baby boom generation entering retirement
Generally longer lifespans
Generations with lower birth rates entering employment
A relatively weak economy
Politicians' reluctance to take painful action to fix the program
Myriad ideas have been proposed to reduce the projected Social Security deficit — phasing in reduced benefits, raising the retirement age, reducing annual benefit increases, limiting benefits for wealthier Americans, increasing taxes, increasing the current $110,100 wage level subject to Social Security taxes and including state and local government employees in the program to increase the number of contributors. The concept of privatizing the system by creating personal accounts has also been floated.
With an eye on dueling political constituencies, lawmakers are treading lightly. They don't call Social Security the "third rail" of American politics for nothing.
Many advocates for senior citizens worry that Washington is too focused on benefit cuts as a way to shore up Social Security and contend that the program's finances are not as bad as some policymakers contend.
More than 56 million retirees, disabled workers, spouses and children receive Social Security. Clearly, there's too much at stake for Congress not to work together to craft a bipartisan plan to improve the system's financial health.
For my part, I agree with the Social Security board of trustees, who urge Congress in their report to address the long-term challenges facing Social Security sooner rather than later. As they state, only then will there be time to consider all the options, phase in changes and give the public adequate time to prepare.
Close