| | |
| --- | --- |
| Closed-End Strategy: Discount Opportunity Portfolio (DISC134) | |
A recent sell-off has created significant discounts to NAV in the closed-end market. Many of these CEFs have been potentially oversold and are trading at deep discounts relative to the funds' historical averages.
To capitalize on this potential opportunity, Invesco Unit Trusts is now offering the Closed-End Discount Opportunity Portfolio.
Closed-End Funds Trading at Multi-Year Lows on a Discount to NAV Basis*
Recently, many closed-end funds have been trading at prices that represent a significant discount to their NAV. Current discounts to NAV across different strategies and market sectors may create a timely opportunity to invest at attractive prices.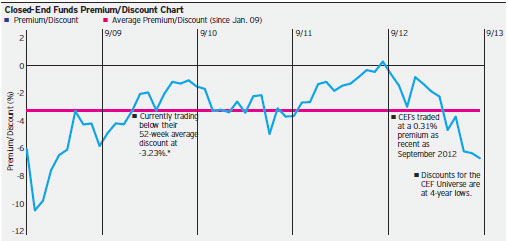 Closed-End Strategy: Discount Opportunity Portfolio (DISC134)
The Closed-End Discount Opportunity Portfolio is a strategy that gives investors access to discounts to NAV of underlying securities as well as the potential for monthly income.
You may want to consider adding a UIT that focuses on discounted CEFs to your overall investment portfolio for the following reasons:
Trading at significant discounts to NAV
Potential for high monthly income — estimated distribution yield between 7–7.5%
May provide a tax-loss harvesting opportunity if you want to maintain closed-end market exposure
Diversification - portfolio will consist of 25 CEFs across various sectors, investment styles and managers
Risk Considerations

A security issuer may be unwilling or unable to make interest and/or principal payments or declare dividends in the future, or may reduce the level of dividends declared. This may reduce the level of dividends certain of the Portfolio's securities pay which would reduce your income and may cause the value of your Units to fall.
The financial condition of a security issuer may worsen or its credit ratings may drop, resulting in a reduction in the value of your Units. This may occur at any point in time, including during the initial offering period.
The Portfolio invests in shares of closed-end funds. You should understand the section titled "Closed-End Funds" before you investing. In particular, shares of closed-end funds tend to trade at a discount from their net asset value and are subject to risks related to factors such as management's ability to achieve a fund's objective, market conditions affecting a fund's investments and use of leverage. The Portfolio and the underlying funds have management and operating expenses. You will bear not only your share of the Portfolio's expenses, but also the expenses of the underlying funds. By investing in other funds, the Portfolio incurs greater expenses than you would incur if you invested directly in the funds.
The value of the fixed income securities in certain of the funds will generally fall if interest rates, in general, rise. No one can predict whether interest rates will rise or fall in the future.
Certain of the closed-end funds held by the Portfolio invest in senior loans. Although senior loans in which the closed-end funds invest may be secured by specific collateral, there can be no assurance that liquidation of collateral would satisfy the borrower's obligation in the event of non-payment of scheduled principal or interest or that such collateral could be readily liquidated. Senior loans in which the closed-end funds invest generally are of below investment grade credit quality, may be unrated at the time of investment, generally are not registered with the Securities and Exchange Commission or any state securities commission, and generally are not listed on any securities exchange. In addition, the amount of public information available on senior loans generally is less extensive than that available for other types of assets.
Certain of the closed-end funds may invest in securities rated below investment grade and considered to be "junk" securities. These securities are considered to be speculative and are subject to greater market and credit risks. Accordingly, the risk of default is higher than with investment grade securities. In addition, these securities may be more sensitive to interest rate changes and may be more likely to make early returns of principal.
The yield on closed-end funds investing in senior loans may fluctuate with changes in interest rates. Generally, yields on senior loans decline in a falling interest rate environment and increase in a rising interest rate environment. Because interest rates on senior loans are reset periodically, an increase in interest rates may not be immediately reflected in the rates of the loans.
Certain of the funds held by the Portfolio write call options on their assets. The use of options may require an underlying fund to sell portfolio securities at inopportune times or at prices other than current market values, may limit the amount of appreciation a fund can realize on an investment, or may cause a fund to hold a security it might otherwise sell. To the extent an underlying fund purchases options pursuant to a hedging strategy, the fund could lose its entire investment in the option.
Certain funds in the Portfolio invest in corporate bonds. The financial markets, including those for corporate bonds, have recently experienced periods of extreme illiquidity and volatility. Due to these significant difficulties in the financial markets, there can be substantial uncertainty in assessing the value of an issuer's assets or the extent of its obligations. For these or other reasons, the ratings of the bonds in certain funds in the Portfolio may not accurately reflect the current financial condition or prospects of the issuer of the bond.
The closed-end funds may invest in securities of foreign issuers, presenting risks beyond those of U.S. issuers. These risks may include market and political factors related to an issuer's foreign market, international trade conditions, less regulation, smaller or less liquid markets, increased volatility, differing accounting and tax practices and changes in the value of foreign currencies which may have both economic and tax consequences.
Certain of the closed-end funds held by the Portfolio invest in preferred securities. Preferred securities are typically subordinated to bonds and other debt instruments in a company's capital structure in terms of priority to corporate income and therefore are subject to greater risk than those debt instruments. Preferred securities are subject to interest rate risk, meaning that their values may fall if interest rates, in general, rise. In addition to the other risks described herein, income payments on certain preferred securities may be deferred for 20 consecutive quarters or more, which may reduce the amount of income you receive on your Units.
Certain of the closed-end funds held by the Portfolio invest in MLPs. Most MLPs operate in the energy sector and are subject to the risks generally applicable to companies in that sector, including commodity pricing risk, supply and demand risk, depletion risk and exploration risk. MLPs are also subject the risk that regulatory or legislative changes could eliminate the tax benefits enjoyed by MLPs which could have a negative impact on the after-tax income available for distribution by the MLPs and/or the value of the Portfolio's investments.
Certain of the closed-end funds held by the Portfolio invest in shares of REITs and other real estate companies. These shares may appreciate or depreciate in value, or pay dividends depending upon global and local economic conditions, changes in interest rates and the strength or weakness of the real estate market.
Before investing, investors should carefully read the prospectus and consider the investment objectives, risks, charges and expenses. For this and more complete information about the trust, investors should ask their advisers for a prospectus or download one at invesco.com/unittrust.
Invesco's history of offering unit investment trusts began with the acquisition of the sponsor by Invesco Ltd. in June 2010. Invesco unit investment trusts are distributed by the sponsor, Invesco Capital Markets, Inc. and broker dealers including Invesco Distributors, Inc. Both firms are wholly owned, indirect subsidiaries of Invesco Ltd.
| | | |
| --- | --- | --- |
| NOT FDIC INSURED | MAY LOSE VALUE | NO BANK GUARANTEE |