Insight
Thinking about getting back to work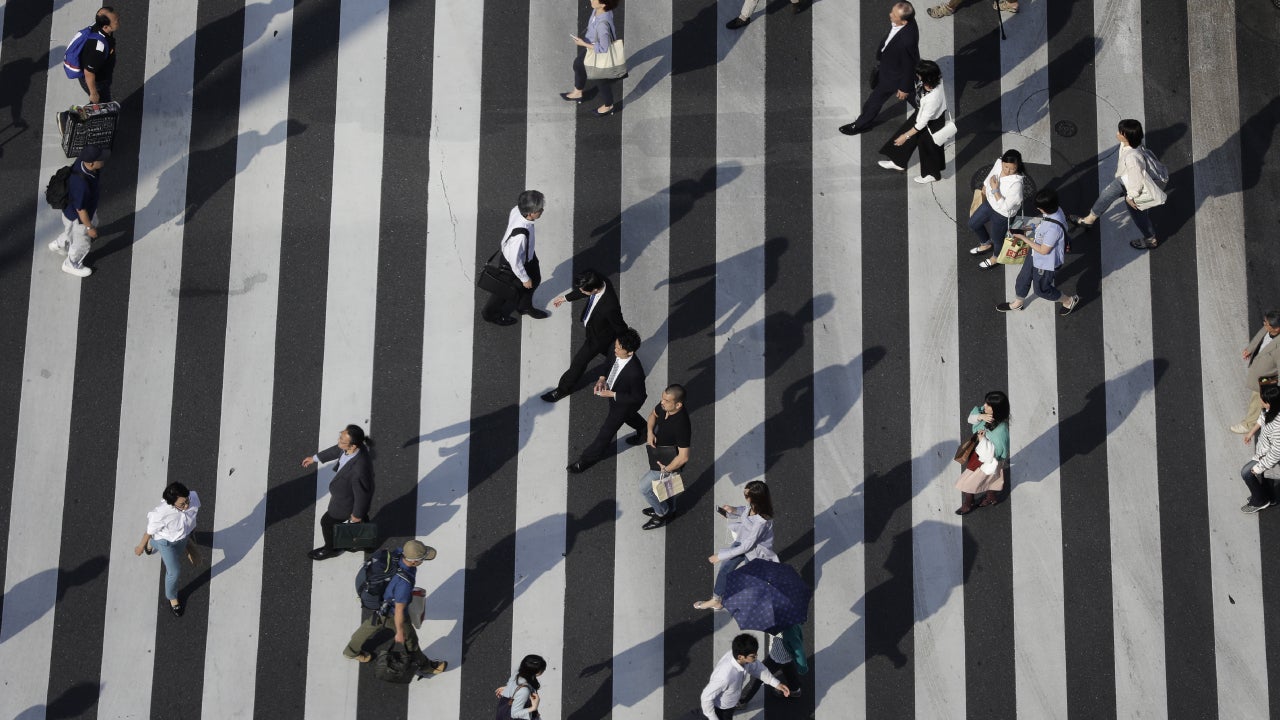 Data continue to demonstrate the intense damage being done to economies around the globe by the economic "sudden stop" put in place to slow the spread of the coronavirus. We have seen unemployment claims in the US continue at an historic rate, negative earnings reports across a range of industries, and received Chinese Q1 GDP results, the first GDP report to be fully impacted by COVID-19. 
Massive policy action has helped to offset some of the negative growth impacts on financial markets.  Central banks, particularly the US Federal Reserve (Fed), have been aggressive in supporting financial markets and have brought some stability to credit and equity markets globally, despite the continued deteriorating growth situation. 
Aggressive social distancing and lockdowns being implemented across a range of countries are starting to have an impact on "flattening the curve" and the global level of new cases has stabilized. In Italy and the US - two hard hit countries that we have been watching closely - new cases and deaths from the virus are broadly flattening out in response to the shutdowns. Three weeks after shutdown, cases and deaths stabilized and declined somewhat, as would be expected if social distancing were effective. 
The stability in new cases and deaths has led some policy makers to begin discussions on reopening economies. The reopening process is likely to be slow, regional and by industry, and will likely require additional testing and tracking capacity across most countries. Some European countries including Germany, Austria and Denmark, have announced reopening plans, the US government has announced reopening guidelines and the US state of Georgia has begun a reopening process. 
As we move toward reopening across portions of the US and Europe, we thought it would be useful to look at the experience China has had in managing the COVID-19 outbreak and getting back to work, as well as how industries and sectors may participate in the reopening process. 
Outlook for recovery - China's experience 

As a result of the COVID-19 outbreak, China's real GDP growth recorded an historic contraction of 6.8% year-over-year in the first quarter of 2020.1 This result was broadly in line with market expectations, including uneven recoveries among sectors after China's provinces gradually softened social distancing measures starting at the end of February.  
The experiences of SARS in 2003 and less pressure on medical infrastructure outside of Hubei province, where the outbreak first appeared, have enabled China to achieve a relatively quick "back-to-work" process. Around 30 days after the lockdown in the Hubei city of Wuhan, other provinces began de-escalating their emergency responses, as daily new confirmed cases dropped below 100.2 The process was helped by the early adoption of population-wide social distancing, mask-wearing and tracking of suspected cases. Also, because most cases were concentrated in Hubei and medical capacity outside the province was ample, medical resources could be mobilized to assist Hubei.  
Since early March, "back to work" has become the new focus and local governments have gradually lowered their restrictions on business re-opening and cross-province travel. The impact on economic activity has been brisk, reflected in sharp moves in business sentiment, including recent Purchasing Managers' Index (PMI) reports. China's manufacturing PMI fell to 35.7 in February from 50.0 in January, but recovered to 52.0 in March.3 Because PMIs are based on surveys using sequential comparisons, the V-shaped recovery has shown the contrast between months with and without strict social-distancing measures, although March data indicate that the recovery process is still very gradual.  
Divergent recoveries by sector 

China's "back-to-work" process has highlighted two important divergences: First, the industrial and service sectors have shown different levels of work recovery. The manufacturing, infrastructure and construction sectors posted work resumption levels of 85%-90% at the end of March, with full resumption expected by the end of April.4 On the other hand, in-store services recovered to only 60%-70% of business capacity at the end of March and only 25% of the tourism industry's operations had resumed.5   
Second, work resumption and capacity utilization have diverged within the service industry. Gaps are significant among industries most severely impacted by the coronavirus. Although around 90% of restaurants have re-opened, only 30%-50% capacity was utilized in March.6 Among hotels and airlines, less than half of the resumed operating capacity has been utilized due to weak demand.7 A recent Morgan Stanley survey suggests that, while operating capacity across sectors could reach 85%-95% of normal levels by the end of April, demand may actually only return to 60%-65% of capacity.8  
Similar trends are reflected in the detailed economic activity data reported for Q1. Industrial production showed recovery in March, down only 1% year-over-year, versus a decline of 14% year-over-year in the January-February period.9 Retail sales, on the other hand, recovered only moderately, with a year-over-year contraction of 16% in March versus a year-over-year drop of 21% in the January-February period.10
Within industrial production, most sectors showed some recovery in March, although auto manufacturing remained weak with a decline of 22% year-over-year (Figure 3). Industries that recorded positive annual growth in March include computer, telecommunication and electronics manufacturing (+10%) and metals and mining (+4%) (Figure 3). This performance may have corresponded to the higher demand for electronics due to the prevalence of work-from-home and web conferences since the coronavirus outbreak. In addition, infrastructure-related investments have started to pick up on the back of more proactive fiscal policies and warmer weather, which may have led to improved activity in those related sectors.   
Within retail sales, consumption has been strong for daily necessities, but, not surprisingly, demand for clothing, luxury goods and home appliances has been weak with no major signs of recovery notable in March. Catering declined by 47% year-over-year in March, clothing and textiles were down 35%, jewelry was down 30%, household appliances were down 30% and furniture was down 23% (Figure 4). On the other hand, food was up 19%, medicine was up 8% and telecom was up 7%, all on a year-over-year basis (Figure 4).
Invesco Fixed Income expects continued recovery in the quarters ahead, with a potentially stronger rebound in the second half of the year. Our outlook is based on our expectation of continued easing measures by policy makers, barring additional waves of infections later this year. Industries may continue to recover at different paces in the second quarter, amid potentially cautious consumer behavior and the likelihood of a limited recovery in travel, which may be especially impactful for cross-border businesses.  
Sector focus:

US corporates – The escape path from a global pandemic

There is a well understood playbook for how industry sectors tend to perform through normal business cycles and emerge from recessions of various types. However, a global pandemic with extended, but varying, forms of social isolation, coupled with a fragile oil sector (caused by brinksmanship among geopolitical protagonists coinciding with the onset of the virus) has not been well-documented. Invesco Fixed Income has conducted a root and branch assessment of a variety of scenarios and considered how the evolution of some strategic themes may impact investment opportunities in the corporate space.
Macro starting point

Our starting point is a base-case macro analysis, which, in short, assumes a 6% contraction in US GDP at the end of 2020 - with Q2 being the weakest period of GDP growth and a return to positive increments in Q3 and Q4. To offset this, we expect extraordinary policy action to continue through the year, including the Fed's unprecedented commitment to buy, not only investment grade corporate bonds, but those that drop into high yield as well.
Some economic behaviors have changed already. The ability to work effectively from home and have more products delivered to the home will likely pressure the value of both office and retail space. While drone delivery may not become an overnight phenomenon, it is certainly worth conceptualizing the impact it could make. We have laid out some of these ideas in Figure 5.
The psychology around spending is a big unknown and will likely be impacted by the length and depth of this pandemic. Confidence is key and the outcome and speed of recovery will likely be faster in a scenario in which either a vaccine or a successful cure is developed.
Sector distinctions

We then consider more tactically the types of businesses that will likely recover, at what pace and over what time frame, in Figure 6. We believe life will not be the same again, but certain things will never change – theme parks will likely always be popular vacation destinations and live sports a popular experience (from which many are already suffering withdrawal symptoms). For some activities, like going to the movies, the outcome is not yet clear; as the time for movies to be delivered to our homes shrinks, the allure of seeing them on a big screen does too, but home viewing can't quite recreate the atmosphere of a theater. 
Against this backdrop, our analyst teams have assessed the relative amount of distress caused by the economic sudden stop due to COVID-19 and determined which industries we believe are best placed to recover by asset class. The primary consideration was an industry's ability to drive a top-line recovery, but, of course, at times of stress, a strong view on a company's liquidity and capacity to endure a prolonged slowdown underpins our individual investment views.  
Clearly, sectors that rely heavily on social interaction are the most susceptible to a variation in the path of  "back-to-work" and, consequently, restaurants, lodging and consumer products and services that can't be ordered over the internet are in our sights. 
Figure 7 is a graphical representation of the work undertaken by our teams, in this case, focused on the US. We are conscious of the desire to re-start the economy but also that this may need to be implemented in a phased approach across the country, combined with government support. Regardless of the outcome, cruise liners will likely take time to return to previous levels of custom, whereas restaurants will likely benefit from a lower level of transactional friction (and perhaps the limitations of home cooking).  
Highlights from other asset classes include the swing factor of oil in US high yield, where the energy sector is a significant portion of the index and negotiations among OPEC+ are pivotal. In emerging markets, we see potential for recovery in the metals and mining sector where there are many fundamentally strong businesses with limited near-term refinancing needs waiting to pounce on a rebound in demand. Finally, in Europe, while regulators have prudently guided banks and insurers to suspend dividends and preserve capital, we believe their subordinated debt is generally well-protected and the incremental benefit from withholding coupon payments would not make sense in most cases. 
It is a fair generalization to say that strains on local and regional health services are the primary consideration in most countries at this point, although there are societal differences regarding how quickly people believe a return to "normal" should be instigated. What also cannot be underestimated is the support being provided through multiple policy vehicles and the fact that, in many cases, it is still too early to confidently know where that support will be directed over time. If there wasn't a playbook for this event before, it's taking shape now. 
Rob Waldner is Chief Strategist and Head of Macro Research for Invesco Fixed Income. Yi Hu is Head of Asia Credit Research at Invesco Fixed Income. David Todd is Head of Global Corporate Credit Research at Invesco Fixed Income. 
1 Source: National Bureau of Statistics of China, April 17, 2020. 
2 Source: National Health Commission of China, Feb. 29, 2020. 
3 Source: China Federation of Logistics and Purchasing, March 31, 2020.
4 Source: Morgan Stanley Research, April 8, 2020.
5 Source: Morgan Stanley Research, April 8, 2020.
6 Source: Morgan Stanley Research, April 8, 2020.
7 Source: Morgan Stanley Research, April 8, 2020.
8 Source: Morgan Stanley Research, April 8, 2020.
9 Source: National Bureau of Statistics of China, April 17, 2020. 
10 Source: National Bureau of Statistics of China, April 17, 2020.