Insight
As COVID-19 spreads, global technology sector decouples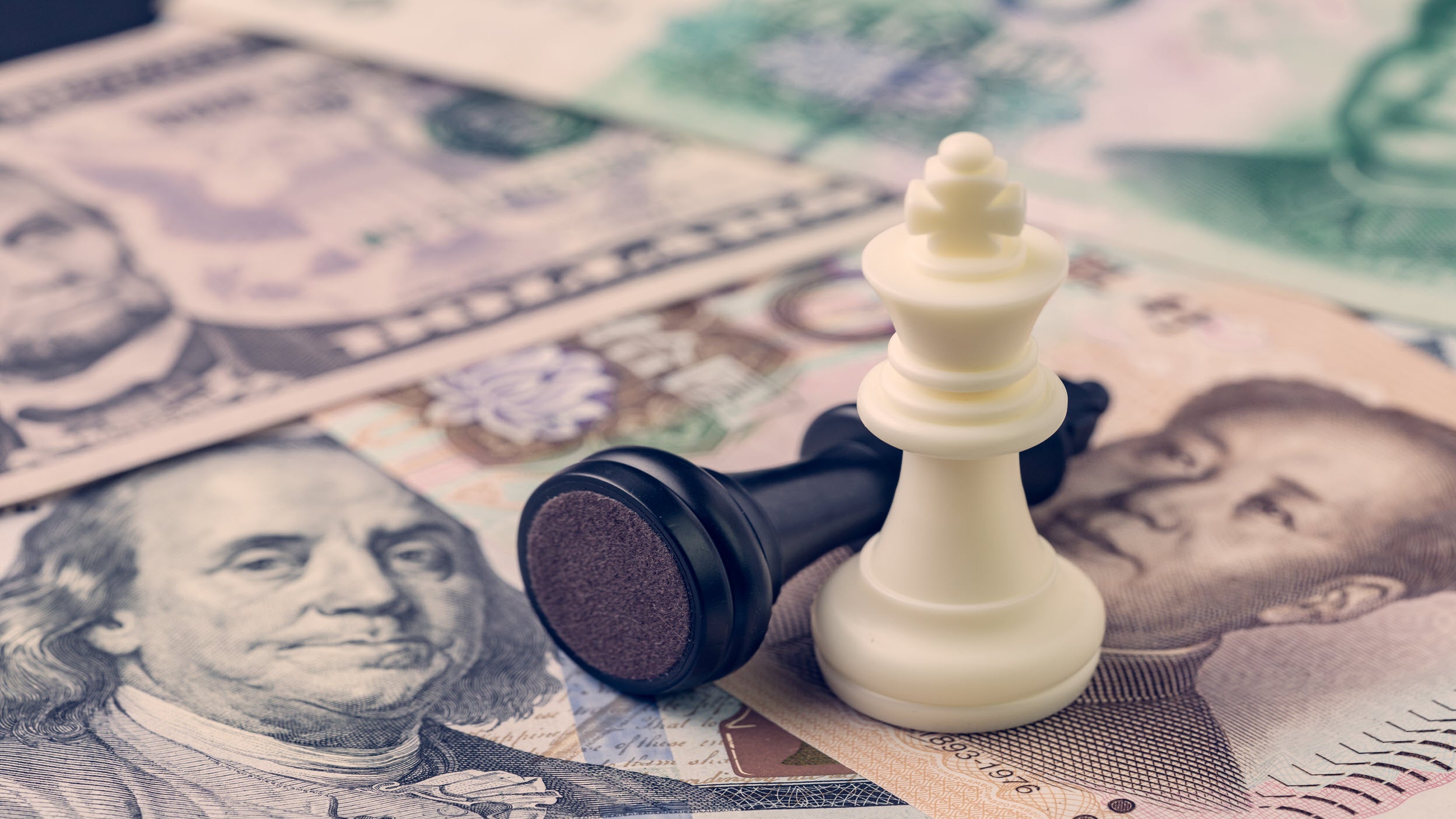 Synopsis
In this white paper, we first analyze the two main decoupling forces splintering the global technology sectors: COVID-19's economic impact and deteriorating US-China relations. Secondly, we categorize which sectors are de-coupling – or diverging – and which ones aren't, with a case study on 5G – arguably the most significant yet geopolitically sensitive technology development in Asia-Pacific over the next year. We conclude by providing our outlook - assessing the longer-term implications of these pressure points on the Asia-Pacific region. 
Introduction
The economic lockdowns and subsequent recession resulting from COVID-19's spread around the world are bringing geopolitical tensions to the fore, with fraying relations between the US and China among the most consequential.
Amid deteriorating US-China relations, policymakers are ramping up pressure to splinter the global tech sector. On the one side, Beijing recently unveiled a US$1.4 trillion1 plan to reduce its dependence on foreign technology while on the other side, Washington has imposed new sanctions on Chinese tech firms to restrict Chinese access to US technology. These decoupling measures are forcing companies, supply chains and even whole economies to rethink their dependencies on foreign hardware, software and technology research.
In China, this new geopolitical landscape creates uncertainty for Mainland tech companies looking to expand their business globally but also accelerates the trend for these companies to become self-reliant over time. Offering a counterweight, Chinese policymakers have earmarked an ambitious 5G nationwide rollout and digital infrastructure investment plan this year2.
Technology companies that conduct business in both countries will continue to experience an uncertain cross—border operating environment as the geopolitical tit-for-tat continues until at least the November US presidential election, with potential consequences reverberating throughout the region's heavily technology export-oriented economies. The 5G capex spend and product upcycle is estimated to be worth around USD $900bn3 to the region's economy.
Technology decoupling: COVID-19 leads to shifts in global supply chain
The pandemic has brought the global supply chain's reliance on Chinese manufacturing to the surface. Amid the lockdowns, factories are forced to shut down and consumer demand has withered. Companies around the world are re-evaluating their production lines and supply chains in China. In a recent survey compiled by the American Chamber of Commerce in Shanghai (AmCham) and PwC China4, MNCs with manufacturing operations in China are looking to diversify their production base towards at least one other country – a move generally known as "China Plus One". Governments from around the world are introducing policy to further this supply chain diversification trend. For example, the Japanese government has a new policy to encourage Japanese firms to diversify their production bases in China – already they are paying 87 Japanese companies5 to shift their production onshore or to other Southeast Asia countries.
The US government has warned that US-headquartered MNCs may be forced to shift their production elsewhere6, with the State Department "turbo-charging" the initiative to reduce the reliance of the US' supply chain on China7.
Technology decoupling: geopolitical tensions
In 2007, global trade and investment reached a peak with foreign direct investment (FDI) at more than US$3.1 trillion8 worldwide. Although by the end of 2018, global FDI had fallen by 57%, this decline in global FDI flows has not been evenly distributed. Data shows that while China's FDI to the US has fallen by more than 88% since 2016, US outbound investment to China has been relatively steady throughout the years, including up to the first few months of 20209. The big drop in China's recent FDI to the US is the result of the escalating trade tensions over the past couple of years, with the US Congress enacting more onerous reviews via the Committee on Foreign Investment in the US (CFIUS) of Chinese investments into US companies10.
Furthermore, the White House has started to implement a new act, the Foreign Investment Risk Review Modernization Act11, which makes it much more difficult for Chinese telecommunication companies to purchase US technology parts and for Chinese social media and messaging companies to operate unencumbered in the US. The potential ban of Chinese social media apps in US is one of the emerging risks that Chinese tech companies face in doing business in the US. As each country erects trade and investment barriers, it's likely to see a continued decline in technology-related FDI between the two countries.
The outlook for cross-border investments between the US and China is grim – as acrimonious trade tensions have boiled into an all-out geopolitical tussle, compounded with a global pandemic. These factors will likely diminish US-China technology investment flows in the near-term as companies look to conserve cash to stay afloat during this period of economic uncertainty and governments around the world focus their policies on protecting their domestic economies.
Categorizing converging and diverging technologies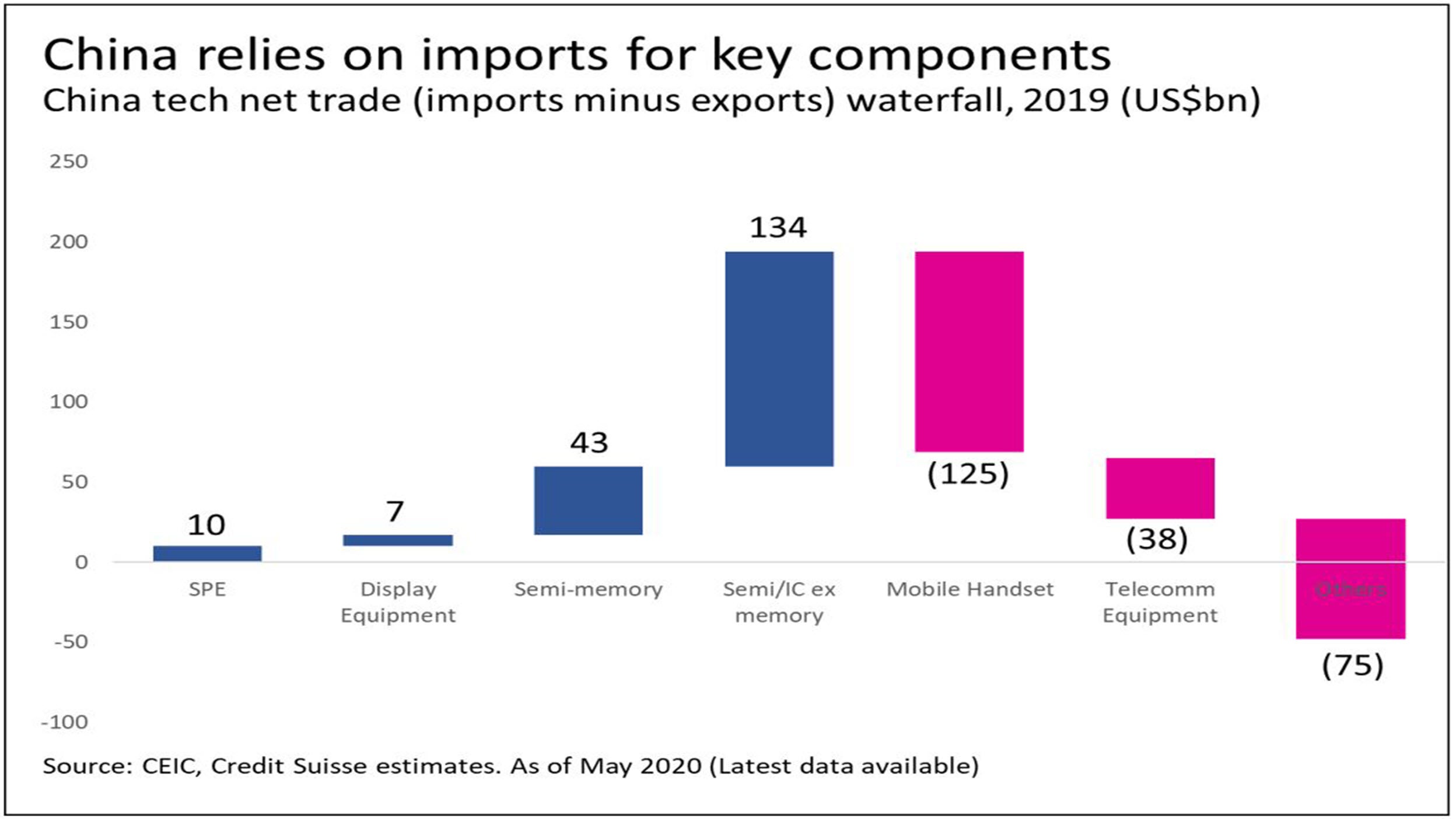 Technology-related frictions between the US and China have negatively impacted market sentiment – causing participants to question whether we are entering an era of technological fragmentation or alright decoupling. We think that it's important to understand which technologies are diverging and which ones aren't in order to better understand the impact on different technology segments. 
Segments that have diverged

Semiconductor manufacturing: Semiconductors are essential in many technology products. US companies are leading manufacturers in this field and are being forced to cut supplies to Chinese tech companies.
Social media platform providers Chinese social media companies have already been detached from many parts of the world due to the strict content controls.

Segments that will diverge in the near future

5G providers: 5G is a key industry that requires significant upfront investment and expertise - there are only a handful of manufacturers and  providers in the market. Although 5G technology standards have converged we think that countries will be forced to choose an exclusive operator (Chinese vs European manufacturers) to build out their respective nationwide networks.
Mobile-phone operating system: Chinese mobile phone companies and software developers are starting to develop a unique operating system outside of the existing ones – faced with the prospect of US-based operating systems potentially becoming unavailable.
Technology supply chains: we expect to see MNCs that have a significant exposure of their manufacturing and supply chains within China  to consider moving towards a China +1 mode of production in order to continue serving local markets, it's also likely to see government pressure on MNCs to balkanize their markets along geopolitical lines. 
Social media content: government access to personal data gathered from social media is increasingly a topic of concern – with the prospect of targeted social media companies being blocked or divested on the grounds of national security.
Aviation engineering and space exploration: China is currently manufacturing its homegrown commercial jetliner and is also competing with the US to be the first to explore the planet Mars. China has recently launched a rover to the planet in July.

Segment that is converging

5G technology standards: Although we've seen many tech segments, companies and countries forced to choose sides, many technology standards such as 5G and AI are moving towards convergence although efforts may be hampered by geopolitical tensions.
In short, we see that providers of different technologies such as 5G, social media, and the overall technology supply chain with links to China will experience continued pressure to decouple from the US. It's also very likely the White House will impose additional measures to restrict technology development and flows in the near future, as we head into the US presidential election in November since President Trump has made being tough on China, a signature reelection campaign message.  
Front line of the technology battlefield: 5G
As the global technology landscape shifts towards the "Internet of things," the once traditional lines between the physical and cyber world will start to blur. 5G technology and its associated networks are the bedrock to which the Fourth Industrial Revolution infrastructure will be built on, which include innovations such as smart cities, cloud data centers and fully autonomous vehicles. The long-promised network operates at exponentially higher speeds and transfers large amounts of data 100-200x faster than the current 4G LTE12. At the heart of 5G innovation and its ability to power smart grids, medical systems and robotics, is the semiconductor chip. Semis are used across the 5G spectrum – from processors, modems and logic chips to the memory chips in mobile devices. The continuous development of semiconductors is integral to unlocking the power of 5G.           
And yet, Washington has recently imposed stringent export controls on a few Chinese technology companies, banning the sale of American semiconductor chips and other integral parts on the basis of national security concerns13. The US is the dominant global player in semiconductor manufacturing, controlling around 45% of the market share worldwide as of 201814. Chinese technology companies have responded by trying to build an "America-free" supply chain, by replacing America-manufactured semiconductor chips with other countries' semis while expediting the development of Chinese homegrown semiconductor fabrication capabilities15.
As geopolitical tensions continue to arise around the world, we think that it will be likely that the world's few 5G network manufacturers could be shut out completely by certain countries. Furthermore, we expect to see 5G providers balkanize their rollout by country and region, although it's possible that certain countries may be able to take a hybrid approach – allowing for certain 5G segments to be implemented by one provider and other segments by another.
Technology divergence or convergence?
It's important to note that many technological innovations such as 5G, AI and robotics are moving towards converging standards. Many technologies have become more compatible, for example, mobile technology has seen a remarkable convergence, one of the most recent being the universally accepted 5G New Radio (NR) mobile communications standard16.
In the past, mobile telecommunications systems around the world were not compatible due to different communication standards. During the 3G era, there were 3 major types of mobile technology standards: WCDMA from Japan and EU, CDMA2000 from the US, and TD-SCDMA from China. Because of the different designs of the cellphone, phone cards can only function when it is placed in the compatible standards. Because of the lack of interoperability, the International Telecommunication Union was established to coordinate the shared global use of the radio spectrum17. Going forward, it's very likely that 5G standards will become universal.
Conclusion
We offer two concluding points. Firstly, despite the geopolitical perils that exist in the technology sector, we think that opportunities still exist. Alex Capri, a senior research fellow at Hinrich Foundation, stated that with companies shifting supply chains out of China there are new possibilities in capacity building and restructuring, and also provides new opportunities for green field sites, infrastructure, etc. APAC is likely to see other shifts of supply chains, out of China (including Chinese companies).
Both governments and technology companies in Asia Pacific can take advantage of the opportunities that arise from the US-China technology disputes. In fact, we already see it happening: Taiwan and Korean electronics manufacturers are racing to expand manufacturing capacity in their home markets as well as Thailand, Vietnam and India, where exports do not face the same US tariffs.18
Secondly, as the US continues to outline its technology containment policy against China, many countries are feeling the pressure to choose sides.
But China now comprises around 19% of world GDP19 and is the world's largest trader: 128 countries out of 190 do more trade with China than with the US20. China has created significant inter-dependence between its economy and America's historical security and military allies in Asia Pacific, such as Japan, South Korea, Australia, Vietnam and Thailand21. It's tough to think that these countries would cut off trade and investment with China just because the US tells them to. Most of these countries want trade and investment from both the US and China - and don't want to pick sides. Thus, if the US continues to force its allies to pick sides, for example in 5G technology, the responses may not be to Washington's expectations.
1 Bloomberg: China's Got a New Plan to Overtake the U.S. in Tech https://www.bloomberg.com/news/articles/2020-05-20/china-has-a-new-1-4-trillion-plan-to-overtake-the-u-s-in-tech
2 China Is Launching Its 5G Network Ahead of Schedule https://fortune.com/2019/10/31/china-5g-rollout-spectrum/
3 The Economic Times: 5G to contribute $900bn to APAC economy by 2034 https://telecom.economictimes.indiatimes.com/news/5g-to-contribute-900-bn-to-apac-economy-by-2034/69997898
4 AmCham and PwC Survey on supply chain in China https://www.amcham-shanghai.org/en/article/joint-survey-supply-chain-strategies-under-impact-covid-19-large-american-companies
5 Japan helps 87 companies to break from China after pandemic exposed overreliance https://www.washingtonpost.com/world/asia_pacific/japan-helps-87-companies-to-exit-china-after-pandemic-exposed-overreliance/2020/07/21/4889abd2-cb2f-11ea-99b0-8426e26d203b_story.html
6 White House to lure U.S. firms to Latam from Asia in nearshoring drive https://www.reuters.com/article/us-latam-usa-idb-exclusive/exclusive-white-house-to-lure-u-s-firms-to-latam-from-asia-in-nearshoring-drive-senior-adviser-says-idUSKCN24U39E
7 Trump administration pushing to rip global supply chains from China https://www.reuters.com/article/us-health-coronavirus-usa-china/trump-administration-pushing-to-rip-global-supply-chains-from-china-officials-idUSKBN22G0BZ
8 The World Bank: FDI https://data.worldbank.org/indicator/BX.KLT.DINV.CD.WD
9 Statista: Direct investment position of the U.S. in China 2000-2019 https://www.statista.com/statistics/188629/united-states-direct-investments-in-china-since-2000/
10 All About CFIUS, Trump's Watchdog on China Dealmaking https://www.washingtonpost.com/business/energy/all-about-cfius-trumps-watchdog-on-china-dealmaking-quicktake/2020/02/13/76510e36-4e1e-11ea-967b-e074d302c7d4_story.html
11 Summary of the Foreign Investment Risk Review Modernization Act of 2018 https://www.treasury.gov/resource-center/international/Documents/Summary-of-FIRRMA.pdf
12 As 5G Approaches, Semiconductor Industry Must Combat Friction Points to Make World of 'Smart Everything' a Reality https://www.computer.org/publications/tech-news/trends/5G-semiconductor-industry-drives-smart-everything-iot
13 TSMC Cuts Off Computer Chip Sales to Huawei Under U.S. Sanctions https://www.caixinglobal.com/2020-07-17/tsmc-cuts-off-computer-chip-sales-to-huawei-under-us-sanctions-101580989.html
14 2019 Semiconductor Industry Association Factbook https://www.semiconductors.org/wp-content/uploads/2019/05/2019-SIA-Factbook-FINAL.pdf
15 Huawei looks at SMIC to replace TSMC for the production of Kirin chipsets https://micky.com.au/huawei-looks-at-smic-to-replace-tsmc-for-the-production-of-kirin-chipsets/
16 5G NR | 5g New Radio Standard | Qualcomm https://www.qualcomm.com/invention/5g/5g-nr
17 5G - Fifth generation of mobile technologies https://www.itu.int/en/mediacentre/backgrounders/Pages/5G-fifth-generation-of-mobile-technologies.aspx
18 Foxconn Says Prepared to Move Apple Production Out of China if Necessary https://www.wsj.com/articles/iphone-assembler-foxconn-brushes-off-risks-of-u-s-china-trade-tensions-11560244585
19 The World Bank: GDP (Current US$) – China, World https://data.worldbank.org/indicator/NY.GDP.MKTP.CD?locations=CN-1W
20 Global trade through a US-China lens https://www.lowyinstitute.org/the-interpreter/chart-week-global-trade-through-us-china-lens
21 ASEAN Overtakes EU to Become China's Top Trading Partner in Q1 2020 https://www.aseanbriefing.com/news/asean-overtakes-eu-become-chinas-top-trading-partner-q1-2020/

References:
Articles
1. "A Bumpier Road to Semiconductor Supremacy" (July 14, 2020), Dan Wang
2. "A US Full-Court Press Against China" (May 18, 2020), Dan Wang
Websites
1.  Qualcomm: 5G NR https://www.qualcomm.com/invention/5g/5g-nr
2.  ITU Digital World: Decoupling the 5G and COVID conspiracy https://digital-world.itu.int/decoupling-the-5g-and-covid-19-conspiracy/
3.  GoodSpeed: Data Roaming Confusion: from 3G to current state of 4G LTE and 5G roaming https://goodspeed.io/blog/state-of-3g-4g-and-5g-roaming.html
4.  Springer Link: Mobile telecommunication standardization in Japan, China, the United States, and Europe: a comparison of regulatory and industrial regimes https://link.springer.com/article/10.1007/s11235-016-0214-y
Media Reports
1.  NY Times: U.K. Bars Huawei as Tech Battle Between China and the West Escalates https://www.nytimes.com/2020/07/14/business/huawei-uk-5g.html
2.  Bloomberg: COVID-19 has accelerated US-China feud https://www.bloomberg.com/news/videos/2020-05-04/covid-19-has-accelerated-u-s-china-feud-control-risks-video
3.  NY Times: Caught in "Ideological Spiral," U.S. and China Drift Toward Cold War https://www.nytimes.com/2020/07/14/world/asia/cold-war-china-us.html?action=click&module=RelatedLinks&pgtype=Article