Capital Market Assumptions
2020 Long-Term Capital Market Assumptions (USD)

Invesco Investment Solutions develops capital market assumptions (CMAs) that provide long-term estimates for the behavior of major asset classes globally. The team is dedicated to designing outcome-oriented, multi-asset portfolios that meet the specific goals of investors.
The assumptions, which are based on a 10-year investment time horizon, are intended to guide strategic asset allocations. For each selected asset class, we develop assumptions for expected return, standard deviation of return (volatility) and correlation with other asset classes.
Here we summarize our 2020 long-term CMAs.
Executive summary
The Strategic Perspective. Looking out into the horizon, we believe the next decade will be vastly different. Extraordinary measures by central banks pulled us out of the Great Recession and encouraged investors to take on excess risk. Global asset prices were inflated, and yields fell, even in credit. At the same time, it reduced volatility and increased asset correlations, penalizing investors for diversification. We anticipate this trend to reverse. If volatility continues its current trajectory, investor's return-oriented goals will face challenges, stressing the importance of diversification. A US or Global 60/401 may not be enough for those seeking nominal returns above 5%. Non-US Equities, albiet with more risk, and Alternatives, like Hedge Funds, are the most attractive long-term CMAs relative to their historical returns.
The Tactical View. Economies globally are rapidly decelerating, and we expect all major regions and countries around the world to grow below trend over the next few quarters. While we don't anticipate a recessionairy environment, we're conscious of the risks facing investors if the current slowdown turns into a contraction. Global monetary policy easing may prove to be the backstop, reducing yields and raising the equity risk premia. Inflation is still a non-factor in this unique business cycle and provides cover for the Federal Reserve (Fed) and European Central Bank (ECB). We posit that this is the reason that risk appetite, a leading indicator of the global business cycle, remains elevated, supporting a tilt towards pro-cyclical factors like value and size. While developed equities outside the US offer more attractive valuations, and higher long-term expected returns compared to US equities, cyclical catalysts for this relative outperformance are still missing given the weak macro backdrop in Europe. Hence, we still expect US equities to outperform other developed markets over the next few quarters, at least until the deterioration in European economic data comes to a halt. Early signs of a cyclical turnaround in emerging economies, lead by China, offers potential for medium term outperformance of emerging equities relative to developed equities, a development that is consistent with more favorable long-term return expectations for the asset class.
Regional Outlook. 2020's election cycle, already in full swing, creates strong incentives to avoid escalation in trade tensions by the Trump administration, even as the headroom for further increases in tariffs or widening of their scope without damaging US consumption, employment and US financial markets is likely running out. While the US is easing, there is a real chance that tightening may have been too much too fast and the inversion in the yield curve was not a fluke. Lack of progress on other fronts like industrial policies and subsidies argue against full risk-seeking asset allocation. A meaningful chance of permanently higher trade and investment barriers between the US and other major economies should be factored into expectations for global growth.
Global macroeconomic outlook
The Strategic Perspective. 2019 marked ten years since the end of the Global Financial Crisis. Over the past decade equity markets have experienced a prolonged upswing with relatively subdued volatility; something that is unlikely to be repeated in the next decade as we continue through the latter part of the business cycle, a period where slower growth often leads to excess risk taking, and eventually, to contractions. As such, we expect asset returns over the next 10 years to be notably lower and riskier than what was experienced over the past 10 years.
...
Overall, we believe the next decade will be notably different from the last. Our strategic view is that investors should maintain a focus on diversification in the face of the unique challenges of lower yields, lower returns on capital, increased volatility, and higher correlations.
The Tactical View. The global economy is rapidly decelerating, and we expect all major regions and countries around the world to grow below trend over the next few quarters, and at least through the first half of 2020. For the past six months, our macro regime framework (de Longis, 2019) has indicated that the global business cycle is entering a "contraction" (defined as growth below trend and decelerating), as our proprietary leading economic indicators (LEIs) have fallen sharply across most regions. This weakness has been most pronounced in the manufacturing sector, with global business surveys and industrial orders sharply deteriorating, due to tensions and uncertainty in global trade policy. In addition, business investments and capex have stalled, denting into long-term growth expectations.
...
In the near term, we expect a convergence in performance in among asset classes, with higher quality assets such as government bonds and investment grade credit to deliver comparable returns and possibly higher risk-adjusted returns than risky assets, despite low yields. We think credit markets offer limited capital appreciation, but a stable environment for carry strategies, given generous lending standards and a supportive policy environment. Alternative income assets look particularly attractive at this late stage in the economic cycle, due to higher yields than traditional assets and low correlations to credit and equity markets. While developed equities outside the US offer more attractive valuations, and higher long-term expected returns compared to US equities, cyclical catalysts for this relative outperformance are still missing given the weak macro backdrop in Europe. Hence, we still expect US equities to outperform other developed markets over the next few quarters, at least until the deterioration in European economic data comes to a halt. On the other hand, early signs of a cyclical turnaround in emerging economies offer the potential for outperformance of emerging equities relative to developed equities in the medium term, a development that would also be consistent with the more favorable long-term return expectations for the asset class. The recent improvement in global market sentiment is supportive of pro-cyclical factors such as size and value, which are also supported by cheap valuations. We hold a neutral view on the US dollar in the near term, despite its expensive valuations across macro frameworks. In our view, a sustained dollar depreciation cycle requires a cyclical rebound in growth outside the US, as a catalyst for a major reversal of private capital flows from the US to the rest of the world. Within currency markets, we expect value and carry to perform well, particularly in emerging markets, given a stable environment for risk appetite.
Asset class overview
1 US 60/40 represented by 60% S&P 500 Index and 40% BBG BARC US Aggregate Bond Index.
Global 60/40 represented by 60% MSCI ACWI Index and 40% BBG BARC Global Aggregate Bond Index.
Equities
We use our building block methodology to estimate long-term CMAs for equities. This approach reflects a total return approach to equities — accounting for both income and capital appreciation (i.e., the change in price over time). The building blocks therefore consist of estimates for yield (as a driver of income) and earnings growth and valuation change (as drivers of capital appreciation).
A closer look at how emerging-market equity CMAs differ from developed ones
Emerging Market (EM) economies are structurally different than Developed Markets (DM) leading to differences in the way their CMA building blocks are estimated. Even amongst the broad EM category are economies different enough to justify individual marginal adjustments. Some EM economies like Korea and Taiwan, are more mature in their economic development, are export oriented, and have similar characteristics to DM economies. China, however, is a high growth economy, driven by credit and money growth, that is moving to more long-term sustainable growth levels and is much more oriented to domestic growth.
Emerging Market Building Blocks (including Hong Kong as more than half of market capitalization of Hong Kong listed firms are Chinese companies):
Yield. For Korea and Taiwan, our yield approach is the same as DM (ex-US). Hong Kong's market focuses on recurring trailing dividend yield. With many Hong Kong listed firms being family or state owned, non-recurring special dividends can occur, so we exclude special dividends from our analysis to prevent outliers within our yield estimates.
Earnings growth. For Taiwan and Korea, we follow the same process as for DM. China used to be a high growth market and is now slowing down. Because of this, we adjust the historical average growth by calculating the decline of other Asian economies that have been in similar economic positions and deduct that figure from China's 10-year average real GDP growth.
Valuation change. Similar to DM, we assume valuation such as the price-to-book ratio will return to the long-term mean after adjusting for macroeconomic variables. For Taiwan and Korea, exports make up more than 60% and 40% of GDP, respectively. As export driven economies, currency (FX) has a bigger impact than inflation on valuation change. For Hong Kong, growth is influenced by inflation in China. As the HK$ is pegged to the USD, we do not look at FX but look at the HK "risk free" rate as liquidity conditions are influenced by the HK$ peg and therefore the US Fed's monetary policy.
Fixed income
Within fixed income, we also utilize the building block methodology, seeking to isolate and identify the individual drivers of the specific asset class risk premium. As with equities, the drivers of return for fixed income are income (yield) and appreciation (roll return, valuation change, and credit loss).
Alternatives
A significant, and increasing, number of institutional portfolios contain private or alternative assets1. This trend is likely due to shrinking expected returns and yields in traditional public assets. Private asset market capitalization has grown to $5.8T globally in 20192, Private Equity, a large subset, has experienced 7.5x growth since 2002 compared to 3x in public markets2. Composed of a broad array of heterogeneous investments, private assets are anything but standardized. As the space is evolving to include new assets and creates unique challenges to investors, we attempt to assess the economics of some common types of investments.
Private equity
In the 2020 long-term CMA methodology we will present our views on; Private Equity, specifically Leveraged Buyouts (LBO), Private Direct Real Estate (DRE), and both Private Infrastructure Equity and Debt. To properly introduce private assets into a portfolio, we suggest taking a building blocks based approach to understand and forecast return, which we will address in detail in the following sections.
While an investor in public assets can simply buy an index of an asset class, own a portion of the universe, and experience average results, an investor in private assets cannot. To align our private CMAs with our public CMAs, but still provide the custom nature private asset classes require, we built enough flexibility into our private asset models to analyze the whole market, an individual fund, or a single deal.
To emphasize the underlying reason for a customizable private model, there is simply no investable benchmark for private assets. These assets are unlisted on any tradeable market, provide at-best quarterly reporting or tender dates, and lack transparency of the underlying investments required to create a proper benchmark.
Hedge Funds and Listed Real Assets
Estimating returns for such investments is more complex than evaluating equities and fixed income, as the range of alternatives ("alts") available runs the entire spectrum of risk. Long/short strategies, for example, behave differently than commodities, and both behave differently than global macro. And for any alternative category, it can be a challenge to know how much of the return is true, uncorrelated alpha, and how much can be attributed to broad market exposures (e.g., S&P 500 Index). In fact, academic research (Hasanhodzic and Lo, 2007; and Fung and Hsieh, 2004) suggests that a significant portion of hedge fund returns is attributable to conventional asset class and factor risks. Leaning into this research, we construct linear models using available market indexes from our traditional asset class CMAs, and measure the proportion of the estimated returns and volatility that are attributable them.
2 McKinsey; Prequin, 2019
Our expectations
Figure 11(a): 10-year asset class expected returns, risk, and return-to-risk (USD)
Figure 11(b): 10-year asset class expected returns, risk, and return-to-risk (USD)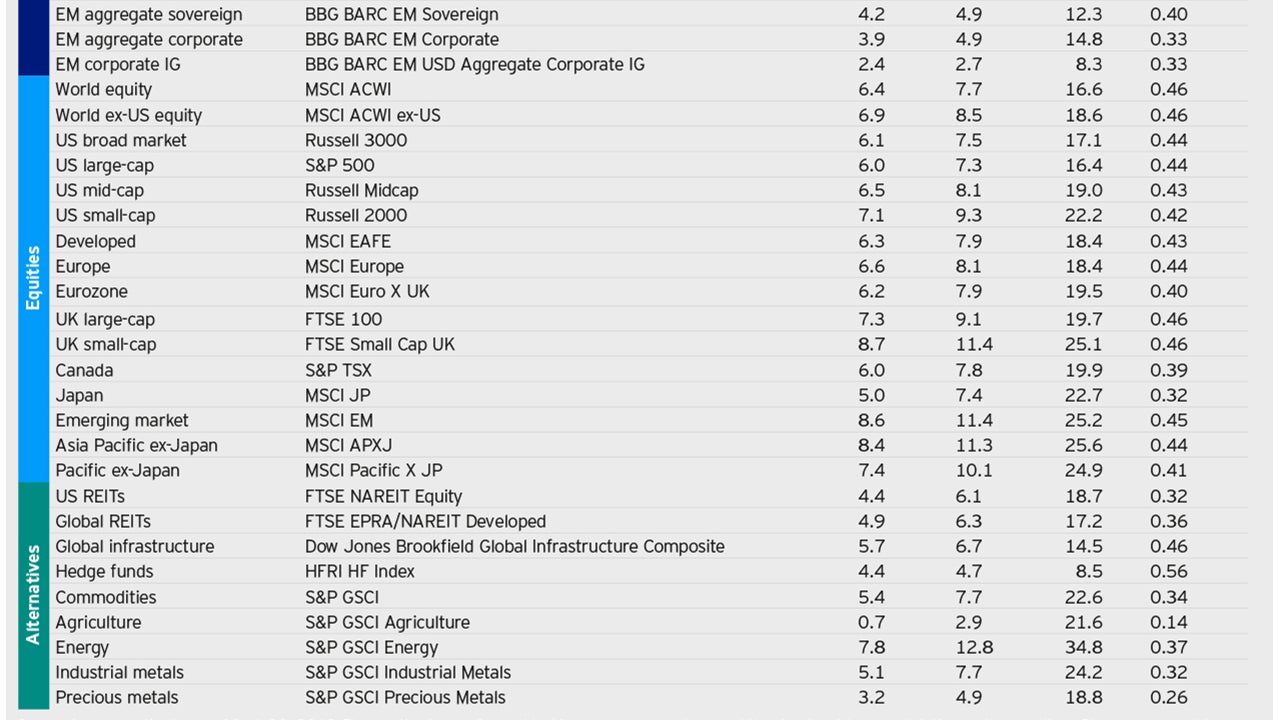 About our methodology
We employ a fundamentally based "building block" approach to estimating asset class returns. Building blocks represent a "bottom-up" approach in which the underlying drivers of asset class returns are used to form estimates (Figure 13).
First, these sources of return are identified by deconstructing returns into income and capital gain components. Next, estimates for each driver are formed using fundamental data such as yield, earnings growth and valuation, and combined to establish estimated returns.
By incorporating fundamental data, our approach allows for the relative attractiveness of asset classes to vary over time. Other approaches based on historical relative returns can provide relatively static risk-premiums through time in which certain asset classes contain constant return advantages. The following sections will detail and present the estimates across various equity, fixed income and alternative asset classes.
About Invesco Investment Solutions
Invesco Investment Solutions is an experienced multi-asset team that seeks to deliver desired client outcomes using Invesco's global capabilities, scale and infrastructure. We partner with you to fully understand your goals and harness strategies across Invesco's global spectrum of active, passive, factor and alternative investments that address your unique needs. From robust research and analysis to bespoke investment solutions, our team brings insight and innovation to your portfolio construction process. Our approach starts with a complete understanding of your needs:
We help support better investment outcomes by delivering insightful and thorough analytics.
By putting analytics into practice, we develop investment approaches specific to your needs.
We work as an extension of your team to engage across functions and implement solutions.
The foundation of the team's process is the development of capital market assumptions – long-term estimates for the behavior of different asset classes. Our estimates for returns, volatility, and correlation serve as guidelines for long-term, strategic asset allocation decisions.
Assisting clients in Europe, North America and Asia, the Invesco Investment Solutions team consists of more than 50 professionals, with 20+ years of experience across the leadership team. The team benefits from Invesco's on-the-ground presence in more than 20 countries worldwide, with over 150 professionals to support investment selection and ongoing monitoring.