MARKET VIEWS
2020 Long-Term Capital Market Assumptions - Q2 update

Invesco Investment Solutions (IIS) is dedicated to designing outcome-oriented, multi-asset portfolios that meet the specific goals of investors. Capital market assumptions (CMAs) are key to this effort.
The team develops CMAs that provide long-term estimates for the behavior of 160 major asset classes in 19 different currencies, including 7 private asset classes. Due to the pandemic, this quarter's special edition includes manual adjustments to our CMAs based on prior recessions, resulting in three distinct investment scenarios; Bull, Base, and Bear.
Here we summarize our CMAs for Q2 2020. For the full report, download it here. 
Asset allocation insights: Strategic perspective
By Duy Ngyuen (CIO, IIS) and Jacob Borbidge (Senior Portfolio Manager, Head of Investment Research, IIS)
It took 11 years, but the longest lasting bull market on record has ended. Years from now, hindsight will probably tell us that the COVID-19 global outbreak was something we should have seen coming as soon as it left China's borders. We should have known that the economic shutdown in Wuhan was going to follow the virus wherever it went, and that the closing of the US and European economies, an unimaginable concept as recent as the prior edition of this quarterly publication, was all but inevitable. However, hindsight always affords much greater clarity about the past.
In reality, the outbreak took markets by surprise. Prior pandemics provided little guidance for what was to happen. The uncertainty of events and mitigation efforts never before experienced by investors resulted in some of the wildest and sharpest swings ever seen in history of financial markets. In fact, many would argue that we are in, or on the verge of, the first global recession. Given that backdrop, Invesco Investment Solutions will continue to develop risk-aware portfolios, drawing conclusions about what we expect to see in asset class performance in the months and years to come. Considering the magnitude of change over the past months, we have incorporated some fundamental adjustments to the regular systematic update of our return forecasts, which we believe will more accurately capture the current market dynamics. Specifically, we have embedded the expectation of a U-shaped recession as our "Base" case. We will discuss the impact of that view to asset class returns and the specific adjustments we made to our strategic building blocks and tactical regime framework in the following pages and sections.
While it is impossible to make predictions about COVID-19 related medical advancements, we focus our attention on possible scenarios pertaining to the duration of the pandemic, and how its impact on economic data and growth expectations may drive our investment process. A brief narrative of the three scenarios, Bull, Base, and Bear is illustrated in Figure 2. Our objective is not to identify the most likely scenario and position the portfolioaccordingly for the next twelve months; rather, it is  o evaluate the most likely range of market outcomes, their associated risks and investment implications. 
Three hypothetical scenarios for how the pandemic may unfold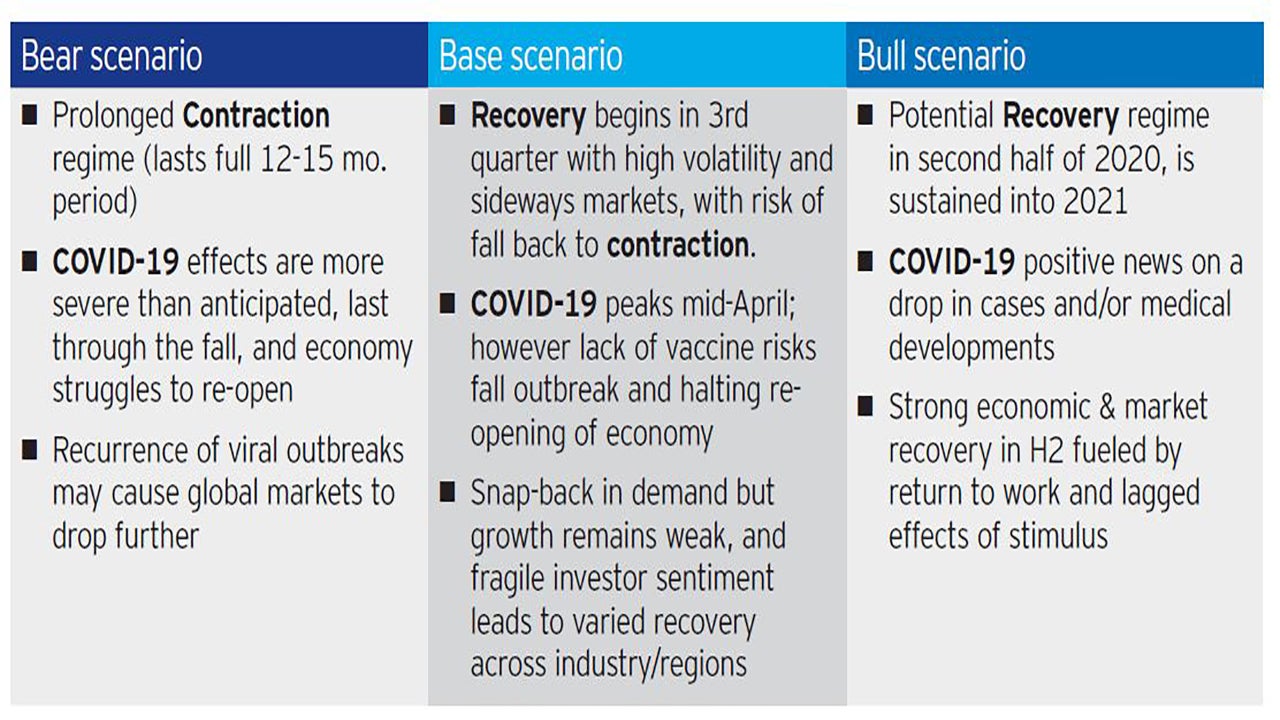 Our Base scenario begins with what we have already witnessed, a dramatic stoppage of economic activity that is faster and more pronounced than traditional  indicators can capture and that continues with elevated levels of uncertainty until a rapid recovery later in the year. This is not a traditional recessionary period and the possibility of transitioning into either the Bull, due to medical developments, or Bear scenarios, from a second wave of outbreaks, remains highly uncertain. For this reason, we stand ready to provide Capital Market Assumptions (CMAs) for the other scenarios should our views change.
Across fixed income and equities, the distinction between winners and losers will be dependent on the composition of future demand, strength of government and corporate balance sheets, and insulation of economic growth. Equities will likely face a reduction in real earnings growth over the next few years and have been adjusted downward based on each assets' underlying sectors. From studying prior recessions, we anticipate a contraction in earnings growth in the first year, a subsequent recovery by year three, and an eventual reversion to the long-term average growth rate by year five. Without these adjustments, most equity returns would have been meaningfully higher. Total yields have remained relatively unchanged in this process as the numerator, dividends and buybacks, were reduced commensurate with a reduction in the stock price in the denominator that resulted from lower earnings growth expectations. Within fixed income, our expectations reflect the reality that default rates are likely to be above average for the next four years. All adjustments are more exaggerated, to the upside and downside, should our views shift outside the Base case.
It may be surprising that equity returns did not shift markedly higher despite the sell-off. From a USD perspective, the US is one of the few countries with increased expected returns over the quarter after our adjustments due to more resilient earnings than what will likely be seen in non-US regions. US small caps have the added tailwind of extreme valuation discounts. Outside of the US, insulated economies like mainland China are likely to have stronger earnings growth in the coming years than developed markets (DM) and other emerging markets (EM) that are more heavily reliant on external sources of demand. Beyond the insulation, Chinese equities are overvalued relative to their EM peers, detracting from their expected return.
Within fixed income, credit-sensitive assets present some of the most interesting opportunities while rate sensitive assets are now much less attractive. Expected returns for global high yield bonds increased in excess of our default adjustment to account for steeper curves and wider credit spreads. Government bonds remain challenged due to historically low interest rates. As the rally in short rates was most pronounced in the US, the increased expected inflation in non-US developed markets, based on our Interest Rate Parity model, simultaneously reduced their currency tailwind1.
Within alternatives, hedge funds remain attractive on a risk-adjusted basis and increased in expected return due to their exposure to assets like small cap and high yield. The potential for hedge funds to provide alpha beyond their exposures to traditional asset classes tends to be higher during times of greater return dispersion as we are experiencing today. As we've noted in prior perspectives, prudent asset allocation requires discipline, especially when markets are calm and diversification seems mundane. Recent events have only made the environment of high valuations, low yields, and high uncertainty even tougher to navigate as those themes have become more pronounced. This recession is unlikely to look exactly like those of the past and the next decade's returns are unlikely to be like those from the last. Our strategic perspective is to maintain a focus on diversification in the face of increased volatility as scenarios rapidly evolve, accept reasonable levels of risk to fit their strategic outlook, and remain ready to tactically pivot as opportunities present themselves over the near term.
Asset allocation insights: Tactical view
By Alessio de Longis (Senior Portfolio Manager, Head of Tactical Asset Allocation, IIS)
Our macro regime framework continues to signal that the global economy and all its major regions and countries are in a contraction regime, the bottom left quadrant of Figure 3. As widely expected, the economic data are beginning to reflect the disruption caused by quarantines and lockdowns, resulting in a significant deterioration in our leading economic indicators, which we expect to continue for some time. While global market sentiment has stabilized over the past month, it remains in a downward trend, suggesting markets are still expecting downward revisions to global growth expectations. As previously discussed in  last quarter's CMA update, we believe this macro environment warrants a defensive portfolio posture. We have not made major changes to our asset allocation and continue to favor an overweight exposure in investment grade credit and defensive equity factors.
Leading Indicators are all thoroughly in contraction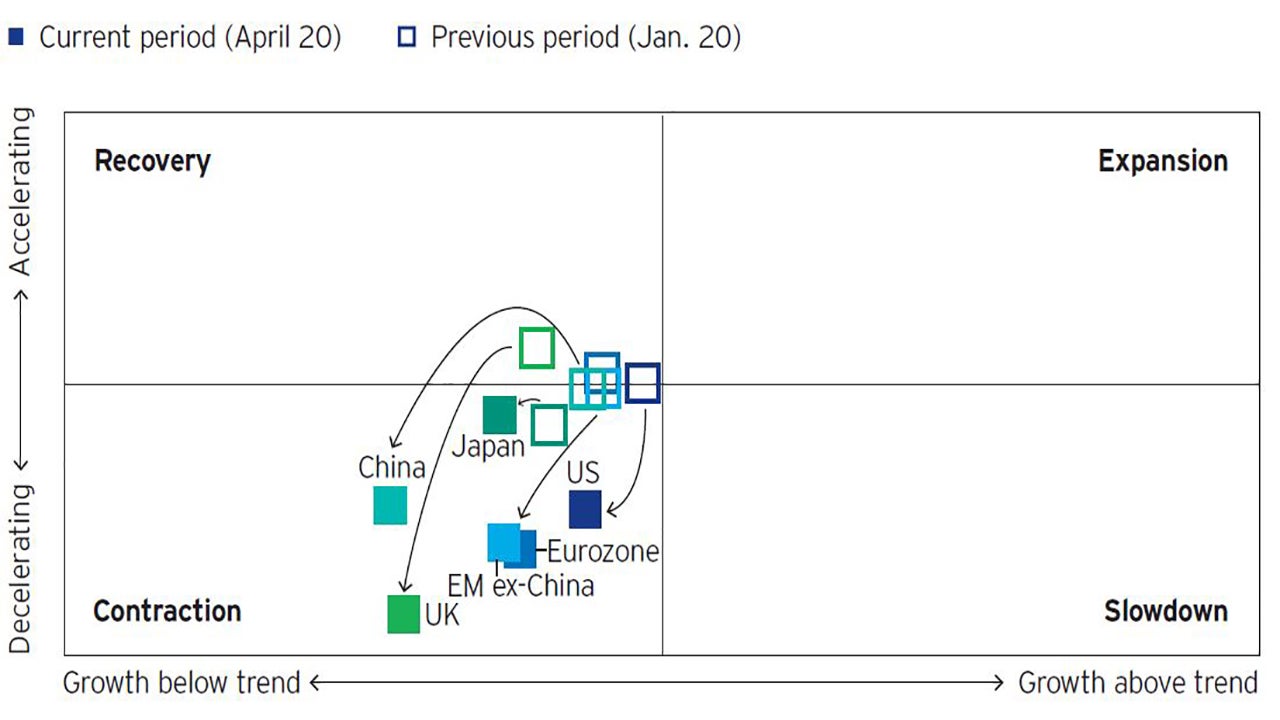 This quarter we investigate the potential paths forward for the global economy and the likely evolution of our macro regime framework over the next twelve months, conditional on the hypothetical evolution of the COVID-19 pandemic. Under the three scenarios, Bear, Base, and Bull, we expect our global framework to oscillate between a recovery and a contraction regime, given the economy today is in a below-trend environment. Next, we outline our tactical asset allocation, style, and factor views for each scenario, as summarized in Figure 4. 
Bear scenario: We would expect broad-based risk aversion and outperformance of (relatively) defensive assets. In this case, investors may want to consider below average risk expressed via overweight exposures in long-duration government bonds and high-quality credit, favoring US dollar or US dollar-hedged assets given the potential for further US dollar appreciation. Other considerations include underweight riskier credit assets, especially emerging markets (EM) local currency and hard currency debt, or underweight equities, especially in emerging and developed markets ex-US. Within equities, we would favor growth over value, large caps over small caps, and defensive factors such as quality, low volatility and momentum.
Base scenario: We would expect sideways markets with alternating bouts of volatility. In this case, investors may want to consider average risk exposure, overweighting credit assets through an underweight position in equities and government bonds. Within fixed income, we would hold an overweight position through high-quality credit - such as investment grade corporate and muni debt - or a combination of riskier credit (i.e. high yield) and long-dated, longer duration government bonds, while reducing exposure in short and medium term government bond maturities. Within equities, we may favor US equities over developed ex-US and emerging markets, growth over value, large caps over small caps, and defensive factors such as quality and low volatility.
Bull scenario: We would expect broad-based outperformance in cyclical and risky asset classes. In this case, investors may want to consider an above average risk posture, expressed via overweight exposures to riskier credit assets and equities and underweight exposures to government bonds and high-quality credit. Within  credit, we favor high yield, structured credit, EM hard currency and local currency debt with the expectation that US dollar depreciates. In equities, we may favor emerging markets and developed markets ex-US over US equities, and cyclical style and factor exposures, including a preference for value over growth, small  caps over large caps, and underweight positions in factors at risk of short-term reversal effects such as low volatility and momentum.
Three hypothetical scenarios and Tactical Asset Allocation tilts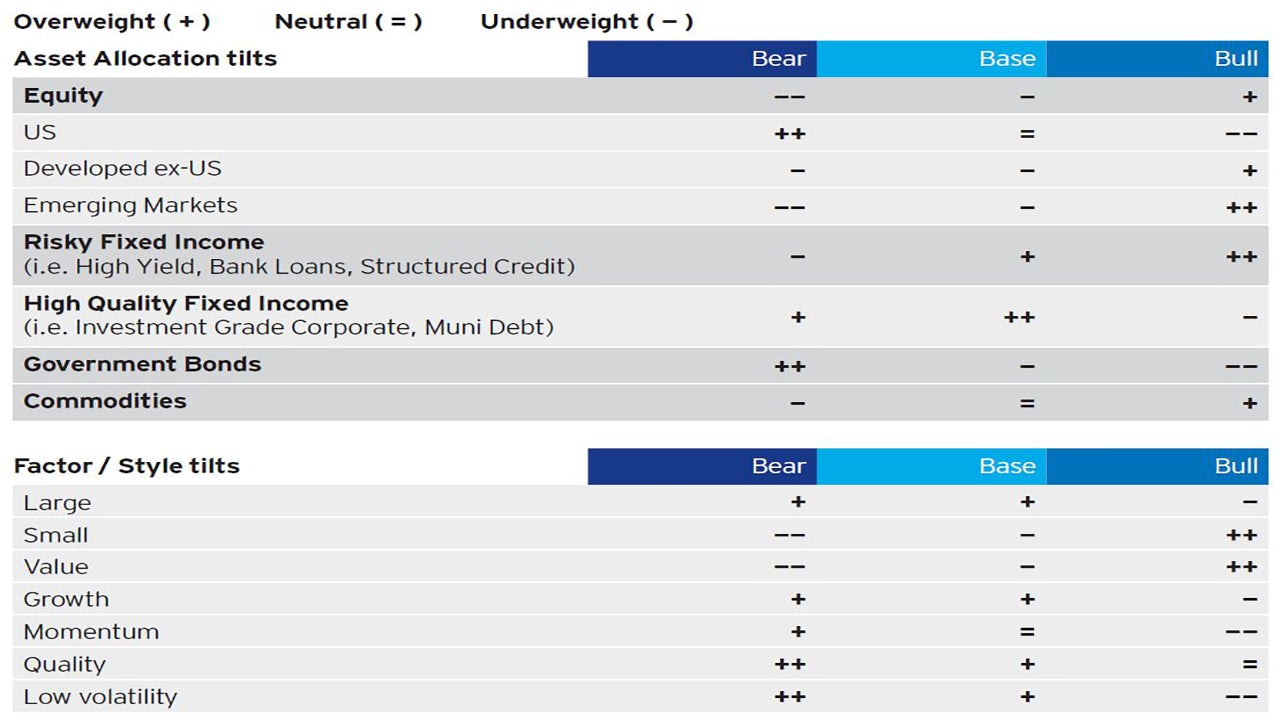 Our analysis is an over-simplification of what we think is likely to occur. There may be several unexpected developments, related or unrelated to COVID-19, which may affect these scenarios and the market response. Nonetheless, from our perspective this type of analysis provides a useful context to think about potential outcomes and design action plans given that, as we described in the past, asset prices tend to experience large and rapid adjustments at the inflection points of a cycle, i.e. during a recession and coming out of it.
1 Invesco Investment Solutions (IIS) is dedicated to designing outcome-oriented, multi-asset portfolios that meet the specific goals of investors. Capital market assumptions (CMAs) are key to this effort.