Global opportunities
We believe in the continuous pursuit of performance excellence. It's a founding principle of our firm, and it defines what it means to work at Invesco.
If you're looking for long-term growth prospects, challenging work, smart colleagues, and a global employer with a high-performance culture, we invite you to explore the world of opportunity at Invesco.
People are the core of our company
At Invesco, people are the foundation of our success. Our talent is recognized and rewarded for their individual achievements as well as team contributions. They are also compensated by a meaningful mix of total rewards to help plan for retirement, stay healthy and maintain a work-life balance.
These rewards include:
Comprehensive health and wellness programs for you and your family.
Retirement savings plans.
Life insurance plans and income-protection benefits.
Holiday and time-off benefits.
Flexibility to help you balance work and family responsibilities.
Rich opportunities to develop your professional skills and knowledge.
Opportunities to contribute to your community.
Opportunities to become an Invesco shareholder.
We value our employees and their diverse perspectives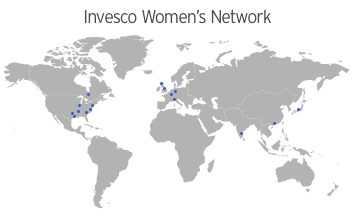 One of Invesco's key attributes is our diversity of thought. Our dedication to diversity and inclusion is guided by our understanding that diverse thinking leads to more collaborative decisions and ultimately to stronger outcomes.
This results in a culture where employees feel valued, appreciated and respected for their unique contributions to our clients and to the firm overall. We support this culture by providing training, communications and creating a work environment that optimizes the full potential of our employees. In fact, over 81% of Invesco employees1 believe our workplace represents the best thinking of a mix of people with different backgrounds, perspectives and mindsets in order for us to be successful and 95%1 are proud to be associated with Invesco.
1 Source: 2017 Invesco Employee Survey
Invesco is aware of the existence of fraudulent schemes where individuals represent themselves as recruiters and solicit candidates for employment via email or text message. These candidates may be asked to provide copies of personal identification and payment in order to process their application. These communications are fraudulent and do not originate from Invesco. Invesco does not ask for payment at any time during our employment process. We recommend that you do not disclose your personal or financial information to anyone you do not know. For a listing of all available job opportunities with Invesco, please use the "search for jobs by region" functionality on this page. For a listing of our global locations, please visit our global locations page.