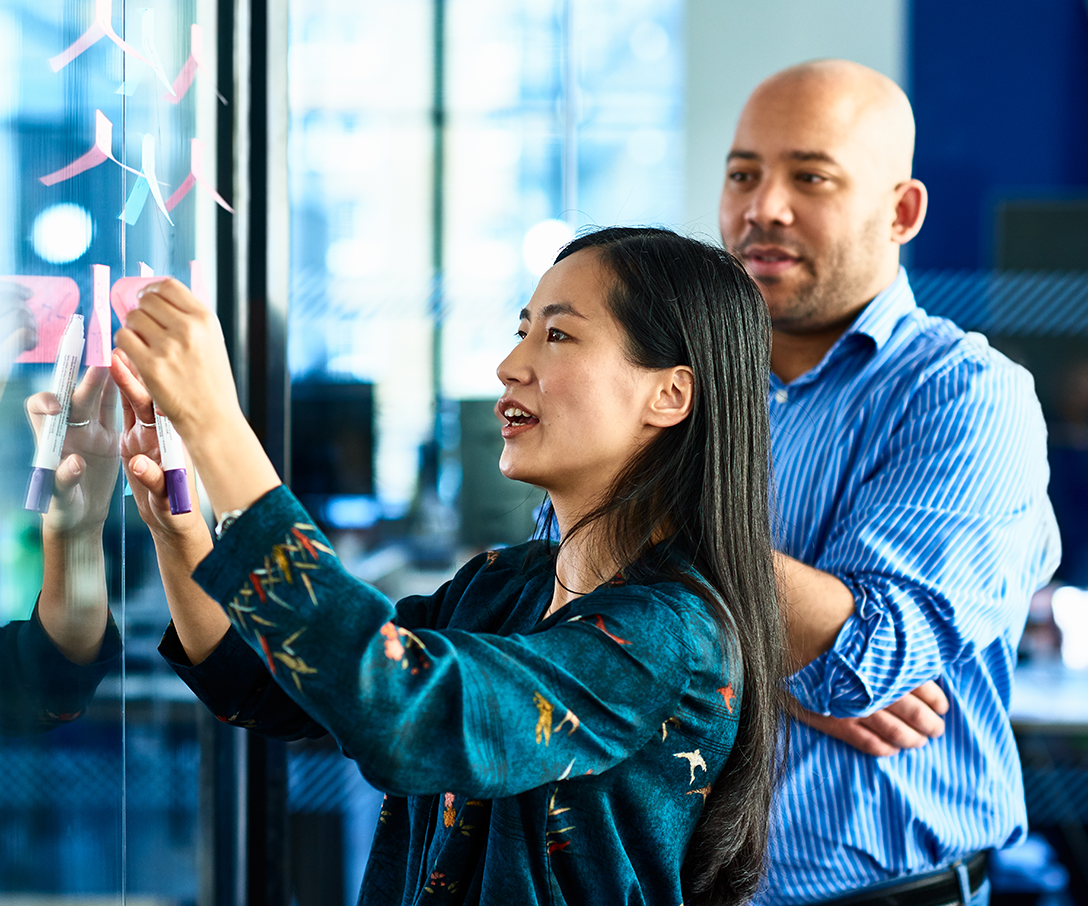 Increasing diverse representation in our workforce and in our leadership teams is a priority at Invesco. We recognize that the ability to deliver great results to our customers relies on both the diversity of our people and a workplace that enables diverse perspectives to thrive.
35%
women in senior management
36%
of our Board of Directors
is diverse in terms of gender or race/ethnicity
Future success—for our clients, employees and communities—requires that we take concrete actions that result in attracting a more diverse pipeline of talent and support diversity within our workforce. In 2021 we met our goal to have 35 percent women in senior management positions by the end of 2022. We have also increased the diversity of the Invesco Board of Directors, which is now 36 percent diverse in terms of gender or race/ethnicity.
#CountMeIn 
Invesco introduced a voluntary self-ID campaign, #CountMeIn, in 2020 to gather a more complete picture of our workforce demographics. The campaign asked employees to self-identify in terms of gender, sexual orientation, gender identity, race and ethnicity, veteran, neurodiversity and caregiver status. Capturing this data will help inform our future D&I activities to improve diversity and support our diverse colleagues.
Building our talent pipeline
Attracting diverse candidates is a priority at Invesco. We implement a number of activities and partnerships to change the racial and gender composition of our workforce and build the pipeline of diverse talent for our company and the industry at large. In 2021 this included:
Joined The Equity Collective, a multi-year collaboration between investment firms to develop the next generation of diverse leaders in the industry. 
Funded GAIN (Girls Are Investors), a U.K.-based nonprofit that inspires girls to explore investment careers through inspirational talks, career support and opportunities.
Participated in The Diversity Project North America and U.K.'s workstreams to accelerate progress toward an inclusive culture in the investment and saving industry. We co-lead the Ethnicity and Social Mobility workstreams in the U.K.
Provided two internships in 2021 in Investments, Real Estate and ETFs through the 10,000 Black Interns program, and will be offering three opportunities in 2022, which aim to transform the prospects of young Black people in the U.K. by offering paid work experience and networking opportunities.
Funded Investment2020, an organization focused on creating a more inclusive investment industry by encouraging investment management firms to hire for potential rather than academic background or experience alone. Took on 12 trainees in 2021.
Became founding partner of the Association for Financial Professionals' Diversity, Equity and Inclusion Awareness Initiative, designed to bolster awareness and encourage individuals in underrepresented communities to explore a career in corporate finance and treasury.
Continued to support The Mom Project, a digital talent marketplace committed to helping women remain active in the workforce at every step of their parenting journey.
To develop our top diverse talent and advance them within Invesco, in 2021 we conducted a firm-wide assessment of our talent review process and looked at the results through a gender and race/ethnicity lens to ensure we are prioritizing diverse talent within the organization.
Inclusive hiring practices
We know that attracting diverse talent starts with inclusive hiring practices. We strive to create a welcoming and inclusive environment throughout all stages of our hiring process. To ensure that our hiring practices deliver greater diversity we:
Foster external partnerships including those with PowerToFly, a global job board and networking community that fast-tracks economic equality by upskilling and connecting underrepresented talent to roles in highly visible sectors; a global networking hub and job board for LGBTQ+ professionals; Evenbreak, a disability network and job board; WCAN (Women in the City Afro-Caribbean Network) for diverse entry level and Bright Network for diverse entry level and social mobility.
Offer an online course for employees involved in the hiring process called "Fostering Diversity of Thought Through Hiring Practices," which highlights the importance of hiring candidates with diverse perspectives, identifies how unconscious biases may show up in the interviewing process and provides best practices to mitigate bias and select the best candidate.
Track all candidate slates and interview panels for gender diversity, which allows us to further improve our performance in this area. In 2021, 84 percent of our interview panels were gender diverse, while 57 percent of our candidate slates were gender diverse.
To build our pipeline of diverse talent, we also invest in financial literacy programs in underserved communities and partner with universities that educate and spark interest in investment-industry careers. Learn more about our financial literacy commitments and our education partnerships.