Market outlook
Invesco QQQ 2022 outlook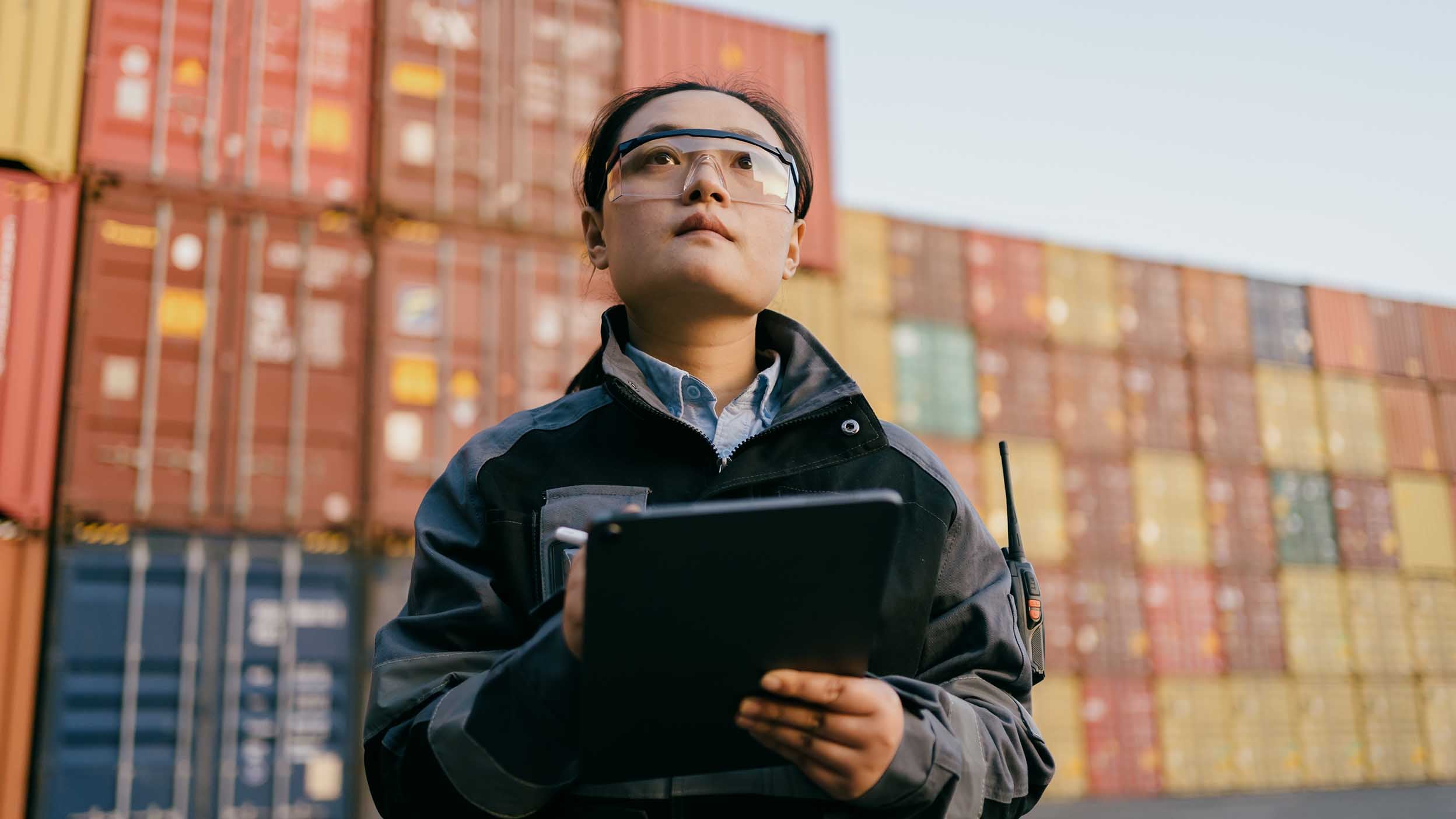 Key Highlights:
1
1
Equities performed well in 2021 despite many headwinds with QQQ's NAV returning 23.19%, driven by strong performance from Information Technology, Communication Services and Consumer Staples.
2
2
The removal of government stimulus, combined with higher inflation and the potential for COVID-19 variants to arise, may damper growth in 2022.
3
3
QQQ may be positioned well for a slowing growth environment because of its exposure to large-cap, growth-focused companies, along with overweight exposure to higher quality sectors like Information Technology and Communication Services.
2021 Review
The market faced many challenges in 2021. Despite the many uncertainties that were present, equities performed well for the year (as of 12/17/21) with the S&P 500 Index up 24.73%. QQQ's NAV performed slightly below the S&P 500, up 23.19%. Large-cap Value had a strong start to the year but ultimately was overtaken by Large-cap Growth with the Russell 1000 Growth outperforming the Russell 1000 Value, 23.52% vs 21.52%. 
Standardized Performance. Performance data quoted represents past performance, which is not a guarantee of future results; current performance may be higher or lower than performance quoted. Investment returns, and principal value will fluctuate, and shares, when redeemed, may be worth more or less than their original cost. See invesco.com to find the most recent month-end performance numbers. Market returns are based on the midpoint of the bid/ask spread at 4 p.m. ET and do not represent the returns an investor would receive if shares were traded at other times. An investor cannot invest directly in an index. Index returns do not represent Fund returns. High, double-digit and/or triple-digit returns are highly unusual and cannot be sustained.
In the beginning of the year, the economy was still reeling from the effects of the COVID-19 Pandemic, although prospects were positive. Vaccines to combat the virus were being distributed globally, unemployment was decreasing, and consumers started to spend more, albeit with the help of government stimulus programs. The Reopening Traded that started in Q4 of 2020 continued to perform well through the middle of June with Energy, Financials and Materials posting strong performance. The emergence of the COVID-19 Delta variant caused volatility to return causing some investors to move back into the mega-cap growth names that performed well during the heart of the Pandemic.
There were several factors that indicated the strength of the recovering economy and contributed to equities strong performance for 2021. Starting with unemployment, we saw the peak in April of 2020 with a reading of 14.8%. It had continued to decline into 2021, prompted by companies hiring to meet demand, the expiration of expanded Federal benefits and decreasing COVID-19 cases. Unemployment was down to 4.2% as of the end of November.
Another indicator has been the growth of earnings from companies. Over the previous year, the S&P 500's earnings-per-share had increased over 18%. QQQ's earnings-per-share growth has outperformed that of the S&P 500, growing over 20% during the previous year. The strong earnings growth was driven largely by QQQ's Information Technology, Health Care and Communication Services holdings. Also during this time, we saw sales growth improve with QQQ's sales growing over 9%. The S&P 500's sales growth came in at 8%.
Diving deeper into QQQ's performance, Information Technology, Communication Services and Consumer Staples were the best performing sectors in QQQ. Information Technology's return of 38.25% accounted for 64% of the ETF's 23% return and was the largest contributor the QQQ's performance differential versus the S&P 500. Other contributors to QQQ's return were Communication Services and Consumer Discretionary. Looking at individual companies, Moderna was the best performer returning 182%, followed by Nvidia, which returned 113%, and Marvell Technology which returned 77%.
The economy also faced several challenges during the year. COVID-19 was still very present with worldwide infections totaling over 190 million for the year (271 million since the start of the Pandemic). The rollout of the vaccine was highly anticipated. With Moderna being one of the primary providers, over 70% of the US has received at least one dose. Different variants emerged during the year, such as the Delta and Omicron variants, and caused investors to gravitate towards the companies that performed well in the summer of 2020. QQQ had overweight exposure to many of these companies.
Concerns around inflation were at the forefront of investors' minds during the second half of the year as the market saw year-over-year CPI readings not seen since the early 1990s and early 1980s. Much of the inflation and increase in prices had been a function of the economy reopening and consumers looking to spend while companies were still rebuilding their workforce and inventories. With inventories at such low levels, companies were forced to reevaluate their supply chains, change suppliers and increase prices.
2021 also saw a rise in interest rates with the 10-year US Treasury rising to 1.40% from 0.91%. As we saw the yield curve steepen the first half of the year, the 10-year peaked at 1.74%. The Federal Reserve also moved to scale back its $120 billion per month asset purchase program, that was started in June of 2020, and expected to complete the tapering of the program by mid-2022. Jerome Powell, the Federal Open Market Committee's chairman, indicated that rate hikes could also start in the second half of 2022. As inflation concerns grew to a feverish pitch in Q4, it was announced after the December FOMC meeting that the pace of the taper would double, and it should now conclude at the beginning of 2022. This change, along with rising COVID-19 cases caused by the Omicron variant, introduced new volatility into the market in December.
2022 Outlook
Invesco recently released its 2022 Investment Outlook and contains the base case for how the markets might perform next year. Included in the outlook, Invesco anticipates growth to normalize but remain above its long-term trend, inflation to peak in mid-2022 and then start to slowly moderate. It is also anticipated that the Federal Reserve will remain "patiently accommodative" with rate hikes starting in the back half 2022.
Signs of slowing growth have already started to appear in the economy. The most recent annualized quarter-over-quarter US GDP reading came in at 2.1% slightly below expectations but still in line with the long-term average. This is well below the Q2 reading of 6.2%. Earnings per share estimates have also fallen. The S&P 500's earnings per share growth for the next year is expected to be around 4.9%, a 13.4% fall from the 18.3% growth seen over the previous year. The expectation of contracting growth to more sustainable levels is largely driven by the gradual removal of the fiscal stimulus that has been in place along with the spending pattern of consumers normalizing.
In an environment of contracting growth, investors may seek out equities that have a higher market capitalization and offer greater growth potential. QQQ may be positioned well for this type of environment as it has greater exposure than the S&P 500 to some of the largest, innovative and growth-focused companies in the world. QQQ's anticipated earnings per share growth is expected at 7.3%, nearly 50% higher than the 4.9% expected from the S&P 500. These types of companies were in demand during 2020, when growth was in short order, and contributed to QQQ's NAV outperformance of 24% over the S&P 500 during the heart of the Pandemic (53.13% vs. 29.07%, 2/28/2020 – 12/31/2020). 
Investing in Equities in a Slowing Growth Environment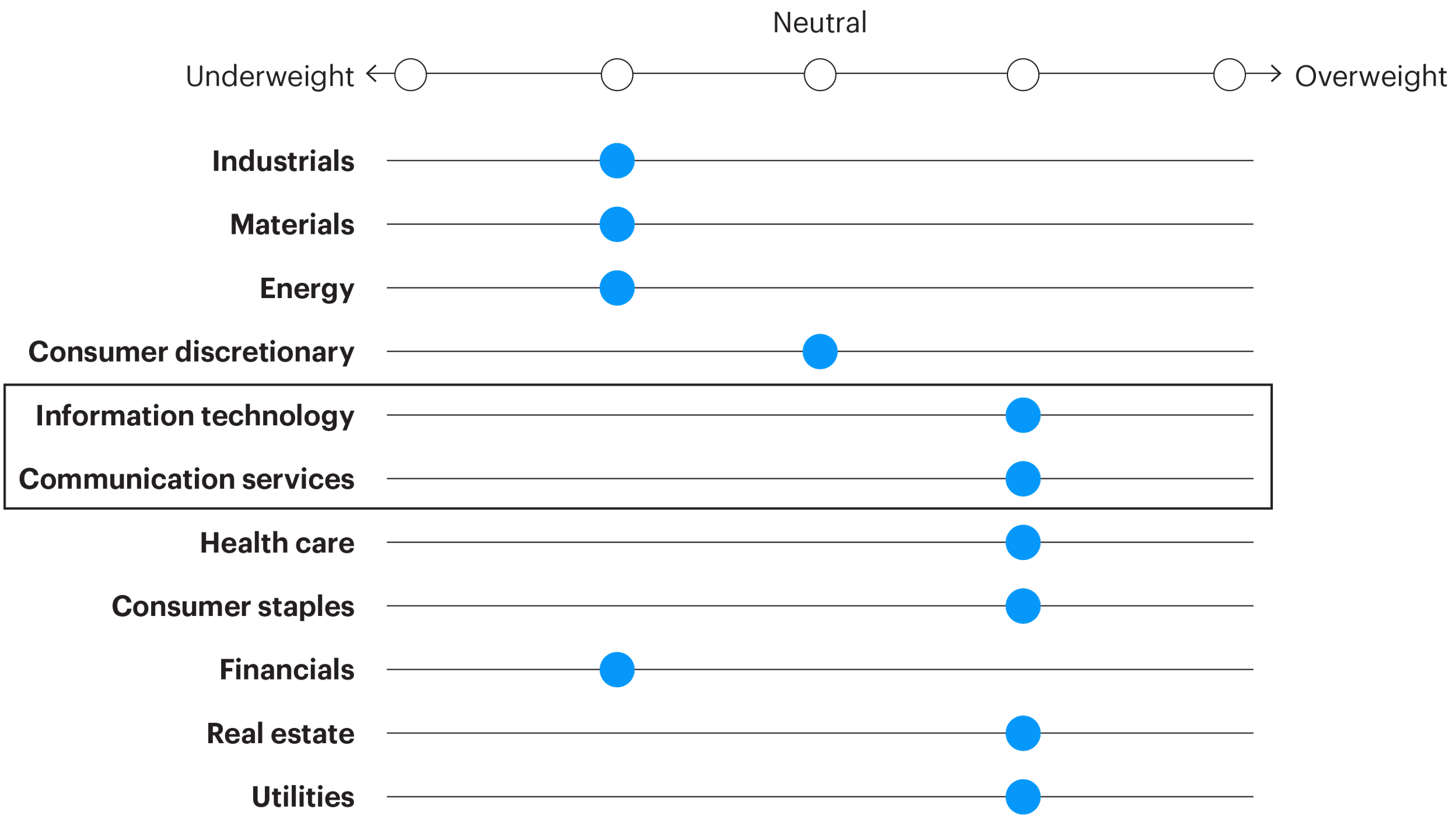 From a sector perspective, slowing growth would put a focus on sectors that have higher quality characteristics. A strong balance sheet and stable earnings growth are attributes of companies that exhibit higher exposure to the quality factor. Sectors such as Information Technology and Communication Services may be positioned well as we see inflation peak and growth moderate. Over the previous year, we have seen both sectors have greater exposure to the quality factor than the S&P 500 according to Bloomberg.1 They are also the first and second largest sectors in QQQ, with Information Technology having a weight of 50.79% and Communication services with a weight of  17.73%. Compared to the S&P 500, QQQ's IT exposure is 21.87% higher while Communication Services is 7.44% higher.2
QQQ also provides exposure to many disruptive and thematic industries that are helping drive innovation for the future. As technologies such as artificial intelligence, cloud computing and 5G continue to become a part of our everyday lives, investors will continue to seek out ways to invest in the companies that are leaders in these industries. Gartner has forecasted 2022 revenue growth of AI software and cloud computing services to rise 21% and 19%, respectively.3 QQQ provides investors with the opportunity to invest in technologies like these without taking on the single stock risk of purchasing the individual companies.
QQQ also recently underwent its annual reconstitution. The ETF saw six new additions join its underlying index, the Nasdaq 100. Airbnb, Datadog, Fortinet, Lucid Group, Palo Alto Networks and Zscaler were the companies that joined. Three of these companies graduated from the Nasdaq Next Generation 100 Index. Fortinet, Palo Alto Networks and Zscaler  are involved with cyber security, an ever-growing industry considering companies' digital online presence and reliance on cloud computing. Airbnb is the well-known travel booking company based in San Francisco, Datadog focuses on data management and analytics within the cloud, while Lucid Group is an electric vehicle manufacturer and energy storage company.4
These companies join the ranks in one of the world's pre-eminent large-cap growth Index, the Nasdaq 100. QQQ may provide a means for investors to access many of the world's largest and most innovative companies. Although there are numerous headwinds facing the overall market in 2022, QQQ may be positioned well as investors look for growth in a lower growth environment.
[1]

Bloomberg, L.P., as of 12/20/2021. The Information technology quality score is 0.81 higher than the S&P 500 and represented by the S&P Technology Select Sector Index. The Communication Services quality is 0.16 higher than the S&P 500 and represented by the S&P Communication Services Select Sector Index

[2]

Bloomberg L.P., as of 12/20/2021

[3]

Gartner, Inc. as of 11/22/2021

[4]

Holdings are subject to change and are not buy/sell recommendations.