Market outlook
QQQ reaches a milestone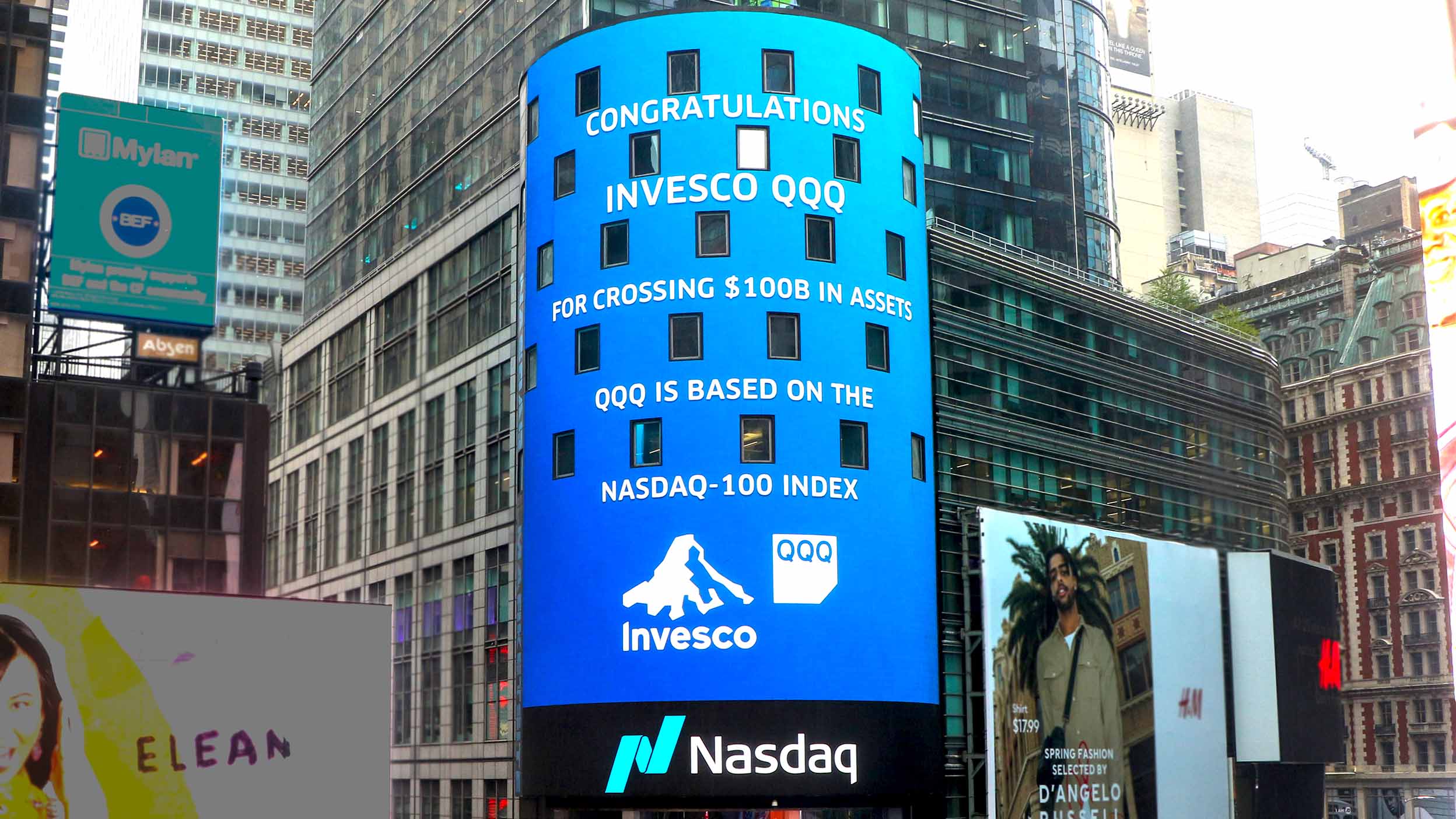 On Thursday, May 7th, Invesco QQQ ETF marked a significant milestone: closing above the $100 billion in assets threshold. Only five US listed ETFs have assets in excess of $100 billion, with QQQ as the fifth largest. QQQ also retains its spot as the second most actively traded US listed.1
The march to $100 billion has been a healthy combination of robust YTD inflows coupled with solid performance. According to Bloomberg, year-to-date through May 8th, QQQ has seen inflows of $9.113 billion. That number has been fueled by March ($4.814 billion) and April ($4.429 billion) inflows, which marked the best back-to-back monthly inflow since November & December 2000 which brought in over $12.3 billion.
QQQ has shown significant outperformance vs. the S&P 500 Index on a year-to-date basis (12/31/2019 – 05/08/2020), trading higher by 5.99% on a cumulative NAV basis versus the S&P 500 Index trading lower by 8.69%. QQQ's four largest sectors (by weight): Information Technology, Communication Services, Consumer Discretionary and Healthcare are all in positive performance territory for the same period year-to-date 2020, trading higher by 5.78%, 4.01%, 17.10% and 8.42%, respectively. This compares to the S&P 500, which has only one sector in positive performance territory for the year: Information Technology, up 3.87%.
We believe that investors' may be positioning portfolios to gain access to innovative companies as the demand for technological products and services continues to grow. As we have outlined in previous articles, QQQ delivers exposure to companies that are at the forefront of transformative, long-term themes such as Cloud Computing, Big Data, Cyber Security, Mobile Payments and others. Now more than ever, the consistent commitment of QQQ companies to Research & Development has enabled them to get ahead of the innovation curve to potentially benefit from structural changes in the global workplace and economy.
QQQ Standardized Performance
Performance data quoted represents past performance, which is not a guarantee of future results. Investment returns and principal value will fluctuate, and shares, when redeemed, may be worth more or less than their original cost. Current performance may be higher or lower than performance data quoted. See invesco.com to find the most recent month-end performance numbers. Market returns are based on the midpoint of the bid/ask spread at 4 p.m. ET and do not represent the returns an investor would receive if shares were traded at other times. Returns less than one year are cumulative. Fund performance reflect fee waivers, absent which, performance would have been lower.
1.

Source: Bloomberg L.P., based on average daily volume traded, as of May 8, 2020.
How to invest in QQQ
Select the option that best describes you, or view the QQQ Product Details to take a deeper dive.