Article
James Goldstone's UK equity strategy update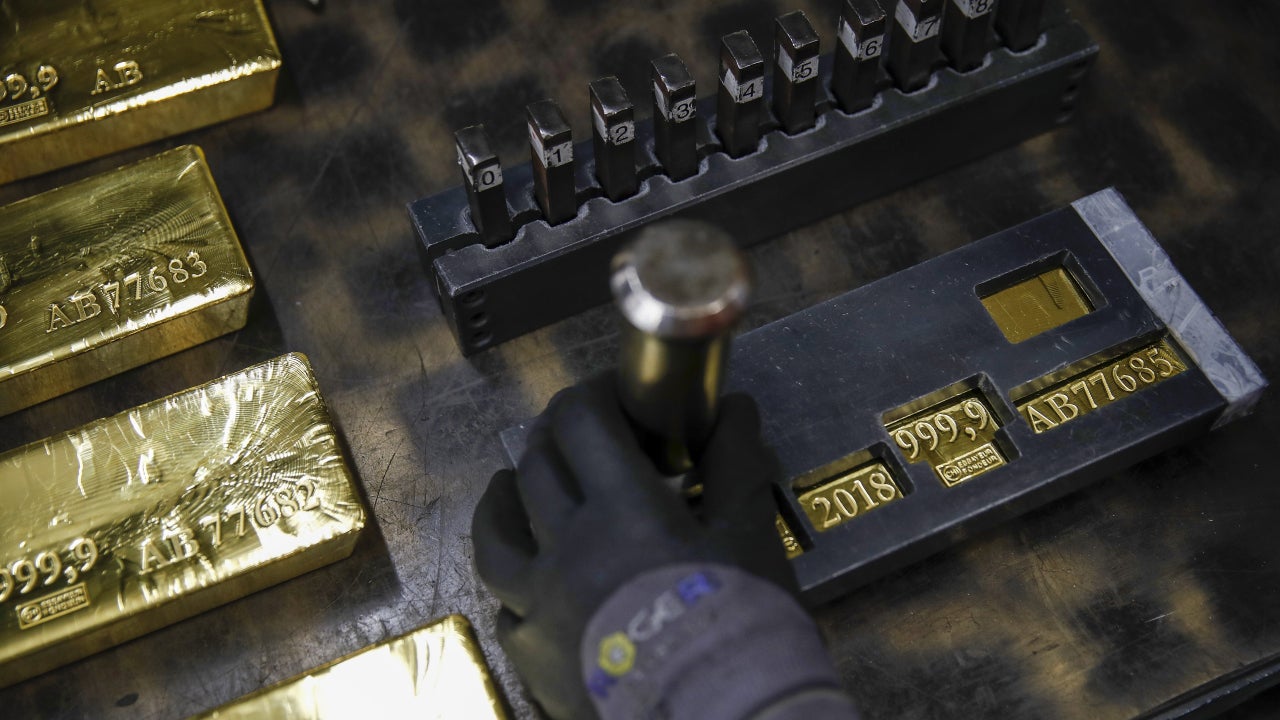 The sell-off across global markets has been widespread in recent weeks. Joanna Smith questions whether we have seen the market lows of this crisis yet.
As of market prices at 15:30 on 1 April 2020, the FTSE All-share Index had fallen by 28% since the 23 January; this is the date the World Health Organisation first convened in Geneva regarding the outbreak of COVID 19.
Looking more closely at UK markets the impact has been substantial; the FTSE 100 Index (down 27%) has outperformed the FTSE 250 Index (down 32%). The fall in the FTSE 250 Index, which comprises slightly smaller, and largely UK-orientated businesses with sterling earnings, has been more acute. The sell-off across global markets has been widespread and we question if we have seen the market lows of this crisis yet.
Non-oil FTSE 100 constituents have generally fared better than some of the FTSE 250 constituents as a result of greater US$ revenues, and we have seen a significant bounce back in BP and Shell from their recent lows. The price of Brent is down 59% as a result of geopolitics and an ongoing dispute between Russia and Saudi Arabia.
Those familiar with James Goldstone's approach will know that he has a high conviction, valuation-focused, bottom up strategy which seeks to maximise exposure to UK companies he considers to be the most attractive. The manager is unconstrained and contrarian in his approach and as such the holdings in the strategy can deviate meaningfully from the benchmark. He favours companies with strong balance sheets, sound governance and high barriers to entry.
There are five key themes in the portfolios that James manages: UK Domestic Value, International Value, UK Mid Cap Growth, Special Situations and Gold. The table below illustrates the impact on themes within James' portfolios taking the average performance of stocks since 23 January (please note, this is not a weighted average and so IS NOT true attribution).
Table 1: Average performance of stocks within the themes, across portfolios (unweighted)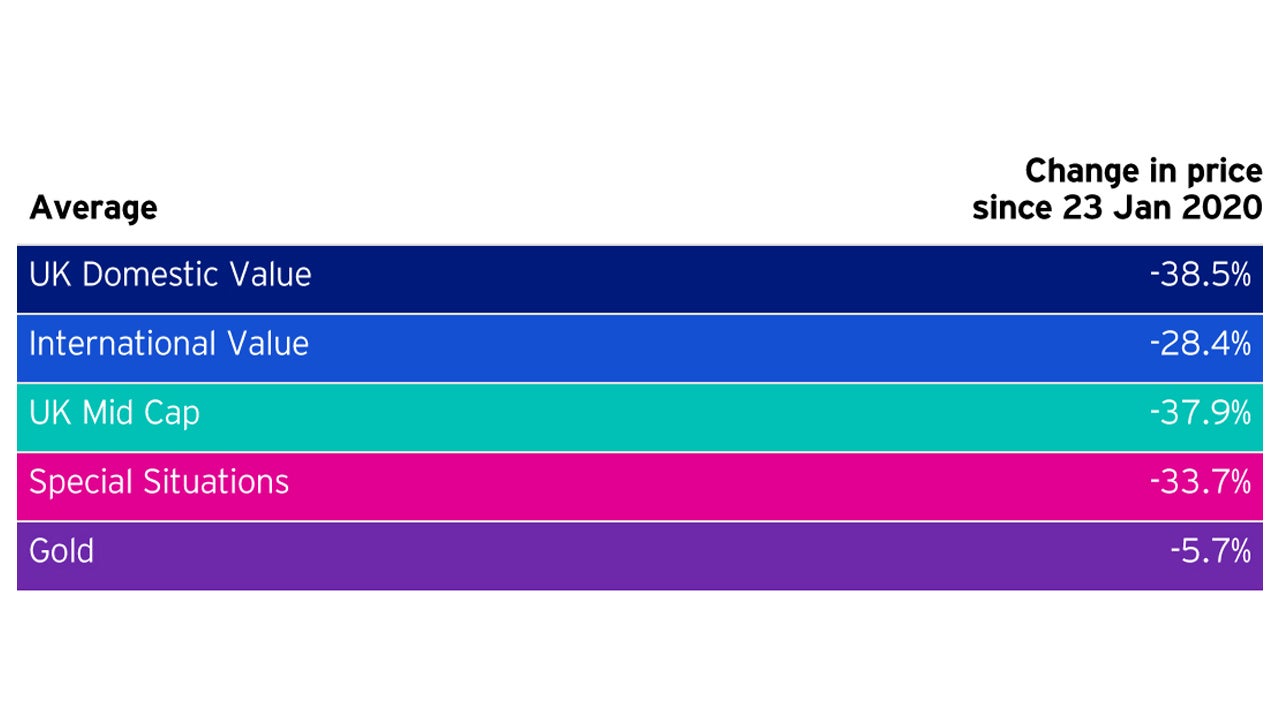 It is clear that during the recent market volatility companies within the UK Domestic Value and the UK Mid Cap Growth themes, which are more heavily exposed to sterling weakness, have tended to underperform.   
Stocks in the portfolios that offer more International Value, and which are relative beneficiaries of weaker £GBP, have generally performed better.  Relative outperformers within this cohort include Ultra Electronics, RELX, McBride and Experian, as well as British American Tobacco.  Not surprisingly, underperformers include IAG and easyJet, although these holdings are proportionately small in the strategy. 
The best performing theme in the portfolios over this period has been Gold which is a key differentiator in James' strategy.  As we witness extreme movements in financial markets, sometimes occurring hourly, we have seen investors firstly reach for the perceived 'safe-haven' asset classes of gold (which has risen by 1.7% in US$ terms), followed by US$ (that is strengthened by 5.4% relative to sterling at the time of writing), then US$ revenues.  In Figure 1 below one can see that the gold price has held up well compared to the FTSE All Share Index since 23 January (data indexed to 100).  
Figure 1: Performance of Gold versus the FTSE All-Share Index since 23 Jan 2020 to 31 Mar 2020.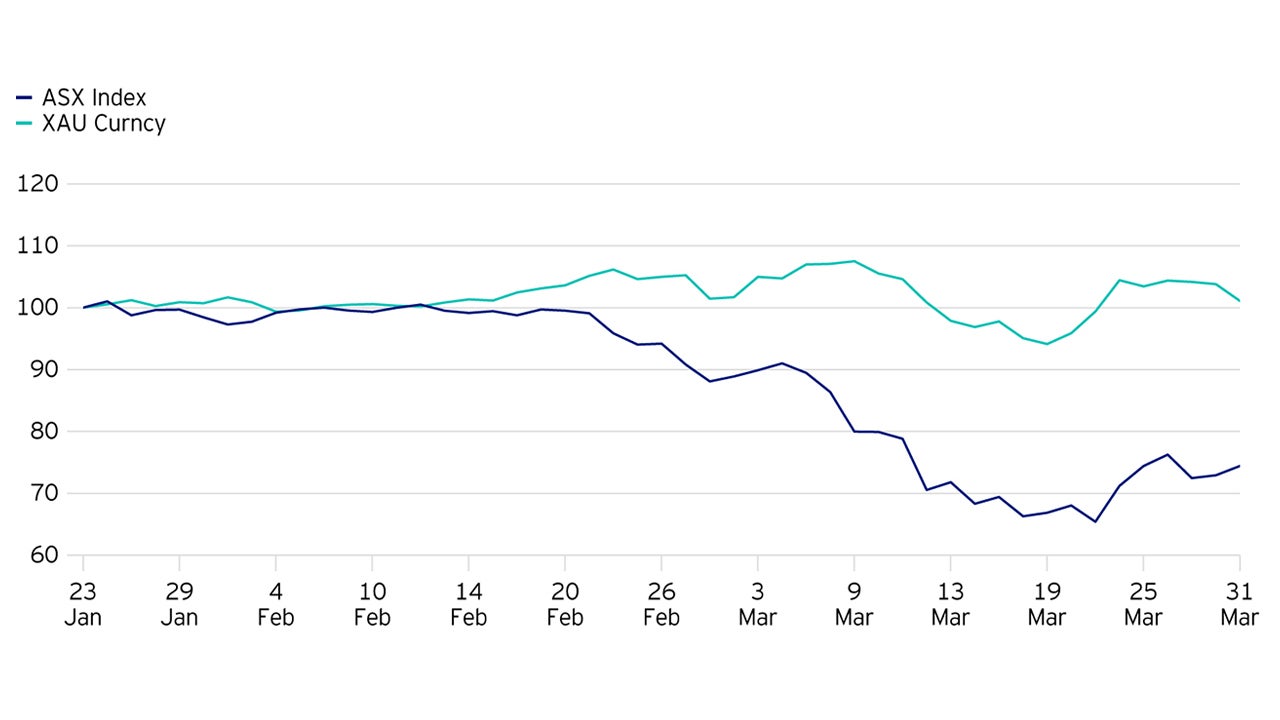 James believes that the current market environment is, in theory, a 'perfect' situation for gold.  Given the collapse in the outlook for global economic growth inflation expectations have fallen, which you would expect in a sharp recession.  It is James' strongly held view that monetary and fiscal stimulus is on such an unprecedented scale, that inflation in the longer term will rise, resulting in real rates going sharply negative.  Gold has held up very well so far and if the above scenario plays out, could continue to be seen as the 'safe haven' for assets that investors seek. 
James holds four gold mining companies in his portfolios: Barrick Gold (GOLD), Newmont Mining (NEM), Agnico Eagle Mines (AEM), and Wheaton Precious Metals (WPM).  Figure 2 illustrates the performance of these companies versus the gold price and the FTSE All Share.  Agnico has been an outlier in performance terms as it revised its gold production forecast mid-February. 
Figure 2: Gold and Gold Mining companies versus the FTSE All-Share index – 23 January 2020 to 31 March 2020.
James' investment thesis consistently employed in his portfolios has been that negative real rates look set to continue and that governments will need to deploy fiscal stimulus. But in many countries government debt to GDP is already elevated and is set to increase materially over the coming years as a result of demographic trends. These conditions are negative for fiat currencies and supportive of the long-term price of gold.
The shock to global economies resulting from the global pandemic has served to accelerate the conditions favouring gold, suggesting that perhaps after all, there could be value in the yellow metal, and in the gold-mining companies that are held in the portfolio.
In terms of changes in the portfolio, James has reduced some exposure to the insurers and made a few other reductions for prudent risk management. James has recently added some exposure to utilities believing that the impact of COVID-19 on the sector will be much less than others in terms of revenue, profits and cash flow and as such the utility holdings in the portfolios should be in a position to continue paying dividends going forward, providing politics does not get in the way.
Clearly dividends for a number of companies are going to be under pressure and we have just heard that the dividends of UK banks will be cut following intervention from the Prudential Regulation Authority (PRA), the supervisory arm of the Bank of England. Whilst opportunities are presenting themselves in the market, James is patiently digesting the consequences of shutting down the UK economy for what is currently an unknown length of time. James' focus on strong balance sheets and good governance will be uncompromising in this environment.
The value of investments and any income will fluctuate (this may partly be the result of exchange rate fluctuations) and investors may not get back the full amount invested.

The strategy invests in smaller companies which may result in a higher level of risk than a strategy that invests in larger companies. Securities of smaller companies may be subject to abrupt price movements and may be less liquid, which may mean they are not easy to buy or sell.
Where individuals or the business have expressed opinions, they are based on current market conditions, they may differ from those of other investment professionals, they are subject to change without notice and are not to be construed as investment advice.

This document is marketing material and is not intended as a recommendation to invest in any particular asset class, security or strategy. Regulatory requirements that require impartiality of investment/investment strategy recommendations are therefore not applicable nor are any prohibitions to trade before publication. The information provided is for illustrative purposes only, it should not be relied upon as recommendations to buy or sell securities.