Insight
Invesco Perpetual Select Trust Plc – Global Equity Income Share Portfolio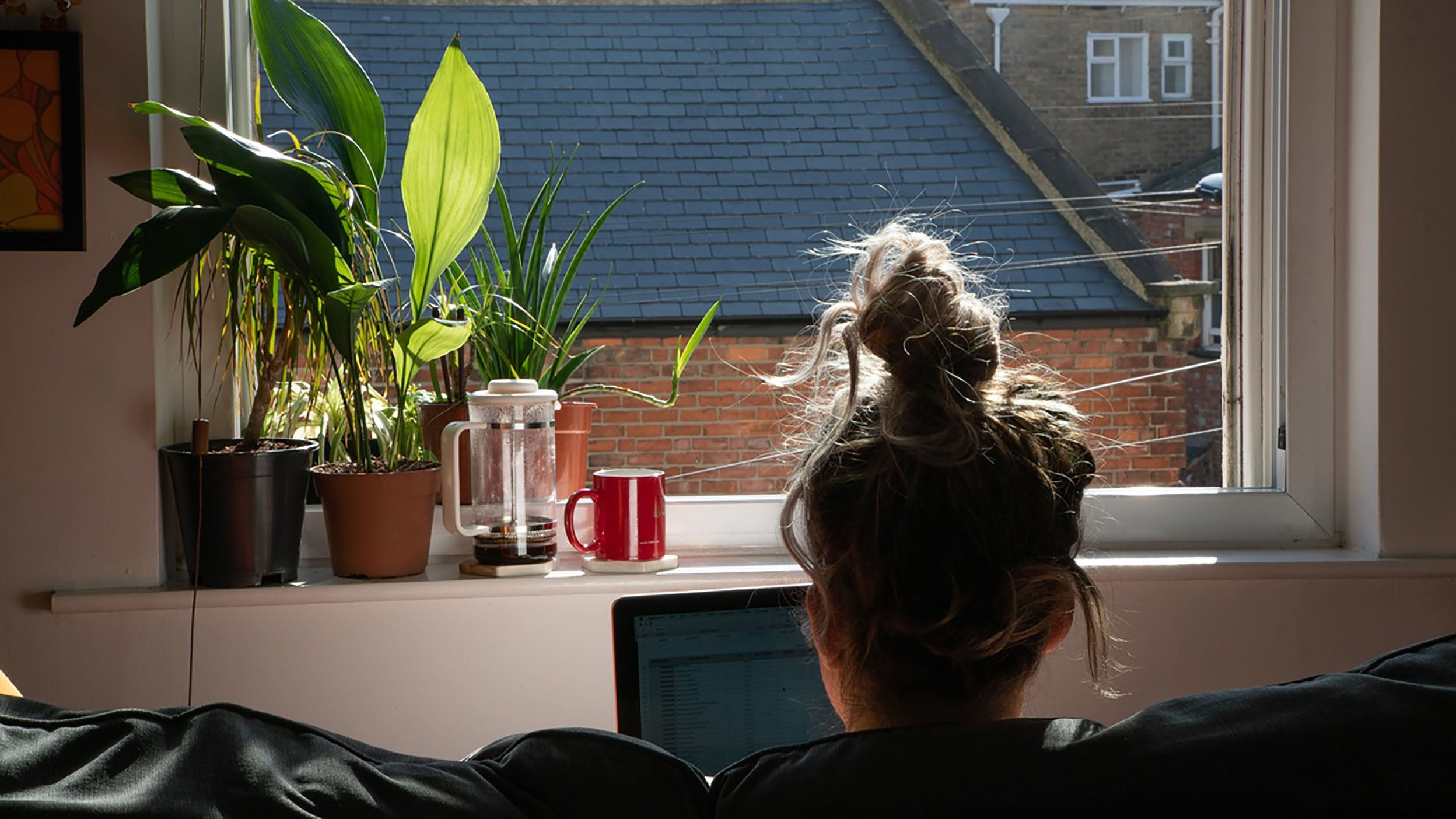 Overview
Global equity markets recovered strongly in Q2 and have remained well supported through July.
Following the most rapid declines in equity markets in Q1 we saw one of the fastest recoveries in Q2.
Co-ordinated monetary and fiscal policy of unprecedented scale was unleashed to help alleviate the economic, market and societal cost of the lockdown response to the Covid-19 pandemic.
Most asset classes delivered positive returns for the second quarter with the tech heavy NASDAQ index leading equity index returns. 
Portfolio performance
Standardised rolling 12-month performance (%) growth
 

30.06.15

30.06.16

30.06.16

30.06.17

30.06.17

30.06.18

30.06.18

30.06.19

30.06.19

30.06.20

Ordinary Share Price

2.7

2.7

5.6

3.0

-7.0

Net Asset Value

9.9

9.9

8.1

3.1

-5.9

MSCI World Index (£) Total Return

15.1

15.1

9.9

10.9

6.5
Past performance is not a guide to future returns
Ordinary share price performance figures have been calculated using daily closing prices with dividends reinvested. NAV performance figures have been calculated using daily NAV with dividends reinvested. The NAV used includes current period revenue and values debt at fair. The MSCI World Index (£) Total Return performance shown is total return (net of withholding tax). All performance figures are in sterling as at 30 June 2020 except where otherwise stated. Standardised past performance figures are updated on a quarterly basis. Source: Morningstar.
Investment Outlook
What are the key market dynamics we observe today?
Firstly, technology. In the near term the pandemic has acted as an accelerant to many of the trends which were already in motion; online shopping, increased usage of digital technologies, more flexible working and use of cloud-based IT infrastructure.
Given the devastating impact of lockdown on many industries, it is rational that the market has latched on to an industry where the outlook is improving in this backdrop.
Indeed, the portfolio is overweight (versus its weighting in the MSCI World reference index) the technology sector due principally to our positions in semiconductors, although we also have holdings in some large well-known software and e commerce companies.
Despite this overweight position, one of our key performance detractors this year has been our lack of exposure to 'high growth' technology - the 75 companies which exhibit the fastest forecast revenue growth, but with little earnings and even scarcer dividends.
Our holdings in tech, such as semis, are more mature business models producing high free cash flow margins and thus the ability to pay sustainable and growing dividends.
Whilst the performance of these holdings has been good in absolute terms, they have not matched their more 'growthy' counterparts.
The vertiginous performance (and now valuations) of the 75 fastest growing companies in the tech sector provide some eerie similarities to prior periods which, with hindsight, showed that reality did not quite match the hype.
Below are a few statistics provided by Empirical Research for these 75 'Big Growers': 
As a group they sell for 110 times trailing earnings
Their price momentum sits in the 84th percentile of history
Their relative PE is now in line with that reached in 2000.
The median stock within this select group is now priced to deliver 10-year annual earnings growth of 13%, a level only typically reached by 30% of the cohort, leaving the others to disappoint.
Market concentration levels in 'big tech' are above that reached in March 2000.
Chart 1: Relative P/E ratios of the 'Big Growers' group compared to the US market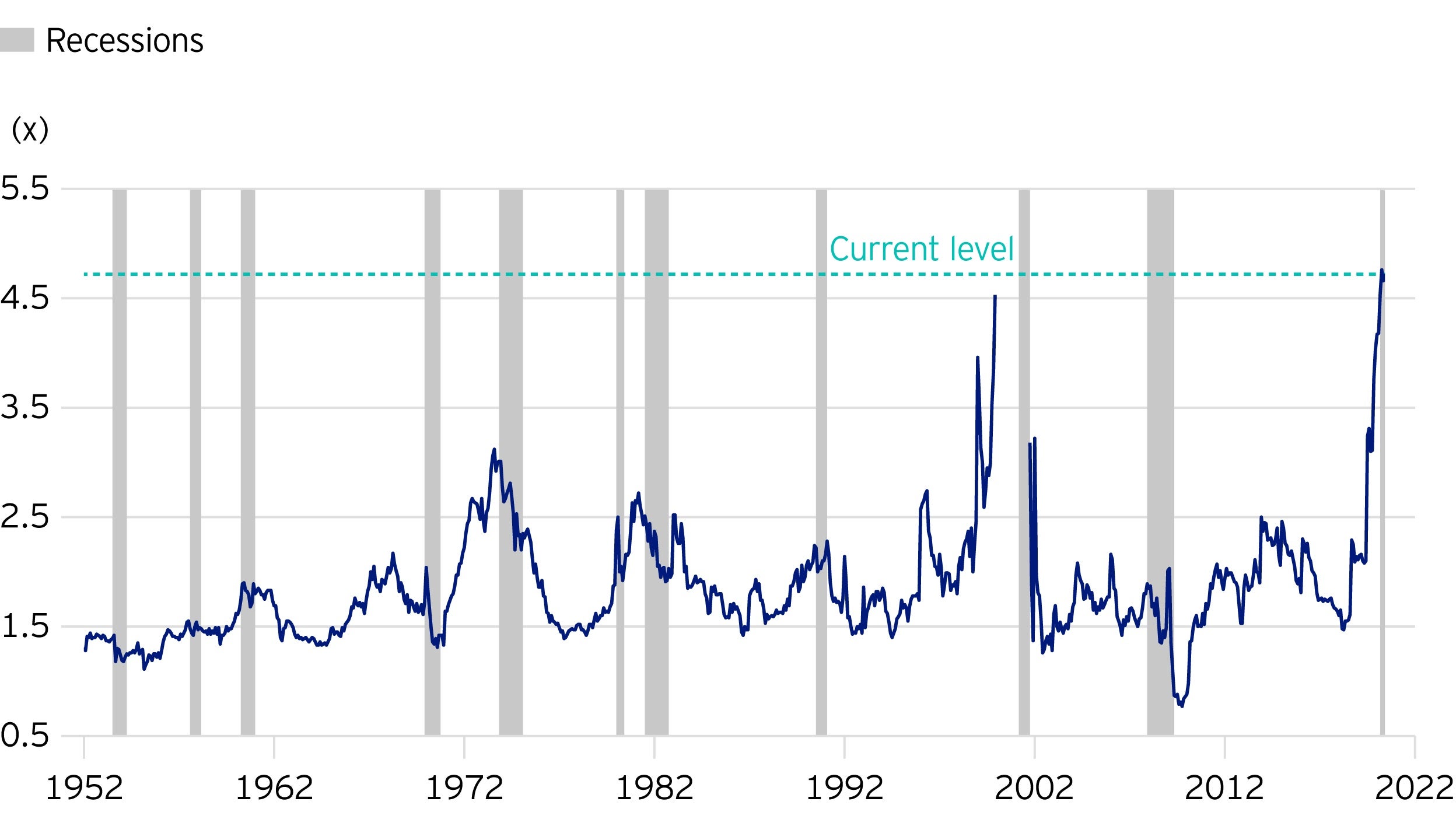 Market enthusiasm for well-founded stories is nothing new; but neither is the ability of the market to push expectations and thus share prices, too far.
The '99/'00 tech boom is an obvious analogy but there are many others.
Below is a chart from the 1800's showing the index of British railway companies as rail began to be built out - the reality did not live up to the growth expectations. 
Chart 2: Signal failure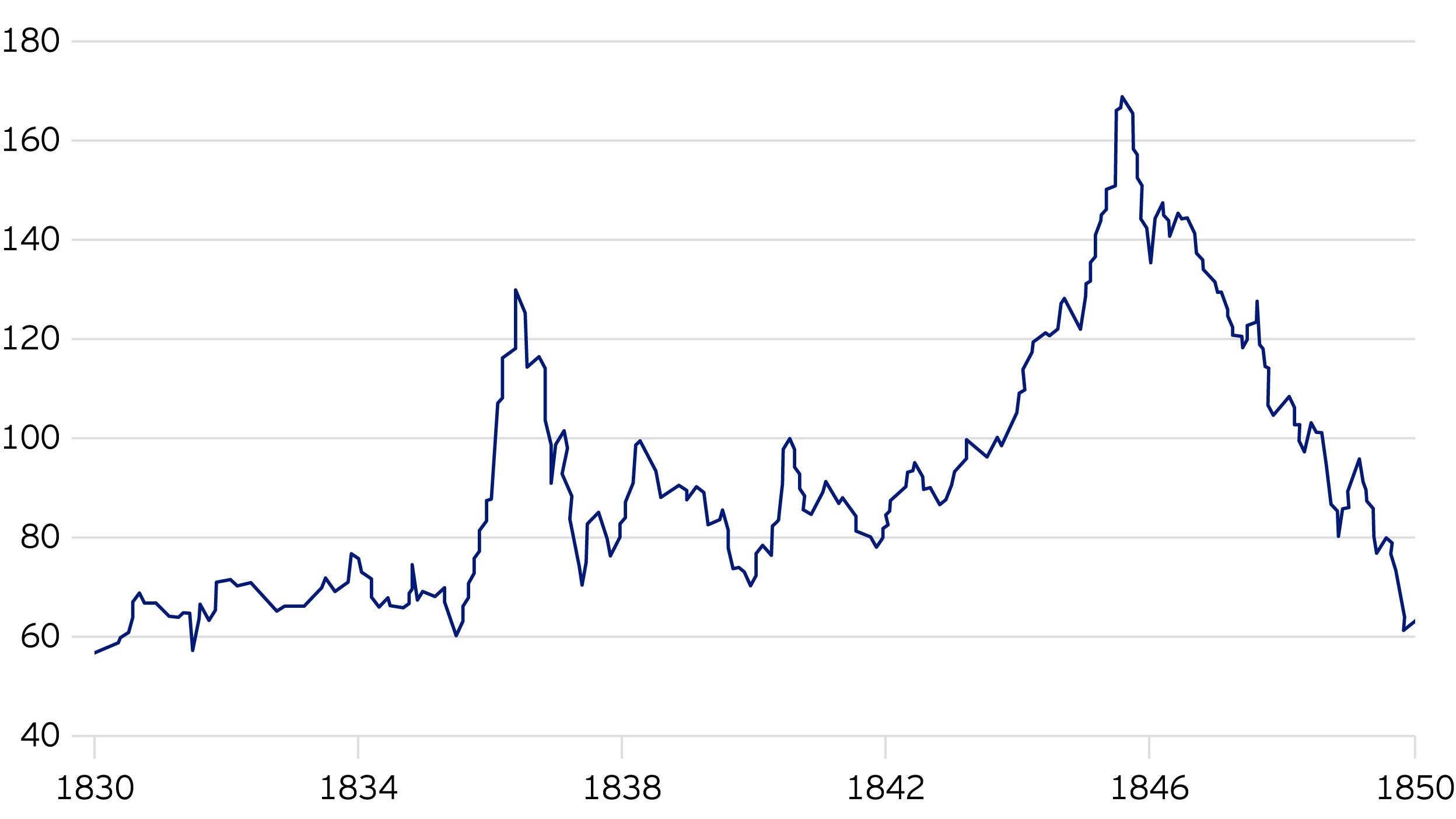 It is our view that much of the excitement around 'tech' is valid; many are excellent, cash generative and growing businesses.
However, in the case of the 'Big Growers' the market has bid up those qualities to an extreme level.
In part this reflects the current unusual interest rate environment, a collapsed discount rate causing an exaggerated value to be attached to distant cash flows.
As we write the US 10-year Government yield is c.63 basis points, not far from the all-time low reached in March.
The lowering of this reference rate has impacted discount rates such that the value of growth in the future is much higher.
This fuel has added to the technology explosion.
Can we rely on bond yields to remain at these levels to support this thesis?
The answer to that question strikes us as critical; we have all become used to low and falling bond yields, the market narrative and valuation structure seemingly suggests lower forever, not just lower for longer.
We believe it is worth considering that things may well be changing - driven by the response to the pandemic, which has been unprecedented; trillions of dollars of fiscal and monetary policy have either already been enacted or is soon to be introduced.
Should economic conditions not improve, we believe it is inevitable that we will see further stimulatory measures.
The reason we have highlighted this as a key market dynamic is that we believe there will be consequences that stem from this.
Analysis from Cornerstone Macro suggests that 29% of GDP has been announced by the major global economies - a level not see in the post war era.
Without this response we risked turning a health crisis into a banking crisis.
However, herein lies the issue.
Whilst the policy response is akin to an accelerated '08/'09 response, the underlying causes and challenges are different.
We frequently hear that QE (quantitative easing) post-2008 was not inflationary - we disagree.
It is an inflationary policy; it just didn't create inflation because broad money growth in the economy fell as the banking crisis unfolded.
2008/9 was caused by a banking crisis, bank lending contracted, and QE was enacted to offset the impact of this contraction.
The current situation is quite different.
Chart 3: US money supply now rising in lockstep (year-on-year % change)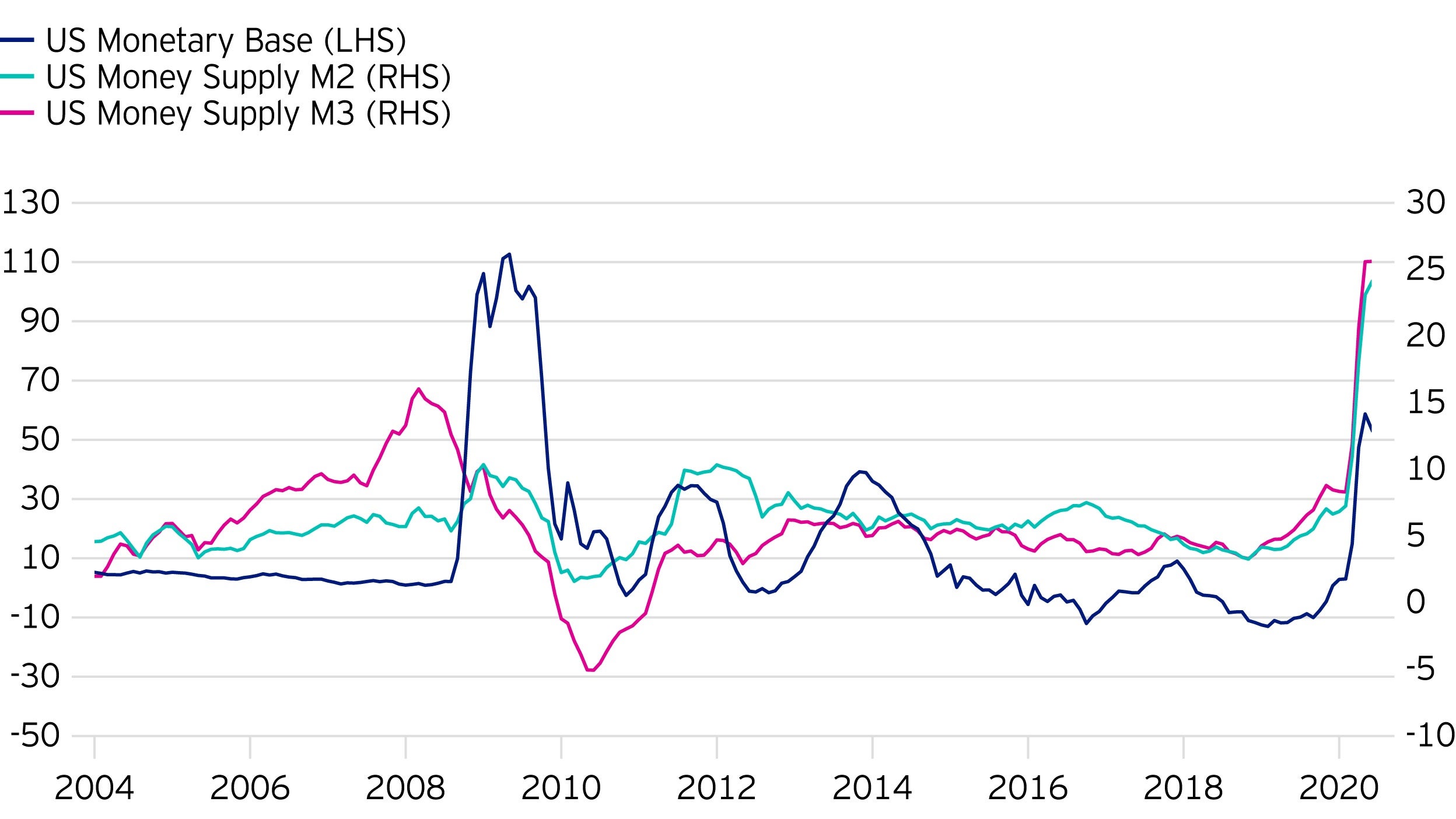 We are not 'top-down' investors but nonetheless it is important to recognise the forces at play in the market.
Several companies which have performed well this year are excellent businesses, with many benefiting from the current conditions of working from home and an acceleration toward a digital economy.
However, we must consider that interest rates and policy are impacting valuations.
Any change to the perception that rates are 'lower for longer' and that yields could increase from current levels could change equity market leadership markedly in our view.
Risks
We see a number of 'risks' on the horizon, not all of which are downside risks.
There are clear negative risks around the virus, the economic consequences of lockdown and unemployment.
Jobless numbers have risen sharply, consumer habits may well have changed permanently and asset classes such as commercial real estate face an uncertain future.
However, there are of course upside risks; we may discover a new treatment or vaccine, herd immunity may be reached faster than predicted or indeed the virus may 'burn out' in the population as previous viruses have done.
Coupled with the quantity of stimulus now being injected into the global economy there could be a powerful recovery.
We are not offering odds on any of those outcomes, merely that we must acknowledge that the risks around virus control and economies are not all skewed to the downside - which makes portfolio construction more challenging than ever.
We believe it is right to have a portion of the portfolio allocated to companies which will do well once virus fears begin to dissipate.
We appreciate this may take time but there are excellent businesses in travel & leisure, financial services and retail which will emerge from this crisis stronger as weaker competitors stumble.
We believe the market is over-looking the prospects for many of these companies; we would highlight JP Morgan, Amadeus and Zurich as excellent businesses within their respective industries.
We appreciate that our holdings in select companies such as these are quite different to the broader market but believe the long-term asymmetry of returns to be very much in our favour at this juncture.
What has worked this quarter?
Winners: The best performing stocks in Q2 were from a variety of industries.
Ashtead (equipment rental) was our best performing position as the resilience of the business was clearly demonstrated through the initial phases of the pandemic. Ashtead management have done an excellent job adapting the business to new ways of working and we believe Ashtead will emerge stronger than ever through the downturn.
Analog Devices (semiconductors) performed well as industry demand levels remained far more resilient than initially expected (at the time of writing Analog has just announced a substantial upgrade to guidance and an intention to acquire peer Maxim).
Lundin Energy rebounded strongly from the March sell off driven by improving oil prices and favourable tweaks to the Norwegian fiscal regime.
Finally, NetEase and Tencent (computer gaming and Internet behemoth respectively) benefitted from an improving outlook for gaming and a more positive sentiment toward Asian tech; indeed, in the quarter NetEase completed a successful secondary listing in Hong Kong.
Losers: The two largest detractors from performance were US banks, Wells Fargo and JP Morgan.
Both suffered from worsening sentiment toward banks as interest rates continued to fall in the US. Wells Fargo has a greater level of idiosyncratic challenge due to missteps from previous management. The pandemic has inevitably delayed the improvements the new management hope to make.
Apple and Amazon have performed very well this quarter and in combination with their size, not owning them was a substantial headwind to the portfolio.
As a manufacturer of wide body aerospace engines Rolls Royce continued to underperform. Management are committed to right sizing the cost base and we believe will use the crisis to streamline the business. It is an incredibly challenging time for Rolls Royce, but we believe a longer-term perspective is important when assessing a business generating after-market revenues which can extend out up to 40 years.
Zurich Insurance rose in the quarter but substantially lagged the market over fears surrounding business interruption cover; we believe this issue is contained and that Zurich remains incredibly well capitalised which should allow them to take advantage of a hardening market in insurance. It pays a 6% dividend yield in swiss francs, which is well covered by earnings.
Portfolio changes:
We made several changes to the portfolio in recent months.
We sold NASDAQ and Reckitt Benckiser; both had reached valuation levels more in line with our expectation of intrinsic value. We have huge admiration for both companies but the competition for capital is fierce in the portfolio and we found several new holdings we wanted to add.
We also cut our position in easyJet. This has been a poor investment; we must accept that our thesis has been heavily undermined by Covid-19 and with other holdings (e.g. Amadeus) exposed to a rebound in travel and leisure, we decided to cut our losses to help fund new positions.
We bought AIA (Asian Life Insurance), Progressive (US auto insurance) and Accenture (IT consulting). In our view, all three are very high-quality businesses with a long runway for growth ahead of them.
The value of investments and any income will fluctuate (this may partly be the result of exchange rate fluctuations) and investors may not get back the full amount invested.

The product uses derivatives for efficient portfolio management which may result in increased volatility in the NAV. The use of borrowings may increase the volatility of the NAV and may reduce returns when asset values fall.

The product invests in emerging and developing markets, where difficulties in relation to market liquidity, dealing, settlement and custody problems could arise.

The Directors intend that each portfolio will effectively operate as if it were a stand-alone company. However, prospective investors should be aware that in the event that any of the portfolios have insufficient funds or assets to meet all of its liabilities, such a shortfall would become a liability of the other portfolios. In addition, should the investment trust incur material liabilities in the future, a significant fall in the value of the investment's trust assets as a whole may affect the investment trust's ability to pay dividends on a particular class of share portfolio, even though these are distributable profits attributable to the relevant portfolio.

The use of borrowings may increase the volatility of the NAV and may reduce returns when asset values fall.
Where Stephen Anness has expressed opinions, they are based on current market conditions, may differ from those of other investment professionals and are subject to change without notice.

This document is marketing material and is not intended as a recommendation to invest in any particular asset class, security or strategy. Regulatory requirements that require impartiality of investment/investment strategy recommendations are therefore not applicable nor are any prohibitions to trade before publication. The information provided is for illustrative purposes only, it should not be relied upon as recommendations to buy or sell securities.

For more information on our products, please refer to the relevant Key Information Document (KID), Alternative Investment Fund Managers Directive document (AIFMD), and the latest Annual or Half-Yearly Financial Reports. This information is available from www.invesco.co.uk

Issued by Invesco Fund Managers Limited Perpetual Park, Perpetual Park Drive, Henley-on-Thames, Oxfordshire RG9 1HH, UK Authorised and regulated by the Financial Conduct Authority.