The truth about presidential elections and the stock market
2020 US Presidential Election
This brochure illustrates 10 truths about markets and politics — no matter who wins.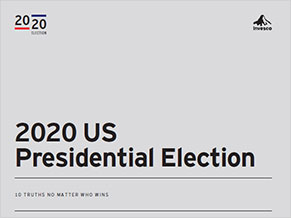 Washington Newsletter 2020
Get the latest updates on Washington and topics relating to US-China relations and the US election.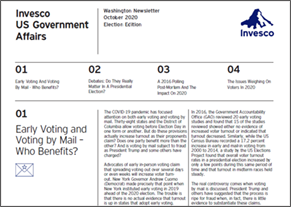 Learn more
Politics and investing have always been spoken about in the same breath. Commentators and candidates alike often frame the performance of the stock market as a sort of "barometer" of a president's policies. But the data don't support this link. Over the past 120 years, the long-term performance of the market has shown almost no correlation with government policies.
So what's the real story when it comes to politics and investing?
Consider these historical truths:
1. Markets have performed well under both parties
Neither party can lay claim to superior economic or financial market performance. The S&P 500 Index delivered an average annual return of approximately 11% over the past 75 years, through both Democratic and Republican administrations. The US economy also expanded around 3.0% during that period.1
Presidential term stock market return vs. economic growth (1957-present)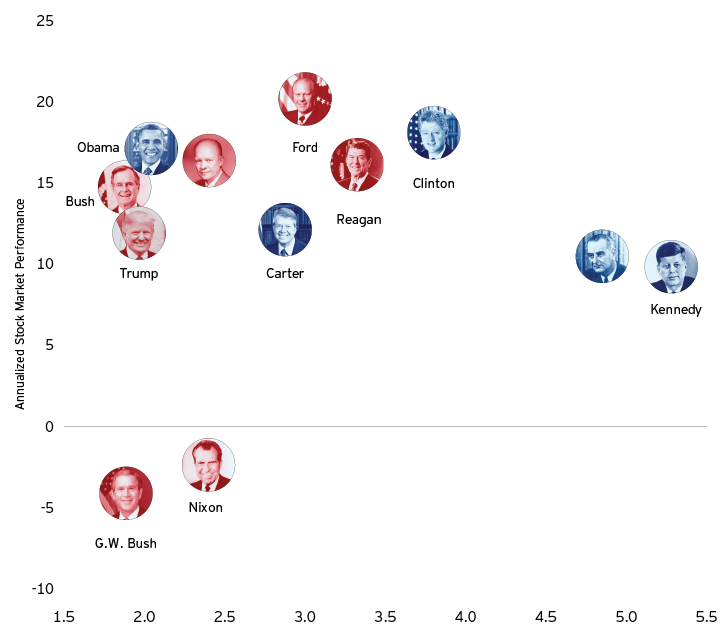 2. Markets don't care if you don't approve of the president
From the inauguration of President Kennedy through the current administration of President Trump, some of the best returns in the stock market have come when the president's approval rating was between 36% and 50% — in other words, when at least half the country disapproved of the job performance of the sitting president.2
Gallup poll presidential approval ratings and the growth of $100,000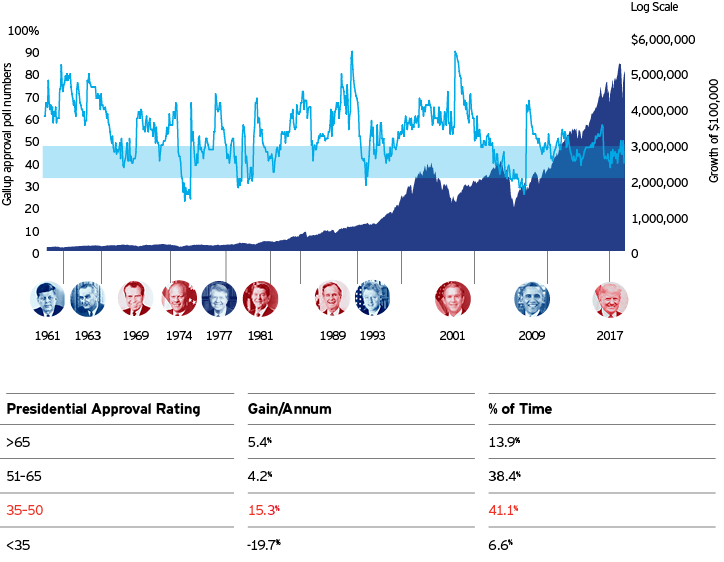 3. Signature legislation often doesn't impact the economy as expected
Predictions about the ultimate impact of legislation are often far removed from the actual results. For instance, it was predicted that President Obama's Patient Protection and Affordable Care Act of 2010 would destroy small-business hiring. But since it was implemented, 8.6 million jobs have been added in this sector.3 Similarly, President Trump's Tax Cut and Jobs Act of 2017 was intended to unlock capital expenditures, but it has thus far failed to bring an acceleration in business investment as issues such as trade uncertainty and, most recently, coronavirus have impacted confidence.
Example 1: Patient Protection and Affordable Care Act
Employers with 50 or more full-time employees are considered "large business" and therefore required to offer employee health coverage or pay a penalty.

Nonfarm private medium payroll employment (50-499)

Example 2: Tax Cuts and Jobs Act of 2017
Section 179 allows taxpayers to deduct the cost of certain property (such as machinery and equipment purchased for use in trade or business) as an expense when property is placed in service.

US capital goods new orders (nondefense ex-aircraft and parts)

Learn more about what really matters to markets
These are just some of the essential truths about elections and investing. This brochure clearly and simply illustrates these three plus seven more:
Investors are better off staying fully invested.
We do not radically reengineer the US economy.
The historical narrative is not as you remember it.
Predictions tend to be wrong.
Monetary policy matters more.
No, this is not the most vitriolic election.
Don't confuse partisan politics with market analysis
1 Haver, Invesco, 6/30/20. Note: President Trump stock market performance data from 1/20/17-6/30/20., real GDP data from 12/31/2016 to 3/31/2020 as GDP is reported with a lag. Stock market performance is defined by the total return of the S&P 500 Index.
2 Bloomberg, L.P., 6/30/20. An investment cannot be made in an index.
3 Bloomberg, L.P., FRED, 3/31/20. Most recent data available.
See Index definitions on page 13 of the brochure.
Past performance does not guarantee future results

The opinions expressed are those of the author and are subject to change without notice. These opinions may differ from those of other Invesco investment professionals.