Multi Asset
Invesco Global Targeted Returns Strategy
Potential stock market volatility, subdued global growth and low interest rates have created challenges for investors hoping to meet target liabilities and funding requirements. Sourcing return opportunities while limiting the potential for losses has seen a growing demand for multi asset strategies.
We believe our unconstrained, ideas-based approach offers genuine diversification, which helps spread the overall risk and provides the potential for positive long-term returns.
Targeted returns
Our approach aims to contribute to portfolio returns through time, regardless of the market environment.
Unconstrained research agenda
We can invest in any investment idea, anywhere in the world. What matters is the impact each idea has on the portfolio's overall risk and return.
True diversification
We aim to construct a well balanced and highly diversified portfolio, which shows low levels of correlation with all the major asset classes.
The strategy aims to achieve a positive total return in all market conditions over a rolling three-year period. Specifically, the strategy targets a gross return of 5% per annum above UK 3-month LIBOR (or an equivalent reference rate) and aims to achieve this with less than half the volatility of global equities, over the same rolling three-year period. There is no guarantee that the strategy will achieve a positive return or its target and an investor may not get back the full amount invested.
We take a conviction-led approach to sourcing good, long-term thematic investment ideas, using both traditional asset types and derivatives before applying robust risk management to blend these ideas into a truly diversified portfolio, with a clearly defined return and volatility target.
The strategy can have from five up to around 50 diversified investment ideas (typically 20 to 30) accessed through different asset types across the globe.
Every idea in the strategy must pass the team's rigorous and repeatable three-step investment process, which has risk management embedded:
Investment process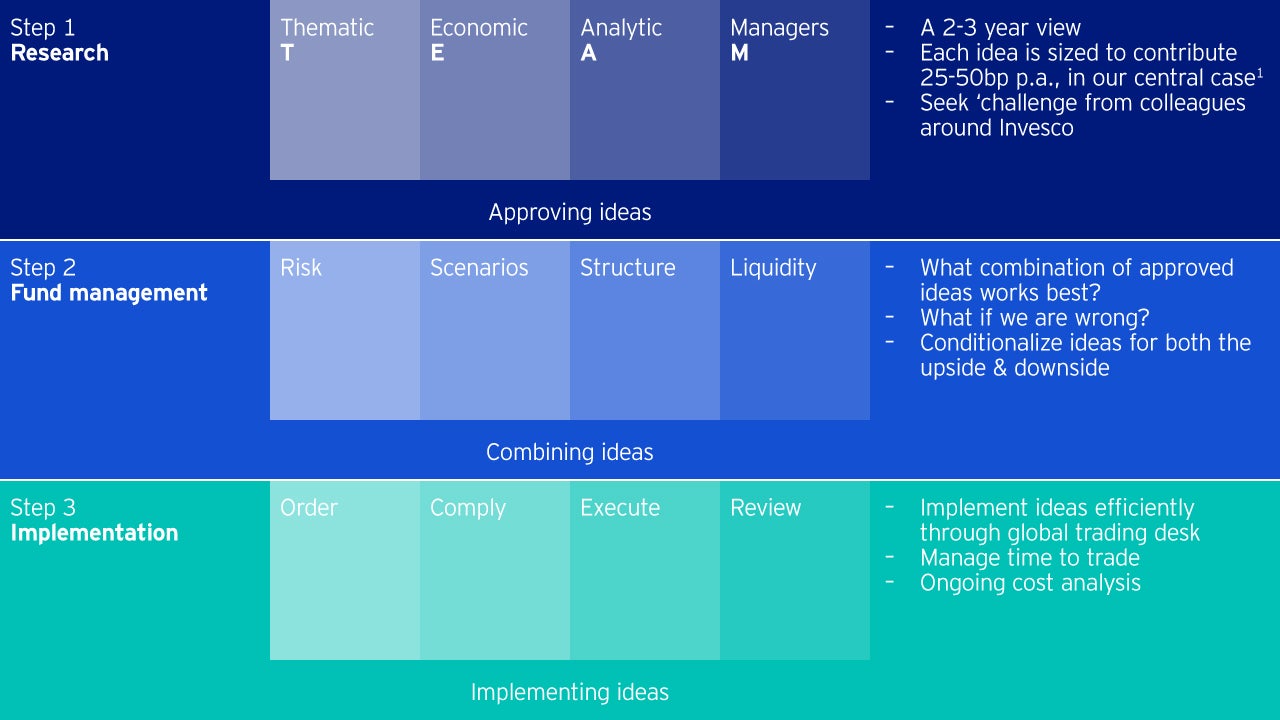 Invesco has a long history of developing client-driven investment solutions and is synonymous with fundamental, research-driven investing.
Our Henley-based Multi Asset investment team has extensive experience and a proven capability in developing and implementing risk-managed portfolios. It is able to supplement this with Invesco's rich seam of investment ideas.

The investment team benefits from Invesco's investment culture of idea sharing, challenge and debate, having access to more than 750 Invesco investment professionals worldwide. Having access to this extensive global network of fund managers and asset class specialists provides the team with a wide range of insights to help with their idea generation process.

True diversification: The team doesn't mind which asset class an investment idea belongs to, believing that a wider range of investment approaches can help remove as many constraints as possible to achieve true diversification.
Risk management: Each idea is extensively researched, stress tested, analysed and reviewed to see how it performs under different economic conditions and to assess its impact on overall portfolio risk.
Realistic time horizons: Targeted returns are based on an underlying central thesis that each idea has the potential to deliver a positive return over the team's two- to three-year investment horizon
Led by David Millar in Henley, Invesco's 15-strong Multi Asset investment team has extensive experience and a proven capability in developing and implementing risk-managed portfolios, with a focus on fundamental, research-driven investing.
The five fund managers of the Global Targeted Returns strategy have over 120 years of investment expertise between them and a combined total of over 45 years delivering targeted absolute returns. This seasoned team has expertise across the actuarial, economic, fixed income, risk management and multi asset spectrum and enjoys multi-disciplined support from the broader Invesco team.
How can we help?
Let us know using the form opposite and one of our specialist team will quickly get back to you.
The value of investments and any income will fluctuate (this may partly be the result of exchange rate fluctuations) and investors may not get back the full amount invested. Changes in interest rates will result in fluctuations in value. The strategy uses derivatives (complex instruments) for investment purposes, which may result in a portfolio being significantly leveraged and may result in large fluctuations in value. The strategy may hold debt instruments which are of lower credit quality which may result in large fluctuations in value.
Data as at 1st January 2020, unless otherwise stated. By accepting this document, you consent to communicate with us in English, unless you inform us otherwise. Where individuals or the business have expressed opinions, they are based on current market conditions, they may differ from those of other investment professionals and are subject to change without notice.