2020 Outlook: Getting back on track
We believe the current US business cycle will likely continue in 2020 and beyond.
In 2019, the uncertainty of the U.S.-China trade wars and the lagged effects of the US Federal Reserve's interest rate hikes had combined to erode business investment and grind economic growth to a near halt. Many pundits insisted a recession was looming.
In our view, though, the big global macro stories have not changed. It is still a slow-growth, benign-inflation environment. From a macroeconomic perspective, we expect:
The slow growth cycle will continue in 2020.
Accommodative monetary policy globally will help support growth and sustain the expansion.
The US-China trade war will incrementally improve, boosting sentiment.
A modestly stronger US and an upswing in China will drive growth during the year.
Fears that growth will be hindered are dissipating
The global economy is reemerging from the third growth scare of this cycle, as evidenced by the rise in the percentage of world economies growing above their long-term averages. All three of these scares were driven by fears of policy mistakes. Figure 1 Today, better news on trade and a more accommodative stance from the Fed should boost confidence in the durability of the current upswing.
Figure 1: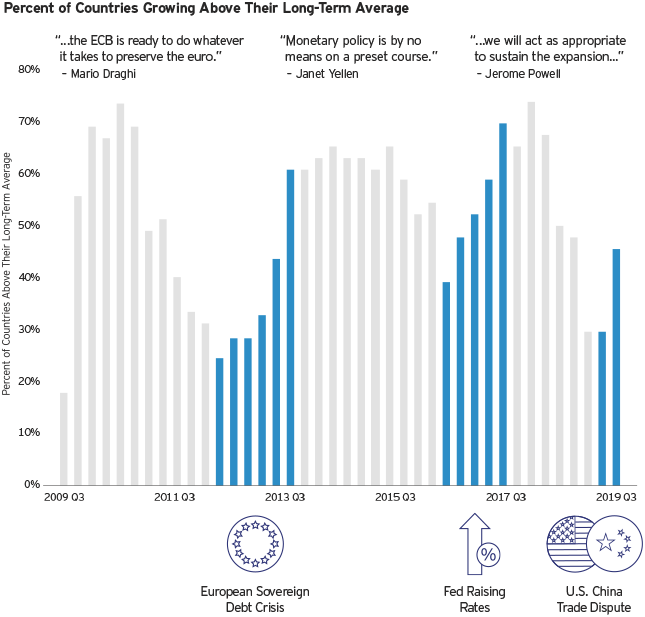 Easier financial conditions should support risk assets
Current financial conditions — which encompass the state of the US dollar, equities, credit spreads and interest rates — demonstrate the support monetary policy authorities are providing to the economy. Figure 2 We believe these conditions should help drive growth and deliver positive returns for risk assets in 2020.
Figure 2: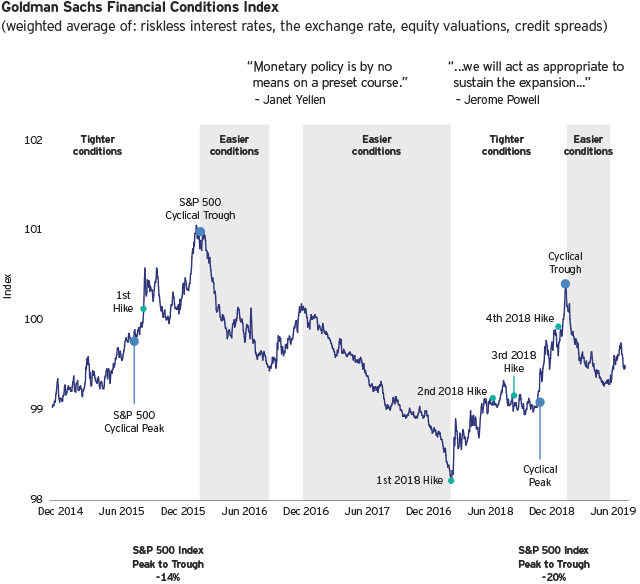 Important information
The Economic Policy Uncertainty Index is compiled from three underlying components that quantify newspaper coverage of policy-related economic uncertainty, reflect the number of federal tax code provisions set to expire in future years, and use disagreement among economic forecasters as a proxy for uncertainty.
The opinions expressed are those of the author, are based on current market conditions and are subject to change without notice. These opinions may differ from those of other Invesco investment professionals. There is no guarantee the outlooks mentioned will come to pass.
Past performance cannot guarantee future results. Diversification does not guarantee a profit or eliminate the risk of loss.
Correlation indicates the degree to which two investments have historically moved in the same direction and magnitude.
Fixed-income investments are subject to credit risk of the issuer and the effects of changing interest rates. Interest rate risk refers to the risk that bond prices generally fall as interest rates rise and vice versa. An issuer may be unable to meet interest and/or principal payments, thereby causing its instruments to decrease in value and lowering the issuer's credit rating.
The risks of investing in securities of foreign issuers, including emerging market issuers, can include fluctuations in foreign currencies, political and economic instability, and foreign taxation issues.
Commodities may subject an investor to greater volatility than traditional securities such as stocks and bonds and can fluctuate significantly based on weather, political, tax, and other regulatory and market developments.
Stock and other equity securities' values fluctuate in response to activities specific to the company as well as general market, economic and political conditions.
Alternative products typically hold more non-traditional investments and employ more complex trading strategies, including hedging and leveraging through derivatives, short selling and opportunistic strategies that change with market conditions. Investors considering alternatives should be aware of their unique characteristics and additional risks from the strategies they use. Like all investments, performance will fluctuate.
This does not constitute a recommendation of any investment strategy or product for a particular investor. Investors should consult a financial advisor/financial consultant before making any investment decisions. Invesco does not provide tax advice. The tax information contained herein is general and is not exhaustive by nature. Federal and state tax laws are complex and constantly changing. Investors should always consult their own legal or tax professional for information concerning their individual situation. The opinions expressed are those of the authors, are based on current market conditions and are subject to change without notice. These opinions may differ from those of other Invesco investment professionals.