FUNDS IN FOCUS
Invesco Global Investment Grade Corporate Bond Fund
A unique thematic approach to invest in high quality fixed income with attractive valuations.
download Flyer
The Fund invests primarily in investment grade corporate bonds and intends to achieve, in the medium to long term, a competitive overall investment return with relative security of capital in comparison to equities.
Investors should note the liquidity risk, concentration risk of investing in investment grade corporate bonds, volatility risk, risk associated with investments in debt instruments with loss-absorption features including senior non-preferred debts, contingent convertible bonds which are subject to the risk of being written down or converted to ordinary shares upon the occurrence of pre-defined trigger events and may result in a significant or total reduction in the value of such instruments, currency exchange risk, RMB currency and conversion risks of RMB hedged share classes, credit rating risk, general investment risk.
Investment in bonds or other fixed income securities is subject to (a) interest rate risk (b) credit risk (including default risk, downgrading risk and liquidity risk) and (c) risks relating to high yield bonds/non-investment grade bonds and/or un-rated bonds.
Financial derivative instruments (FDI) may be used for efficient portfolio management and hedging purpose and for investment purposes. Risks associated with FDI include counterparty/credit risk, liquidity risk, valuation risk, volatility risk and over-the-counter transaction risk. As a result of the use of FDI for investment purposes, investors should note the additional/high leverage risk. Also, the active FDI positions implemented by the Fund may not be correlated with its underlying securities positions held by the Fund which may lead to a significant or total loss to the Fund.
For certain share class(es), the Fund may at discretion pay dividend out of capital and/or effectively out of capital, which amounts to a return or withdrawal of part of an investor's original investment or from any capital gains attributable to that original investment. Any such distributions may result in an immediate reduction of the net asset value per share in respect of such share class after the monthly distribution date. (Note 1)
In addition, investors of Monthly Distribution-1 share classes that are currency hedged (MD-1 hedged) should be aware of the uncertainty of relative interest rates. The net asset value of the MD-1 hedged may fluctuate and may significantly differ from other share class due to fluctuation of the interest rate differential between the currency in which the MD-1 hedged is denominated and the base currency of the Fund and may result in a greater erosion of capital than other non-hedged share class. (Note 2)
The value of the Fund can be volatile and could go down substantially.
Investors should not base their investment decision on this material alone.

Invest In High Quality Fixed Income Amid A Global Economic Downturn
GIGC bonds have historically proven resilient to default risk in extreme distress situations, e.g. 2001 Dot com bubble crash and 2008 global financial crisis. Default rates were well below 1%. Recently, credit spreads (a measure of the perceived credit risk) have spiked up to 396bps (vs long-term average: 154bps). We have not seen valuations this cheap since 2008.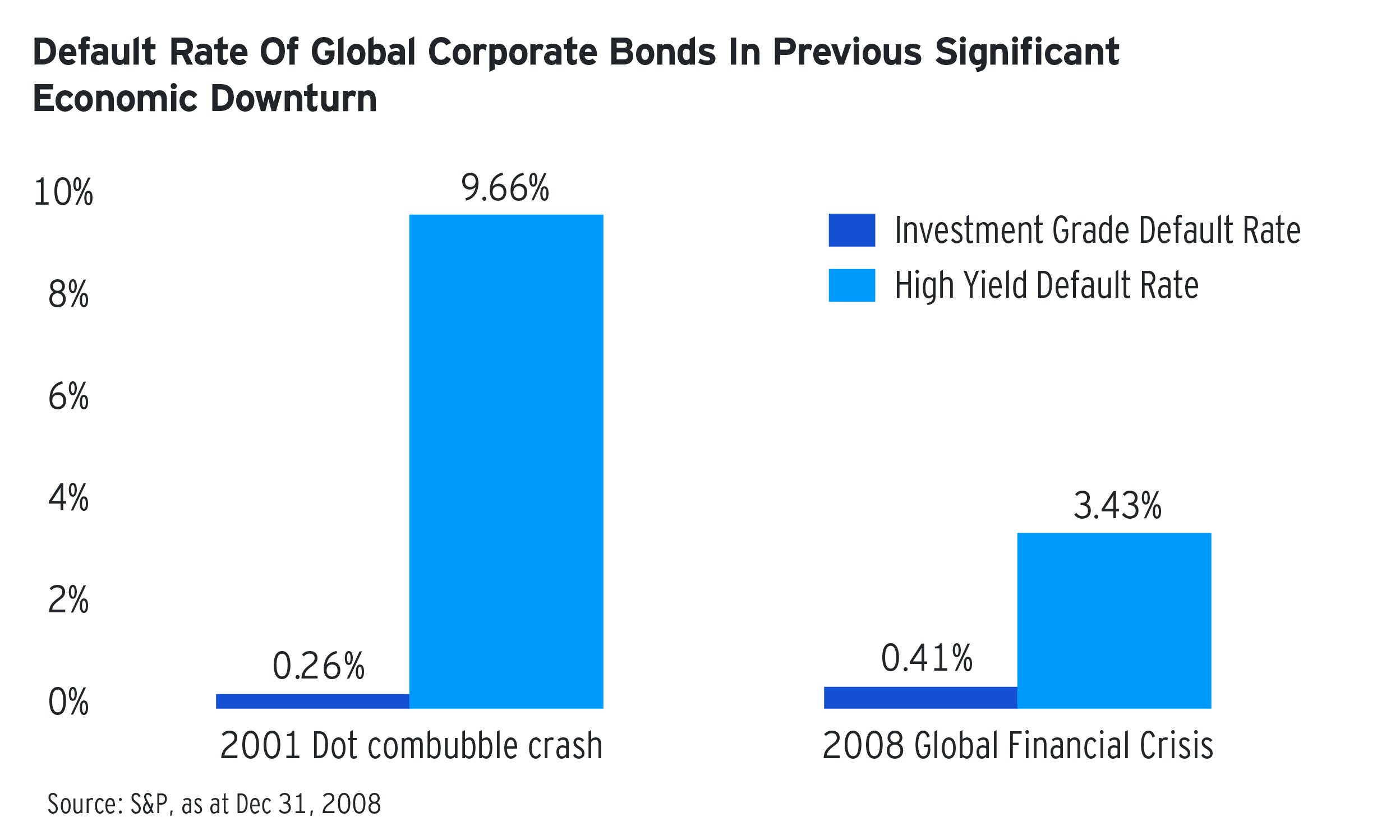 Central Bank Support – A Key Catalyst
Major central banks and government have announced monetary and fiscal measures supporting the economy. GIGC bonds, a key beneficiary of these measures, saw inflows following central bank announcements. The trend is expected to continue.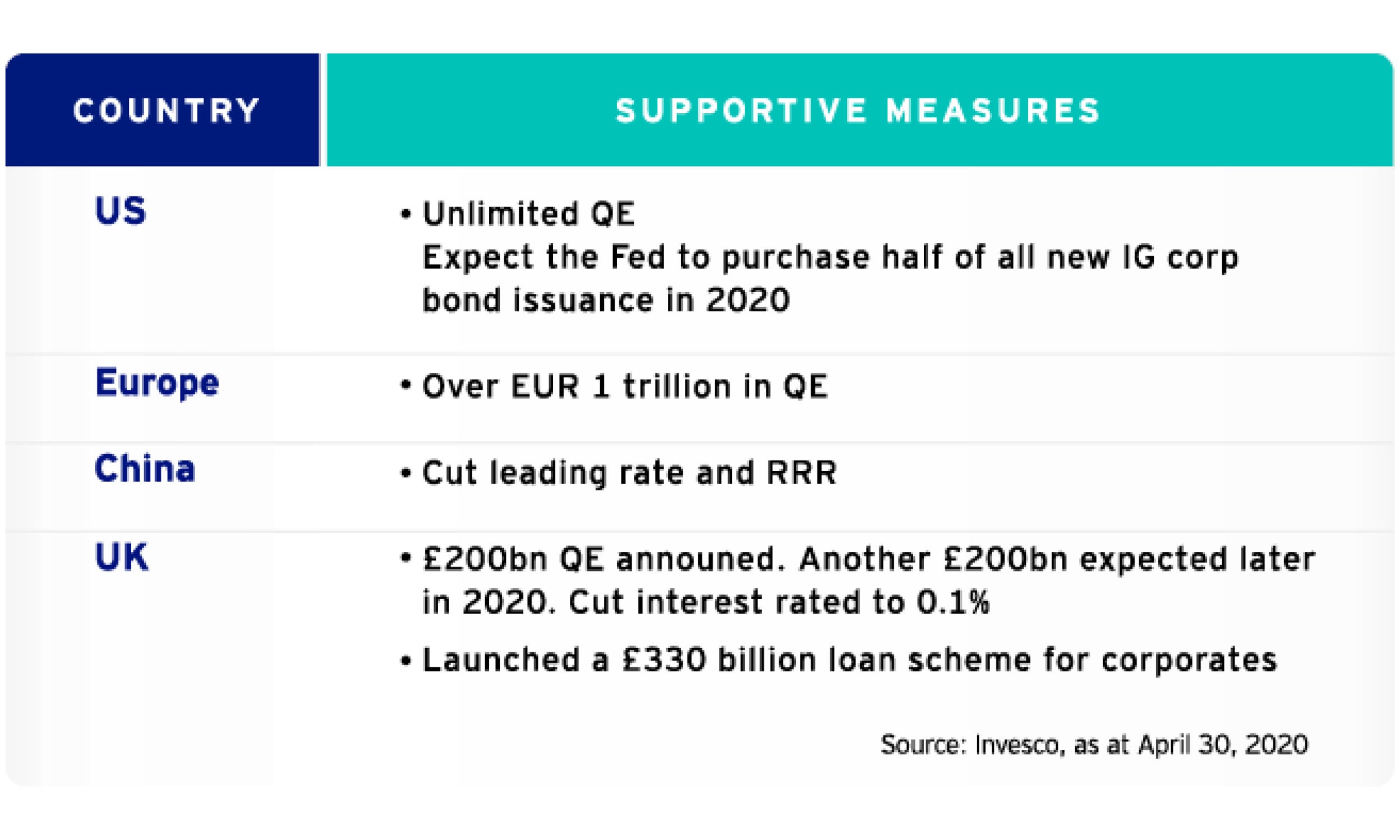 This Fund is the winner of the Asset ClassAward (Global fixed income, hedged) in the AsianInvestor Asset Management Awards 2020.
Source: AsianInvestor, as of May 5, 2020

A High Quality Diversified Portfolio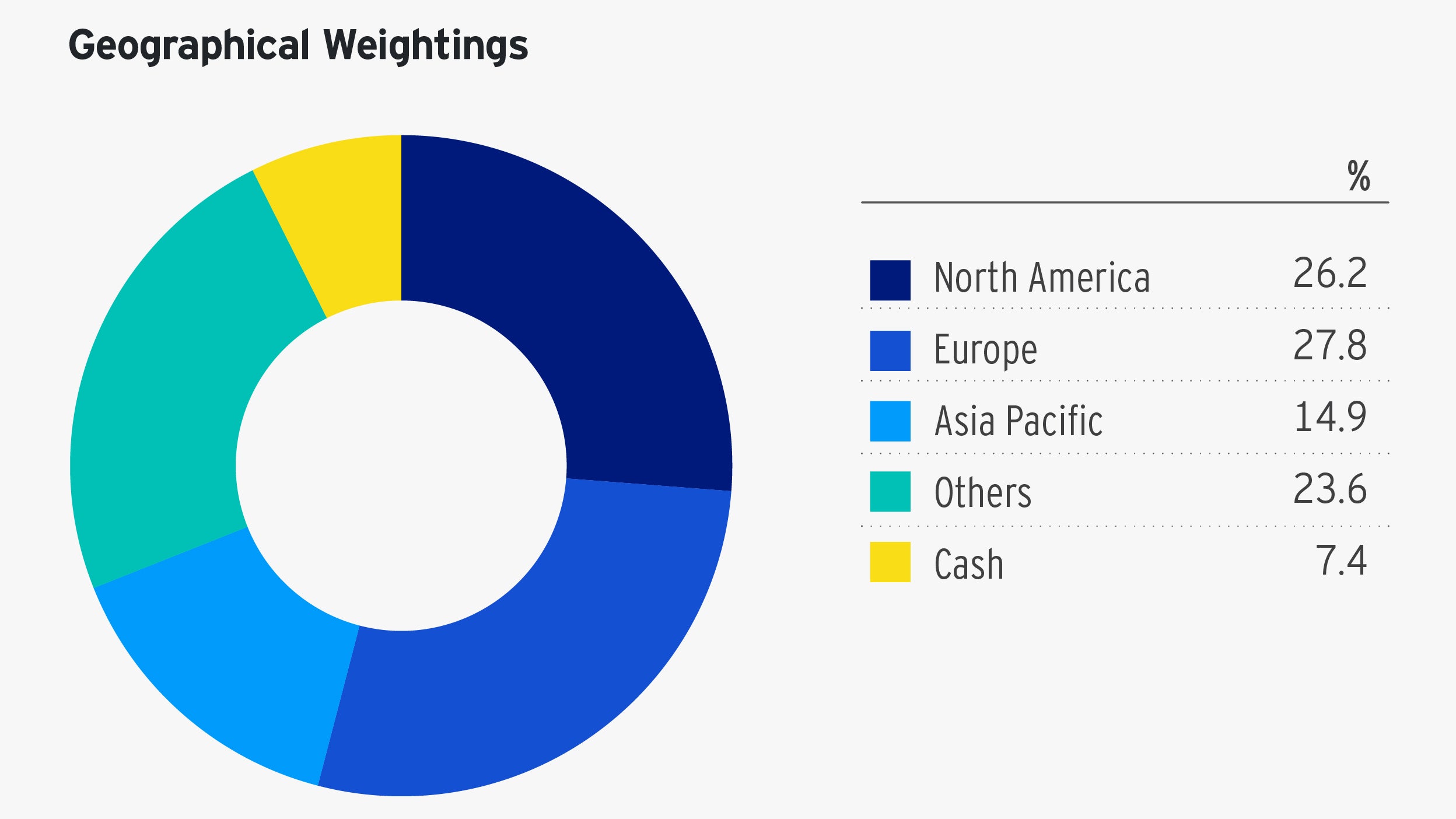 Allocations to IG Corps: 90%
Average credit rating: BBB+
Portfolio Yield: 2.5% (vs reference index: 1.8%)
Overall 450 issuers and 1,050 issues in the portfolio.
The portfolio does not own more than 2% of any issuer.
Source: Invesco, as of Sep 30, 2020
Reference index: Bloomberg Barclays Global Aggregate Corporate Index
Consistent Performance
Past performance information is not indicative of future performance. Investors may not get back the full amount invested. The computation basis of the performance is based on the calendar year end, NAV-To-NAV, with dividend reinvested. These figures show by how much the above share classes increased or decreased in value during the calendar year being shown. Performance data of the share class has been calculated in the respective currency stated above including ongoing charges and excluding subscription fee and redemption fee you might have to pay. Fund launch date: 1 September 2009. Share Class launch date: 20 May 2015.

Fund performance - since launch to 31 Dec 2015: -0.3%, 2016: 6.1%, 2017: 6.6%, 2018: -3.3%, 2019: 14.5%, year-to-date (as of Sep 30, 2020): 4.40%

Unique Thematic Ideas To Hunt For Alpha
Key Themes
Portfolio Implications
Europe at early credit cycle/ US at late cycle
Overweight Europe
Underweight US
Financial deleveraging trends
Overweight Banks and Insurers
Chinese transition from investment to consumption driven economy
Overweight China
The Fund uses a thematic approach to identify opportunities to generate alpha.

For example, the fund managers see opportunities in China's Technology, Media and Telecom (TMT) sectors as the country is transitioning from an investment to a consumption driven economy.

For illustrative purposes only. There is no guarantee that the securities/industries/regions mentioned above are currently held or will be held by Invesco funds in the future. It does not represent a recommendation to buy/hold/ sell the securities/industries/regions.

Regular Income Opportunities
Share classes with fixed monthly distribution (Aims to pay dividend on monthly basis. Dividend is not guaranteed. Dividend may be paid out of the capital. Refer to Note 1 and/or Note 2 of the above Important Information)
Class of Units
Fixed Amount per month
(in fixed cents)
ISIN
A(USD)-MD1
USD 0.035
LU2110299513
A(HKD)-MD1
HKD 0.375
LU2110299786
A(AUD Hgd)-MD1
AUD 0.029
LU2139469782
A(RMB Hgd)-MD1
RMB 0.446
LU2110299943
Source: Invesco as at Sep 30, 2020. Past Performance is not a guide to future returns.
Video
Credit cycle differentiation between Europe and the US
Lyndon Man, Co-Head of Global Investment Grade, Invesco Fixed Income shares his thoughts about the Credit cycle differentiation between Europe and the US.
View more videos
Important Information
Investment involves risks. Past performance is not indicative of future performance. Investors should read the relevant prospectus for details, including the risk factors and product features. This material has not been reviewed by the Securities and Futures Commission and is issued by Invesco Hong Kong Limited (景順投資管理有限公司).

©2020 Morningstar, Inc. All rights reserved. The information contained herein: (1) is proprietary to Morningstar and/or its content providers; (2) may not be copied or distributed; and (3) is provided for reference purposes only. Neither Morningstar nor its content providers are responsible for any damages or losses arising from any use of this information. Asset allocation data is derived by Morningstar using full holdings data provided by Invesco. Morningstar Licensed Tools and Content powered by Interactive Data Managed Solutions.
How can we help?
INVESCall Hotline for Pension Member:
(852) 2842 7878
Invesco Funds Hotline:
(852) 3191 8282
Mon – Fri: 9:00am to 6:00pm
Sat: 9:00am to 1:00pm