Our mission
Proxy voting is an integral part of Invesco's Investment process. We believe that the right to vote proxies should be managed with the same care as all other elements of the investment process.
Well-governed companies are characterized by a primary focus on the interests of shareholders, accountable boards of directors, ample transparency in financial disclosure, performance-driven cultures and appropriate consideration of all stakeholders.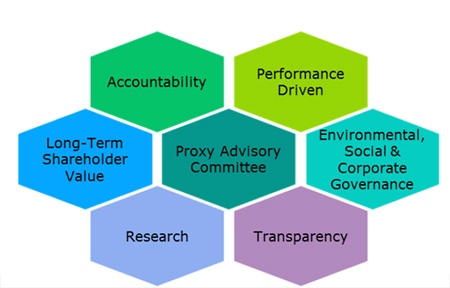 Proxy voting guiding principles
Invesco votes for proposals that maximize long-term shareholder value. Invesco believes in corporate accountability and supports governance structures reinforcing management's accountability to its board of directors as well as board of directors' accountability to its shareholders. In addition to the performance-driven considerations noted above, Invesco also believes that environmental, social and corporate governance proposals can influence long-term shareholder value and should be voted in a manner that maximizes such long-term shareholder value.
Investor outreach-shareholder engagement
Invesco's direct communication with a portfolio company.
For all proxy related shareholder engagement requests, Invesco has implemented several changes that will impact our issuers (portfolio companies) on engagement requests. These changes include a new effort to enhance the shareholder engagement experience by following the process outlined below.

Research
Once the request is received, we look at all of our holdings by issuer, pull historical voting data and relevant research and identify all internal investors that hold the respective issuer across Invesco.
Key topics
In advance of any call, we ask that all of our issuers provide a "key topics" list of discussion points as well as any material changes to key items such as compensation, management or strategy.
Engagement
These requests are funneled to our internal governance team which reviews the nature of the request (i.e. in season, pre-meeting, out of season, material change, etc.) The governance team consults with the appropriate investors and decides whether to (a) gather feedback on a topic and provide that feedback to an issuer, (b) schedule a call if it is deemed to be necessary, or (c) engage directly and serve as a liaison. Our proxy governance team will always set up the calls with our investors and issuers when and if a call is deemed necessary.