Our commitment to the environment, our communities and our people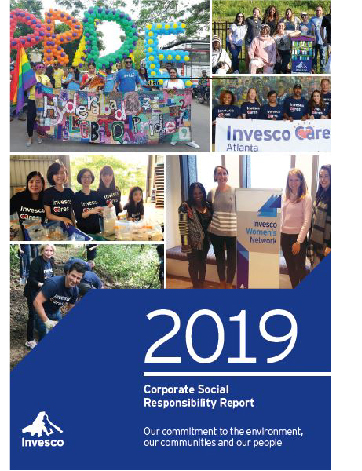 "Invesco's Corporate Social Responsibility efforts are motivated by the belief that doing what's right for the environment, our people and the communities we serve helps us deliver the best possible experience to clients."
- Marty Flanagan, President and CEO

Read Invesco's 2019 Corporate Social Responsibility Report
Invesco's corporate stewardship
At Invesco, corporate stewardship matters. Our efforts are motivated by the belief that doing what is right for the environment, our people and the communities in which we have a presence helps us deliver positive outcomes for our shareholders.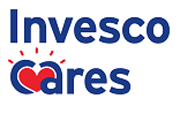 Our senior leaders and our employees are committed to the communities where we live, work and volunteer. We actively partner with non-profits, start-ups and other organizations to strengthen our communities. Our areas of focus are improving financial education globally, protecting the environment, promoting environmental sustainability, championing diversity and inclusion in our industry and our company, and supporting and collaborating with our local civic and community organizations to improve life in our cities.
Through Invesco Cares and Environmental Green Teams, local Invesco offices identify areas of need that are unique to each specific community. Our Environmental Green Teams focus on preserving and improving the environment by focusing on reducing carbon emissions, eliminating plastic consumption, promoting waste awareness and recycling electronic computers and laptops. These groups also volunteer to clean up local community parks, plant trees and clean up marine areas around the globe. The Invesco culture encourages employees to go beyond their work responsibilities, and join with like-minded colleagues, to make an impact in communities we serve. Invesco Cares partners with local charitable organizations around the globe through volunteering, sharing our skills, and raising funds to improve the local communities where we work.
Invesco's commitment to the natural environment
Operating environmentally responsibly is fundamental to our corporate stewardship. Invesco seeks to help protect our natural environment by implementing and maintaining environmental management processes – for example, at Invesco offices we aim to reduce utility consumption and carbon emissions, promote energy efficiency and utilize appropriate waste management practices. For 2018, Invesco offset 13,877 tons of carbon dioxide emissions through our partnership with ClimateCare, representing all of our air and rail travel purchased through our third-party travel agency, which represents the majority of our air and rail travel for 2018. We anticipate conducting a similar offset program in respect to 2019.
Invesco has a structured program that monitors our environmental impact, gathers ideas and suggestions for improving our global environmental management practices and approves initiatives. Invesco maintains global objectives and regional targets which are monitored to seek to ensure the continual improvement of our impact on the environment. Our commitments and objectives are detailed in our Global Corporate Carbon Emissions and Environmental Policy Statement which is available on the company's website.
Invesco Global Occupational Health and Safety Policy Statement
Invesco Global Corporate Carbon Emissions and Environmental Policy Statement