Invesco Elwood Global Blockchain UCITs ETF
The forefront of the blockchain revolution
Blockchain: unlocking opportunity
Blockchain technology is creating value by revolutionising the way assets and digital records are managed and transferred. A once-in-a-generation upgrade of core market infrastructure is creating opportunities across diverse sectors, beyond crypto-assets and financial services.
This whitepaper is for professional investors only. By downloading this paper, you are confirming you are a professional investor.
What is blockchain?
A 'blockchain' is simply a ledger, or a complete record. The technology allows electronic recordkeeping of the transfer of currency, information, or assets, between multiple participants. This collection of records represents an unalterable, single version of truth, removing the need for a central authority for reconciliation.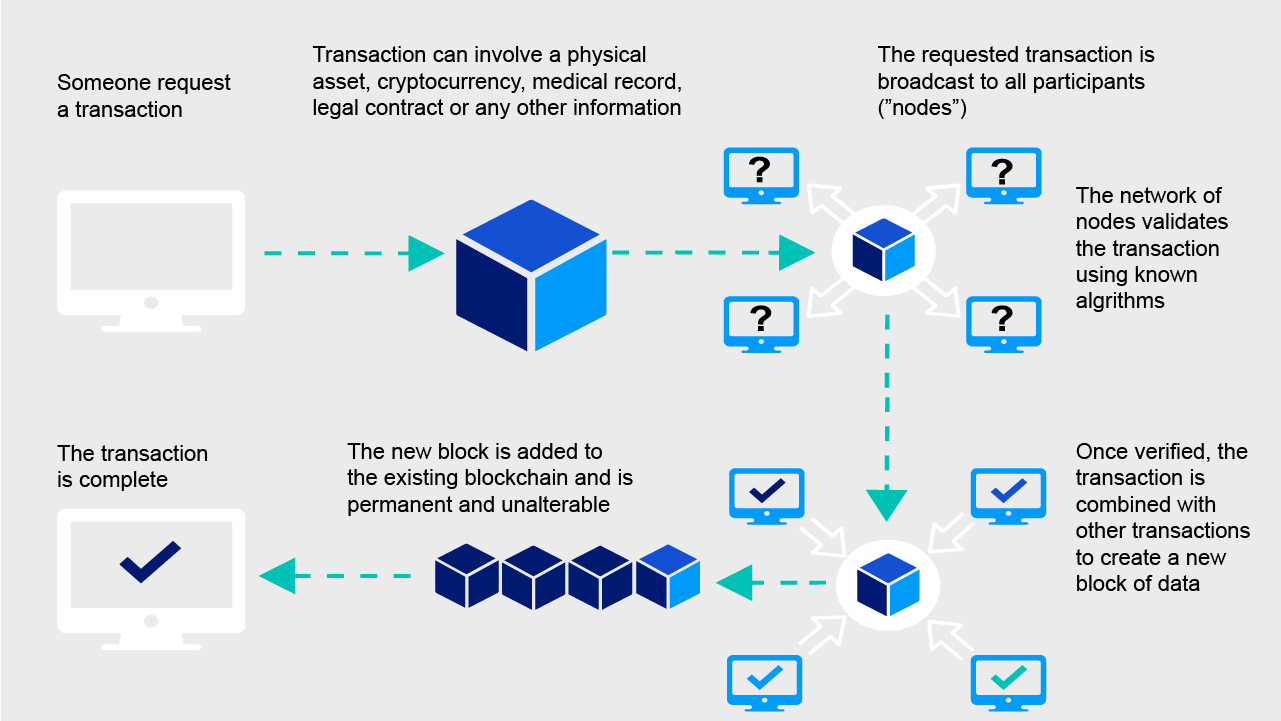 How are companies using blockchain?
01
Blockchain for the supply chain
Problem: In 2018, there was e-coli found in lettuce in a certain part of the US. Walmart's suppliers span the country, and without a way to trace the origins of produce, they could be forced to pull all lettuce from the shelves. Solution: Walmart's lettuce and spinach suppliers are now required to record the movement of produce onto a blockchain database. The log from farm to store provides secure, permanent and unalterable traceability of goods to manage contamination risk.
02
Blockchain in Health Care
Problem: Within health care, patients often have little control when it comes to the confidentiality of their information. Solution: Health care organisations across the globe are using blockchain technology as an encrypted digital inventory to store, manage and update client information, without ever compromising security.
Capture the blockchain opportunity...
Invesco Elwood Global Blockchain UCITS ETF
How to invest in blockchain
Explore Invesco Elwood Global Blockchain ETF
Discover the index methodology and more product insights by confirming you are a professional investor.

We'll send you an email after you have submitted the form. 
* Source: Invesco, AUM at $444,464,151 as at 7 Jan 2021
Investment risks – Invesco Elwood Global Blockchain ETF
Investment strategies involve numerous risks. Investors should note that the price of your investment may go down as well as up. As a result you may not get back the amount of capital you invest.

As this fund has significant exposure to one or a small number of sectors, investors should be prepared to accept a higher degree of risk than for an ETF with a broader investment mandate.

The Fund may be exposed to the risk of the borrower defaulting on its obligation to return the securities at the end of the loan period and of being unable to sell the collateral provided to it if the borrower defaults.

The Fund might be concentrated in a specific region or sector or be exposed to a limited number of positions, which might result in greater fluctuations in the value of the Fund than for a fund that is more diversified.

The value of equities and equity-related securities can be affected by a number of factors including the activities and results of the issuer and general and regional economic and market conditions. This may result in fluctuations in the value of the Fund.
This website contains information that is for discussion purposes only, and is intended only for investors in Ireland and the UK.

Data as at 23rd December 2020 unless otherwise stated.

This document is marketing material and is not intended as a recommendation to buy or sell any particular asset class, security or strategy. Regulatory requirements that require impartiality of investment/investment strategy recommendations are therefore not applicable nor are any prohibitions to trade before publication.

This document should not be considered financial advice. Persons interested in acquiring the product should inform themselves as to (i) the legal requirements in the countries of their nationality, residence, ordinary residence or domicile; (ii) any foreign exchange controls and (iii) any relevant tax consequences.

UCITS ETF's units / shares purchased on the secondary market cannot usually be sold directly back to UCITS ETF. Investors must buy and sell units / shares on a secondary market with the assistance of an intermediary (e.g. a stockbroker) and may incur fees for doing so. In addition, investors may pay more than the current net asset value when buying units / shares and may receive less than the current net asset value when selling them.

The fund is not sponsored, promoted, sold or supported in any other manner by Solactive AG nor does Solactive AG offer any express or implicit guarantee or assurance either with regard to the
results of using the Index and/or Index trade mark or the Index Price at any time or in any other respect. The Index is calculated and published by Solactive AG.

For the full objectives and investment policy please consult the current prospectus.

This document has been communicated by Invesco Investment Management Limited, Central Quay, Riverside IV, Sir John Rogerson's Quay, Dublin 2, Ireland.

EMEA10079/2020