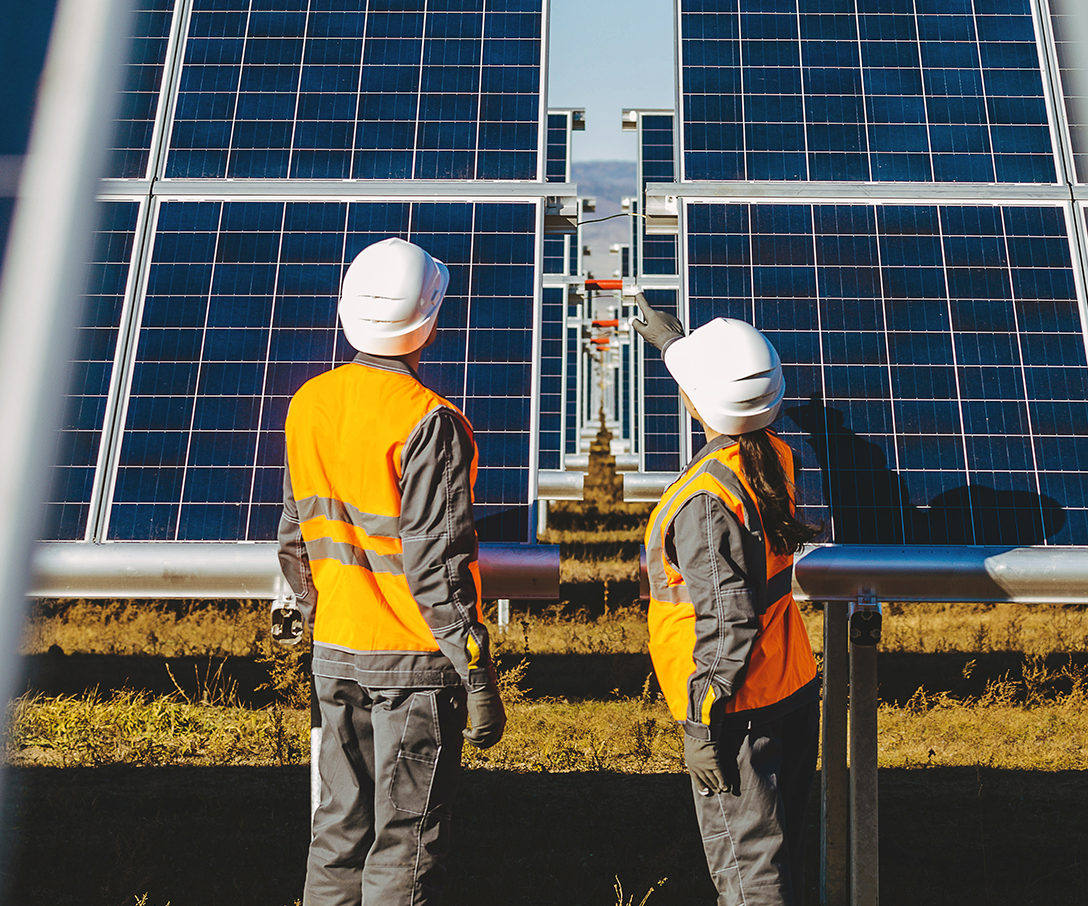 Invesco believes mitigating climate change should be top of the agenda for us as a society and for our clients. The science behind climate change requires aggressive energy and emissions reductions over the next two decades, and we will do our part. The primary way we approach this in our operations is by continually reducing energy use and GHG emissions.
23%
Scope 1, 2 and 3 (location-based)
emissions reduction since 2019
Additional Highlights
2030 goal to reduce energy use and emissions output by 46%.
Committed to achieving corporate net-zero GHG emissions by 2050.
In 2021 we set a new 2019 baseline for our corporate emissions and aligned our reduction goals to the Science Based Targets Initiative (SBTi). Our goal is to reduce our energy use and emissions output in line with the SBTi by 4.2 percent year-over-year, reaching 46 percent by 2030, to mitigate the effects of climate change.
As an asset manager, our greatest opportunity for impact is through the management of our investments and engagement with portfolio companies. These efforts are in the best interest of not only our business and employees, but also our clients, shareholders and communities. See the ESG Investing section of this report to learn how Invesco integrates climate change considerations into our investment decisions and Invesco's ESG Investment Report for more detail on these efforts.
Now that we have increased our reporting boundaries, it is clear that in our corporate operations our largest environmental impacts are our GHG emissions, which come from three main areas: Scope 1, direct emissions from sources owned or controlled by Invesco; Scope 2, indirect emissions from purchased electricity, steam, heat and cooling; and Scope 3, all other emissions associated with our activities, such as purchased goods and services, capital goods, waste, business travel, employee commuting and investments (not included in the scope of the operations emissions). Since our 2019 baseline year, our energy use and emissions have decreased. This was a result of ongoing energy efficiency initiatives at our offices, as well as significantly less corporate energy usage and travel due to COVID-19. In 2021 corporate travel remained low with restrictions limiting travel to critical business only.
Invesco has disclosed data and actions to the CDP Climate Change Disclosure recommendations since 2016. In 2021 we received a B- score demonstrating management and coordinated action on climate issues. See the Appendix for more details.
Measuring energy and emissions
Our energy and GHG emissions data is calculated through the World Resources Institute Greenhouse Gas Protocol. We continue to update our reporting boundaries as more data becomes available, and in comparison with previously reported GHG emissions the results are larger than 2019–2020 figures previously presented.
The primary drivers for this difference are:
Operational boundary—The new 2019 baseline follows the operational control methodology when accounting for emissions associated with leased offices. A review of the Invesco portfolio confirmed that all leases fall under the 'operating lease' category, which means emissions associated with the fuel consumed and electricity purchased at these sites fall into Scope 1 and 2 boundaries respectively. This has resulted in the number of sites reporting in the Scope 1 and 2 boundary increasing from Invesco's 15 largest sites to all 120 sites, an increase to 2,670,241 square feet from 1,616,495 square feet (a 65 percent increase).
Emissions in reporting boundary—The 2019 baseline now covers an increased set of Scope 3 reporting categories. The scope 3 categories now reported are: purchased goods and services, capital goods, waste generated in operations, business travel and employee commuting (including working from home).
The Scope 3 categories previously reported were: waste generated in operations for 15 largest ofices, business travel (air and rail) and fuel- and energy-related activities (not included in Scope 1 or Scope 2). Fuel- and energy-related activities now sit in Scope 2 under the new baseline.
Invesco partners with ClimateCare, an environmental and social impact company known for providing carbon offset services with a focus on using results-based finance to support its projects. Our offsets will support small-scale projects that contribute to the conservation of forests that bind carbon dioxide and improve the health and living conditions of the local population. Invesco currently supports three ClimateCare projects that offset 8,649 tCO2e (tonnes of carbon dioxide equivalent) in 2021. 
Rimba Raya Biodiversity Reserve in Indonesia 
The Reserve had been slated by the regional government for conversion to four palm oil estates. By obtaining tenure rights to the area for the 30-year lifetime of the project, the Reserve is working to protect around 160,000 hectares of tropical rainforest and peat swamp. This project is expected to reduce more than 130 million tonnes of CO2 over its 30-year span.
Cookstove access with the Bangladesh Bondhu Foundation
Fewer than 20 percent of Bangladeshi households have access to clean cooking, instead using open fires that release pollutants into the environment and cause respiratory and other diseases. This project, which works with microentrepreneurs who receive training to help sell the stoves, is helping to build a market for clean, sustainable cookstoves in Bangladesh.
Renewable biogas program in China
This project supports farmers to build and maintain a household biogas digester, giving them the opportunity to take control of their own energy supply. Families reduce expenditure on fuel by 40 percent, while improving sanitation for them and their livestock. It also enables long-term access to a source of renewable, clean fuel for cooking and heating. Additionally, the project uses the income from carbon finance to support a network of service stations that provide technical support to households.
1

Actual data (e.g. utility bills, invoices, meter readings) is used where available. Where data gaps exist, estimations and assumptions have been made to provide a complete data set.