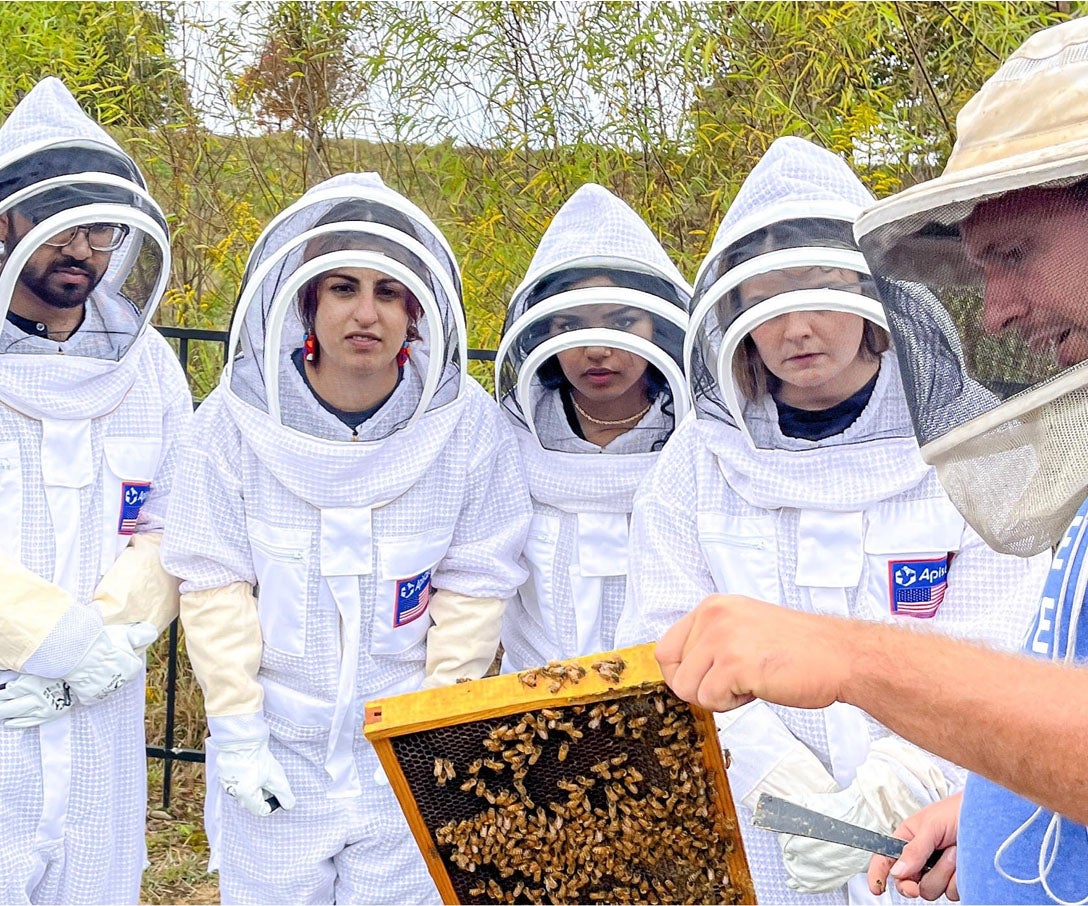 LOCAL IMPACT
Protecting pollinators
Across Invesco offices, we take action to protect biodiversity and the pollinators that play a critical role in our environment.
100+
employees
donated to Invesco Cares by purchasing an Invesco honey jar
$2,000+
raised
for Invesco Cares which was donated to local environmental charities
World Bee Day
World Bee Day workshops were organized in Henley and Frankfurt. This included donating insect and bee hotels to nurseries in Frankfurt and expanding beekeeping and gardening programs at the Henley campus.
Protecting biodiversity in Henley
Invesco's Henley campus has long been recognized for promoting biodiversity, with a focus on protecting bee populations. The campus also features four beehives, bee and insect hotels, a flower garden and more than 20 fruit trees. In 2022, the Henley hives produced 205 jars of Invesco honey that were sold to generate £1,025, which will be donated to the U.K. Charity of the Year, Dementia UK. The campus also features a nature pond, providing an essential water source for birds, animals, amphibians and insects.
The Honeybee Man, Henley
André Cardona, also known as the "Honeybee Man," is the beekeeper for the four new beehives on the Henley campus—and for hives all over the south of England. He visits our hives weekly during the eight-month main season and monthly over the winter period. We began the project with roughly 10,000 bees in each box. Once these were transferred to larger apiaries, the population grew over the summer to an estimated 60,000.
Collaborating with Bee Downtown Atlanta
For the past five years, Invesco has partnered with Bee Downtown, a nonprofit that installs and maintains beehives on corporate campuses with the goal of rebuilding healthy honeybee populations, while simultaneously providing a way for people to get involved in nature. Together Invesco employees and Bee Downtown maintain an apiary at Piedmont Park, near our Atlanta headquarters. In 2022, more than 250 employees spent over 280 hours of collective engagement with Bee Downtown, through interactions and programming. Our hives produced 90 jars of honey in 2022 and won first place for the best-tasting Georgia honey.