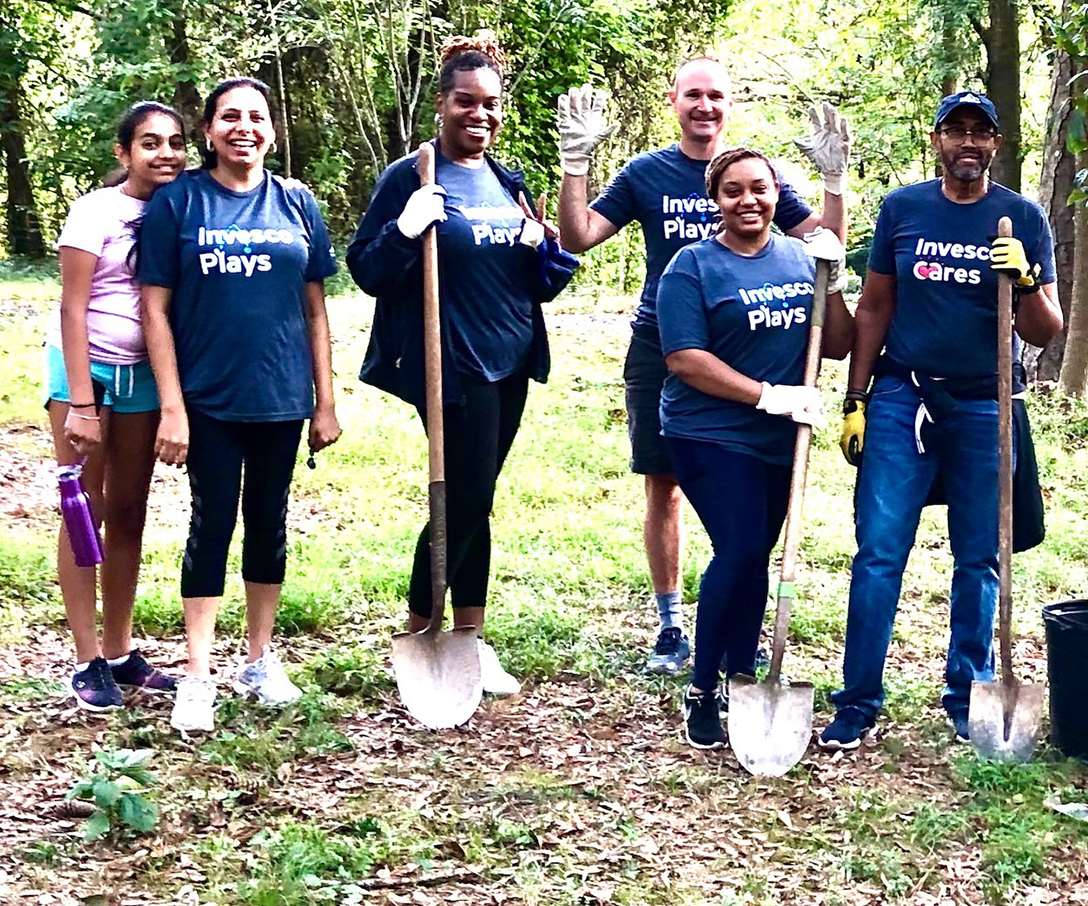 Our work to protect the environment and promote environmental sustainability is amplified in our local communities by the efforts of our dedicated employees and through several collaborations.
300+
employees engaged through
in Malawi, Africa through Fruitful Office partnership
Additional Highlights
Employees participated in Plastic Free July campaign, globally.
Hedgehog, insect and bird houses and bat boxes installed in Henley.
Fruits and herbs grown on-site in Henley and used in the cafeteria.
Trees Atlanta works tirelessly to address Atlanta's tree loss, protect its forests and create new green space. In 2021 Trees Atlanta and Invesco volunteers partnered to plant 7,063 trees, perform 52,959 maintenance tasks and restore 637 acres of green space in Atlanta and the surrounding communities. Invesco also participates in Tree Atlanta's, "One Million Trees Initiative," which is the collaboration between 10+ metro Atlanta cities and 10+ nonprofit partners over 10 years to plant or conserve one million trees.
Bee Downtown installs and maintains beehives on corporate campuses with the goal of rebuilding healthy honeybee populations, while simultaneously providing a way for people to get involved in nature. Invesco partners with Bee Downtown to maintain an apiary at Piedmont Park, near our Atlanta headquarters. In 2021 we hosted a virtual behind-the-scenes hive tour, attended by 300 employees worldwide. Our partnership, which began in 2018, has resulted in 30+ hours of employee engagement and 200+ jars of honey to date.
Invesco's U.K. offices are zero waste to landfill. Some of the ways this is achieved include:
Furniture and computer monitors are donated through nonprofits, such as Business2Schools, and reused by schools.
Waste electrical equipment, stationery, printer toners and batteries are recycled through Terracycle. 
Non-recyclables (general waste) are sent to an energy recovery plant, generating electricity for approximately 50,000 homes per year. 
Food waste is sent to an anaerobic digestion plant, generating biogas and nutrient-rich fertilizer.
Veggie and fruit peelings from cafeterias are composted in an on-site composter.
Many Invesco offices have green teams dedicated to environmental stewardship. These employee-led teams volunteer in local communities and lead campaigns within our ofices. Here's just a few of the ways our green teams made a positive impact in 2021:
Frankfurt participated in a local park cleanup on World Environment Day.
Hyderabad volunteered at a local school to improve the facility through cleaning, repairing colorful maps, artwork and alphabets on the internal and external walls. The team also fundraised for new books. 
Henley improved lighting to a redundant outdoor space by trimming the trees, allowing natural light into the space, improving biodiversity and creating an additional space for employees to sit outside. 
Toronto hosted a workshop with the Canada ADGAR Urban Bee Keeping program; participated in a community tree planting event. 
Atlanta organized a recycling event to recycle "hard to recycle waste" from homes, which resulted in 2,000 pounds recycled; planted 30 trees in Atlanta Memorial Park in collaboration with Georgia Tech. 
Global in conjunction with Plastic Free July, Invesco initiated a Yammer and MyInvesco internal campaign offering tips and resources for people to reduce their plastic waste at home.