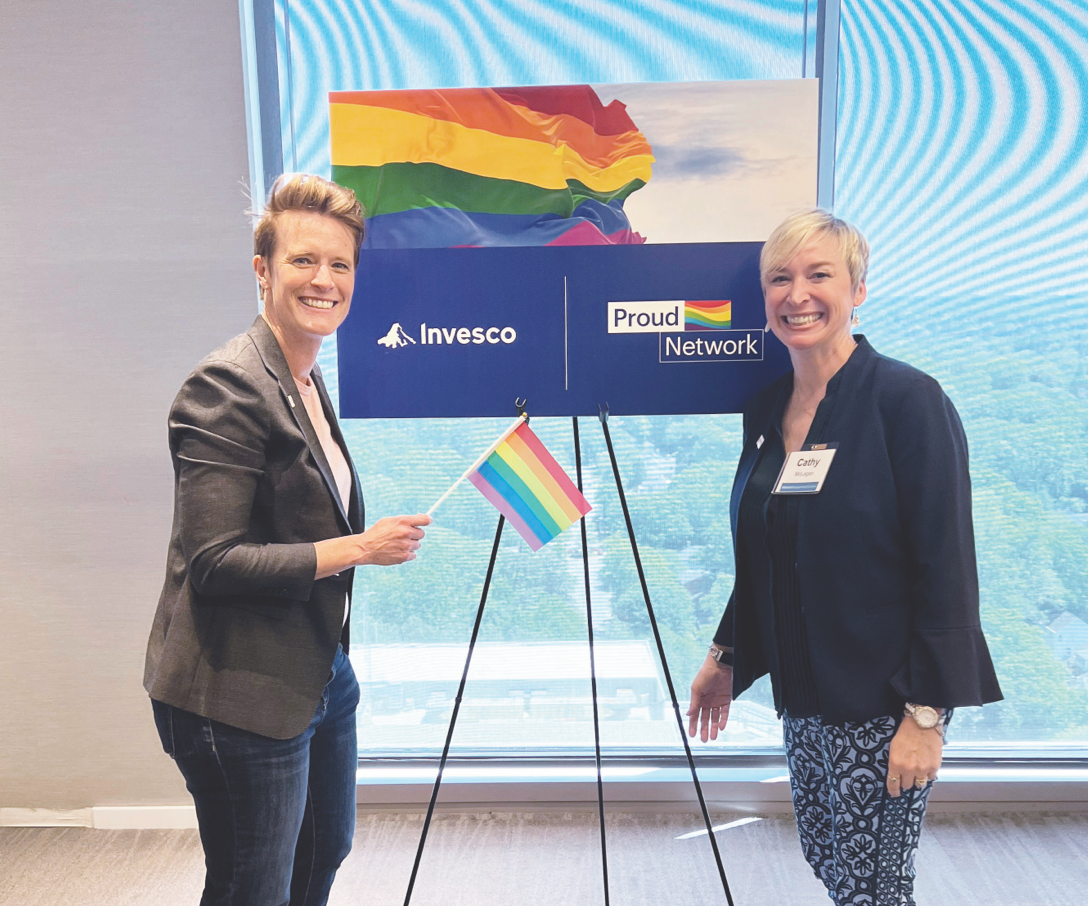 DIVERSITY, EQUITY, & INCLUSION
Bringing unique viewpoints together
To help us embed DE&I values throughout every aspect of our organization, Invesco invests in a variety of BRGs—grassroots employee networks that represent our diverse cultures and identities. These BRGs create opportunities for employees to connect, learn and develop; engage in our local communities; and support diverse recruitment.
We invest in our BRGs with senior leadership support and funding, enabling BRGs to provide personal and professional enrichment opportunities for employees. BRG events and initiatives in 2022 included:
The EMEA Invesco Women's Network menopause group was very active in 2022 campaigning for changes to policy and securing senior leader commitment to provide menopause awareness education for managers.
The Invesco Rising Career Network hosted a month of interactive events dedicated to building personal brand and self-awareness. Events included happy hours, speed networking, executive fireside chat, L&D Disc® behavioral assessment and workshop as well as other opportunities to develop Invesco's professionals through engagements that leverage peer support and create leadership opportunities.
The EMEA Invesco Working Families BRG relaunched in 2022, with the aim to create an inclusive environment and support for all types of working families at Invesco. They conducted a questionnaire to gather colleagues' priorities for the BRG, which will shape future activities and events. The relaunch event covered topics such as caring for elderly relatives, male colleagues taking enhanced paid parental leave, parents who have children with additional needs and balancing work and family life.
Several collaborative events across BRGs included showcase events in our Atlanta, Houston, Henley and London offices—the first BRG events to occur in person since the pandemic. These events featured games, lunch and showcases to highlight each BRG—as a way to re-engage colleagues after returning to the office. Each BRG had a table with information on what the BRG's goals were, how to join their network and get involved. The events attracted over 400 attendees in North America and close to 200 attendees in EMEA.
In 2022, we placed a heightened focus on external partnerships with BRGs to help ensure they provide personal and professional development to their members. These included the National Black MBA Association, Association of Latino Professionals for America, Black Women in Asset Management, Women in Technology and Reaching Out MBA.
BRGs by the numbers
12 BRGs around the world
100+ events in 2022
11 external BRG partnerships
 
Our BRGs:
Invesco Pan-Asian Professionals Network
Invesco ¡HOLA! (Hispanic or Latino Association)
Invesco Rising Career Network
Invesco Black Professionals Network
Invesco Proud Network (LGBTQ+ and allies)
Invesco Women's Network 
Invesco Ethnicity Network (EMEA) 
Invesco Working Families Network (EMEA) 
Invesco Neurodiversity Network (EMEA and North America) 
Invesco Social Mobility Network (EMEA) 
Invesco i-Able India (Disability) 
Invesco Veterans Network

Employees across 26 countries and 50+ cities