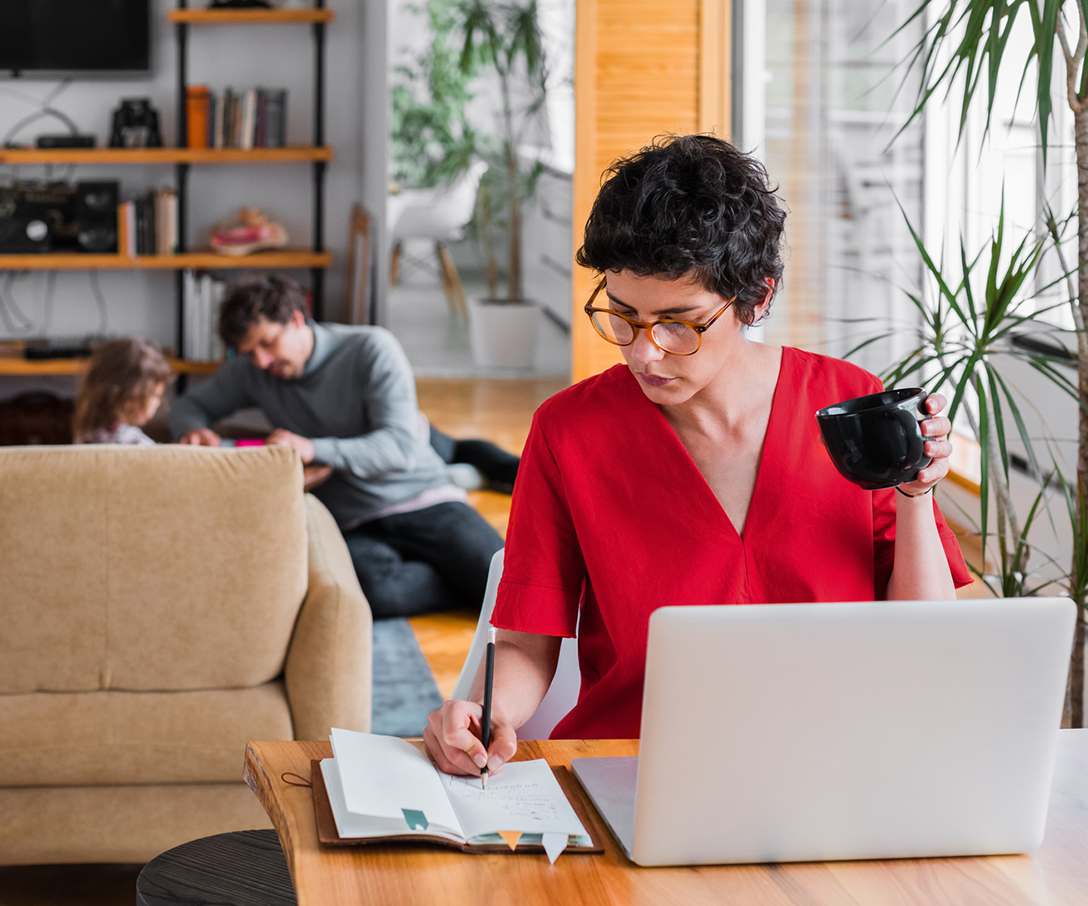 We work hard every day to create a supportive and balanced work environment centered on employee health and wellbeing. As we transition to a hybrid work model, we're dedicated to providing resources to help employees stay healthy, connected and productive.
90%
of employees believe
Invesco has prioritized their health and safety
Invesco undertakes a variety of efforts to support the holistic safety of our employees, including their mental well-being and physical health. Our InvescoTogether website serves as the dedicated hub for all employee well-being information, remote success resources and virtual connection point for Invesco employees.
The site features:
Resources and training on how to stay healthy and balanced, including links to COVID-19-specific benefits information, virtual mindfulness workshops and employee assistance information.
Tips, tools and resources for how to make the most of our New Normal Hybrid Working Model, including best practices for maintaining meaningful connections virtually.
Links to the #InvescoTogether Yammer feed, which provides virtual opportunities for employees to connect and share ideas to manage work and build resilience.
Invesco benefits information.
Invesco offices around the world organized initiatives and events to promote well-being in 2021, including:
Psychological safety-focused speaker and breakout sessions with top leaders during Invesco's 2021 Leadership Summit. Leaders then received a supplemental 'Team Talk' meeting guide and resources to explore the topic of psychological safety further with their teams.
Well-Being Wednesdays, featuring events to re-focus the mind and in turn promote positive mental well-being; From the Heart discussions, where team members share their own experiences dealing with personal or family mental health concerns; and the No Pressure Book Club to promote self-care and wellness.
Self-care series to promote helping one another lead healthier, happier lives, and Mental Health Webinar Series to help build emotional resiliency and address mental health issues.
Virtual coffee chats for Hyderabad employees bi-monthly with the purpose of connecting employees across functions, to unwind and support one another. Expanding connections by expanding boundaries.
COVID-19 vaccine drive for Hyderabad employees where over 600 employees were vaccinated.
Lunch time seminar to learn about the social welfare resources and the benefits available to employees when they get sick and are unable to work.
COVID-19 vaccination drive that helped vaccinate 150 individuals in four hours.
Ergonomics@WorkDesk webinar to raise awareness around the importance of posture and benefits of ergonomics for a healthy body.
Monthly manager meetings to discuss topics and share learnings with their teams. Topics included psychological safety, increasing meaningful dialogue and hybrid working.
Comprehensive, industry-competitive benefits & policies
We always look for new ways to enhance our benefits to provide support to our employees in the ways that matter to them. Our Smart Working Policy was created in 2020 at the outset of the COVID-19 pandemic and recognizes that employees' performance is measured by the quality of what they deliver and their positive behaviors, rather than by the hours they work. Smart working means we provide our employees with the tools, the culture and the technology that enables them to choose when, where and how they do their jobs.
With our New Normal Hybrid Working Model, we further commit to smart working and fostering a flexible and collaborative workplace that enables employees to better manage work and personal commitments. Our focus is on ensuring that people can deliver what is expected of them in a way that is successful for both Invesco and for themselves.
Additionally, to help employees realize greater possibilities, we proudly offer our employees the following total rewards:
Compensation
Life insurance plans and income-protection benefits
Holiday and paid time-off benefits
Competitive health and wellness programs for employees and their families
Retirement savings plans
Opportunities to become an Invesco shareholder
Rich opportunities to develop professional skills and knowledge
Flexibility to help employees balance work and family/personal responsibilities more effectively
Fair labor practices
We maintain clear policies and procedures to proactively support our commitment to diversity, equal opportunity and a safe, inclusive workplace. We are committed to upholding a work environment that is free of discrimination and harassment, and we expect every employee to show respect for colleagues, clients, employees and vendors.
In addition, as an employer that strives for equality of opportunity, we make employment and promotion decisions based on clear, job-related criteria and an individual's experience and aptitude to perform the role, as well as ensuring that they display behaviors and values that correspond with Invesco's.
Fair compensation
We review pay equity at all levels to ensure that individuals with similar roles and responsibilities receive comparable wages, with bonuses determined on the merits of their performance. In addition, the CEO and our senior managing directors receive the same benefits as all other employees (e.g., participation in the same 401(k) plan without supplemental retirement plans).
Pay equity reviews are also performed at Invesco throughout the regions in the world. These reviews look at pay bands by role and gender. As needed, third-party vendors are engaged for the reviews. Regular checks for pay equity are performed when running offer scenarios for candidates.
Invesco U.K. provides additional fair compensation practices, including the Gender Pay Gap report for U.K. offices.