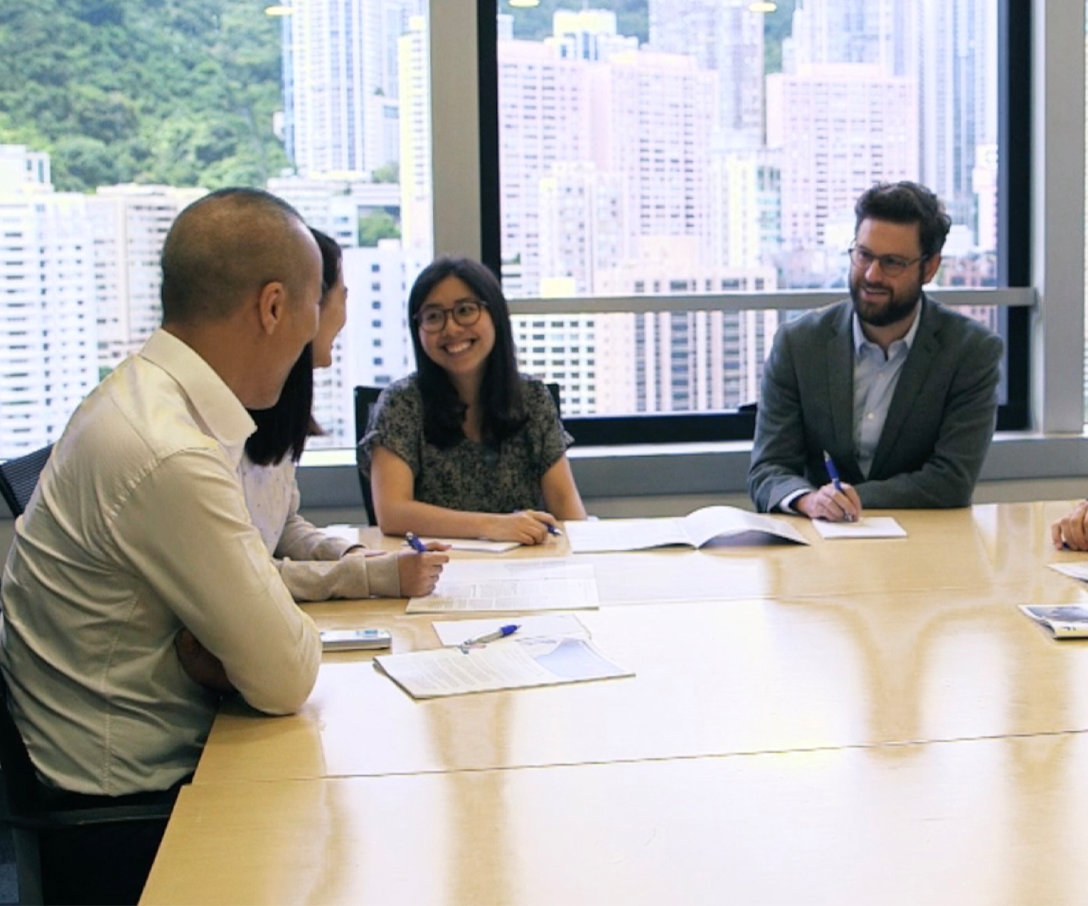 Professional development & future of work
Retaining talent and driving performance so we can better serve our clients is a top objective of our learning, training and development programs.
Our programs are designed to help employees keep their skills current and their capabilities sharp in today's dynamic business environment. In 2021 Invesco continued to offer numerous career development programs that encourage growth and advancement while introducing new programs including those that upskill our employees for new ways of working.
400+
Leaders
participated in the New Normal training programs
8
New Normal Speaker Series events
to help employees adjust to new ways of working
398
Participants
in Mentorium program (first 2 cohorts)
Additional highlights
Launched New Normal Hybrid Working Model
Over 390 training sessions offered (over 11,000 participants)
Building skills for the future of work
COVID-19 has changed the way we work and interact with each other. We recognize that the future of work is here, with hybrid work as a defining characteristic. As Invesco adjusts to this 'new normal,' we take numerous measures to help employees navigate new business requirements and build the skills needed to be successful.

In 2021 we formally introduced our New Normal Hybrid Working Model, which promotes hybrid working and increased flexibility in the workday. Employees have been aligned with one of three personas that best fit with the business needs of the work they do (i.e., primarily in office, hybrid role or primarily remote). We expect 70 to 75 percent of Invesco employees to have some level of hybrid flexibility.
We also launched a New Normal Committee to lead our efforts and help employees prepare for the transition to the New Normal Hybrid Working Model. Activities to date include:
New Normal Speaker Series featuring external thought leaders on topics that range from Erin Meyer, author of Culture Map, on how to accommodate people from different backgrounds and across borders to Dan Ariely, professor of Psychology & Behavioral Economics at Duke University and New York Times best-selling author, on how COVID-19 has changed the ways that we work together.
Evolving Our Skills for the Future of work training and quick reference resources that offer tactical skills ranging from effectively transitioning to a hybrid working model; to how to use Microsoft tools to increase productivity; to developing personal and interpersonal effectiveness strategies for better collaboration, focus and performance; to increasing agility by building resilience and a growth mindset.
Change management training to upskill our human resources teams on foundational change management, so they can help our employees build resilience and navigate our new work model.
Promoting continuous learning
Invesco is here to create greater possibilities, not only for our clients, but for our employees too. We strive to make the tools and resources for continuous learning always available. Our ambition is to build a growth mindset culture where development belongs to individual employees and is not dependent on a formal classroom or teacher.
Invesco's Learning Hub makes independent learning possible. The Learning Hub leverages artificial intelligence to aggregate and deliver relevant learning that is unique to each employee based on their role and interests. All Invesco employees can access online courses, articles, books, supplemental materials and podcasts through the Hub. In 2021 we continued to add new content including Team Talk resource guides for managers to increase dialogue with their teams.
We piloted Career Intelligence in 2021, which provides a framework that enables employees to drive their own career development and progression within Invesco, in partnership with their manager. The traditional approach to careers is no longer sufficient. The old world of work with defined career pathways has gone, so we need new ways to support people to manage their own careers. We support both managers and employees to have more skilled and mutually beneficial conversations, which can generate new possibilities around career development. Across EMEA, 26 participants took part in a pilot, followed by an EMEA-wide rollout for up to 240 participants. In 2022 we will expand Career Intelligence globally.
We support employees' development through business-led mentoring programs and rotation assignments. Through these programs, employees work with their mentors to discuss career goals and create development plans to help them meet those goals.
We piloted Mentorium in 2021 to virtually connect employees across EMEA in a way not previously available, and empowered employees to leverage our vast pool of existing skills and capabilities. Mentorium allows us to deliver mentorship opportunities at scale by leveraging software that creates ideal mentoring matches based on skill and development interests, providing the visibility to ensure effective mentoring is happening. In 2021, 243 employees participated in the Mentorium pilot, with an additional 155 enrolling in the second cohort. We will expand the program globally, with up to 2,000 participants in 2022.
We also support ongoing mentoring through Business Resource Groups and our Mutual Mentoring program, a program for senior leaders, where junior employees at Invesco mentor them on topics such as diversity and career development at the firm.
Invesco offers tuition and certification reimbursement for expenses incurred by employees who seek to improve their knowledge in job-related
subject matters. This benefit includes industry and professional accreditations, as well as college-level classes taken at nationally recognized, accredited institutions. In 2021, 196 employees in 11 countries took advantage of tuition and certification reimbursements.
Leadership programs
We provide leaders with a wide array of in-person and online learning opportunities. In 2021 we continued to provide our three main management training programs:
Becoming an Invesco Manager
This global program is designed to help new Invesco managers gain organizational knowledge and skills to make an impact during their first three months with the firm. In 2021 we completed 12 and launched 12 new cohorts, with 320 managers completing the program since it began in 2020.
Managing with Impact 
This global, four-month learning program equips managers with the essential foundational management skills and tools to lead individuals and teams to perform at their best. In 2021 we completed four cohorts, with 245 managers completing the program since it began in 2020.
Leading with Impact
This global, one-year leadership development program helps leaders increase their impact and lead through increasing volatility, uncertainty, complexity and ambiguity and to produce stronger results with their teams and for Invesco. Typically, participants collectively achieve a 20 percent increase in leadership impact, our target measure for the program. In 2021 we completed one cohort, with 26 senior leaders completing the program since it began in 2020. This program will be offered again in 2022, targeting 35-40 global leaders.