Product Details
The Invesco Russell 2000 Dynamic Multifactor ETF (Fund) is based on the Russell 2000 Invesco Dynamic Multifactor Index (Index). The Fund will invest at least 80% of its total assets in the securities that comprise the Index. The Index is constructed using a rules-based approach that re-weights small-cap securities of the Russell 2000 Index according to economic cycles and market conditions, reflected by expansion, slowdown, contraction or recovery. The securities are assigned a multi-factor score from one of five investment styles: value, momentum, quality, low volatility and size. The Fund and Index are reconstituted and rebalanced based on economic indicator signal changes, as frequently as monthly.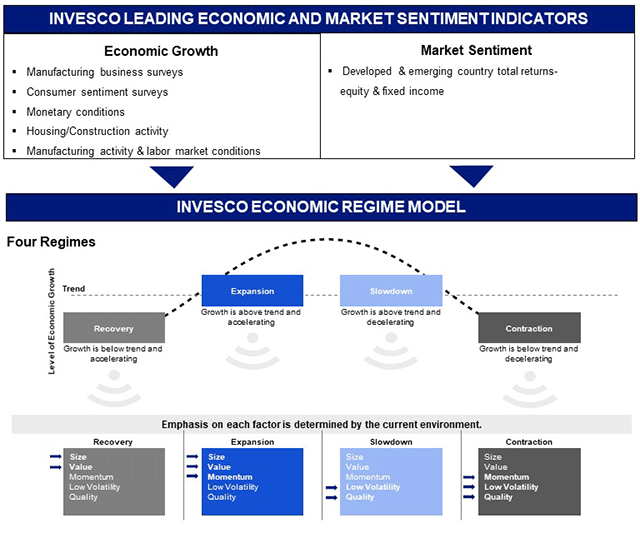 For Illustrative Purposes Only and does not constitute a recommendation of the suitability of any investment strategy for a particular investor. Factor investing is an investment strategy in which securities are chosen based on certain characteristics and attributes that may explain differences in returns. Factor investing may underperform cap-weighted benchmarks and increase portfolio risk.
as of 08/31/2023
Morningstar Rating ™
Overall Rating - Small Blend Category
As of 08/31/2023 the Fund had an overall rating of 4 stars out of 593 funds and was rated 4 stars out of 593 funds, 4 stars out of 553 funds and N/A stars out of N/A funds for the 3-, 5- and 10- year periods, respectively.
Morningstar details
Source: Morningstar Inc. Ratings are based on a risk-adjusted return measure that accounts for variation in a fund's monthly performance, placing more emphasis on downward variations and rewarding consistent performance. Open-end mutual funds and exchange-traded funds are considered a single population for comparison purposes. Ratings are calculated for funds with at least a three year history. The overall rating is derived from a weighted average of three-, five- and 10-year rating metrics, as applicable, excluding sales charges and including fees and expenses. ©2023 Morningstar Inc. All rights reserved. The information contained herein is proprietary to Morningstar and/or its content providers. It may not be copied or distributed and is not warranted to be accurate, complete or timely. Neither Morningstar nor its content providers are responsible for any damages or losses arising from any use of this information. Past performance does not guarantee future results. The top 10% of funds in a category receive five stars, the next 22.5% four stars, the next 35% three stars, the next 22.5% two stars and the bottom 10% one star. Ratings are subject to change monthly. Had fees not been waived and/or expenses reimbursed currently or in the past, the Morningstar rating would have been lower. Ratings for other share classes may differ due to different performance characteristics.
as of

08/31/2023

06/30/2023
Performance
Index History (%)
YTD
1Yr
3Yr
5Yr
10Yr
Since Inception
Russell 2000 Invesco Dynamic Multifactor Index
7.22
6.96
15.24
6.72
N/A
8.53
Russell 2000 Total Return Index (USD)
8.96
4.65
8.12
3.14
7.96
5.77
Fund History (%)
Fund NAV
6.78
6.34
14.73
6.22
N/A
8.03
After Tax Held
6.46
5.71
14.29
5.79
N/A
7.62
After Tax Sold
4.00
3.87
11.45
4.74
N/A
6.24
Fund Market Price
7.02
6.51
14.78
6.27
N/A
8.07
Index History (%)
YTD
1Yr
3Yr
5Yr
10Yr
Since Inception
Russell 2000 Invesco Dynamic Multifactor Index
6.91
10.73
18.41
7.93
N/A
8.74
Russell 2000 Total Return Index (USD)
8.09
12.31
10.82
4.21
8.26
5.80
Fund History (%)
Fund NAV
6.60
10.10
17.94
7.44
N/A
8.24
After Tax Held
6.28
9.45
17.49
7.01
N/A
7.82
After Tax Sold
3.90
6.10
14.05
5.72
N/A
6.40
Fund Market Price
6.63
10.26
17.97
7.45
N/A
8.25
Market returns are based on the midpoint of the bid/ask spread at 4 p.m. ET and do not represent the returns an investor would receive if shares were traded at other times. Performance data quoted represents past performance, which is not a guarantee of future results. Investment returns and principal value will fluctuate, and shares, when redeemed, may be worth more or less than their original cost. Current performance may be higher or lower than performance data quoted. After-tax returns reflect the highest federal income tax rate but exclude state and local taxes. Fund performance reflects applicable fee waivers, absent which, performance data quoted would have been lower. After Tax Held and After Tax Sold are based on NAV. Returns less than one year are cumulative.

As the result of a reorganization on May 24, 2019, the returns of the fund for periods on or prior to May 24, 2019 reflect performance of the Oppenheimer predecessor fund.

as of 06/30/2023
Growth of $10,000
Data beginning Fund inception and ending 06/30/2023. Fund performance shown at NAV.

An investor cannot invest directly in an index. The results assume that no cash was added to or assets withdrawn from the Index. Index returns do not represent Fund returns. The Index does not charge management fees or brokerage expenses, nor does the Index lend securities, and no revenues from securities lending were added to the performance shown.


as of 09/22/2023
Sector Allocation
| Sector | Percent of Fund |
| --- | --- |
| Industrials | 23.38% |
| Consumer Discretionary | 18.00% |
| Financials | 14.26% |
| Health Care | 10.77% |
| Information Technology | 8.94% |
| Energy | 8.56% |
| Materials | 6.16% |
| Consumer Staples | 3.65% |
| Real Estate | 2.66% |
| Communication Services | 2.18% |
| Utilities | 1.52% |
as of 09/21/2023
Market Cap & Style Allocations
| | |
| --- | --- |
| Large-Cap Value | - |
| Large-Cap Blend | - |
| Large-Cap Growth | - |
| Mid-Cap Value | 0.36% |
| Mid-Cap Blend | 0.33% |
| Mid-Cap Growth | 0.54% |
| Small-Cap Value | 34.47% |
| Small-Cap Blend | 44.14% |
| Small-Cap Growth | 20.16% |
as of 09/22/2023

Top Holdings | View All

Fund Holdings subject to change
| Ticker | Company | % of Fund |
| --- | --- | --- |
| MOD | Modine Manufacturing Co | 0.58 |
| STRL | Sterling Infrastructure Inc | 0.53 |
| BZH | Beazer Homes USA Inc | 0.52 |
| MHO | M/I Homes Inc | 0.47 |
| AGM | Federal Agricultural Mortgage Corp | 0.46 |
| HOV | Hovnanian Enterprises Inc | 0.44 |
| ENVA | Enova International Inc | 0.42 |
| CEIX | CONSOL Energy Inc | 0.41 |
| UPBD | Upbound Group Inc | 0.40 |
| GNW | Genworth Financial Inc | 0.40 |
Risk & Other Information
Typically, security classifications used in calculating allocation tables are as of the last trading day of the previous month.
There are risks involved with investing in ETFs, including possible loss of money. Shares are not actively managed and are subject to risks similar to those of stocks, including those regarding short selling and margin maintenance requirements. Ordinary brokerage commissions apply. The Fund's return may not match the return of the Underlying Index. The Fund is subject to certain other risks. Please see the current prospectus for more information regarding the risk associated with an investment in the Fund.
Investments focused in a particular sector, such as financials, are subject to greater risk, and are more greatly impacted by market volatility, than more diversified investments.
A value style of investing is subject to the risk that the valuations never improve or that the returns will trail other styles of investing or the overall stock markets.
Momentum style of investing is subject to the risk that the securities may be more volatile than the market as a whole or returns on securities that have previously exhibited price momentum are less than returns on other styles of investing.
Companies that issue quality stocks may experience lower than expected returns or may experience negative growth, as well as increased leverage, resulting in lower than expected or negative returns to Fund shareholders.
There is no assurance that such ETFs will provide low volatility.
Stocks of small-capitalization companies tend to be more vulnerable to adverse developments, may be more volatile, and may be illiquid or restricted as to resale than large companies.
The fund may engage in frequent trading of its portfolio securities in connection with the rebalancing or adjustment of the Underlying Index.
The Russell 2000 Index is an unmanaged index considered representative of small-cap stocks. The Russell 2000 Index is a trademark/service mark of the Frank Russell Co. Russell® is a trademark of the Frank Russell Co.
The Global Industry Classification Standard was developed by and is the exclusive property and a service mark of MSCI, Inc. and Standard & Poor's.
The Russell 2000 Invesco Dynamic Multifactor Index ("Index") is a trademark of Frank Russell Company ("Russell") and has been licensed for use by the Manager and the Fund. The Invesco Russell 2000 Dynamic Multifactor ETF ("Licensed Fund") is not in any way sponsored, endorsed, sold or promoted by Russell, the London Stock Exchange Group companies ("LSEG") or Invesco Capital Management LLC (together the "Licensor Parties") and none of the Licensor Parties make any claim, prediction, warranty or representation whatsoever, expressly or impliedly, either as to (i) the results to be obtained from the use of the Index (upon which the Licensed Fund is based), (ii) the figure at which the Index is said to stand at any particular time on any particular day or otherwise, or (iii) the suitability of the Index for the purpose to which it is being put in connection with the Licensed Fund. None of the Licensor Parties have provided or will provide any financial or investment advice or recommendation in relation to the Index to the Manager or to its clients. The Index is calculated by Russell or its agent. None of the Licensor Parties shall be (a) liable (whether in negligence or otherwise) to any person for any error in the Index or (b) under any obligation to advise any person of any error therein.