Form 1099-R
Hover over the letters to get more information on each field.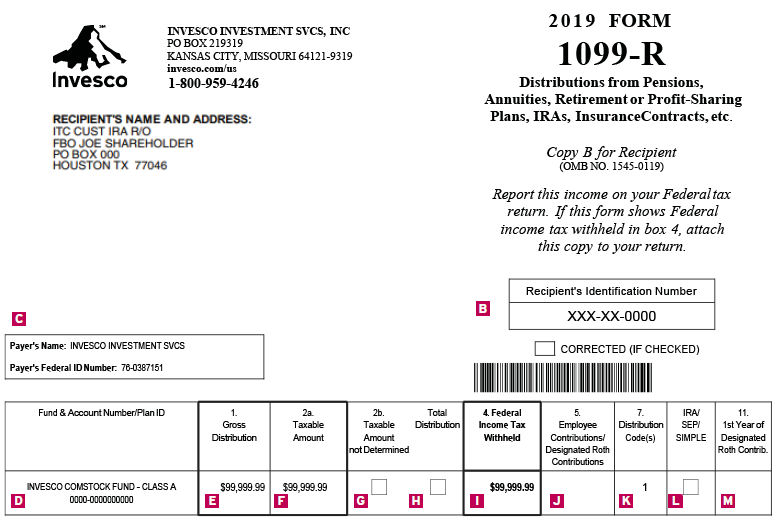 Recipient's Identification Number: Usually your Social Security Number (SSN) or Employer Identification Number (EIN).
Payer's Name and Federal ID Number:  For forms with multiple records, the same Payer and Federal ID Number is used for all.
The Fund Number and Your Account Number
Gross Distribution: The total amount you received this year plus any federal income tax withholding (if applicable). This amount may have been a rollover or received as periodic payments, nonperiodic payments or a total distribution.
Taxable Amount: This part of the distribution is generally taxable. However, if there is no entry in this box, Invesco may not have all the facts needed to calculate the taxable amount. In that case, the first section in Box 2b (Column F) should be marked.
See the back of your Form 1099-R for more information.
Taxable Amount Not Determined: If the taxable amount of the distribution could not be determined, Box 2a (Column E) typically will be blank and the first section in Box 2b (Column F) will be checked.
Total Distribution: This box will be checked only if the distribution was a total distribution that closed out your account.
Federal Income Tax Withheld: This is the amount of federal income tax withheld on your distribution.
Employee Contributions/Designated Roth Contributions: Shows after-tax contributions, if any, recovered tax-free this year; the portion that is your basis in a designated Roth 401(k) or Roth 403(b) account.
Distribution Code: Codes that id450entify the type of distribution you received.
See the back of your Form 1099-R for a list of codes and their definitions.
IRA/SEP/SIMPLE: If this box is checked, you received an IRA, SEP or SIMPLE distribution.
First Year of Designated Roth Contributions: The first year of the five-year holding period for the Roth 401(k) or Roth 403(b) plan.