Invesco Investment Solutions
A consultative, flexible partner to help optimize your portfolio outcomes
Uniquely positioned to deliver purposeful outcomes
Advisors construct sophisticated, multi-asset portfolios designed to deliver predictable outcomes and insulation from market volatility. Yet even the most sophisticated portfolios can have blind spots, concealing unintended exposures which could undermine those goals. Invesco Investment Solutions comprises a team of investors who combine an outcomes-based focus with one of the most diverse set of capabilities in the industry to help clients develop a wide range of custom solutions to meet investors' goals.
Our approach starts with a complete understanding of your needs
We help support better investment outcomes by delivering insightful and thorough analytics.
By putting analytics into practice, we develop investment approaches specific to each client's needs.
We work as an extension of your team to engage across functions and implement solutions.
10+

locations across North America, EMEA and APAC
75+

professionals globally
110+

PhD/master's degrees and industry designations
Our team has decades of experience managing multi-asset portfolios. With access to the firm's $1 trillion investment platform, Invesco Investment Solutions is uniquely positioned to deliver purposeful outcomes that comprehensively address your client's needs.
Portfolio diagnostics and implementation
Asset allocation, including extensive expertise in alternatives
Factor-based analysis and implementation
Overlays and custom solutions
Economic and regulatory risk management
Schedule your custom portfolio analysis.
Diverse capabilities set
In order to address your unique needs, the Investment Solutions team can leverage and combine strategies from across Invesco's $1.23 trillion platform of active, passive, factor and alternative investments.*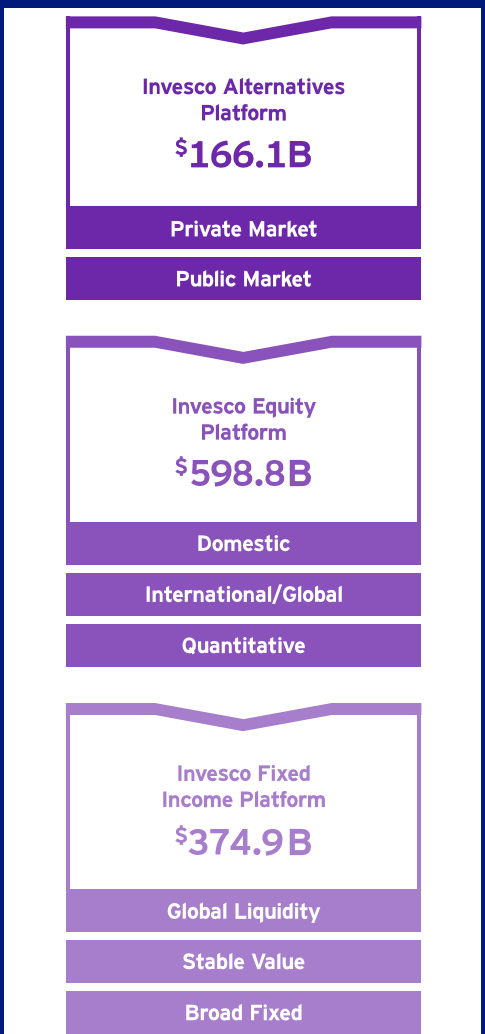 *$1.2262 trillion assets under management include all assets under advisement, distributed and overseen by Invesco as of December 31, 2019.
Custom portfolio analysis
Our unique custom portfolio analysis service includes a thorough portfolio evaluation, comprising a detailed breakdown of current exposures to various factors, sectors and economic environments and their potential implications, as well as a consultative analysis of potential solutions, including adjusting exposures to factors and sectors, to better align the portfolio with desired outcomes. When combined with our insight and deep solution set, this analysis can help us work with you to solve your biggest portfolio challenges.
Stress-test and optimize portfolios
How will assets respond to various scenarios?
Understand factor exposure
Is your portfolio overly reliant on a particular factor?
Analyze your portfolio
Does your current asset allocation align with your risk/return targets?
Incorporate alternatives
How can you practically implement alternatives?