Innovation
Cybersecurity: Cutting-edge innovation and high stakes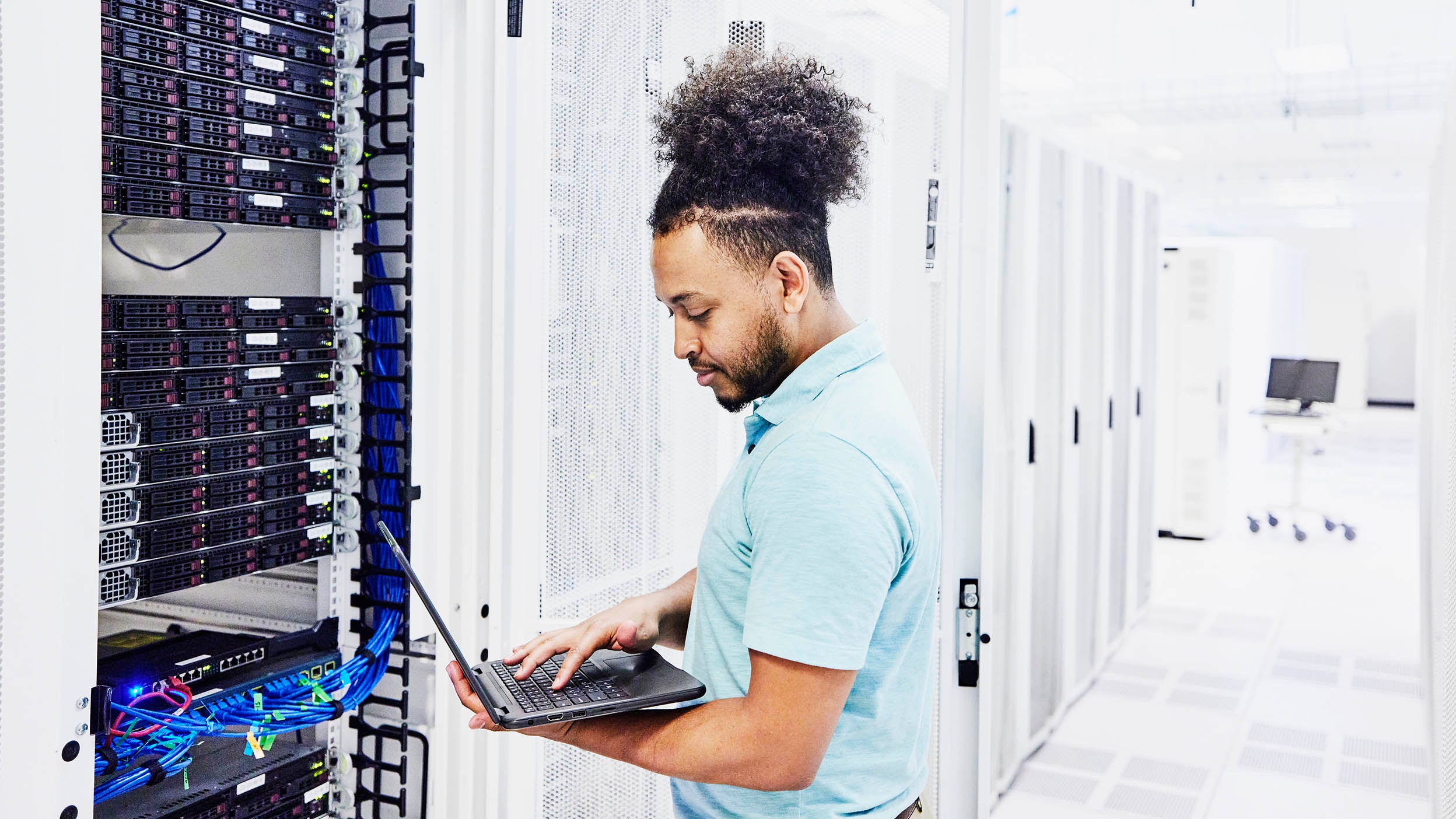 Key takeaways
1
1
The cybersecurity sector has emerged as a particularly compelling area for investors, driven by high demand for solutions to battle digital threats.
2
2
Several trends—including the rise of hybrid work, recent blockbuster acquisitions, and geopolitical tensions—all suggest that there may be room for additional runway for growth for the cybersecurity sector.
3
3
QQQ investors gain exposure to a diverse set of cybersecurity leaders, along with access to other innovative companies helping to drive the future.
The online world has become both more interconnected and more dangerous. Even before the COVID-19 pandemic upended how many people work and access information, companies were already ramping up spending on cybersecurity and increasing their reliance on cloud-based networks. Now, rising geopolitical tensions in the wake of Russia's invasion of Ukraine have put renewed focus on cybersecurity and identity protection.
There may be opportunity to capitalize on the growth of money being spent to combat these rising threats. The Nasdaq-100 Index, which Invesco QQQ tracks, contains some of the most innovative companies in cybersecurity—and offers a potential way to benefit from this rapidly changing landscape.
For some of the world's largest tech companies—and top QQQ holdings—cybersecurity is increasingly driving a higher share of revenue. For example, Alphabet, Google's parent company, recently spent $5.4 billion to acquire cybersecurity company Mandiant. It's one of Alphabet's largest acquisitions ever and is designed to support security in its key Google Cloud business.[1]
Separately, Microsoft's Intelligent Cloud business is a huge revenue generator for the software giant, which recently announced the launch of its Modern Log Management Program created to improve the ability of their federal customers to detect, investigate and remediate cyber threats.[2]
Among more niche players, CrowdStrike is an example of a QQQ holding that's focused exclusively on cybersecurity. CrowdStrike, which went public in 2019, helps companies protect themselves against cyberattacks and provides remediation assistance when companies suffer a breach.
Interconnectedness comes with a cost
The price tag to fight cybercriminals keeps growing. Global spending on cybersecurity products and services is expected to hit $1.75 trillion cumulatively in 2021–2025 due to companies' digital transformation and need to protect sensitive data.[3] A recent study found that there is a hacker attack every 39 seconds on average, affecting one in three Americans every year.[4]
Hacking and ransomware are just two examples of rising cybersecurity threats. Businesses are being hit with almost constant ransomware attacks, causing an estimated $20 billion of damage in 2021.[5] Ransomware attacks are growing more sophisticated, often shutting down entire networks and stealing intellectual property and data.
In this environment, there is tremendous demand for companies that can protect information and networks. For example, 69% of organizations expect to spend more on cybersecurity in 2022, and more than 50% expect a surge in reportable incidents above 2021 levels.[6]
Malware attacks have surged since 2015
The impact of geopolitical tensions
Cyberattacks could rise meaningfully after Russia's invasion of Ukraine. The U.S. Cybersecurity and Infrastructure Security Agency recently warned organizations to step up their vigilance and capabilities because disruptive cyberattacks against Ukraine may spill over into other countries.[7] The Biden administration has also warned of the potential for Russia to engage in malicious cyber activity against the U.S. and has urged companies to take steps to protect themselves.
Investing in cybersecurity with QQQ
Invesco QQQ provides access to some of the world's most innovative companies, and several QQQ components have large cybersecurity businesses or are exclusively focused on the area.
In addition to Alphabet and Microsoft, top cybersecurity stocks in QQQ include Crowdstrike, Fortinet, Zscaler, Palo Alto Networks, Splunk, and Marvell Technology. These firms are known for a sticky customer base, and range of products that allows for cross-selling to existing clients.
Investing with QQQ is one way to participate in the thriving cybersecurity sector, while also gaining access to innovative companies leading the charge in other markets. 
1

Source: CNBC.com, "Alphabet CFO explains reasoning behind $5.4 billion Mandiant acquisition," March 8, 2022.

2

Source: Microsoft.com, "Microsoft launches Modern Log Management Program to help federal agencies accelerate Cyber EO compliance," Feb. 1, 2022.

3

Source: Cybersecurity Ventures, "Global Cybersecurity Spending To Exceed $1.75 Trillion From 2021-2025."

4

Source: University of Maryland, "Study: Hackers Attack Every 39 Seconds."

5

Source: Cybersecurity Ventures, "Global Ransomware Damage Costs Predicted To Exceed $265 Billion By 2031," June 3, 2021.

6

Source: PwC, "2022 Global Digital Trust Insights Survey."

7

Source: U.S. Cybersecurity and Infrastructure Security Agency, "U.S. Cybersecurity and Infrastructure Security Agency," Feb. 26, 2022.