Innovation
Semiconductors: An engine of innovation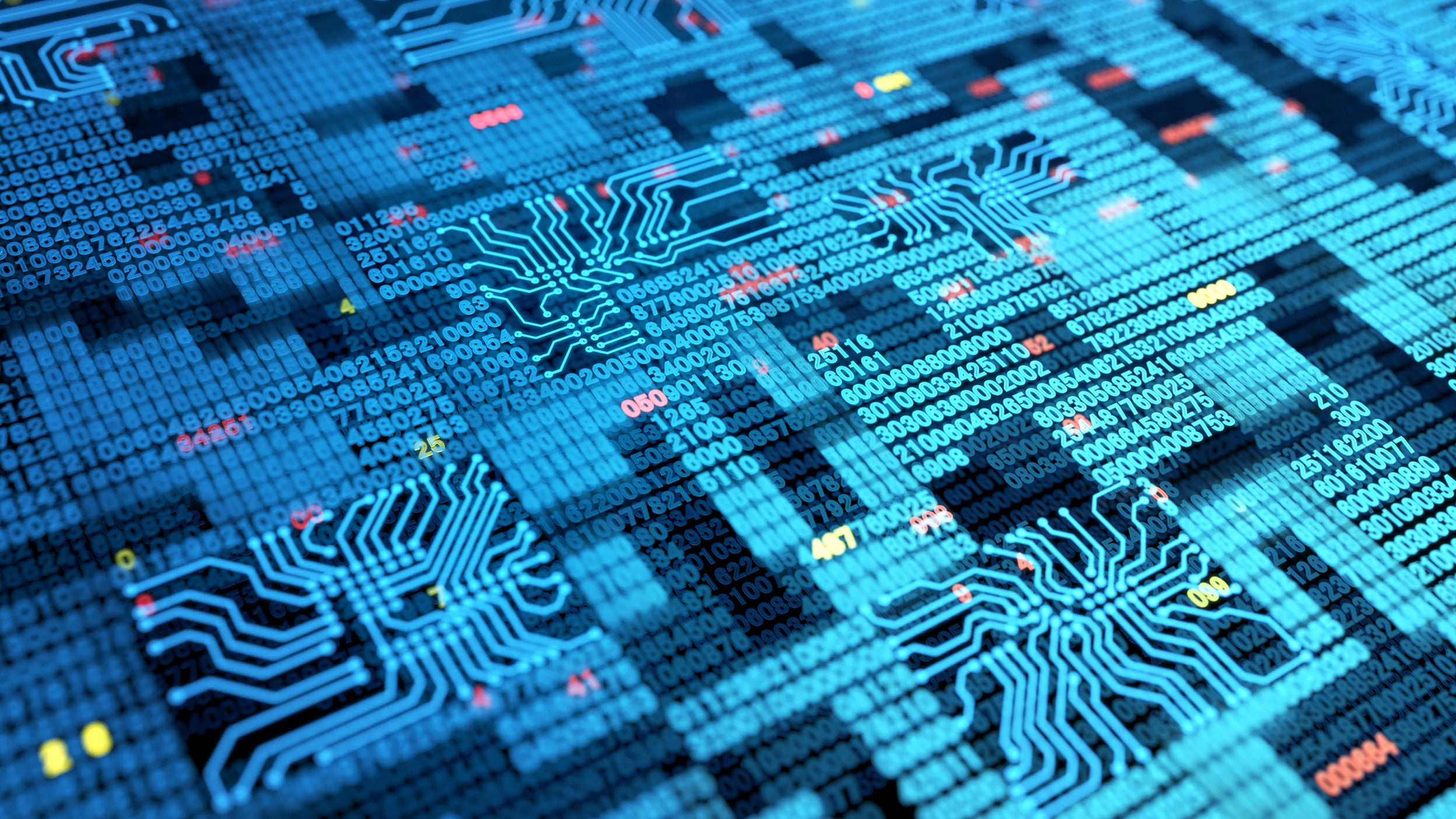 Key Takeaways
1
1
Semiconductors have helped power the digital revolution, allowing advancements in everything from the phones we use, to the cars we drive, to the appliances in our homes.
2
2
As technology continues to evolve, semiconductor industry growth should play an essential role, acting as an agent driving innovation forward.
3
3
Invesco QQQ provides exposure to semiconductor companies on the leading edge of the ongoing digital transformation.
Semiconductors are the fundamental building blocks of modern computing. Also known as microchips, they are the tiny electronic switches that process commands and run programs inside computers and other devices. Semiconductors make machines smaller, faster and easier to operate. For example, thanks to chips, a single smartphone today has more processing power than the computers used by NASA during the first moon landing.1
Invesco QQQ offers access to some of the world-changing companies in the semiconductor industry— including market leaders such as AMD, Intel, Micron and Nvidia—while providing exposure to other innovative companies that benefit from the underlying power of microchips.
The semiconductor sector is essential to industries across the globe
Innovation in the semiconductor industry has helped drive the digital revolution and fueled the growth of countless industries, from personal computing to smart home devices to virtual reality. In fact, from 1995 to 2015, it is estimated that $3 trillion in global gross domestic product (GDP) was directly attributable to innovations in the field.2
The recent disruption in semiconductor supplies—driven by factory closures and skyrocketing demand for computers during the COVID-19 pandemic—was a stark reminder of how essential these chips have become. Across many industries, the absence of a single chip, often costing less than a dollar, led to shortages for devices worth thousands of dollars. For instance, it is estimated that the lack of microchips resulted in lost auto sales of more than $210 billion.3
The ongoing chip shortage also highlighted the importance of semiconductors to the U.S. economy. Although semiconductors directly contribute only 0.3% of total U.S. GDP, it is estimated they are a necessary production input to 12% of GDP.4 In fact, economists believe the chip shortage reduced 2021 U.S. GDP growth by 1%.5 Fortunately, easing supply bottlenecks and increasing investment in new production are expected to alleviate these shortages in 2022 and beyond.
The growth potential for the semiconductor industry appears strong
As the digital revolution has impacted virtually every aspect of our lives, the semiconductor industry has grown substantially, with global sales exceeding $500 billion in 2021.2 Over the next decade, further innovation in chip technology is expected to fuel growth in many areas, including 5G, artificial intelligence, autonomous vehicles and virtual reality.
Looking ahead, analysts forecast annual growth in the semiconductor industry to average 6% to 8% per year through 2030.6 McKinsey projects that this unsung hero of modern technology will likely soon become a $1 trillion industry.6 Interestingly, of this projected growth, nearly 70% is expected to be driven by just three industries: automotive, computing and data storage, and wireless communications.
The semiconductor industry appears poised for strong growth ahead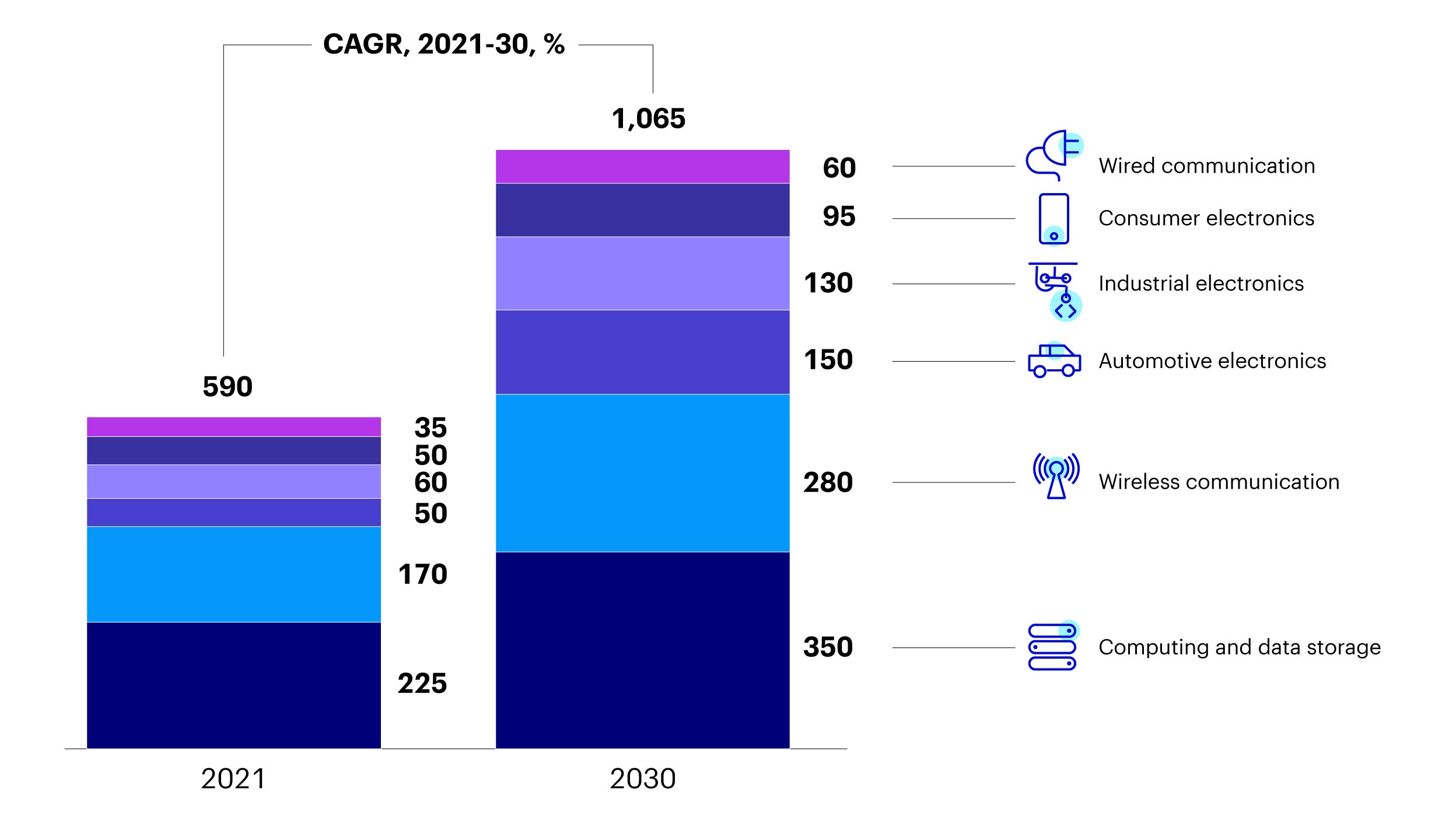 Some QQQ holdings are on the cutting edge of semiconductor innovation
Several QQQ holdings represent significant market share in serving these three key industries. Intel Corporation, the second-largest semiconductor company in the world, invented the microprocessor found in most personal computers today. In 2021, Intel's market share for semiconductors used in desktop PCs and laptops was nearly 84% and 79%, respectively.7 With more than 340 million PCs shipped across the globe last year,8 demand for the semiconductors to power these devices is expected to remain strong.
Another QQQ holding, Micron Technology, is poised to benefit from increasing demand for memory and storage, particularly within wireless communications. The transition to 5G technology and the use of more content-driven apps are driving this trend. It is estimated that 5G phones use 50% more processing memory and twice the storage memory as 4G devices.9 This demand is only in the early stages, as forecasts call for more than 700 million 5G phones to be shipped globally in 2022.9 As one of the largest producers of memory and storage, Micron saw revenue from this segment increase 25% in the first quarter alone.9
Similarly, QQQ holding Nvidia Corporation has seen significant demand from the automotive industry. Nvidia is already a leading producer of graphics chips and hardware for today's vehicles. However, it is increasingly focused on developing technology for self-driving cars and driver-assistance systems. The company recently announced a pipeline of more than $11 billion in automotive deals and now counts 20 of the 30 largest electric vehicle manufacturers as clients.10 This number appears set to grow, as Nvidia management estimates the global automotive industry represents a $300 billion opportunity for semiconductor producers.11
Investing in the future of innovation 
In this era of digital transformation, QQQ offers a singular way for investors to gain exposure to some of the most prominent names in the semiconductor industry. As semiconductors continue to drive technology forward, the Invesco QQQ ETF provides the opportunity to become an agent of this innovation.
1

Source: semiconductors.org, "Building America's Innovation Economy." May 15, 2021

2

Source: semiconductors.org, "2021 State of the U.S. Semiconductor Industry." July 2022

3

Source: deloitte.com, "2022 Semiconductor Industry Outlook." July 2022

4

Source: cnbc.com, "Shortage of semiconductors, dubbed the 'new oil,' could dent GDP growth, boost inflation," April 22, 2021.

5

Source: whitehouse.gov, "Biden-⁠Harris Administration Bringing Semiconductor Manufacturing Back to America." January 21, 2022

6

Source: mckinsey.com, "The semiconductor decade: A trillion-dollar industry," April 1, 2022.

7

Source: bloomberg.com, "Intel Loses Market Share in Server Chips but Makes Gains in PCs," February 9, 2022.

8

Source: intel.com, "Intel Technology Roadmaps and Milestones," February 17, 2022.

9

Source: micron.com, "Q1 2022 Prepared Remarks," December 20, 2021.

10

Source: nvidia.com, "NVIDIA Enters Production with DRIVE Orin, Announces BYD and Lucid Group as New EV Customers, Unveils Next-Gen DRIVE Hyperion AV Platform," March 22, 2022.

11

Source: wsj.com, "Nvidia Targets Auto Growth Amid Chip Shortage," March 22, 2022.