Innovation
What is the metaverse? And why should investors care?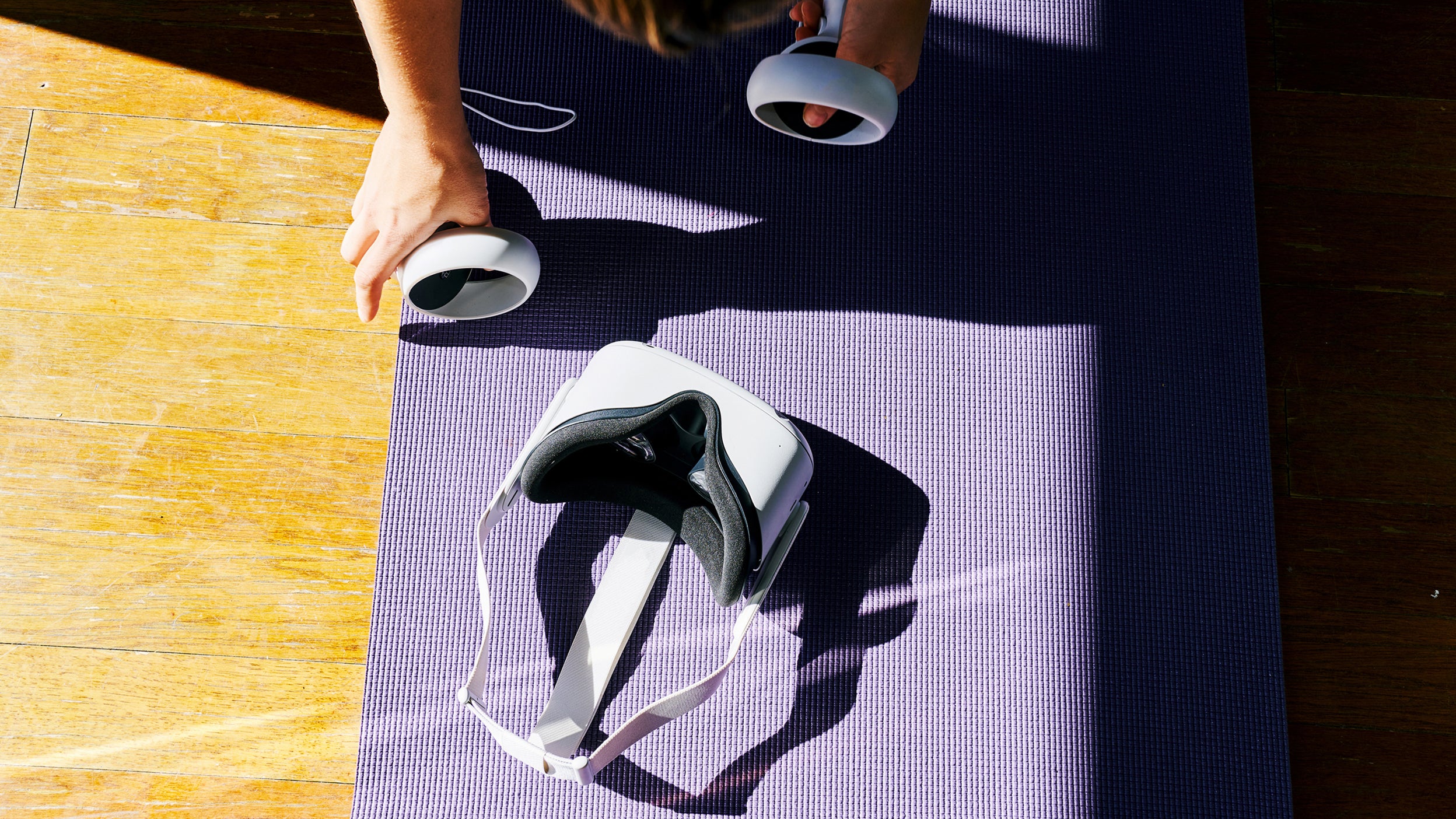 Key takeaways:
Facebook's decision to change its name to Meta Platforms signaled the potential importance of the metaverse—a virtual reality realm—as a major technology growth area in the years ahead.
 Revenue tied to the metaverse is on track to total $800 billion by 2024, with a projected compound annual growth rate (CAGR) of more than 13%.1
Investors in Invesco QQQ can gain exposure to companies at the forefront of metaverse technology while also accessing a diversified set of industry-leading innovators.
Innovation never rests. The Nasdaq-100® Index, which QQQ tracks, features many cutting-edge companies that are shaping the future of technology. Among this cohort of innovators, Meta Platforms—the company formerly known as Facebook and one of QQQ's top-10 holdings—has continually sought to reshape online communities and has made virtual reality (VR) more mainstream through its Oculus Rift headsets.
Mark Zuckerberg made waves last October when he announced that Facebook was changing its corporate name to "Meta," signaling that "the metaverse" would play a huge part in the company's future. Following the announcement, the company made a huge investment in the metaverse, as it spent more than $10 billion on its virtual reality business alone in 2021.2
But what exactly is the metaverse? And what should investors know about the opportunities and risks in the new frontiers of virtual reality?
The origin of "metaverse"
The word "metaverse" may sound like it was ripped out of a sci-fi novel. In fact, that's exactly the case. In his 1992 book, Snow Crash, author Neal Stephenson introduced the term to refer to a virtual realm where people use goggles and headphones—precursors to today's VR headsets—to enter an online universe featuring digital avatars of themselves.3 In the novel, the metaverse is an escape from a bleak society, though the actions in the virtual realm can have profound and potentially devastating effects on the real world.
While Snow Crash is set in a dystopian landscape, today's metaverse is more like an electronic utopia where people can socialize, work, play and transact in virtual cities and economies that attempt to simulate real-life interactions. Much like in Snow Crash, metaverse participants spend real-world money acquiring virtual real estate and buying clothing and other goods for their avatars in the metaverse.
Metaverse investments taking shape
Just as in the real world, metaverse real estate is booming. In 2021, more than $500 million was spent on metaverse real estate in a virtual "land grab" on four major platforms.4 Experts predict that close to $1 billion will be spent on metaverse real estate in 2022, with a projected compound annual growth rate (CAGR) of 31% a year from 2022 to 2028.4  Even though the land may be virtual, clearly a lot of actual money is flocking to buying choice properties in the metaverse.
Investing in the metaverse 
While it's still early days for the metaverse, the current metaverse ecosystem already accounts for more than $400 billion in revenue across a range of industries.5 According to Bloomberg, that amount is on track to increase to nearly $800 billion by 2024, representing a projected compound annual growth rate (CAGR) exceeding 13%.5
Metaverse projected market growth outlook (Market value $B)
Metaverse companies are on the rise
In addition to Meta, other companies are embracing the metaverse, including tech giants and top QQQ holdings such as Microsoft and Nvidia. Microsoft is leaning heavily into the metaverse by launching virtual avatars on its Teams communication platform in 2022.6 Chipmaker Nvidia has launched the "Nvidia Omniverse," a 3D platform for design collaboration with applications for architecture, engineering, manufacturing and many other industries.7 Some investors foresee a wide range of applications across health and fitness, art and fashion, online events and advertising, among other fields.8
As mentioned previously, real estate is in demand in the metaverse. There have already been multi-million dollar real estate transactions in Sandbox, a metaverse platform in which users invest in virtual assets using metaverse "tokens," which act much like cryptocurrencies like bitcoin.9
Investors such as Republic Realm have emerged as early adopters willing to spend millions on prime tracts of virtual "land." Republic Realm—which is backed by prominent investors—purchased a single parcel of land in the metaverse for $4.3 million in the largest virtual real estate transaction completed so far.10 Again, it's probably too early to determine whether virtual real estate will be a huge growth opportunity or remain a niche area, but investors should remain on the lookout for companies that are pushing into new territory. 
The metaverse in action
We saw a glimpse of both the potential benefits and uncertainties of the metaverse during the pandemic. As virtual meetings led to "Zoom fatigue" due to work-at-home restrictions, some teams found creative ways to hold meetings and stay connected. In some cases, meetings were held around a virtual campfire in the video game Red Dead Redemption 2, an online game set in the Wild West during the late 1800s featuring cowboys and gangs of outlaws in picturesque settings.11
Instead of filling up endless Zoom sessions, groups discussed timelines and budgets around a roaring campfire while dressed as cowboy avatars, with the sound of wolf howls echoing in the distance. While this environment sounds idyllic—especially compared to backdrops of blank walls or blurred-out bookshelves—there was a flaw in the arrangement. At any time the meetings could be interrupted by rogue "posses" attacking the team at the campfire, forcing the participants to handle the situation before getting back to project planning.
This example shows the promise of the metaverse—offering the ability to transcend the normal confines of the real world—but also reveals that there can be unforeseen events and unexpected consequences in the shift to virtual reality. Nevertheless, the metaverse appears here to stay, and investors should be aware of the opportunities around them, even if that's in unfamiliar terrain. Investors looking for the potential to capitalize on the metaverse should consider investing in QQQ, which includes many companies navigating these frontiers and looking to benefit and shape the new virtual world.
1

Source: Bloomberg, "Metaverse may be $800 billion market, next tech platform," Dec. 21, 2021. Compounded annual growth rate (CAGR) is a smoothed rate of return the measures annual growth over a period time.

2

Source: nytimes.com, "Meta spent $10 billion on the metaverse in 2021, dragging down profit," Feb. 2, 2022

3

Source:  cnbc.com, "This 29-year-old book predicted the 'metaverse' — and some of Facebook's plans are eerily similar," Nov. 3, 2021

4

Source: cnbc.com, "Metaverse real estate sales top $500 million, and are projected to double this year," Feb. 1, 2022

5

Source: Bloomberg, "Metaverse may be $800 billion market, next tech platform," Dec. 21, 2021

6

Source: The Verge, "Microsoft Teams enters the metaverse race with 3D avatars and immersive meetings," Nov. 2, 2021

7

Source: nvidia.com, "A New Era of 3D Design Collaboration and World Simulation," May 30, 2022

8

Source: forbes.com, "Five Industries That Will Be Transformed By The Metaverse," March 22, 2022

9

Source:  fxstreet.com, "Sandbox takes over the metaverse as demand for virtual real estate explodes," Dec. 7, 2021

10

Source: wsj.com, "Metaverse Real Estate Piles Up Record Sales in Sandbox and Other Virtual Realms," Nov. 30, 2021

11

Source: mashable.com, "Turns out 'Red Dead Redemption 2' is a perfect platform for work meetings," May 21, 2020