It is with profound sadness that Invesco notes the passing of its founder Charles W. Brady. The company's former chairman and CEO died Dec. 7 in Atlanta. He was 84.
Mr. Brady was viewed as a titan of the investment industry for decades. A visionary and skilled businessman, he took the investment unit of a regional Atlanta-based bank and transformed it into the leading global investment firm we know today as Invesco. Mr. Brady was known for his uncommon determination, bold moves, investment savvy, masterful dealmaking, and respect for his staff. His legacy of accomplishments will leave a lasting impact in the financial industry.
Invesco President and CEO Marty Flanagan reflected on Mr. Brady's passing: "Charlie was a pioneer in the world of asset management, and an excellent leader. He was driven to make Invesco a global firm and never wavered from that goal. Invesco would not be where it is today without Charlie's vision, business acumen, and commitment to his firm and its people."
Early years in Atlanta
Mr. Brady was born in Atlanta in 1935 and lived most of his life in the city. He graduated in 1959 from the Georgia Institute of Technology with a degree in industrial development. After working for a stock broker in his first job out of college, he would land his next job at the company that really launched his successful investment career: Citizens & Southern Bank. Mr. Brady was given an investment management job at the Atlanta-based bank.
Mr. Brady conducted research and then persuaded the bank to set up an SEC-registered investment advisory division. The C&S Investment Counselling Division was the first such investment management firm in the United States. Through savvy marketing, Mr. Brady and his colleagues touted the novelty of such a firm to attract institutional assets from around the country.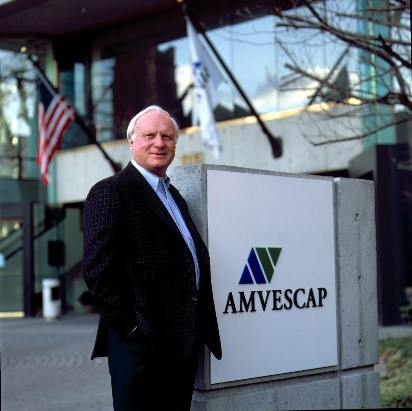 Invesco's start and its growth
In 1978, after several years of building a successful and dynamic investment management firm, Mr. Brady and several other C&S investment management professionals spun off the investment division to create Invesco, Inc. The company opened with $400 million under management from clients mainly outside the Southeastern US. Ten years later, the company's asset base would grow to $14 billion.
During this time of growth for the company, he would serve as director from 1986 to 1992. He would then assume the role of chairman of AMVESCAP PLC and chief executive officer from 1992 to 2005. He was a founding partner of INVESCO Capital Management, Inc., which merged with the company's predecessor organization in 1988.
Charles Brady was chairman emeritus of the current Invesco corporation, a position he held since May 2006.
Management style
Mr. Brady was known as a master marketer, motivator, and negotiator. And he stood out in the asset management industry for what one former employee called his "very humane style of management." He was the kind of manager that employees loved to work for. As his firm grew, Mr. Brady was able to attract world-class talent, and his employees hardly ever left.
He was widely regarded as an affable and confident leader who consistently coached and supported his staff. Mr. Brady also maintained an informal approach around the office. He got his own coffee, never wore a jacket in the office unless clients were visiting, and sent regular signed letters to company partners with updates about the firm.
Mr. Brady was once quoted as saying that despite his success in the financial industry, "… it hasn't been about the money. I've always enjoyed the business and it's been an exciting industry. You're always in touch with everything in the world. We've always known exactly what we wanted and we stayed narrow, focused."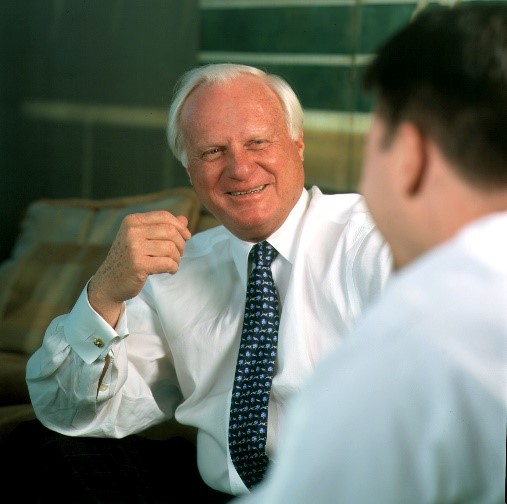 Civic work and personal interests
Mr. Brady was a trustee emeritus of the Georgia Tech Foundation, a member of the Advisory Board for the College of Management at the Georgia Institute of Technology, a member of the Board of Councilors for the Carter Center and a director of the National Bureau of Asian Research. He was involved in a wide variety of business and philanthropic pursuits. According to Atlanta-based consultant Paul Troup, Mr. Brady did a lot in Atlanta that nobody knew about because he chose not to reveal it. "A lot of businesses in Atlanta owe their start to Charlie Brady," Mr. Troup said.
Mr. Brady had many interests outside the office – a house in Aspen, horses, hiking, skiing, golfing, rafting, and more.
"We've lost a friend, a colleague and a mentor," said Marty Flanagan. "But we will honor his memory by continuing to build on Charlie's legacy, helping individuals across the globe achieve their investment objectives."